Posts Tagged 'Brand New Issue'
*** BRAND NEW Battle of Britain coins – on sale now ***
This year marks the 80th Anniversary of the Battle of Britain. Fought over British skies during 1940, the battle was a turning point in WWII and ultimately saved Britain from German invasion.
In 1940, a terrifying dark shadow descended over Europe. The relentless advance of Hitler forces overwhelmed everything in their path and the world suddenly became very dark. Following the evacuation of French and British soldiers from Dunkirk and the subsequent French surrender on 22nd June 1940, Hitler believed that WWII was practically over and that Britain would quickly come to terms. However, even with a seemingly unstoppable enemy on the doorstep, Winston Churchill stepped up to become Britain's wartime leader and refused to surrender.
On 10th July 1940 a battle was fought – and won – by a courageous few; arguably one of the crucial turning points that led to British Victory in WWII.
The Battle of Britain remains one of the truly great chapters in our history, and to mark 80 years since that momentous battle, a brand new range of commemoratives have been issued. Whether you're looking for the new centrepiece for your collection, you're an avid collector, a Military enthusiast or you're looking for the perfect tribute, there's bound to be something within the range for you.
Click here to view the 2020 Battle of Britain 80th Anniversary range >>
Or, find out more about each of the stunning coins we have available below….
JUST 150 collectors can own this BRAND NEW Battle of Britain Silver 5oz Coin
Struck in five ounces of 925/1000 solid silver, this coin barely fits in the palm of your hand. Not only is the size and weight impressive – but so is its engraving.
Approved by Her Majesty the Queen, the reverse design has been created by renowned sculptor Mike Guilfoyle and takes inspiration from an old war-time poster synonymous with the Battle of Britain. The design features three pilots in front of an aircraft with the text 'The Battle of Britain 1940-2020' to honour the heroic efforts of the RAF in changing the course of WWII and leading us to victory.
Click here to secure this Silver 5oz Coin for your collection >>
Battle of Britain 80th Anniversary Gold Proof Sovereign – 15 times RARER than the UK's recent Gold Proof Sovereign!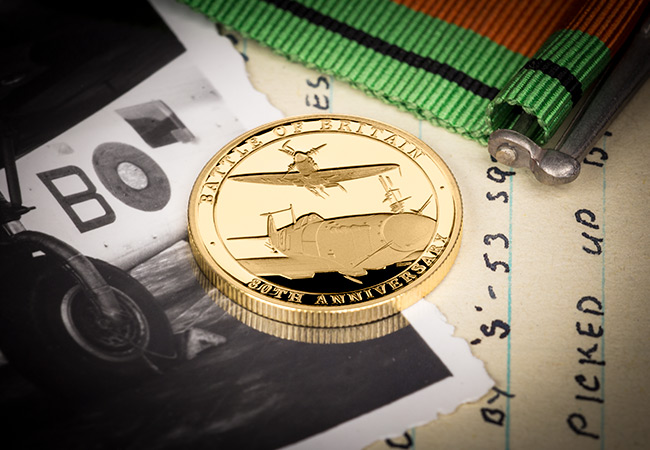 Over the years, the popularity of various coins have come and gone. But none have stayed as unrivalled as the Gold Sovereign. Quite simply, the Sovereign is without a doubt the world's premier Gold Coin. Struck from 22 Carat Gold to the exact same specification since 1817, it epitomises all that is British.
Issued in recognition of the historic Battle of Britain 80th Anniversary, this extremely limited Isle of Man Gold Proof Sovereign is limited to just 495 pieces. This is more than 15 times RARER than the UK's recent Gold Proof Sovereign. 495 coins is a tiny edition limit for a gold Sovereign-specification coin such as this.
This brand new British Isles Sovereign is the most important gold coin you can find right now. Click here to secure one for yourself >>
JUST 495 Battle of Britain 80th Anniversary Gold Proof Pennies Authorised
To mark such a historic anniversary, a special strike of 495 Solid Gold Pennies have been authorised. The release of a Gold Penny is an extremely rare event and one that collectors will look out for, especially as they are only issued to mark the most important anniversaries and are always severely limited. In fact, this is the most limited issue for some time.
The exquisite design features three Spitfire silhouettes engraved on to the coin to signify the bravery of all the RAF pilots who defended our skies In the summer of 1940. It has been struck in Solid Gold to the standard United Kingdom Penny diameter and finished in the collectors preferred finish, Proof.
Click here to secure one for you collection now >>
The Limited Edition Battle of Britain 80th Anniversary Spitfire Silver Proof £5
The £5 coin is the single most prestigious coin issued across the British Isles, reserved for the most important commemorations of the year. The Battle of Britain anniversary is certainly no exception deserving of only the very finest commemorative £5 coin.
The design features the legendary Spitfire with a Union Jack trailing from behind. Also, a notable inclusion to the edge of the design is an excerpt from Winston Churchill's famous speech 'So Much, So Many, So Few', his moving tribute to the brave pilots of the RAF.
The background fittingly displays a 'V for Victory' design which has been finished with the unique addition of Spitfire silhouettes.
Only 2,020 coins have been issued worldwide. This unprecedented decision comes as a surprise, especially when you consider the historical significance of this anniversary.
Click here to secure the brand new Silver Proof £5 Coin >>
Officially Licensed RAF Spitfire Gold-plated Coin
This Official RAF Battle of Britain 80th Anniversary Gold-Plated Coin comes highly recommended. Not only is it extremely desirable in its own right, it is a fantastic tribute to the skilled pilots both past and present who have had the honour flying in the RAF. It features a dramatic colour recreation of the legendary Supermarine Spitfire by renowned Airfix artist Adam Tooby.
Featuring 24 carat gold-plating and struck to a flawless Proof finish, this is the perfect Battle of Britian 80th Anniversary commemorative.
Click here to secure your Official Gold-Plated Coin now >>
---
Please note, extremely high demand is expected for these brand new Battle of Britain Commemorative coins. It is highly advised that you act quickly to secure your favourite pieces from the collection to avoid disappointment.
Click here to find out more about the range and order one of the BRAND NEW Battle of Britain 80th Anniversary Commemorative coins >>
*** The UK's FIRST Dinosaur 50p coins are on sale now. Click here to order yours >> ***
When I was growing up I was fascinated by dinosaurs. In fact, I still am. And I expect you'd be hard pressed to find someone who wasn't even just a little bit curious about the giant reptiles who walked the earth nearly 250 million years ago.
So, I'm sure you can understand my near-childlike excitement when the Royal Proclamation issued on 8th November 2019 confirmed that a brand new series of dinosaur-themed 50p coins will be released this year!
Read on to find out these rorarsome new releases and how you can become one of the first collectors to own one…
Three themed dinosaur 50ps released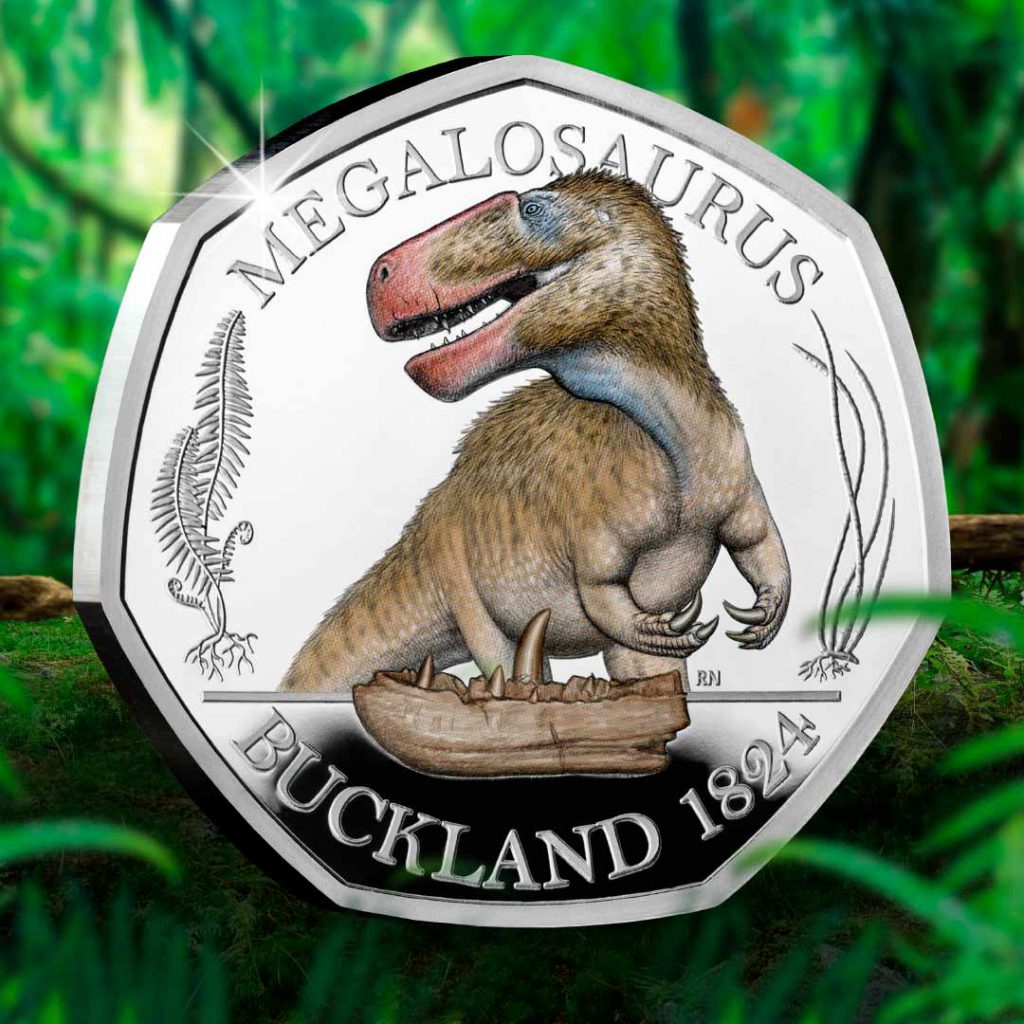 Three designs have been confirmed for release in 2020 – we don't know if there will be more, but at the moment it's looking like a 3-coin series. The dinosaurs featured include:
Megalosaurus – Greek for 'great lizard' and at seven to eight metres long it certainly lives up to its name! In 1676 the first Megalosurus bone was discovered in Oxfordshire and publication of the find is thought to make this dinosaur the very first to be described in scientific literature.
Iguanodon – large herbivores with distinctive spike-like thumbs. After Megalosaurus, these were the second type of dinosaur to be formally recognised. Their name comes from its teeth which are similar to modern iguanas, and gave palaeontologists the first clue that dinosaurs had been reptiles.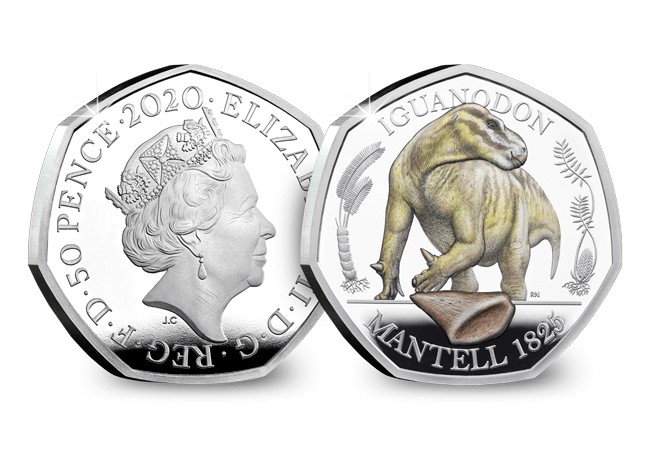 Hylaeosaurus – an armoured dinosaur with at least three long spines along its shoulders. However, much of the anatomy of this dinosaur is still unknown due to the fact that very limited remains have been found.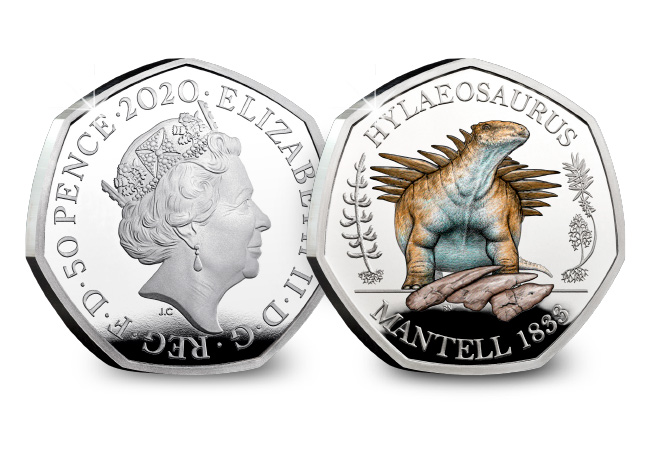 The UK's first ever dinosaur coins
Significantly this is the first time dinosaurs will have ever featured on a UK coin! This fact alone will make them highly collectable and I'm sure dinosaur fans young and old will be eager to get their hands on one. I for one can't wait for these roarsome coins to be let loose!
---
Stay up to date with all the latest 2020 Dinosaur 50p news…
Simply fill in your details below to be kept up to date with all the latest news about the 2020 Dinosaur coins. We'll be in touch as soon as we know any more!
It's surprising, in this new digital age, just how 'hands-on' designing a coin is. In fact, it's very much the job of a master craftsman.
Never was this more evident than when the Isle of Man Treasury chose to mark the 200th Anniversary of the birth of Queen Victoria with three new coins, each with a brand new portrait.
The man they turned to was renowned sculptor Luigi Badia and here's the remarkable process of how these coins were developed.
First Stage – Pencil designs
Like most products across all industries, designing a coin starts with pencil sketches. These are then amended, potentially many times, until a final sketch is produced and approved.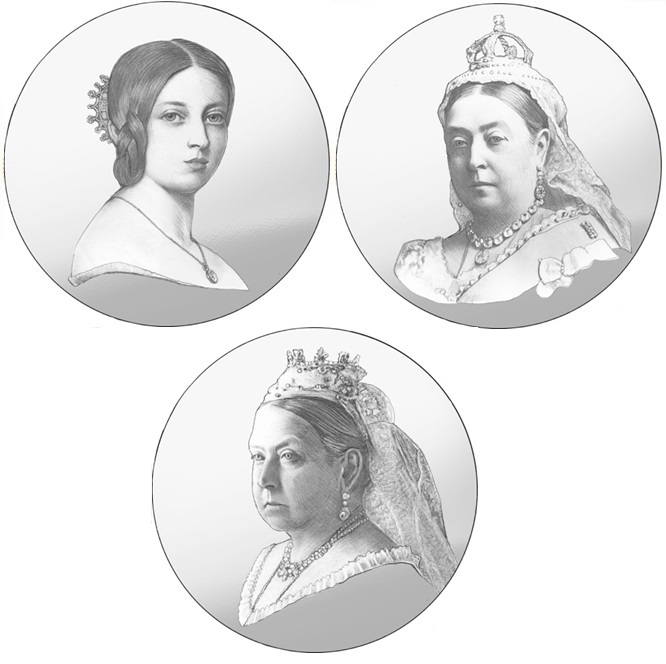 Second Stage – Plaster modelling
The second stage is arguably the most visually stunning. The sculptor, Luigi Badia in this case, will turn their sketches into a 3D 'Plaster' design. The skill involved in this process is really very impressive as every tiny detail must be modelled.
The plaster is far larger than the actual coin size to allow for this detail to be captured. The design will be resized in the next step of the process.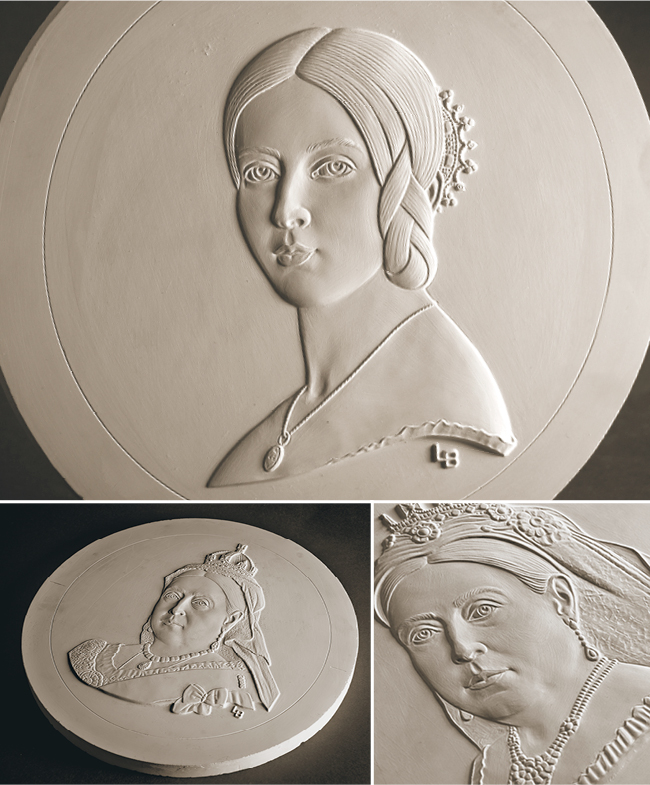 Third Stage – Digital Modelling
It's during this stage where technology has certainly helped the design process. The 3D 'Plaster' designs are scanned and a digital file, called a greyscale, is created.
An engraving machine then uses this file to cut the design into a piece of steel that's the actual size of the final coin. This will then be used to make the dies that will actually strike the coins.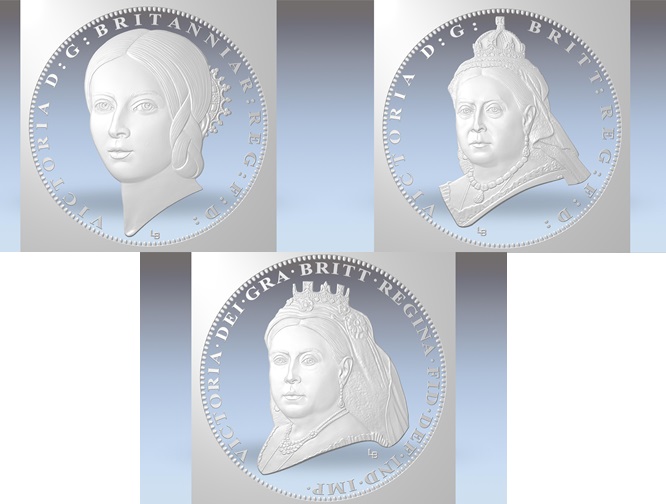 Fourth Stage – Coin Striking
This final stage is when the physical coin comes to life. The specially prepared die is used to 'strike' the design onto a metal 'blank'. The metal used for the blank can vary widely, from cupro-nickel to silver and gold.
Only once the mint is perfectly happy with the quality of the struck coins will they be issued.
---
The Queen Victoria Silver Antique £5 Set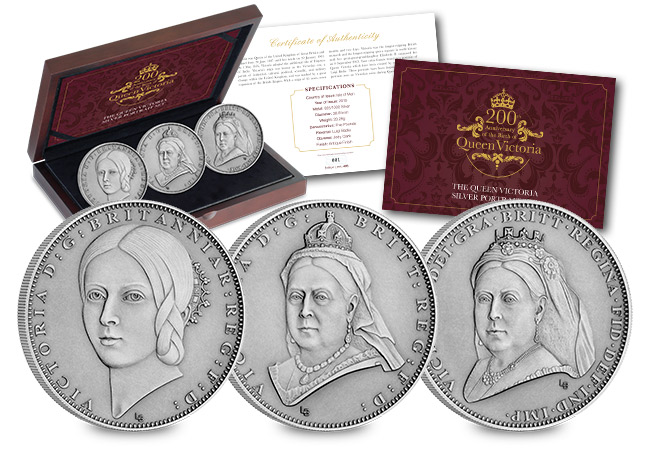 This set is the only way to own all three of these stunning, specially commissioned Antique Silver £5 Coins.
Just 495 of these stunning sets are available worldwide and exclusive to The Westminster Collection.
You can secure yours today for a down payment of just £54 >>