Posts Tagged 'Battle of Britain 80th Anniversary'
In today's video I unbox a medal that features a genuine piece of Hawker Hurricane!
It's been meticulously hand-sculpted into the shape of the iconic plane and precision set into a deluxe SUPERSIZE 70mm Medal.
And it's not just any Hawker Hurricane that's been used to create this medal… The metal used for the sculpture comes from Hawker Hurricane P2725 TM-B – the plane that famously saved Buckingham Palace during a dogfight on Battle of Britain Day 80 years ago!
Whether you're a collector, military enthusiast OR both, this is a video that you can't afford to miss!
---
If you're interested…
Click here to be one of only 250 collectors to own this Hawker Hurricane Commemorative >>>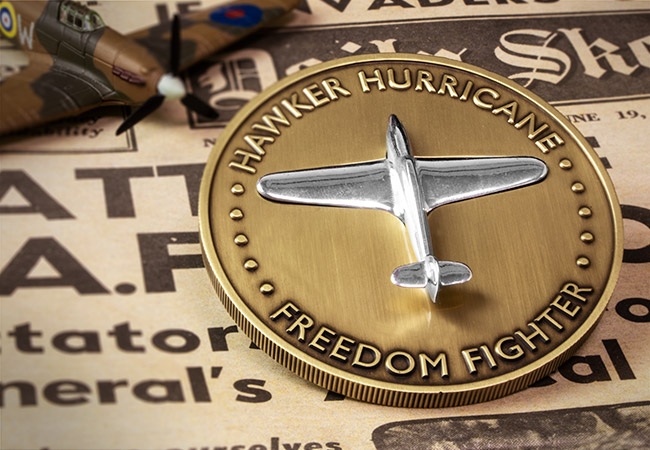 Did you miss our LIVE WWII Collectibles show on Ideal World TV? If so, don't worry, you can catch up here!
The show is packed full of incredibly special WWII-themed commemoratives, with some exciting and VERY limited exclusive offers which you're sure to love.
And even better, all of the collectibles on the show include FREE P&P! So perhaps now is the perfect time to start thinking about Christmas gifts for loved ones?
PLEASE NOTE: You are watching a pre-recorded live show, so not all items may be available at the time of ordering. Not only this, but our Ideal World phone lines are now closed, so please click here to order any of the EXCLUSIVE items on the show >>
---
If you're interested…
Last month, I had a fantastic opportunity to get up close and personal to one of the world's most famous aircraft – the Spitfire!
The iconic Supermarine Spitfire was critical in defeating Luftwaffe air attacks during the Battle of Britain in 1940, and so to mark the 80th anniversary this year, I knew we had to arrange something unique to produce a truly special collectable coin worthy of the historic anniversary.
So on the 23rd July I drove up to the historic Duxford Aerodrome to have 1,000 brand new Proof £5 coins flown in an original WWII Spitfire.
Now the purpose of my visit was to have 1,000 Official Battle of Britain £5 coins flown in an original WWII Spitfire, but I was also able to talk to RAF Flight Lieutenant Antony 'Parky' Parkinson in great detail about his time in the RAF and as an ex-Red Arrow ahead of the Battle of Britain anniversary. You can see Parky discussing his career and the Spitfire in the video below…
Before Parky took the 'NH341' Spitfire to the air, I helped him secure the 1,000 Battle of Britain Spitfire £5 coins into the wing bays which would have once held the fighter plane's armaments while defending Britain in the skies 80 years ago. The space in the wing bays is extremely limited, hence the limited number of coins that were able to be taken to the sky.
Standing within a few feet as the famous Rolls Royce engine fired up, I watched in awe as the elegant, agile aircraft taxied along the runaway and gracefully took to the skies.
Although many 80th anniversary plans up and down the country have had to be cancelled, I am delighted to be able to give a limited number of collectors the opportunity to become the proud owner of the BRAND NEW Official Proof £5 coin that has been flown in an original WWII Spitfire plane. But that's not all, as I was also able to arrange for them to be personally hand-signed by Parky.
The brand new Spitfire £5 coin is a fantastic commemoration of the famous plane and I am grateful that I had the opportunity to mark the 80th anniversary of the Battle of Britain with such a fitting tribute.
So I'm sure you can appreciate what a genuinely rare collectable these will instantly become and demand is expected to exceed availability. If you wish to secure one for your collection, you need to act quickly by clicking here.
Thank you to Flight Lieutenant Antony Parkinson MBE and the rest of the team at Aerolegends for helping to take the Spitfire £5 coins to the sky and for giving me the opportunity to see this famous warbird in the flesh.
---
If you're interested, you'll need to be quick as over 50% have already been reserved. You can secure the Official Battle of Britain Proof £5 coin now for JUST £35 by clicking here >>
And remember, not only will your official Battle of Britain £5 Proof coin have been flown in an original WWII Spitfire, it is also one of just 1,000 coins that have been personally signed by Lieutenant Antony Parkinson 'Parky', MBE.