This year marks one hundred years since the First World War came to an end, making the 2018 Poppy coin designs even more special.
The Masterpiece Poppy Coin
Issued in support of The Royal British Legion, the brand new Masterpiece Poppy coin very poignantly and quite literally stands out as it uses an incredible 3 dimensional effect.
It's called a Masterpiece for a reason. Using cutting edge minting techniques and specialist craftsmanship, a stylised Royal British Legion poppy, proudly sits on top of your coin, resulting in an exceptional 9mm relief.
What's more, there's another aspect that makes this year's Masterpiece Poppy so special.
British Artillery Shell
You see, the Golden coloured poppy that adorns your coin has been made from inert brass British artillery shell fuses recovered from the First World War battlefield of the Somme and areas of France and Belgium. Some were recovered by Chris Bennett of TMB Art Metal, but most were trawled in by farmers from ploughed fields.
The shells are then brought back to the UK, where they are melted down and poured into a mould. It is then cooled and cleaned to created the high-relief poppy.
Straight from the frontline
And that's not all, each poppy has a central disc of red enamel which has been applied by hand and, to add even more poignancy, this enamel is mixed with earth recovered from several locations along the British Front Line of the Somme and Passchendaele areas in Belgium.
Therefore, not only are the poppies made of actual WW1 metal, but they also possess the very essence of the battlefield which the brave soldiers fought and died upon, and that many still lie at peace beneath.
100 Poppies, 100 years
Significantly, 99 poppies have been engraved into the surface of the coin, making 100 poppies in total to reflect the centenary anniversary.
The finish on this year's Masterpiece design is a stunning antique effect. It means that, should you wish, you can actually touch the coin and the brass poppy itself. A chance to hold a genuine piece of history in your hands.
Watch the below video to see the incredible detail that has gone into this years stunning release.
Presentation that befits your masterpiece
And, as befits such a masterpiece, its presentation matches the coin's impressiveness.
The luxurious wooden display case allows you to display your Masterpiece Poppy Coin to the best advantage, with its glass lid protecting the coin. Inside the box is space for the individually hand-numbered Certificate of Authenticity, as well as the accompanying booklet that tells the story of the Masterpiece Poppy Coin from concept to final coin.
Available now – with a donation to The Royal British Legion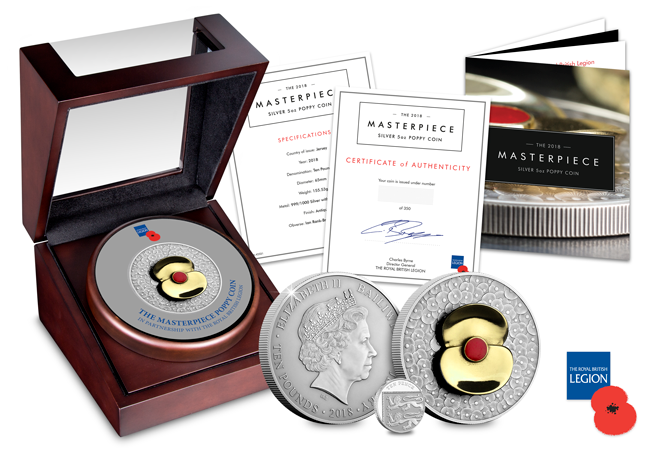 The 2018 Masterpiece 5oz Silver Proof Poppy Coin is available to own right now from The Westminster Collection, although they are expected to sell out quickly.
To further support the work of The Royal British Legion, a donation of £55 from the sale of each coin will go directly to the charity, helping them to continue to provide financial, social and life-long support to the Armed Forces community.
£1,000,000 Milestone
What's more, since our partnership began we are on target to raise an incredible £1,000,000 in support of The Royal British Legion.
---
If you're interested…
You can own the 2018 Masterpiece Poppy coin by clicking here >>
£55.00 from the sale of this product will be paid to The Royal British Legion Trading Limited, which gives its taxable profits to The Royal British Legion (charity no. 219279) or Poppyscotland (Scottish charity SC014096). Your donation will be given to either charity based on where the item was purchased.
Since 1795, the 10-dollar Gold coins in circulation in the United States have been referred to as "Eagles". These coins were legal tender until their withdrawal in 1933. However, there is one Eagle in particular that has become a numismatic legend.
A presidential intervention
You see, the obverse of the Eagle had long bore the goddess of freedom (Liberty), however in 1907, President Theodore Roosevelt complained to the Secretary of Treasury that US coinage lacked artistic merit.
As a result, Roosevelt personally commissioned New York City sculptor Augustus Saint-Gaudens to re-design this Gold coin; however, it was certainly not without incident!
Firstly, as the coin was designed by a sculptor, rather than a professional engraver, there were a number of issues in production, particularly due to the high relief. As a result, several versions of the coin had to be minted before achieving a sample appropriate for full production and release into circulation.
Secondly, Roosevelt felt strongly that a Native American war bonnet should be included in the design as a "picturesque" and "distinctly American" symbol. So, under President Roosevelt's instruction, Gaudens retained the Liberty profile on the obverse, simply placing a feather headdress on her head. Later, the coin would receive criticism for this absurd addition, with one art historian declaring that it missed out on being "a great coin" due to the President's interference.
Finally, further issues arose when the motto "In God we Trust" was replaced by "E PLURIBUS UNUM", which translates to mean "Out of Many, One". In fact, such was the public outrage, Congress passed a bill mandating its inclusion on any further coins. Mint Chief Engraver Charles E. Barber added the words and made minor modifications to the 1908 design.
A numismatic legend!
However, as is often the case, the flaws in the original 1907 Indian Head Eagle have made it one of the most desirable coins in the world.
In January 2011, what is probably the best-known example of an Indian Head Eagle, one of only 50 originally minted coins in the rare proof finish, was sent to auction – It sold for an incredible $2,185,000!
---
If you're interested…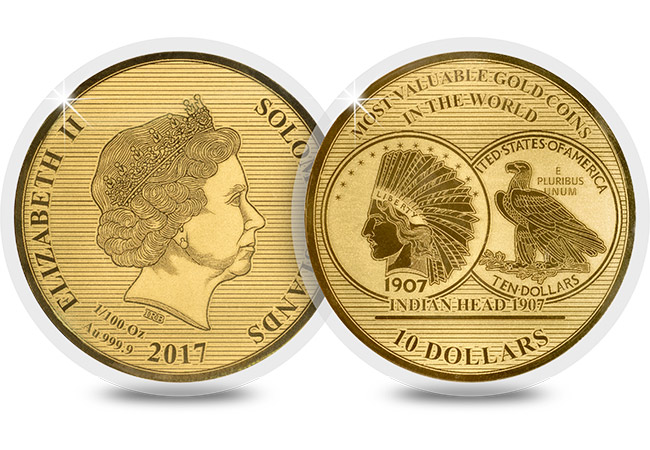 Today you can own one of the most valuable coin designs in the world…
This pure gold coin weighing just 1/100oz is an affordable way of owning one of the most valuable coin designs in the world – the 1907 USA Indian Head.
Click here to secure yours today >>
Today His Royal Highness, Prince George, celebrates his fifth birthday.
The British public and people from all corners of the globe have watched fascinated as young Prince George has grown from baby to boy; enamoured by photos of his first steps, his first day at nursery and when he started primary school.
To mark his fifth birthday this exclusive 24ct gold-plated five coin set has been released, which looks back on our future King's first five years.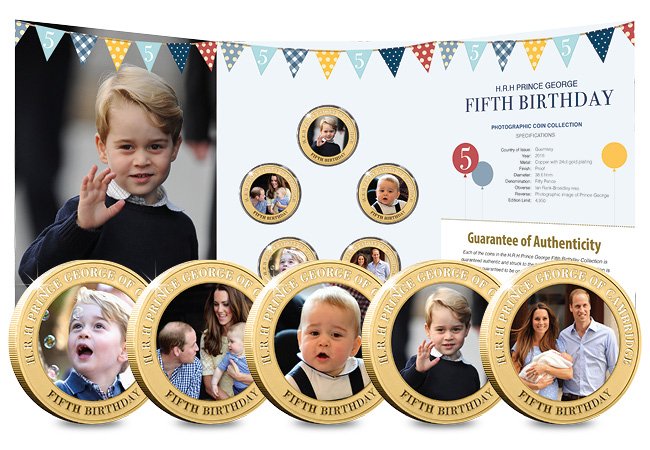 The first coin in the set shows the precise moment the whole world fell in love with our prince. When his beaming parents, the Duke and Duchess of Cambridge, introduced their new born son to the world outside of St Mary's Hospital in London.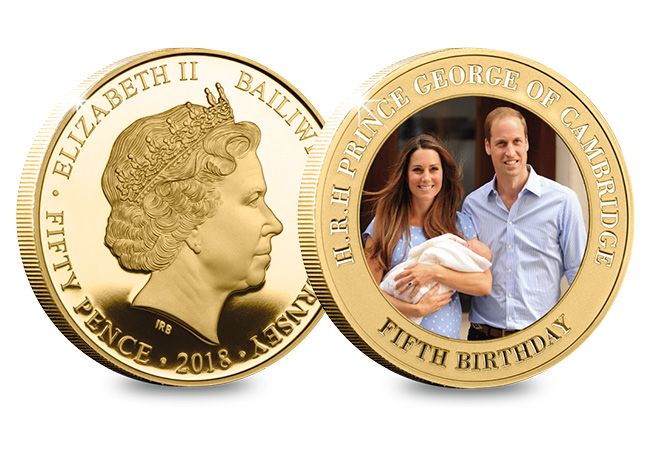 The next coin shows George during his first public engagement as part of the royal families tour of New Zealand and Australia in 2014. However, unlike his parents, his role was much more relaxed – it didn't include ribbon cutting or speech making, instead just a simple play date.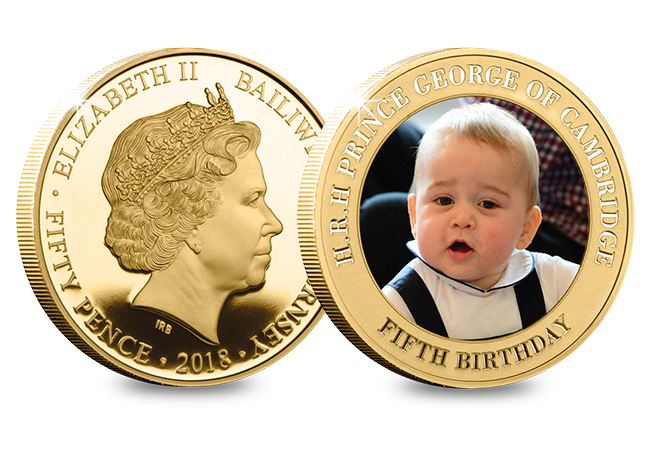 During the same royal tour, Prince George visited Taronga Zoo in Sydney, where he was introduced to one of the zoos bilbies, a desert-dwelling marsupial, which had been named after the Prince. A moment that's been captured on this coin.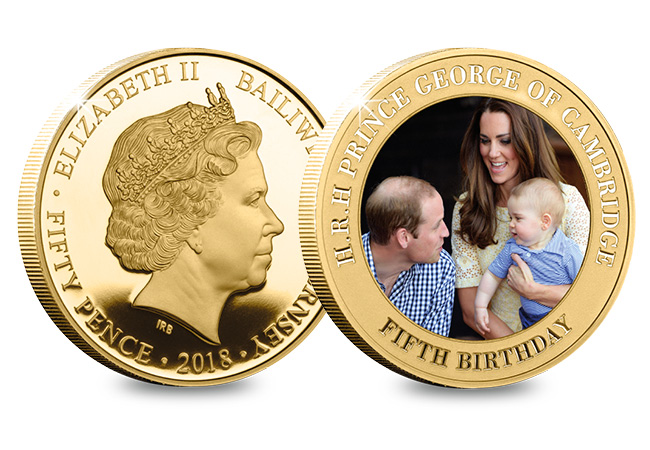 Next up is a coin that shows a considerably older Prince George, during the Cambridge families week long Royal Tour of Canada in 2016. The hugely popular photo of Prince George shows him absolutely mesmerised by bubbles at a children's party, which boasted a petting zoo, balloon modellers and a puppet show. However, shortly after this shot was taken, our Prince was publicly upstaged by his younger sister, Princess Charlotte, who spoke her first word in public, 'pop'.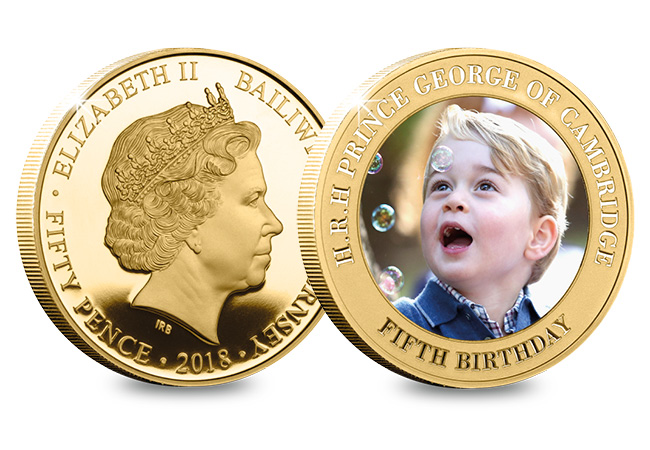 Finally, the coin that completes the set shows Prince George adorably practicing that all important royal wave, aged just three, at the end of his Royal tour of Canada in 2016.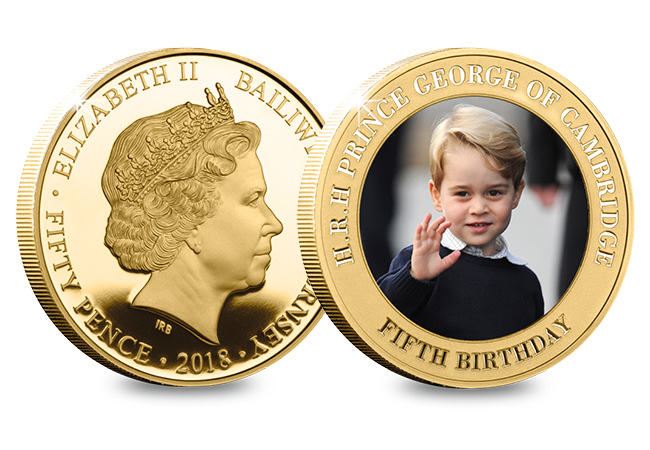 This brand new coin set looks back fondly and perfectly captures the first five years of our future King's action-packed life – and it's sure to be extremely sought after by collectors in years to come too.
---
If you're interested:
You can secure the Exclusive HRH Prince George of Cambridge's 5th Birthday Coin set today. But when you consider the very low edition limit and high demand for commemoratives celebrating the fifth birthday of our future King, a full sell-out is expected, so don't delay. Click here to find out more>>