It started – as all 'great' ideas do – down the pub.
There I was, sipping on my *ahem* first pint of amber nectar, when an interesting point came up. A good friend of mine, Billy, is turning 70 this year, and I was asked by my mates what I planned to get him.
It didn't take me long. By the second round I was in top form, and a great idea came to me.
And yet to their minds, my gift seemed beyond generous. And I'm not sure any of them believed me. But why?
Well that's because it's a genuine Penny Black – the crown jewel in the nation's greatest hobby.
"A genuine one?" was the doubting reply. Which is something I've heard a lot over the years.
It's a perfectly valid response. Especially when you consider the most famous example sold for just under £350,000!
You see, the Penny Black is the world's FIRST postage stamp. And better yet – from a collector's point of view – they were only issued for 9 months (1840-41), and are so highly revered in philatelist circles that no collection is complete without it. The very first. A pillar of the Victorian Age.
But here's the rub. 68 million Penny Blacks were printed in its 9 months of production.
And so for stamp collectors, condition is everything. In fact Stanley Gibbons, the authority on stamps, have a series of terms to help clarify what the condition of a stamp is worth. Every year they assign values to every British stamp ever issued. The values of the most desirable versions are called the 'fine [used or unused] catalogue price(s)'.
And while there are indeed many more factors that affect the overall value of a Penny Black (plate number, cancellation and corner letters), the gold-standard is the '4-Margin' – a stamp with four clear white margins around the stamp. And despite what you might think, it is a real rarity.
You see it was this version, the most desirable of the Penny Blacks, which I was giving to Billy. Perhaps you can now appreciate my friends' disbelief.
But there's something else. Something even more remarkable…
Over recent years the global market for stamp collecting has grown at a rapid rate. One of the major factors for this is because old, historic stamps are rare, difficult to source and limited in supply.
This overall rise in values is perhaps best illustrated by the Stanley Gibbons 250 Index, which has seen a 288% rise in the last ten years alone. Tracking the price of 250 key investment stamps, the index rise reflects the constant demand for the very best stamp issues. And significantly, this growth has been in stark contrast to other comparable markets over the same time.
As a result of this continued demand, the last two decades alone has seen the official Stanley Gibbons catalogue value for a fine used example of the Penny Black rise by 150% – out-performing many other comparable commodities.
And so came my idea. To give my good friend Billy a meaningful gift for a milestone birthday. A gift that's not only dear to my heart, but something with genuine historical significance, fantastic desirability, and as a bonus, a clear track record of increasing value.
So there you have it, a great idea for a great friend – thank-you Fosters.
---
If you're interested…
You can own your own 4-Margin Penny Black, like Billy. Click here for details >>>
Four new Beatrix Potter 50p silver coins have been revealed by The Royal Mint. Flopsy Bunny, the Tailor of Gloucester, and Mrs Tittlemouse all feature for the first time on UK coinage – whilst Peter Rabbit returns for the third year in a row.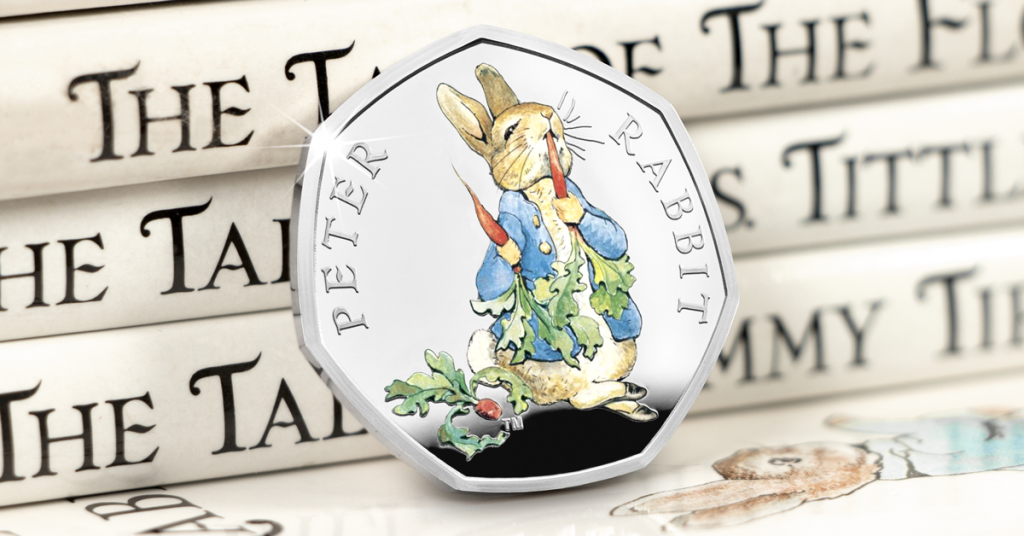 The four coins issued last year by The Royal Mint created a collecting storm when 30,000 Peter Rabbit Silver 50p's sold out in just ONE day, making it the fastest selling and most popular Silver UK 50p coin EVER.
And now they're issuing BRAND NEW designs for 2018.
Here's a first look at the new silver coins, with details of when they are available…
2018 Peter Rabbit 50p
Back by popular demand is everyone's favourite bunny – Peter Rabbit.
Probably Beatrix Potter's most familiar character, the Peter Rabbit Silver 50p, which features the cheeky Rabbit eating carrots from Mr. Mcgregor's garden, is bound to be incredibly sought-after.
2018 Flopsy Bunny 50p
This silver 50p, due to be released in March, pictures the loveable Flopsy Bunny – who, with thanks to her family, manages to narrowly avoid Mr. McGregor's capture and later get revenge.
2018 the Tailor of Gloucester 50p
Available in April, the Tailor of Gloucester Silver 50p features the original illustration from the front cover of Beatrix Potter's book. A charming tale of a grateful mouse who after being saved from a ferocious cat, goes onto repay his savior, a tailor, by working on and completing, the tailors waistcoat.
All four coins have been struck to a fine 'proof finish.' It really brings the designs to life – and is often referred to as 'the collector's favourite' due the high level of craftsmanship required to achieve the result.
2018 Mrs Tittlemouse 50p

The last coin to be made available in May introduces another of Beatrix Potter's creations, Mrs Tittlemouse. The charming tale focuses on Mrs Tittlemouse, a tidy little mouse who struggles to keep her home from being invaded by messy insects. The illustration featured on the coin is taken from the original front cover.
I'm sure you'll agree, these four coins are the perfect continuation of the series, and really capture the nostalgic charm of Beatrix Potter's original stories.
But if there's one lesson you can take from last year, make sure you get yours early – before they sell out!
---
If you're interested…
You can secure the Peter Rabbit 2018 Silver 50p today, click here for more information >>
Update 23/01:


Royal Mail's Game of Thrones Stamps
officially released today.
Secure yours now by clicking here >>
Revealed for the first time today, Royal Mail are set to release 15 new Game of Thrones stamps celebrating the global-success of the hit fantasy TV show, filmed primarily in the British Isles and featuring a star studded cast brimming with home-grown talent.
Scheduled for release on 23 January 2018, the new stamps will feature 10 of the best loved characters from all seven series', including Tyrion Lannister, Arya Stark, Jon Snow, Daenerys Targaryen and Ned Stark, as well as an exclusive Miniature Sheet, comprising the Iron Throne, the Night King, Drogon and Ghost.
The stamps are Royal Mail's first ever Game of Thrones stamp issue, and the first Postage Stamps to feature Game of Thrones, the world over.
---
Here's your first look at the new stamps alongside a bit of info about each one…
SANSA STARK
Eddard Stark's oldest daughter, Sansa, was held in King's Landing by the Lannister's after her father's murder. Initially naive and trusting, she learned how to play the Game of Thrones by observing the devious Petyr Baelish. Following a battle to reclaim her ancestral home, she became the Lady of Winterfell.

JON SNOW
The King in the North is a loyal and honourable man. After joining the Night's Watch, he rose to become the Lord Commander, but his insistence on making common cause with the wildlings led to mutiny and his demise. Resurrected, he returned to Winterfell and defeated Ramsay Bolton.
EDDARD STARK
The head of the Stark family was an honourable, upright and decent man in a dark world. Asked by his oldest friend Robert Baratheon to govern as Hand of the King, he found himself out-manoeuvred at every turn. His execution on trumped-up charges fuelled the War of the Five Kings.
OLENNA TYRELL
Sharp of tongue and fierce of wit, Olenna Tyrell was the matriarch of the Tyrell family. After losing almost all her family in an explosion orchestrated by Cersei Lannister, Olenna vowed revenge and joined forces with Daenerys Targaryen hoping to bring the Lannister lions to their knees.

TYWIN LANNISTER
The head of the Lannister family was a consummate tactician who ruled his adult children with an iron will. Having engineered victory in the War of the Five Kings thanks to his astute military tactics, Tywin was later undone by his refusal to respect and appreciate Tyrion Lannister.

TYRION LANNISTER
The youngest Lannister, Tyrion spent most of his life shunned by his family, who failed to appreciate his sharp political mind. Falsely accused of poisoning Joffrey, he was freed by his brother Jaime only to then murder their father. He has pledged his allegiance to Daenerys Targaryen.

CERSEI LANNISTER
Robert Baratheon's widow spent years hiding a dark secret: her three children were not Robert's but the product of a long-standing relationship with her twin brother Jaime. Now all three children are dead, and Cersei sits on the Iron Throne in King's Landing. She is determined to see off all other contenders.
ARYA STARK
Eddard and Catelyn Stark's youngest daughter was more interested in learning to fight than becoming a lady. After her father's death, she survived on her wits, eventually training with the Faceless Men in the Free City of Braavos. She subsequently returned home to Winterfell and reunited with her siblings.
JAIME LANNISTER
Cersei's cynical twin brother has a major flaw – his love for his sister. Captured early on in the War of the Five Kings by Robb and Catelyn Stark, he was freed by the latter against her son's wishes. Increasingly troubled by Cersei's behaviour, he was last seen leaving King's Landing.

DAENERYS TARGARYEN
Revered by her followers as the mother of dragons, Daenerys Targaryen recently landed in Westeros to claim the Iron Throne. Shortly after her arrival, Jon Snow, hoping to convince her to help him fight the forces beyond the Wall, offers the support of the north.
---
Winter is here with Royal Mail's official Game of Thrones stamps
The issue consists of independently custom-designed stamps, with unprecedented detail to showcase 10 central Game of Thrones personalities, 4 non-human characters and the Iron Throne itself.
The set of ten best-loved character stamps show exclusive photographic representations of central characters from across all seven seasons in the Game of Thrones' series. Each stamp is centred on an individual character and is a complex montage of multiple images from the series; creating ten bespoke images that embody the crux of each character's story. Each individual design is assigned a 'colour identity', aligned with the character and their environment, as well as being a reflection of the production values and themes of the series.
The Miniature Sheet centres on the non-human characters in the Game of Thrones series with a very different emphasis to the mint stamps. Despite this, they adhere to a similar design concept; creating distinctive backgrounds through an overlay of imagery to provide insight into the character's stories. All 4 stamps are carefully constructed in a way that reflects the characters' environments; however, they are all united by the Iron Throne Definitive at the centre of the sheet, mirroring what lies at the heart of the season as winter comes.
---
If you're interested…
You can own all of the new Game of Thrones stamps right now on a limited edition Collector Card – professionally framed and ready to hang.