From Peter Rabbit to Rupert Bear and even James Bond, March was jam-packed with exciting new releases for collectors.
Need a reminder of what they were? Well in my latest video I count down my top releases from the month… It's certainly been a good'un.
---
If you're interested
Click here to add the top coins of March to your collection >>
From Tiny Dancer, to Rocket Man, there's no denying Sir Elton John has produced some of the most recognisable and popular hits the world has ever seen. His music catapulted him to global stardom in the 60s and 70s, and he is now one of the world's best-selling artists of all time.
And now, the Royal Proclamation issued on the 14th of February 2020 confirms that a range of Elton John coins will be released this year. I can't think of a better way to celebrate his legacy and contribution to British music than with a UK coin!
Not many details have been released yet by The Royal Mint, but if you want to be the first to know when they're released simply register your interest below.
In the meantime, let's take a closer look at the Royal Proclamation to see what's in store for this exciting new coin range…
Next Music Legend?
This news comes following the exciting release of the first coin in The Royal Mint's Music Legends coin series – the Queen £5 – earlier this year.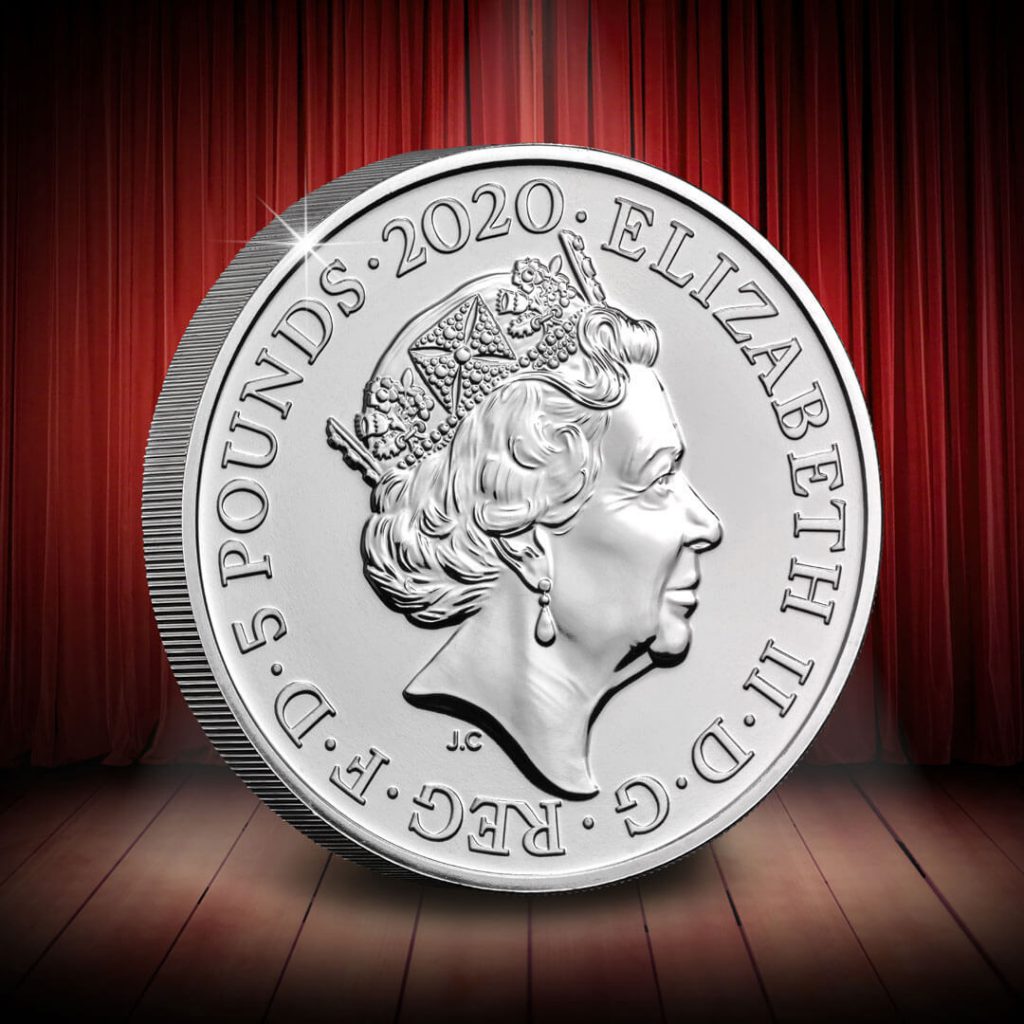 I think we can safely assume that Elton John will be part of this series and we're sure that collectors and Elton fans alike will be feeling the love for this new coin.
At the moment, the designs are still top secret but the reverse is said to feature Elton John's boater hat, glasses and bow tie set against a union flag and the inscription "ELTON JOHN".
It also looks like this commemorative Elton John coin will be issued in a variety of base and limited edition precious metal specifications and denominations. This includes a Brilliant Uncirculated £5 coin and a 1oz Silver £2 coin that will be the only coin in the range to feature a special edge inscription – "a decorative star pattern and in incuse letters the inscription "ELTON JOHN"."
Register your interest
It goes without saying that Elton John has leagues of fans worldwide, so I expect these new commemorative issues to be amongst the most anticipated new issues in 2020, and as such will be in high demand. That means when the coins are released you'll have to act quickly to secure yours!
If you want to be kept up to date and be the first to know when these coins are available then simply register your interest below and we'll email you as soon as we have more information.
The wait is finally over and it is with great excitement that we can reveal our brand new Rupert Bear British Isles 50p coin range with you all!
For the FIRST TIME EVER Rupert Bear will feature on a brand new 50p coin. But that's not all, as four more 50p coins featuring some of the best-loved characters from the comic strip have also been released.
Rupert Bear was created by Mary Tourtel as a cartoon for the Daily Express newspaper and his adventures continue up to this day, celebrating his 100th anniversary in 2020.
Whether you're looking for the new centrepiece for your collection, you're an avid 50p collector, a Rupert Bear fan or looking for the perfect gift for a loved one, there's bound to be something within the range for you.
Find out more about each of the wonderful Rupert Bear 50p coins we have available below….
---
The Official Rupert Bear 50p Coin
This is the perfect piece for those new to collecting or if you're looking for the first coin to start your collection. The 50p has been struck to a Brilliant Uncirculated quality – a superior finish sought-after by collectors – and features a stunning illustration design of Rupert Bear by Matt Tindall.
The coin comes presented in official Rupert Bear packaging, meaning it will be protected for years to come. Order yours for JUST £6.25 (+p&p) by clicking here>>
The COMPLETE Rupert Bear Brilliant Uncirculated 50p Collection
This set is one of the only ways you can own all FIVE Rupert Bear 50p's in superior Brilliant Uncirculated Quality. Each of the coins feature a specially commissioned design depicting some of the best-loved characters from the comic strip.
New 50p collections such as this prove extremely popular with collectors and we expect this to be no exception. If you'd like to secure one for your collection you'll need to be quick. Click here for more details >>
The Silver Proof Rupert Bear 50p Coin
If you'd prefer to own a more limited version of the coin, then this Silver Proof Rupert Bear 50p is for you. Struck in Sterling Silver to an immaculate Proof Finish, the coin features an impressive full-colour illustration of Rupert Bear exactly as he features in the famous comic strip series.
Silver Proof 50p's are amongst the most sought-after new issues around and with JUST 4,950 of these available worldwide, a sell-out is expected. Order yours today before it's too late>>
The COMPLETE Rupert Bear Silver Proof 50p Collection
Are you after the perfect new centrepiece for your collection? Then look no further. The Silver Proof 50p Collection is perhaps the ultimate way to own these brand new coins. Each 50p has been impeccably struck in Silver to an immaculate Proof Finish and features one of five full colour designs.
Importantly, this set is the only way you can own ALL FIVE designs in Silver Proof quality. With just 2,495 available worldwide you'll need to act fast to guarantee the complete set for your collection. These won't be around for long! Find out more by clicking here>>
The Gold Proof Rupert Bear 50p
The crème de la crème of the range you could say. If you're looking for the most premium and limited way to own one of these brand new British Isles Rupert Bear 50p coins, then this is it. The coin has been struck from 22 Carat Gold to a perfect Proof Finish, and features a stunning engraving of Rupert Bear.
New Gold Proof 50p's have a strong sell-out history and high demand is expected. If you'd like to join one of JUST 250 lucky collectors worldwide to own this prestigious new coin, then please don't delay. Click here for more information>
The Ultimate Rupert Bear 50p Coin Cover
For all the stamp collectors out there, this could be the perfect piece for you! As today, you can secure ALL FIVE of the Rupert Bear 50p Coins in superior Brilliant Uncirculated Quality, on this exclusive cover alongside classic Royal Mail Rupert Bear Stamps.
Only 750 covers are being issued worldwide. An edition limit that is confirmed by the one-day-only postmark – 9th March 2020 – the official release date of the new 50p coins. Given the limited number available a sell out is expected, so please order yours as soon as you can to avoid disappointment.> (opens in a new tab)"> Click here to find out more >>
---
Rupert Bear is a national treasure whose appeal spans across many generations. As such demand is expected to be extremely high for these brand new 50p coins.
It is highly advised that you act quickly to secure your favourite pieces from the collection to avoid disappointment. Sell-outs are expected, and fast.
> (opens in a new tab)">Click here to find out more about the range and secure one of the WORLD'S FIRST Rupert Bear 50p coins for your collection today >>