To honour the life and achievements of Queen Elizabeth II, The Royal Mail has issued four commemorative stamps, featuring portraits of Her Late Majesty.
They feature beautiful black & white images of the Queen throughout her life, taken between 1952 and 1996.
The Queen Elizabeth II stamps are also the first to be approved by King Charles III, which is sure to increase collector demand.
The Westminster Collection have issued a limited set of these stamps, postmarked on their first day of issue – 10th November 2022.
New Royal Mail Stamps: Queen Elizabeth II Memorial Cover
Featured alongside the stamps is one of the most sought-after coins of recent years, the UK Platinum Jubilee £5 coin.
Just 2,022 of these covers are available to mark this important moment in history. And remember, the one-day-only postmark means no more can ever be produced.
Pay tribute to the incredible life of Queen Elizabeth II. Pre-order this special cover today for just £39.99 (+p&p) by clicking here >>
Queen Elizabeth II Stamp & Coin Memorial Set
As well as the Queen Elizabeth II Memorial Cover, The Westminster Collection has an extremely limited collection of coins from the 1953 Coronation year, issued alongside these brand new stamps.
This memorial collection includes a complete collection of eight coins, each one struck by The Royal Mint in the year of Queen Elizabeth II's Coronation in 1953.
At nearly 70 years old, these coins are difficult to find and incredibly sought-after on the secondary market.
JUST 495 issued
With brand new Royal Mail stamps, postmarked on their issue date, and alongside the 1953 circulating coinage, the edition limit of 495 isn't likely to be enough.
Click here to secure your Queen Elizabeth II Stamp & Coin Memorial Set >>
---
Let us know in the comments below what you think of these brand new Queen Elizabeth II Royal Mail stamps.
---
A few weeks ago, I returned from the American Numismatic Association's World Fair of Money in Chicago. Not only is Chicago famed for its bold architecture, a skyline punctuated by skyscrapers and a rich history of jazz, but it is also the home to international coin trading and developing. And I returned to British turf with more than just my suitcase…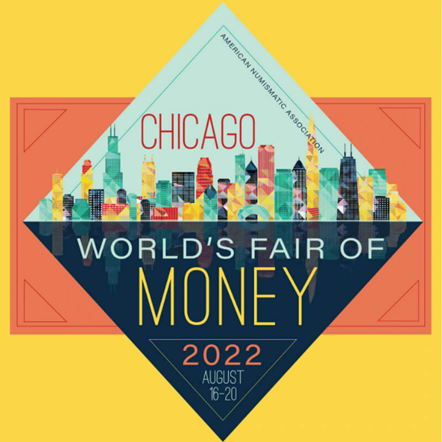 As any collector will know, the original 1986 U.S. Silver Coins are one of the most difficult products to secure. In fact, across decades of SELL-OUTS and over 500 million sales, I have tried for years to get my hands on these coins but was always left disappointed. Until now…
My American partner has FINALLY helped me to specially source just 400 of the original 1986 U.S. Silver Eagle 1oz Silver Coins!
Also known as the MOST POPULAR COIN IN THE WORLD.
Read on to travel back to 1986 America and uncover what makes this coin so sought-after, its consistent sell-out history, and why it is one of the scarcest products we have ever had available…
History
In the U.S., coin collecting is one of the most competitive global markets! This is no surprise when you consider some of the most exquisite and iconic designs emerge from the coins of our American cousins. For years we have seen the increasing demand for U.S. coins, especially in the UK where they are rarely seen, let alone secured.
And November 24th 1986 was no exception! This was the date that the U.S. Mint released 5,393,005 of the original 1986 U.S. Silver Eagle coins with an iconic and patriotic design, never before seen by the American public. In fact, John Mercanti's innovative reverse design which uses the eagle and thirteen stars to symbolise the strength and unity of the American colonies became the most sought-after design the country had ever seen.
What's more, records were broken when this entire mintage SOLD-OUT immediately from the U.S. Mint!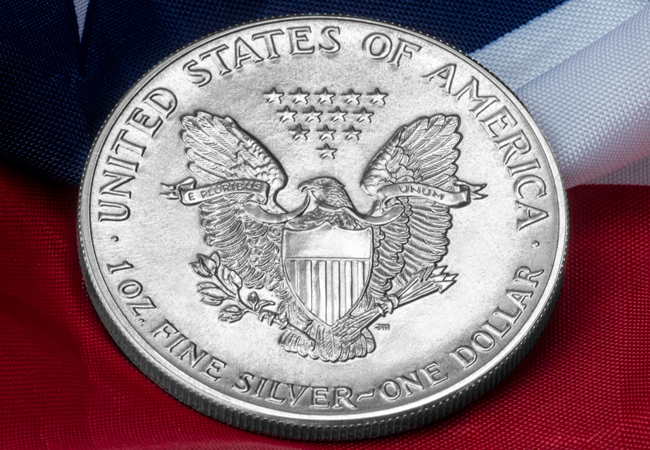 DECADES OF SELL-OUTS
The Silver Eagles are undeniably the most sought-after products in coin collecting. And whilst 1986 marked the first year of SELL-OUTS at the U.S. Mint, 36 years later the pattern continues…
For example, the 2021 edition SOLD-OUT 175,000 Silver coins in just 3 days. This followed on from the record-breaking success of 2014 and 2015, which SOLD-OUT 91 million U.S. Silver Eagles over both years…
Interestingly though, during arguably the toughest month we have seen in decades (March 2020), U.S. Silver Eagle sales skyrocketed. In fact, the U.S. Mint ran out of its trademark Silver Eagle bullion coins as revenue increased by a whopping 300%!
JUST £29 Deposit…
But now, we are giving just 400 lucky Westminster collectors the chance to secure the very first edition of the U.S. Silver Eagle in exclusive packaging to guarantee and preserve its authenticity! Considering its title as one of the world's most popular coins combined with a consistent sell-out history, you must act now to add this record-breaking product to your collection before it inevitably follows suit…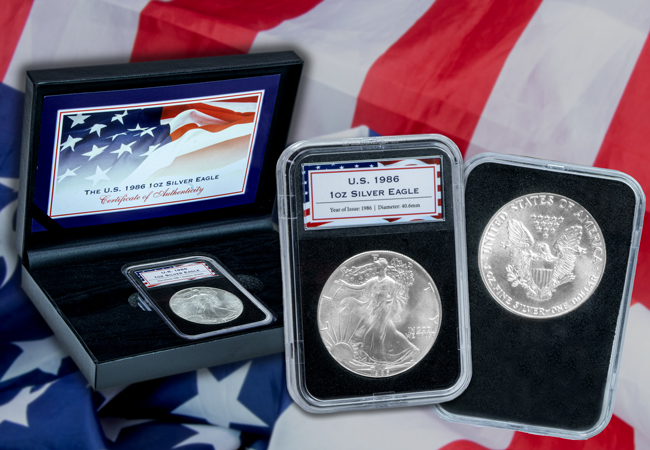 The good news is you can secure yours today with an initial deposit of just £29 (+p&p), followed by four further equal interest-free monthly instalments. This is undeniably the most cost-effective way to secure the first EVER U.S. Silver Eagle and preserve a significant piece of American history…
Click here to add the 1986 U.S. Silver Eagle 1oz coin to your collection before it's too late>>>>
40 years ago, in 1982, an unprecedented cinematic event took place that stirred the souls and captured the imagination of countless generations.
When "E.T. The Extra-Terrestrial" landed in theatres, the heartwarming story of a young boy who befriends a stranded alien quickly broke all box office records to become an instant classic.
More than just a marvel of visual effects, E.T. embraced our hearts, let us believe in the impossible, and most importantly, encouraged us to keep reaching for the stars.
Celebrations around the world have already started to mark the 40th anniversary. We are also excited for the IMAX re-release that came out in August!
And now, Steven Spielberg's unforgettable masterpiece has been brought to life on FIVE Brand New Coins to celebrate the 40th Anniversary of "E.T. The Extra-Terrestrial"!
Keep on reading to find out more…
---
The E.T. 40th Anniversary BU Colour Coin Set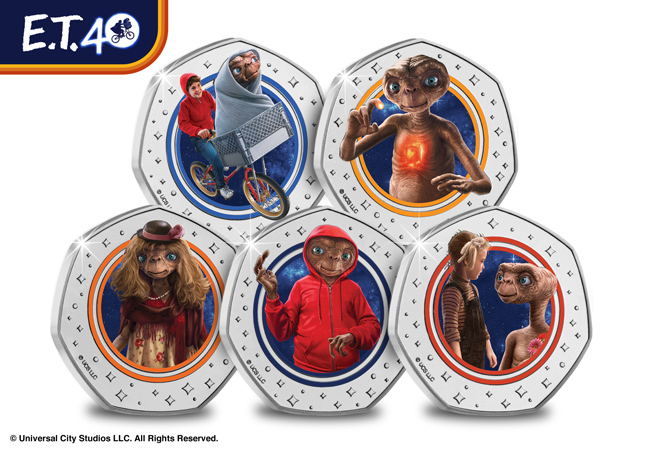 This 50 Cent set has been released in an extremely limited specification – Coloured Brilliant Uncirculated. Reserved for the most important releases, only very limited numbers of BU colour coins are ever released.
Given the rare specification, very few are being made available for collectors. In fact, just 995 will be released worldwide, and this will be the only way you can own all five 50 cent coins in the exclusive colour Brilliant Uncirculated specification.
Each set will come in a Presentation Box along with the Certificate of Authenticity, confirming its strict 995 edition limit.
Secure yours today for just £62.50 (+p&p) >>
---
The E.T. 40th Anniversary Silver Proof Coin Set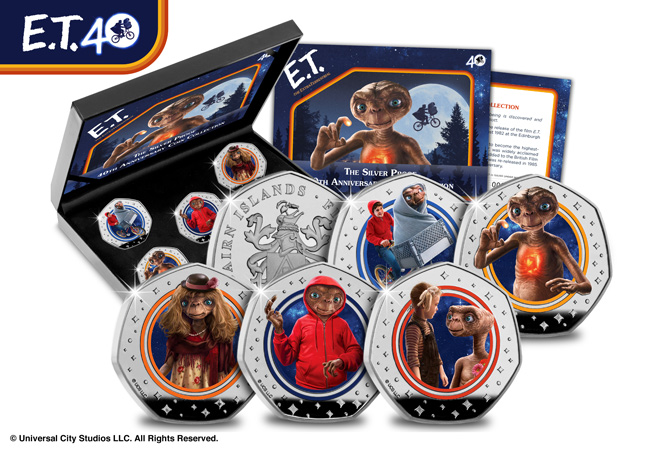 Of course, you can own ALL 5 of the new E.T. coins in stunning Silver Proof quality too!
Limited to JUST 500 sets worldwide, your FIVE Silver Proof coins will arrive presented in a deluxe presentation box, ready to display in your home with pride.
Again, we expect the full edition to be to be snapped up in the UK – before it's offered further afield…
Click here to find out more >>
---
E.T. The Extra-Terrestrial Ultimate Coin Cover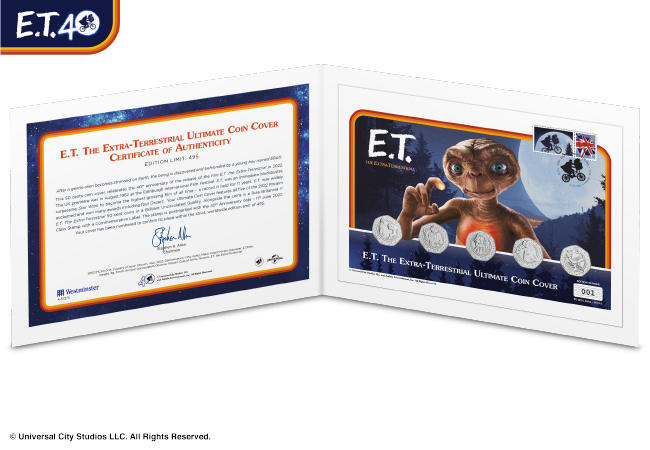 All five BU coins have also been included in this special coin cover – easily the ultimate way to own and present this set.
Paired alongside your coins is a specially commissioned "E.T. The Extra-Terrestrial 40th Anniversary" philatelic label. As well as this, the presentation cover has also been officially postmarked by Royal Mail on the 40th anniversary of the movie release date – 11th June 2022.
This one-day-only postmarking means that no more can ever be produced.
Its edition limit of JUST 495 is confirmed on the accompanying Certificate of Authenticity which sits inside the Presentation Folder.
The collectability and strict edition limit of this Ultimate Cover is sure to attract the attention of collectors – so you'll need to act quickly.
Click here to own one today >>
---
The E.T. 40th Anniversary Silver Proof 5oz Commemorative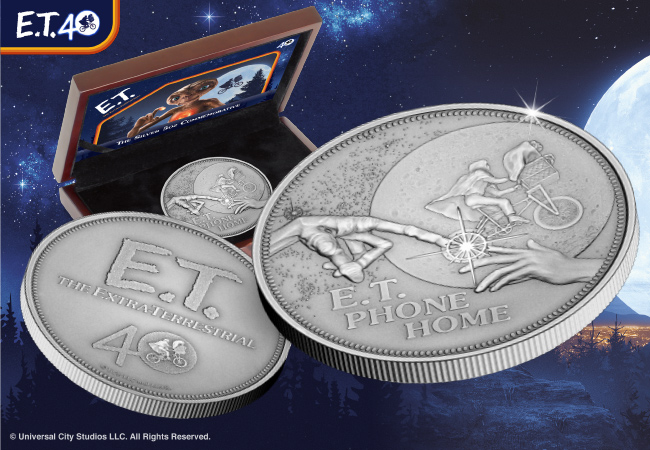 And we're not done there…
Because you can also celebrate this 40th anniversary with this stunning Silver 5oz Commemorative.
Words really do not do this commemorative justice; the craftsmanship is truly impeccable.
Struck from 5oz of .999 Fine Silver, Steven Spielberg's unforgettable masterpiece has been brought to life on the design, featuring the famous bike scene on a moon backdrop, and the inscription 'E.T. PHONE HOME'.
With high-demand expected and such a small edition limit, you'll have to act quickly to secure one for your collection.
It will arrive protected in a Presentation Box alongside a Certificate of Authenticity confirming the tiny edition limit.
Click here to find out more >>
---
With prices starting from JUST £6.99, you can discover all the brand new products in the E.T. 40th anniversary range here. Including the BU coin, the BU Coin set, Silver Proof Coin and the Silver Proof Coin Cover, there really is something for every collector on this significant anniversary.
There's never been a better time to bring back those nostalgic memories. And with E.T. carrying a worldwide fanbase, reservations are now being taken on a first come first served basis – we would advise acting now!
Click here to browse the full range of E.T. 40th Anniversary releases starting from JUST £6.99 >>