On 1st June 1969 room 1742 of The Queen Elizabeth Hotel in Montreal, Canada, became a recording studio.
It is there that John Lennon, alongside Yoko Ono, debuted his powerful anti-war anthem Give Peace a Chance. Written in protest against the Vietnam War and as a promotion of peace, the song was the pinnacle of the newlywed's infamous protest "Bed In for Peace".
It was a moment that has forever cemented a bond between John Lennon and Canada. A bond that is now marked by the release of an exclusive new limited edition coin by the Royal Canadian Mint, issued in celebration of the 50th Anniversary of Give Peace a Chance.
It was unveiled yesterday by Ian Graham, International Sales Director of the Royal Canadian Mint, in front of the John Lennon Peace Monument in Lennon's hometown – Liverpool. We were lucky enough to attend this special launch event and captured all the details as they unfolded for you.
Check out our exclusive footage below:
The Royal Canadian Mint are renowned for their innovative coins and eye catching designs but their latest coin release holds a more poignant message.
Struck from one once of .9999 or 'four nines' silver to a perfect proof finish, the coin features a photographic image of John Lennon and Yoko Ono during their Montreal "Bed-in for Peace".
As one of the most famous anti-war anthems of all time, this powerful song has remained in the hearts of generations of pacifists and music fans around the world for 50 years.
Remarkably, there are just 9,999 of these special coins being released for worldwide distribution. That's almost certainly not enough for Canadian fans, let alone collectors across the globe.
In fact, I haven't seen John Lennon officially portrayed on a coin since 2010. And guess what… that one sold out in a few days.
So if you'd like to GIVE PEACE A CHANCE and secure one of these for your collection then you'll need to be quick.
It's surprising, in this new digital age, just how 'hands-on' designing a coin is. In fact, it's very much the job of a master craftsman.
Never was this more evident than when the Isle of Man Treasury chose to mark the 200th Anniversary of the birth of Queen Victoria with three new coins, each with a brand new portrait.
The man they turned to was renowned sculptor Luigi Badia and here's the remarkable process of how these coins were developed.
First Stage – Pencil designs
Like most products across all industries, designing a coin starts with pencil sketches. These are then amended, potentially many times, until a final sketch is produced and approved.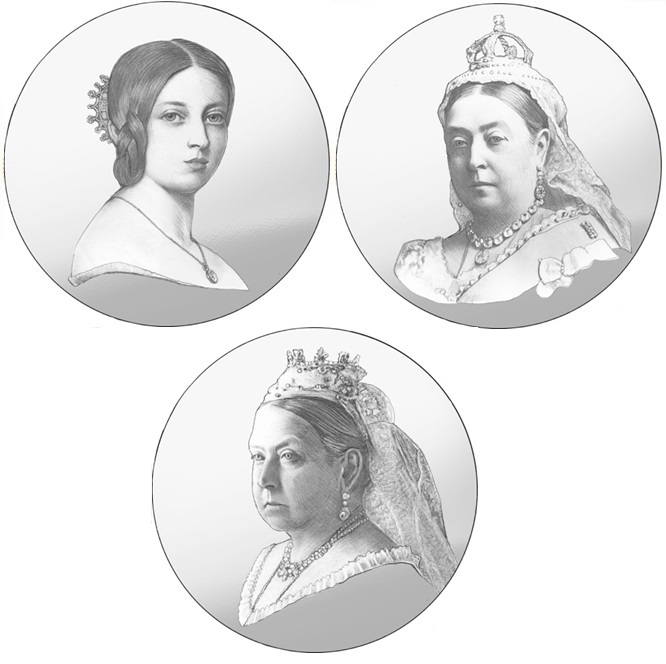 Second Stage – Plaster modelling
The second stage is arguably the most visually stunning. The sculptor, Luigi Badia in this case, will turn their sketches into a 3D 'Plaster' design. The skill involved in this process is really very impressive as every tiny detail must be modelled.
The plaster is far larger than the actual coin size to allow for this detail to be captured. The design will be resized in the next step of the process.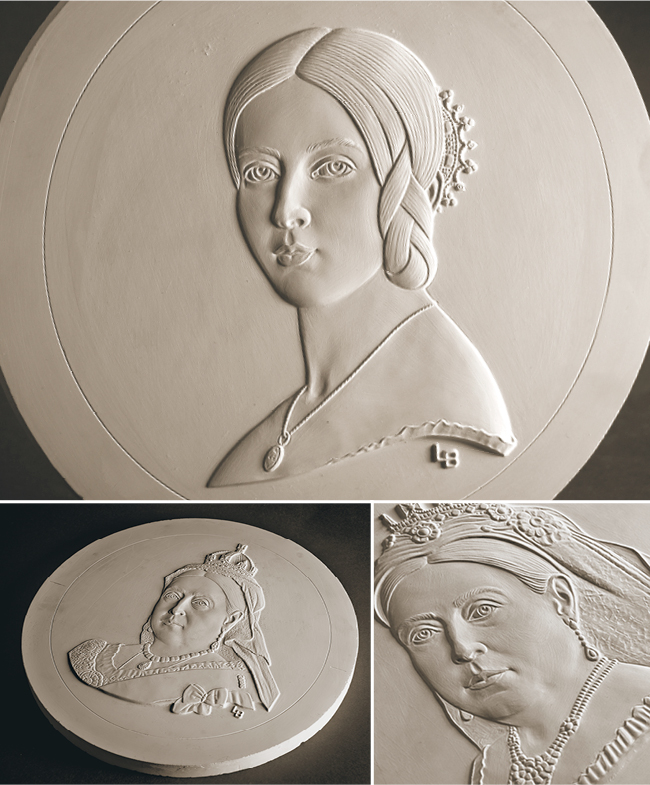 Third Stage – Digital Modelling
It's during this stage where technology has certainly helped the design process. The 3D 'Plaster' designs are scanned and a digital file, called a greyscale, is created.
An engraving machine then uses this file to cut the design into a piece of steel that's the actual size of the final coin. This will then be used to make the dies that will actually strike the coins.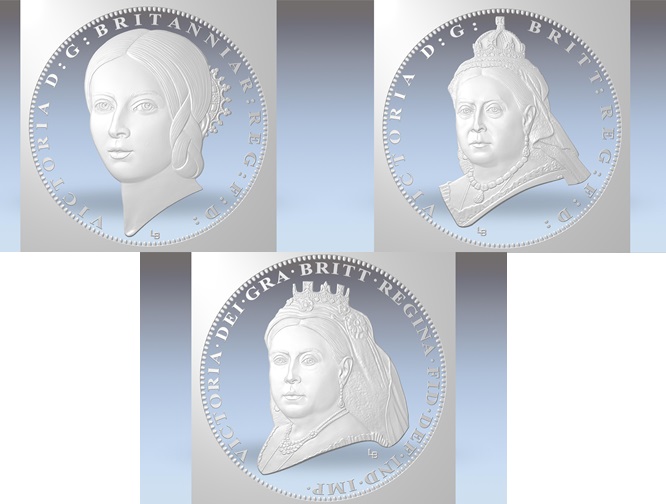 Fourth Stage – Coin Striking
This final stage is when the physical coin comes to life. The specially prepared die is used to 'strike' the design onto a metal 'blank'. The metal used for the blank can vary widely, from cupro-nickel to silver and gold.
Only once the mint is perfectly happy with the quality of the struck coins will they be issued.
---
The Queen Victoria Silver Antique £5 Set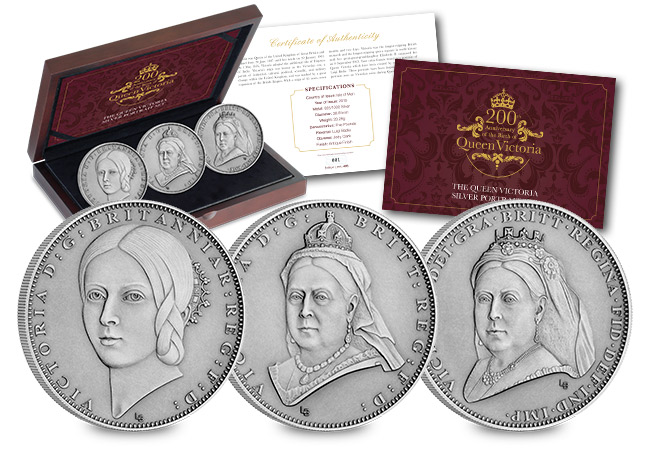 This set is the only way to own all three of these stunning, specially commissioned Antique Silver £5 Coins.
Just 495 of these stunning sets are available worldwide and exclusive to The Westminster Collection.
You can secure yours today for a down payment of just £54 >>
Revealed for the first time today, Royal Mail are set to release 15 new MARVEL stamps, to celebrate 80 years since the founding of MARVEL Comics, and its irrefutable impact on British culture.
Scheduled for release on 14 March 2019, the new stamps will feature 10 of the best loved characters from Marvel's illustrious history, including Spider-Man, Iron Man, Hulk, Thor, Black Panther, and Doctor Strange, as well as an exclusive Miniature Sheet like no other – five bonus Marvel stamps that form part of a ten-panel never-before-seen comic book strip in which the Mad Titan, Thanos, launches a deadly attack on the world.
The stamps are Royal Mail's first ever MARVEL Comics stamp issue, and are likely to prove immensely popular with the British public, and collectors throughout the world!
Here's your first look at the new stamps alongside a bit of info about each one…
Spider-Man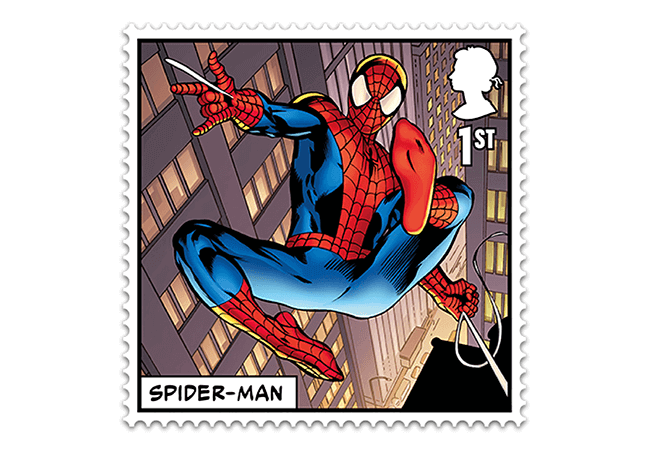 Peter Parker is Spider-Man, New York's amazing web-slinging hero. Bitten by a radioactive spider as a teenager, Peter Parker gained arachnid-like abilities and, after his Uncle Ben was murdered, swore to use his abilities to help others – having realised that with great power comes great responsibility.
Captain Marvel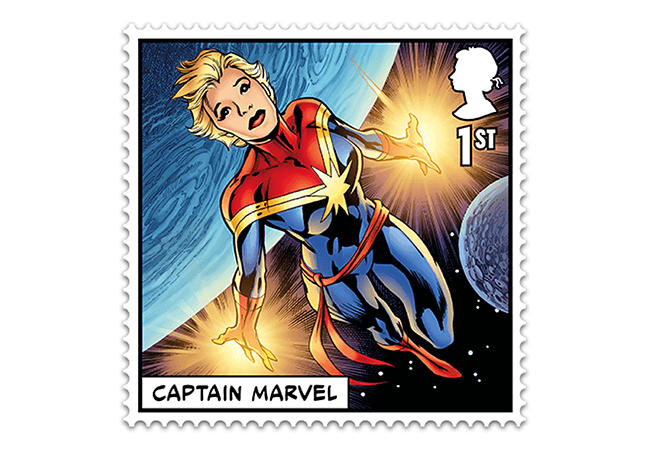 Carol Danvers was an Air Force officer when she met Kree hero Captain Mar-vell. After her DNA mixed with his during an explosion, she gained super powers and took the name Ms Marvel. Following the original's death, Carol took on the mantle of Captain Marvel to honour his legacy.
Hulk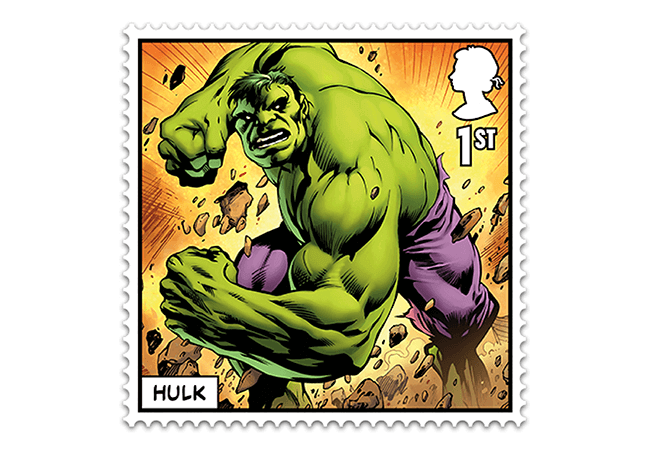 When mild-mannered scientist Bruce Banner was bombarded by radiation from a gamma bomb, he was transformed into the incredible Hulk. The green-skinned behemoth is one of the planet's most powerful and misunderstood heroes – feared by a world he has saved numerous times.
Captain Britain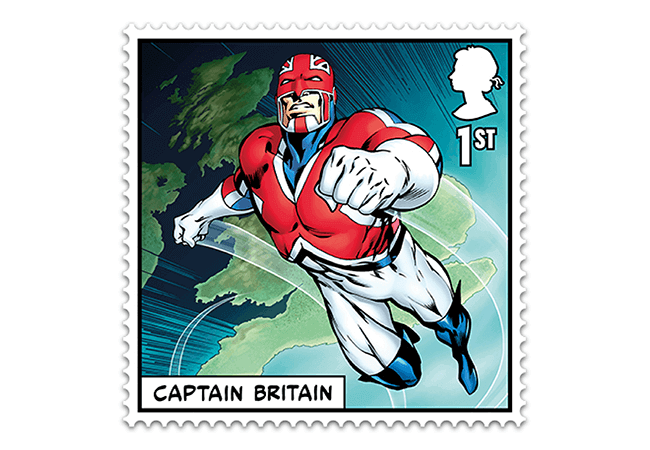 Brian Braddock was chosen by Merlyn to be Britain's greatest protector. Granted amazing powers, Brian became Captain Britain. He soon learned he was part of a multidimensional Captain Britain Corps and has fought alongside Excalibur and the Avengers to keep his country – and the world – safe from harm.
Doctor Strange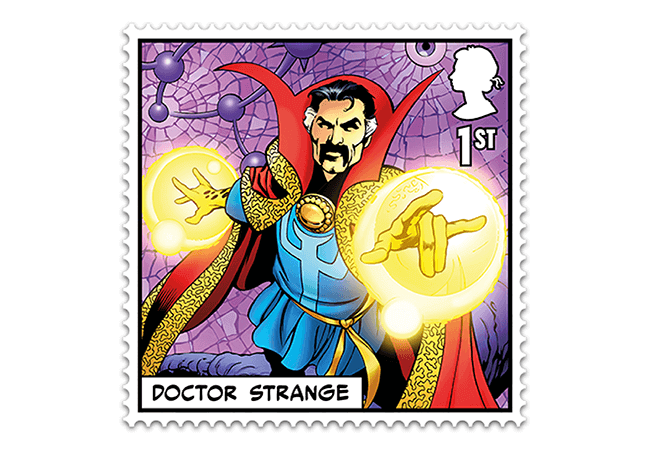 Once a brilliant yet vain surgeon, Stephen Strange sought out the help of the Ancient One when his hands were badly damaged in a car crash. Strange's path led him to become a Master of the Mystic Arts and Earth's Sorcerer Supreme, protecting the world from evil forces.
Peggy Carter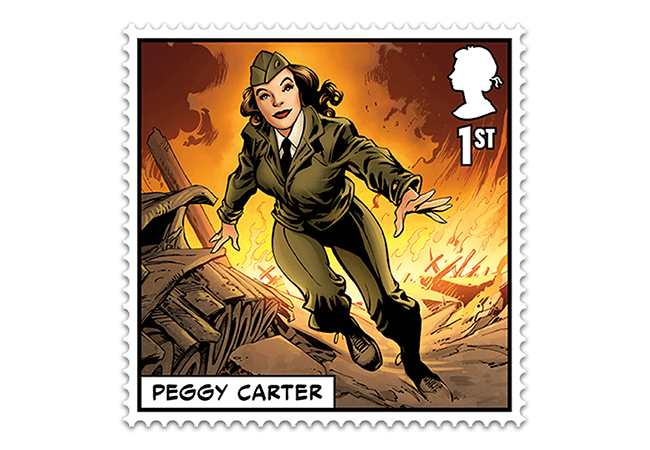 Peggy Carter was working for the French Resistance in the Second World War when she met and fell in love with Captain America. The two fought the Axis powers together before they were separated by the war. Peggy went on to become a leading agent of S.H.I.E.L.D. (Strategic Homeland Intervention, Enforcement and Logistics Division).
Iron Man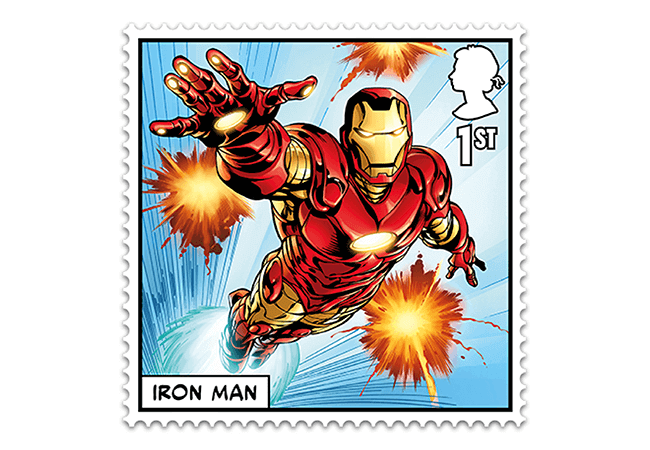 When terrorists captured billionaire inventor Tony Stark, they forced him to create weapons. With shrapnel near Stark's heart endangering his life, Stark tricked the terrorists, building a suit of powered armour to defeat them. It was the birth of the armoured Avenger – the invincible Iron Man.
Union Jack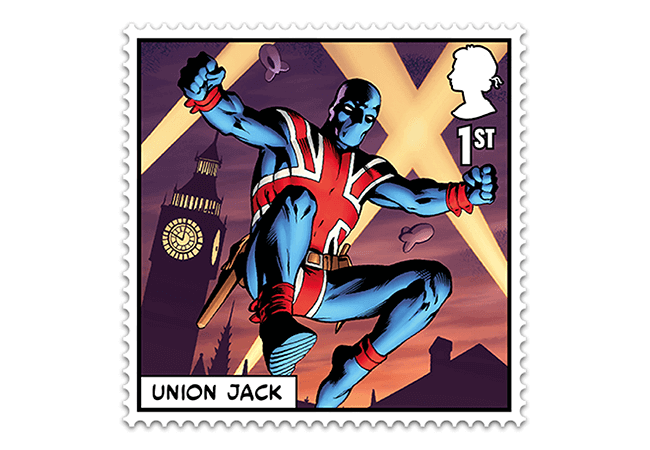 The original Union Jack was Lord James Falsworth, who fought in the First World War. When his descendant refused to take on the role, the mantle was passed to Joey Chapman, a working-class hero from Manchester, who has gone to fight alongside the Knights of Pendragon and the Invaders.
Black Panther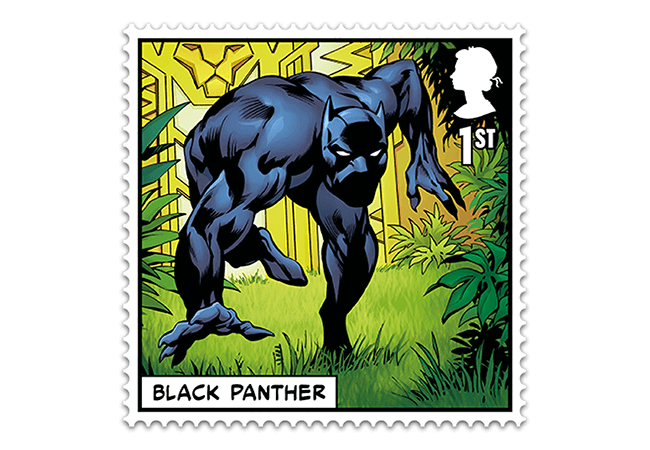 T'Challa is the Black Panther, ruler of the technologically advanced African nation of Wakanda and protector of its valuable vibranium supply. T'Challa first travelled to America to learn more about that country's heroes and soon became a leading member of the Avengers.
Thor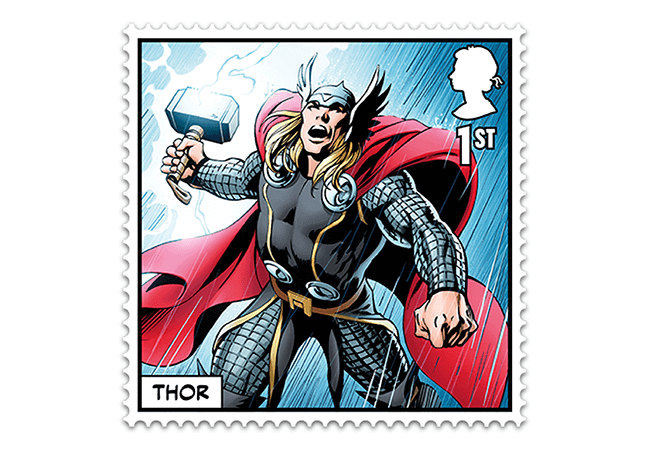 Thor is the Norse God of Thunder. Once cast out of Asgard for his pride, he was trapped on Earth as the injured doctor, Donald Blake. Thor's banishment is long ended and now he protects both Earth and Asgard as an Avenger.


The new and official UK MARVEL Stamps are sure to be a [HULK] SMASH with collectors
Generations have grown up with these timeless superheroes in comic books and more recently in hugely successful movies, and Royal Mail are celebrating this beloved pop-culture theme with original artwork by renowned British illustrator Alan Davis – long-time artist for MARVEL Comics.
Many of the classic superheroes celebrated in the new stamp issue were created in the 1960s, and in the 1970s a UK MARVEL imprint was created for British fans. 'Captain Britain Weekly' was launched in 1976, featuring the adventures of the first MARVEL UK superhero, closely followed by another British character, Union Jack. Both these take their place in the ranks of superheroes in the stamps.
This BRAND NEW set of Royal Mail Stamps are officially licensed and approved by MARVEL and feature a stunning set of 10 First Class stamps in the form of never-seen-before illustrations by renowned MARVEL Comics artist Alan Davis, including an original and exclusive comic book story contained in the miniature sheet, which is sure to be a must have for all MARVEL comic-strip fans and collectors alike.
This original, never-seen-before story with a unique British twist (look out for Trafalgar Square and the Gherkin!) has been specially written and designed by MARVEL and will only ever be available on the Miniature Sheet.
---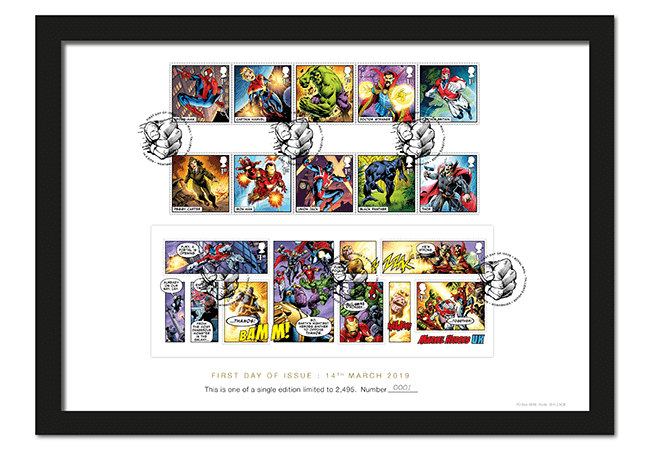 If you're interested…
You can reserve all of the new MARVEL Comics Stamps right now on a Limited Edition Collector Card – Professionally Framed and ready to hang. Click here for details>>>