La Monnaie de Paris has more artistic excellence, minting quality and a certain je ne sais quio than any other.
Their pieces are more than coins – they're true works of art.
And that's why I really wanted to film an unboxing video showcasing THREE of their brand new Harry Potter coins.
All of them are sold out on the International market, but we have been able to get hold of a small number of coins. You'll have to be quick to make sure you're one of a select number of UK collectors to own one of these artistic masterpieces.
---
If you're interested…

Since 1952, the Queen has celebrated her official birthday on a different date each year. In fact, for the past five years alone she has celebrated her birthday on the 8th, 9th, 10th, 11th and 13th June, and next week she will celebrate her birthday on the 12th!
Now you're probably wondering how this can be… and that's because the Queen actually has two birthdays every year.
The first is on the actual day the Queen was born – 21st April 1921 – meaning that in April this year she marked her 95th birthday, although the celebrations were far more muted than normal.
Currently the reigning monarch's second birthday is an official birthday on the second Saturday in June – a practice that dates back as far as 1748.
When King George II was the sovereign, the annual military procession (which later became the 'Trooping the Colour' parade) became synonymous with celebrating the monarch. However, King George II's birthday was in October, and since good weather couldn't be guaranteed for the annual parade in autumn, he decided to mark the date in the summer instead when there was a better chance of good weather.
And so, the tradition to celebrate the monarch's birthday in the summer stuck, and each summer the Queen gets the chance to celebrate her birthday again!
This year 12th June will mark a particularly special birthday for the Queen. Turning 95 is a milestone achievement – less than 1% of the population reach this impressive age, so it's no wonder that the Queen's June birthday is set to be an important moment for the country and collectors alike.
And with the Queen's 95th birthday being such a milestone achievement, many commemoratives were issued to mark the occasion in April. Since then we have seen repeated sell-outs.
But there's one commemorative that has been issued specifically to mark the Queen's official birthday that only 750 collectors will have the chance to own.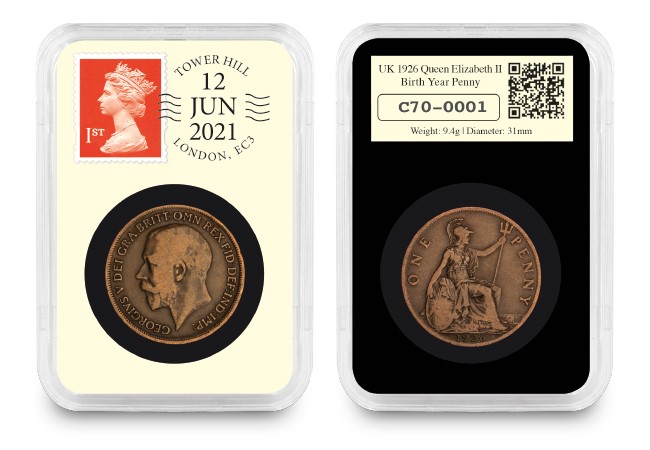 The Queen's Official 95th Birthday Penny DateStampTM is set to be released on the 12th June. Most notably, this commemorative contains an original penny struck in 1926, the year the Queen was born. Each one has been individually capsulated and postmarked with the Queen's official 95th birthday – 12th June 2021. What's more, the one day only postmark ensures that the edition limit is guaranteed and that no more can ever be produced.
With such a limited number available, this DateStampTM issue is sure to be another sell-out as collectors aim to pay tribute to the Queen's milestone birthday and her longevity. You can be one of them today by clicking the link below.
---
If you're interested:
You can pay tribute to our longest reigning monarch by pre-ordering the Queen's Official 95th Birthday Penny DateStampTM here. Only 750 will ever be issued, so you'll need to be quick.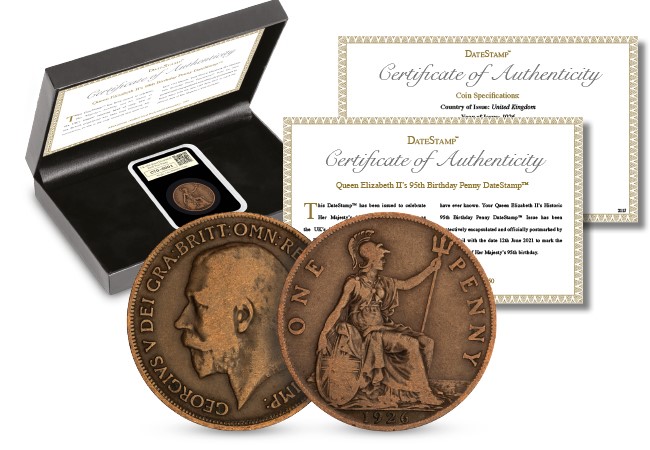 It's been 150 years since Lewis Carroll penned his famous fantasy children's book Alice's Adventures in Wonderland and its sequel Through the Looking-Glass.
Now, in exciting, breaking news, according to the Royal Proclamation published on 28th May, Alice and the inhabitants of Wonderland will be the stars of a NEW UK coin series issued by The Royal Mint!
Our sources in Wonderland are being very secretive about these new issues, even the Mad Hatter is being unusually quiet, so not many details are known at the moment. But if you want to be kept up to date and be the first to know when these NEW coins are released, just register your interest at the end of this blog.
Whilst we wait for further details to be revealed, let's take a look at the Royal Proclamation and what we know so far…
Two special Alice-inspired coins
According to the Royal Proclamation published on 28th May, there will be two coin designs inspired by Carroll's two books – Alice's Adventures in Wonderland and Through the Looking-Glass.
They will be released in a variety of specifications, including base metal £5 and precious metal versions in varying denominations. The designs are said to include:
A depiction of Alice and the Cheshire Cat sat in a tree accompanied by the inscription "ALICE'S ADVENTURES IN WONDERLAND"
A depiction of Alice and characters the Tweedledee and Tweedledum and the inscription "THROUGH THE LOOKING-GLASS"
I don't know about you, but we're all mad here, madly excited that is, to see these designs come to life on UK coins!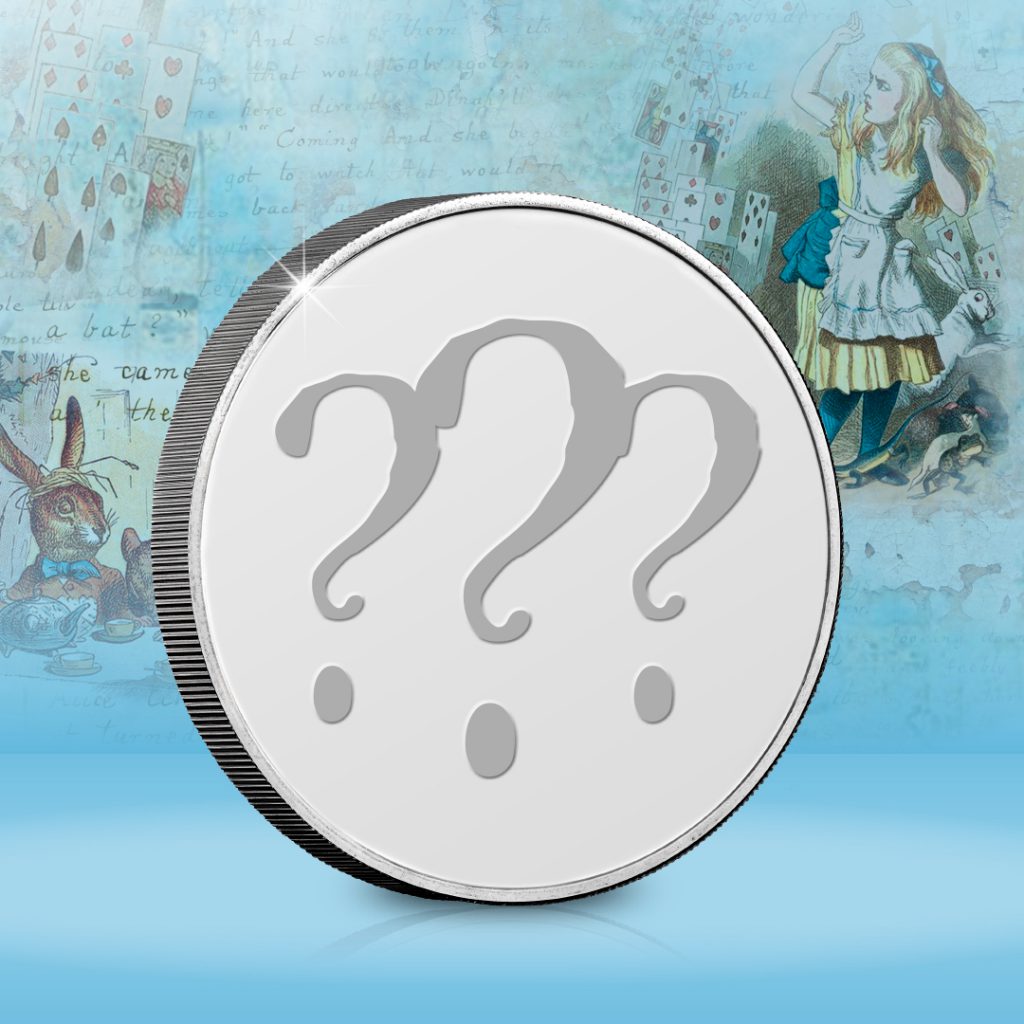 High demand expected
Lewis Carroll's nonsense fairytale about a girl called Alice is undeniably one of the best-known and most popular works of English-language fiction. Its popularity is clear when you consider it's been adapted into theatre and ballet shows, not to mention several blockbuster Disney films.
Alice collectables are in high-demand – a 'legendary' 1865 first edition of Alice's Adventures in Wonderland (one of only 22 known to be in existence) went under the hammer in 2016 for £1.3-£2 million. This confirms that these NEW UK COINS will surely be highly sought-after.
Register your interest
No launch date is known yet for these coins, but if you want to be the very first to hear any updates make sure you sign up below! We will only contact you with regards to this launch, your details will not be used for any other purposes.
By signing up we'll make sure you're the first to know any updates about these new coins, including when they are launched – so you won't be late for this very important tea party…