I hope you've got some cheese (Wensleydale anyone?) and crackers to hand to celebrate the news that the iconic British animated duo – Wallace and Gromit – will be coming to The Royal Mint!
Not many details have been revealed yet, though we have our fingers crossed that the plasticine pair will indeed be featured on a UK coin.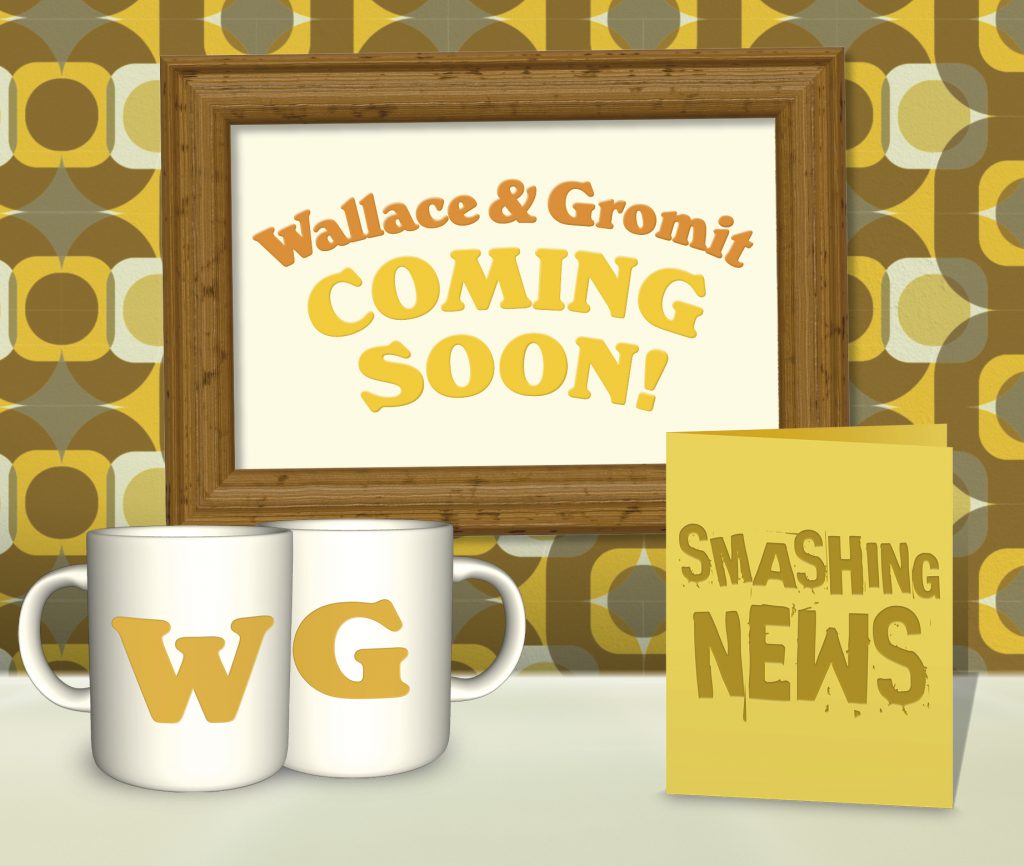 In fact, later this year the cheery inventor and his faithful 'Dogwarts'-educated canine companion will be celebrating the 30th anniversary of their very first stop-motion animation that's become a classic – "A Grand Day Out". And I'm sure you'd agree – a commemorative coin would be the perfect way to celebrate this milestone anniversary.
If you want to be kept up to date, and be the first to know about all things Wallace and Gromit related, then register your interest below. We'll then email you as soon as we hear anything more from our sources.
In the meantime let's have a look at what happened when another one of Britain's best loved fictional characters came to The Royal Mint…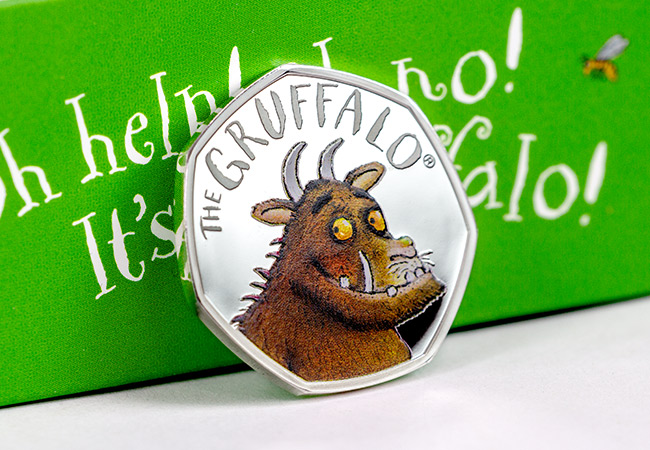 On the 23rd March the Gruffalo celebrated its 20th birthday, and to mark this landmark publication anniversary a brand new UK 50p was released. This was the first time ever the popular children's book character had appeared on UK coinage.
To say the release was popular is an understatement, as fans and collectors alike were quick to snap up the coin. Collectors were so quick in fact that the silver and gold proof versions – with edition limits of 25,000 and 600 respectively – completely sold out at The Royal Mint within 12 hours of release.
This made it the fastest selling 50p to date!
No doubt the question on everyone's lips now is what will happen when Wallace and Gromit arrive at The Royal Mint – will they be appearing on a UK coin and if so will we see another record breaking sell-out? But perhaps the biggest question of all – will it be made of cheese?
There's only one way to find out – register your interest below!
We've all heard of the zodiac, and have probably on more than one occasion checked our daily horoscope in the hope it will reveal what the future holds. When I sat down to write this blog I was buoyant in the revelation that my day was going to be "filled with love and joy".
But perhaps lesser known in Western culture is the Chinese Lunar Calendar and the 12 animals that represent it.
The Chinese Lunar Calendar
More commonly known as the Chinese Zodiac, it is believed the Chinese Lunar Calendar begun around 2600 B.C. and is related to the worship of animals in Chinese culture. Legend has it before departing to the next life, Buddha asked every animal on the plant to comfort him and the twelve animals (including the dragon, tiger and rat) that responded are now honoured in the lunar calendar that spans 12 years – one animal for every year.
Much like the Western Zodiac, your lunar animal sign depends when you're born. And people born in specific lunar years are believed to have certain personality traits and characteristics related to their animal.
Turns out I was born in the Year of the Sheep – so I'm creative, compassionate and friendly. I'd say that's fairly accurate, though I'm not sure I agree that I like to spend my money on fashionable things… you win some you lose some!
The incredible popularity of Lunar Coins
For over 40 years mints from around the world have celebrated Chinese New Year with Lunar Coins. These issues have turned in to something of an international phenomenon, to the point where the lunar theme is the largest ongoing coin programme on the planet.
Most prestigious mints have a lunar series, including Australia, Canada, and of course our own Royal Mint. With each selling millions of ounces of gold and silver coins each year inscribed with the year's relevant lunar animal.
Collectors will snap these coins up for a variety of reasons. Some collect their own lunar animal, because they like the personal connection, others will collect a particular specification because it's especially limited. Personally, I find they also make great birthday gifts for obvious reasons – my friends love them.
The Year of the Rat
The 25th January 2020 will mark the Chinese New Year, and with it the next lunar animal will be celebrated – the Rat.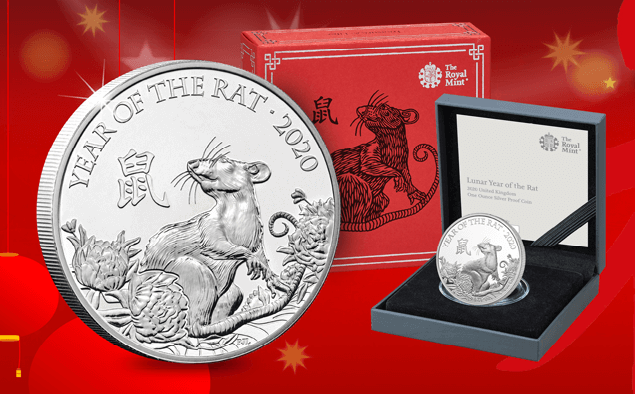 The Rat is in fact the first animal in the Chinese Zodiac, and people who are born under the sign of the Rat are thought to be intelligent and quick-witted with rich imaginations.
If this sounds like you the odds are you're born under the sign of the Rat. And this year your lunar animal will be celebrated on lunar coins around the world.
What's more, The Royal Mint has just released their brand new Year of the Rat range, including what's perhaps the most sought-after specification of all – the 1oz Silver Proof Coin.
Apparently Rats are known for taking good advantage of opportunities presented to them – so what are you waiting for, make sure you snap up your lunar coin today!
If you're interested…
You can own the BRAND NEW Royal Mint Lunar Coin TODAY – the 1oz Silver Proof Year of the Rat coin.
This coin is sure to be the most sought-after yet because not only is the 1oz Silver Proof a key specification for collectors, it's also got the lowest edition limit yet!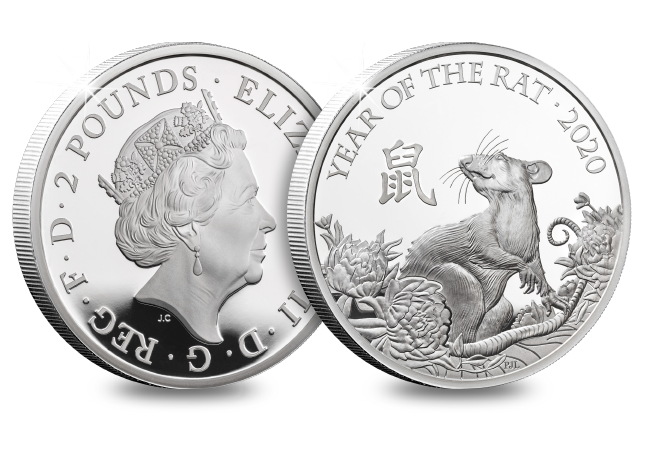 Click here to find out more and secure one for your collection today >>>
Storytelling is one of humanity's oldest pastimes, with events being captured and passed on for centuries though art, music and dance long before we were writing them down. And one of the oldest and most reliable ways a country can tell its stories is through its coins.
This should come as no surprise. If you think about it, currency is the constant that has always been around in one form or another. It's continually evolving and adapting to the next chapter in the story.
But there's one coin in particular that holds more meaning than most – as it blends fact with fiction to produce the world's most beautiful coin, Una and the Lion.
Controversial, yet beyond improvement
In 1839 William Wyon was commissioned to design a new coin to commemorate the anniversary of Queen Victoria's coronation.
But it made headlines. It was controversial.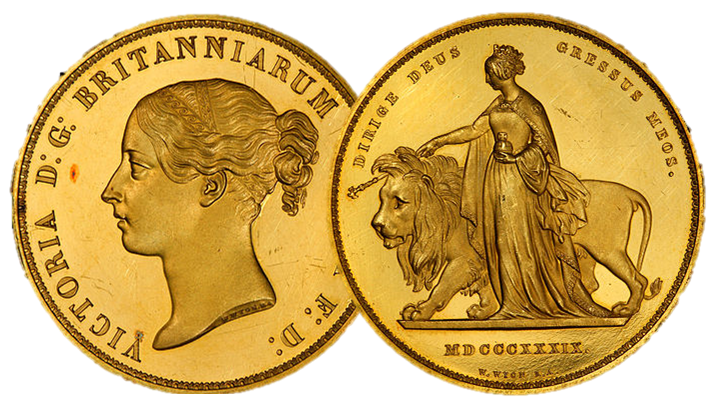 In a bold move it depicted Queen Victoria as the fictional character Lady Una, from Edmund Spenser's epic poem The Faerie Queene. Never before had someone, let alone a ruler, been featured on a coin as a fictional character.
The design shows Lady Una walking alongside her guardian and symbol of England, the lion. It is symbolic of the young monarch leading her vast empire.
Whilst a daring move, the coin was an instant success. Critics hailed it as "beyond improvement", and to this day it's regarded as one of the most beautiful coins to have ever been struck.
Part of its beauty was the high relief, providing exquisite intricate detail to the fictional design. But in many ways this was also its downfall, as it meant the coin could not be struck with any consistency. As a result the commemorative was only struck for one year, producing just 400 coins. This makes it extremely rare!
The inspiration: a princess and her protector
Published in 1590, The Faerie Queene, is one of the longest and most distinguished poems in the English language. It was written during the height of the Renaissance when England had just broken away from the Catholic Church and formed its own Protestant Church. Set against the backdrop of this turbulent religious landscape, The Faerie Queene draws on history and myth to deliver numerous tales of romance, adventure, battles, morality and religion.
The first book of the epic poem follows the trials and tribulations of Lady Una – the young and beautiful daughter of a king and queen who have been imprisoned by a ferocious dragon. In a bid to save her parents she embarks on a quest, but on her journey she encounters a fierce lion who plans to eat her.
In a twist of events the lion is so captivated by Una's beauty and innocence that he abandons his plans to eat her, and instead he becomes her protector and companion.
Together, the iconic pair have become a symbol of beauty, strength and endurance.
The most beautiful coin just became even more exquisite
Now, if you think it's impossible to improve on the most beautiful coin in the world, then you haven't encountered the East India Company yet.
Renowned for their luxurious products and exceptionally high minting standards, the East India Company has produced the most exquisite coin yet paying tribute to Una and the Lion – and in one full kilogram of silver to a mirror-like proof finish no less.
The Una and the Lion Silver Proof Kilo Coin is surely going to be in high-demand amongst collectors, as not only does it pay tribute to one of the most iconic and rarest coins around, but it's been issued with a miniscule edition limit.
Just 10 of these prestigious coins are available worldwide, and they are exclusively available at The Westminster Collection. There is no doubt it is going to become a future collector priority.
---
If you are interested…
The 10 coins available can only be purchased through The Westminster Collection. And if you're quick you can secure one of the tiny number available. All you need to do is complete the form below and we will contact you directly to secure your coin.