This year marks 40 years since the founding of the Douglas Bader Foundation. To celebrate the occasion a range of NEW commemoratives have been issued in partnership with the charity. But, before I go into any details about these new issues, I want to tell you about the fascinating life of the foundation's namesake – Group Captain Sir Douglas Bader.
Sir Douglas Bader
Douglas Bader was born in London in 1910 and was commissioned into the Royal Air Force in 1930. Tragically, 18 months later he was in a plane crash in which he lost both legs.
Due to this accident, he was discharged from the RAF and was forced to find work elsewhere.
However, after the outbreak of the Second World War, Bader was able to rejoin the air force. He became a leading airman during WW2, flying Spitfires and Hurricanes at Dunkirk and the Battle of Britain. In 1941, he was shot down and held as a prisoner of war.
During his descent, Bader lost his right artificial limb. He persuaded his German captors to radio England to ask them to send over a replacement leg. On the night of 19 August 1941, during a normal bombing raid, his new leg was dropped from a Blenheim, along with some stump socks, tobacco, and chocolate.
Despite his disability, he made several escape attempts. Bader was eventually placed in Colditz until its liberation in 1945.
Douglas Bader was a charismatic and controversial character. After the war, he campaigned tirelessly on behalf of amputees and people with disabilities. He inspired millions with his example and was honoured with a knighthood in 1976. He is considered a national hero for both his war efforts and his work with the disabled which he was involved in up until he died in 1982.
The Douglas Bader Foundation
The Douglas Bader Foundation was established immediately following his death in 1982 by his friends and family, many of whom had flown by his side during the war.
For 40 years, the Douglas Bader Foundation has worked to help people with disabilities, supplying prosthetics, grants, and support to many people.
To support this fantastic charity, a donation from the sale of each of the brand-new commemoratives will go directly to the Douglas Bader Foundation.
So, let's take a closer look at the new range ….
The Silver Spitfire Commemoratives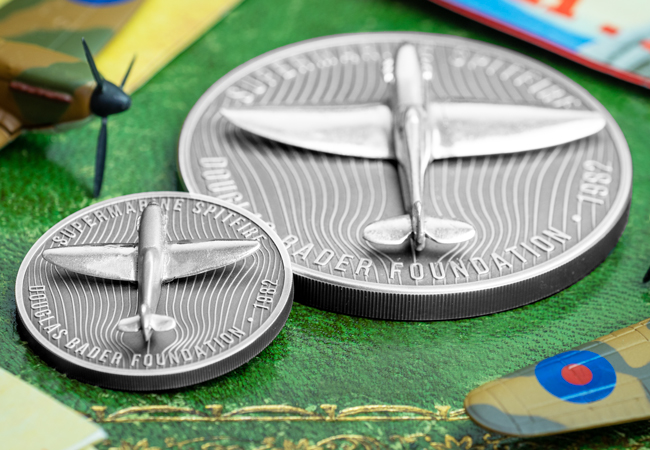 These incredible Silver Spitfire commemoratives feature a 3D Spitfire model crafted from a genuine piece of aluminium from a Spitfire AB910.
AB910 flew in The Dieppe Raid – one of the most significant air battles in history and flew cover patrols over Normandy beachheads on D-Day.
I can't think of a more fitting tribute to Douglas Bader and the Douglas Bader Foundation. The daring airman flew Spitfires over Dunkirk and during the Battle of Britain.
These are available in both 1oz and 5oz silver specifications. With a small amount of this historic metal available, just a limited number of these commemoratives can be made.
Click here for more details and to secure your 1oz today >>
Click here for more details and to secure your 5oz today >>
Douglas Bader Medal Box Set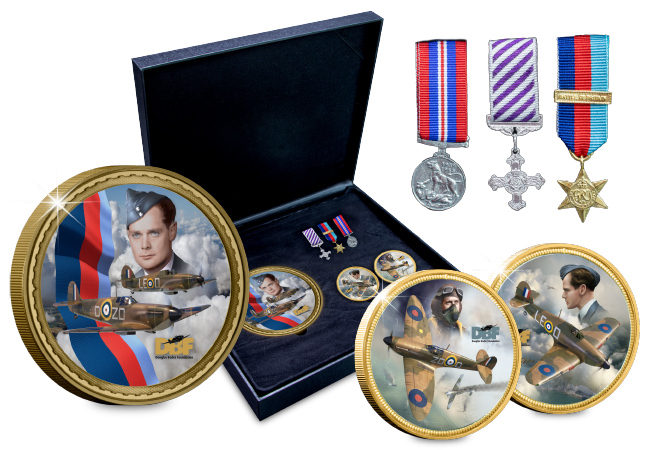 Strictly limited to JUST 250 worldwide, a spectacular box set has been released to honour the extraordinary life of Douglas Bader. This set brings together not one, but three full-coloured commemoratives designed by artist Adam Tooby.
Alongside these commemoratives also sits replicas of three of the many medals that Bader received during his astonishing military career.
As this set comes beautifully displayed in a presentation box with a numbered certificate of authenticity, it is the perfect collector's piece.
"Before Alamein we never had a victory. After we never had a defeat."
Winston Churchill
It's 1942 and the fortunes of war are running against the Allies on almost every front.
In the east, the Soviets are in collapse.
In the Atlantic, U-boats are crippling the ferrying-in of Britain's vital supplies.
While, in western Europe, Nazi troops are the occupying force in country after country.
To North Africa, where Rommel's Afrika Korps are trying to break through to the Suez Canal – and to that all important oil of the Middle East.
To stop them, the Egyptian village of El Alamein, situated between the Mediterranean Sea and the Qattara Depression, simply had to be held.
The defending Allies were represented by the Eighth Army – the 'Desert Rats', led by General Montgomery.
Montgomery had a plan. He would launch a diversionary attack to the south, while the main attack would come from the north, nearer to the coast.
And 80 years ago, on the night of 23-24 October 1942, the attack began.
A noise so great, the gunners' ears bled
It started with the firing of over 800 artillery pieces at the German lines, creating a noise so great that, according to legend, the ears of the gunners bled.
When the infantry attacked, they were followed by tanks that moved through the minefield along a path cleared by engineers.
Outnumbered and under constant attack from land and air forces, on November 4th, Rommel, refusing to carry out Hitler's suicidal order to fight to the last, retreated.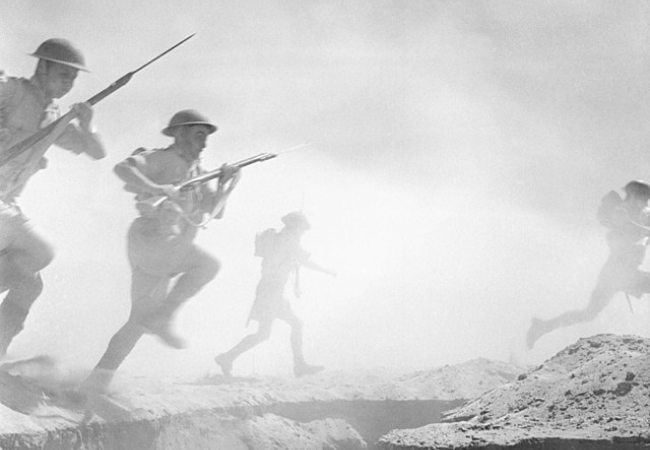 The Battle of El Alamein, fought in the deserts of North Africa with tank warfare at the heart of it, was undoubtedly one of the pivotal battles of World War II.
The battle revived the morale of the Allies and helped turn the tide during the war. As Churchill noted, "After Alamein we never had a defeat".
The Battle of El Alamein NumisProof
A Silver Proof NumisProof Commemorative has been issued to mark the 80th Anniversary of the battle of El Alamein.
This stunning NumisProof has been struck from Sterling Silver to a perfect Proof finish, it features a full colour design created by world renowned digital artist Adam Tooby.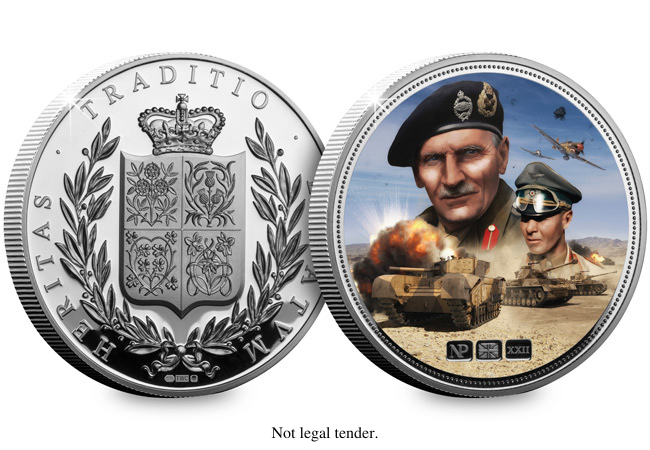 It depicts the two leading military commanders involved in the battle – Britain's Bernard Montgomery and Germany's Erwin Rommel, with the battle raging in the background.
For such an important anniversary of such an important WWII battle, you'll be surprised by the edition limit. Just 250 have been authorised.
Today I invite you to be one of just 250 people in the world to own this scarce 80th anniversary commemorative.
Click here to own the 80th Anniversary of the Battle of El Alamein NumisProof >>
Picture the scene: it's October 1st, 1939; exactly one month since Hitler invaded Poland. Britain and France have just declared War against Germany. You gather your family in front of the television as Churchill prepares to deliver his first wartime broadcast…
In 1939 Britain, 83 years ago, this was the reality for more than half of the adult population. The onset of War provoked extreme economic, social and cultural demises which were navigated by the legendary British wartime Prime Minister, Sir Winston Churchill.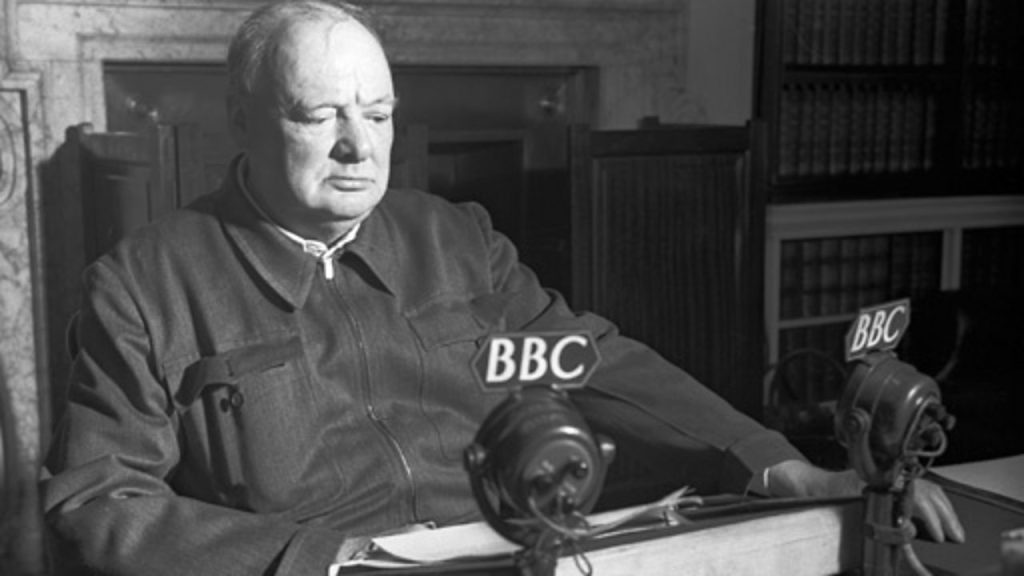 Sir Winston Churchill
Born on 30th November, 1874, Churchill became one of the greatest Britons our country has ever seen. After being elevated to Prime Minister in 1939 following Chamberlain's resignation, he was given the unmatched task of leading the country through the most challenging battle it had ever seen: World War Two.
Despite openly disliking the recently created BBC for its infrequent broadcasts and previous decisions to defy the government, Churchill sat before a BBC camera and microphone on October 1st 1939 for the first time to prepare the nation for a long conflict with Germany.
And not only are we marking this anniversary with a special product, but we are also preparing for Churchill artefacts to skyrocket as the year 2024 signposts 150 years since he was born…
The 1874 Victoria Young Head Sovereign
Sovereigns, the flagship of every coin collection, are the perfect way to mark an exceptional figure, anniversary, or cultural moment. So, what better way to beat the crowds and prepare for the 150th anniversary of his birth than with the 1874 Victoria Young Head Sovereign…? The pinnacle coin from the year Churchill was born!
The Sovereign not only originates from the birth year of Winston Churchill, but also from a time when these coins were used in circulation. This means your 1874 Victoria Young Head Sovereign could have been passed through the hands of many wartime heroes, including Churchill himself…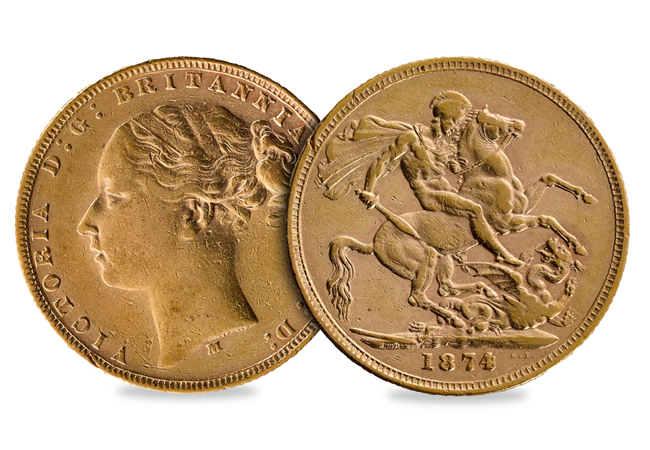 The Sovereign that Survived Two World Wars
You can preserve Churchill's inspiring legacy with the Sovereign that has transcended from the year of his birth through two world wars! Marked by an exclusive certificate of authenticity to preserve the event and his incredible legacy, this is arguably the most limited way to own the already scarce 1874 Sovereign.
In fact, there is one more thing to remember that makes them even more scarce…
In 1914, the government attempted to reclaim all Sovereigns and use the precious metals of Gold coins to pay off its international debt. This means that your coin will be one of the few remaining to exist nearly 150 years after it was produced.
Extremely Limited… Only 25 Available!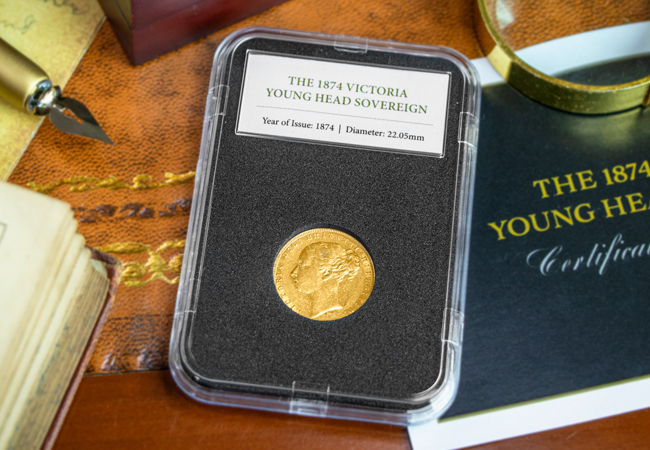 However, we have only been able to source 25 of the 1874 Victoria Young Head Sovereigns! And considering how difficult these Sovereigns are already to source, demand is expected to skyrocket as we fast approach the 150th anniversary of Churchill's birth.
So, with just 25 of these incredibly rare, historically rich Sovereigns available, you must act now if you want to mark a momentous piece of British history with your collection.