A brand new 50p is being released by The Royal Mint to mark the 50th anniversary of Pride!
Back in December 2021, The Royal Proclamation announced plans for a Pride 50p, and today the first details of this coin's release have been revealed — including the design!
The Design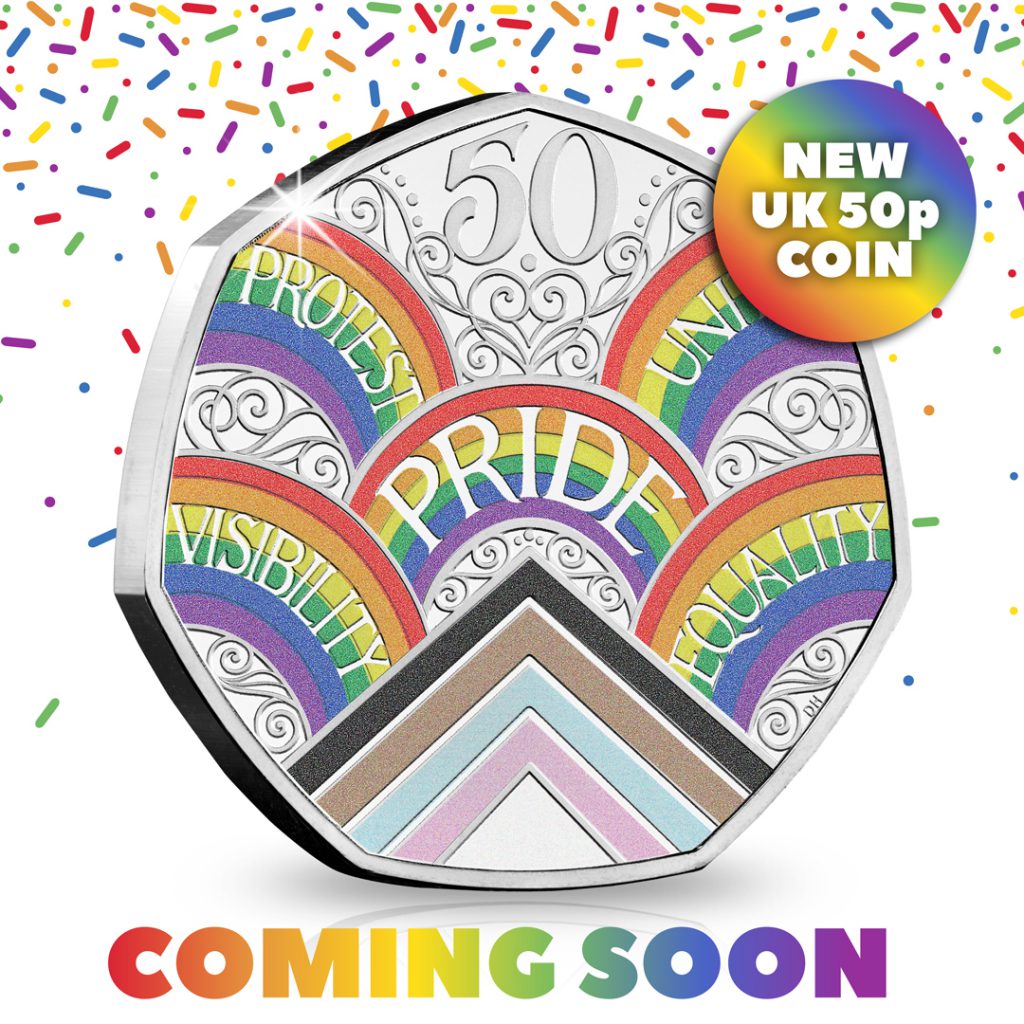 Designed by LGBTQ+ activist Dominique Holmes, this new 50p design features five rainbows — each accompanied with part of the inscription, "PRIDE PROTEST VISIBILITY UNITY EQUALITY". It's scheduled for release this summer, coinciding with Pride celebrations across the country.
A Collecting First
Collecting firsts are without a doubt some of the most popular coins released. They become much harder to source in the coming years, often seeing sell-outs across whole ranges! And, as the FIRST ever 50p released in honour of Pride, this coin is likely to be incredibly popular with collectors.
The coin will be available in multiple specifications, including the standard Brilliant Uncirculated and the stunning colour Silver Proof, adding apt depth and vibrancy to the design. For the ultimate collector's item, it's also available in Gold Proof too.
High Demand Expected
As well as being the very first UK coin to commemorate Pride, this coin also marks the 50th anniversary of the first UK Pride march, held in London, 1972. Pride in London 2022 will pay tribute to this by retracing the historic 1972 route around London.
Pride in London now attracts a huge crowd, with 1.5 million walking in the 2019 procession, with hundreds of thousands more attending other Pride events across the UK.
After a two-year hiatus due to COVID-19, this year's Pride events are expected to be more popular than ever — and with so much interest in this year's events, this UK-first 50p coin is expected to be in high demand.
---
If you want to ensure you don't miss out on owning the very first UK Pride 50p, make sure you sign up below for updates on this coin's release.
International Women's Day provides an opportunity to celebrate women's achievement, raise awareness against bias, and take action for equality.
To mark this annual event, The Royal Mint launched a new Britannia coin, depicting three images of the Allegorical figure.
She is one of Britain's longest-standing and most enduring feminine icons, who first appeared on coins back in the Roman era.
The new design is inspired by Gustav Klimt's classic 1905 painting 'The Three ages of Woman' and features Britannia moving from girlhood to maturity.
The design, created by Italian artist and sculptor Sandra Deiana, the coin sees Britannia appear three times on one coin, a UK first!
However, this isn't the first time we've seen remarkable women commemorated on a UK coin…
2022 UK Platinum Jubilee Coins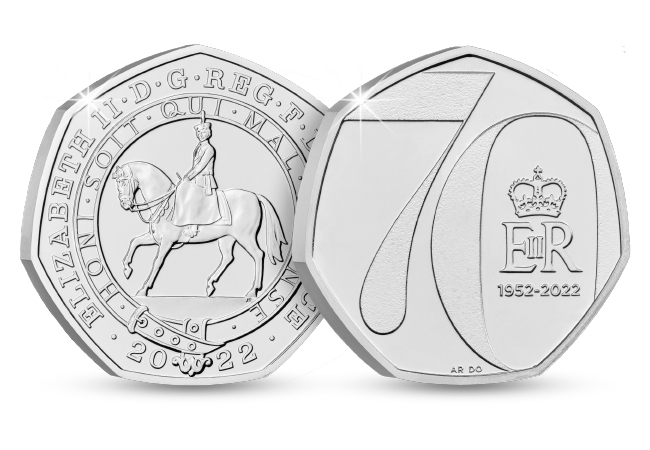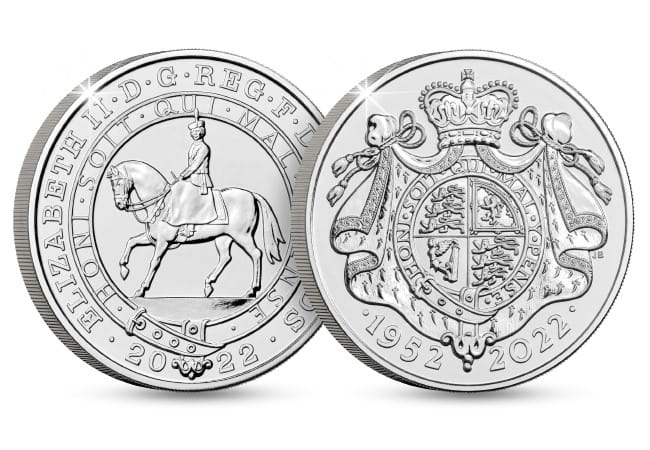 In 2022, to commemorate the Platinum Jubilee of Her Majesty Queen Elizabeth II, The Royal Mint issued TWO new coins.
Platinum Jubilee 50p and £5 have both been designed to reflect the significance of this important anniversary.
The Platinum Jubilee 50p features a reverse design by agency Osborne Ross celebrating the Queen's 70 years of service. But, what's particularly special about this coin is that TWO versions have actually been created…
One includes an obverse design by John Bergdahl featuring the Queen on horseback – reminiscent of Her Majesty's very first Coronation Crown – and the other includes Jody Clark's obverse of the Queen's portrait.
Not only do we see this difference on the new 50p coin, but the obverse design has also been replicated on the Platinum Jubilee £5 coin, along with a reverse design by John Bergdahl featuring the Queen's garter robes.
This coin was so popular that the ENTIRE limited edition range sold-out completely at The Royal Mint within a day.
Browse the Platinum Jubilee coin range on our website by clicking here!
2020 UK Rosalind Franklin 50p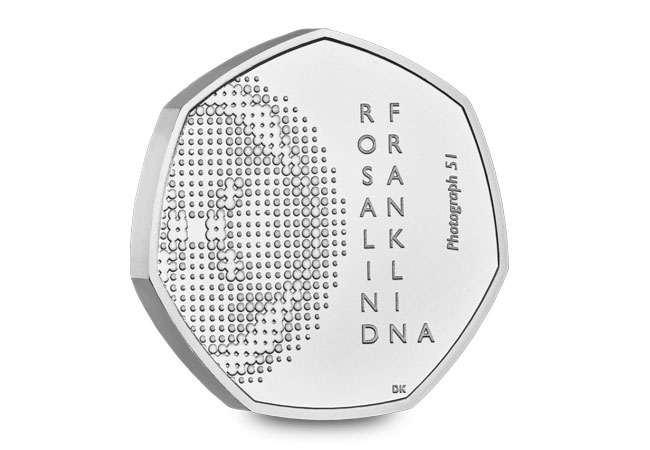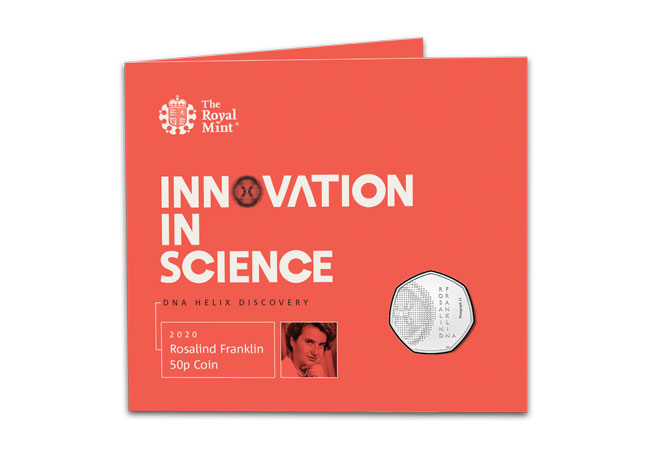 Rosalind Franklin is one of Britain's best scientific minds. Without her ground-breaking research we would not understand the complexities of DNA as we do today.
To mark the 100th anniversary of her birth, and to celebrate her legacy, The Royal Mint authorised for a UK 50p to be issued – the second coin in the Innovation in Science series.
It features a striking design by David Knapton, that puts Rosalind Franklin at the heart of the DNA story.
It depicts the infamous Photograph 51 that led Franklin to her discovery that DNA has a double helix structure – the same picture that was used by Watson and Crick, robbing Franklin of the accolades that were rightly hers.
Browse our Rosalind Franklin coin range here!
2022 Dame Vera Lynn £2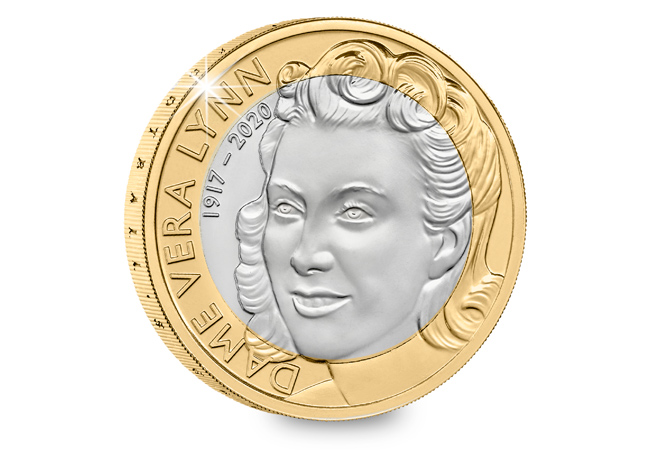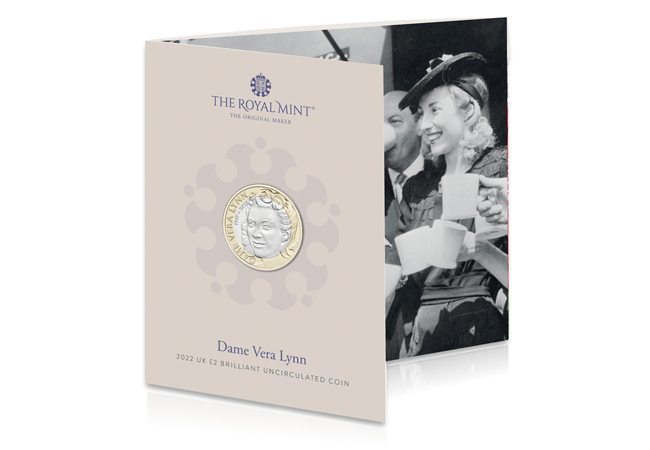 Known for boosting the morale of the troops and the nation throughout the Second World War, Vera Lynn was voted the 'Forces Sweetheart'.
Later after the war, in 1975, she was awarded Dame Commander of the British Empire as recognition for her dedication to charity work.
This stunning £2 BU Pack has been issued by The Royal Mint to celebrate the life and the legacy of Dame Vera Lynn.
As one of Britain's most iconic entertainers, she captured the hearts of thousands as she sang to the nation during a time of turmoil.
To avoid missing out on this 2022 issue commemorating one of Britain's most beloved entertainers and war-time figures, make sure to secure yours now by clicking here.
---
Of course, these are just a handful of UK coins which have been issued to commemorate influential women. Who would you like to see commemorated on a UK coin? Let us know in the comments below!
---
**INCLUDES TWO PLATINUM JUBILEE COMMEMORATIVES**
Each year, The Royal Mint marks important British anniversaries, events or accomplishments on our coins and today I'm delighted to reveal the UK's new coin designs for 2022.
This year's collection includes TWO special tributes to Her Majesty Queen Elizabeth II as she marks her Platinum Jubilee in 2022 – including the UK's FIRST EVER Royal 50p.
Watch our latest video below to find out everything you need to know…
There are 5 new commemorative coins, paired alongside the eight definitive coins from the 1p to the £2, all newly dated for 2022.
The commemorative coins are:
Platinum Jubilee 50p – the UK's first ever Royal 50p!
Commonwealth Games 50p – issued to commemorate the 22nd Commonwealth Games in Birmingham this year
Alexander Graham Bell £2 – issued to mark 100 years since the passing of Scottish-born inventor, scientist, and engineer who invented the first telephone
Dame Vera Lynn £2 – issued to commemorate the iconic wartime singer, famed for boosting morale and supporting British troops during the Second World War
Platinum Jubilee £5 – issued to commemorate 70 years of Her Majesty the Queen's reign
What's more, you have the opportunity today to secure them in a variety of different presentations or specifications – there's sure to be something for everyone…
---
UK 2022 Annual Coin Set BU Pack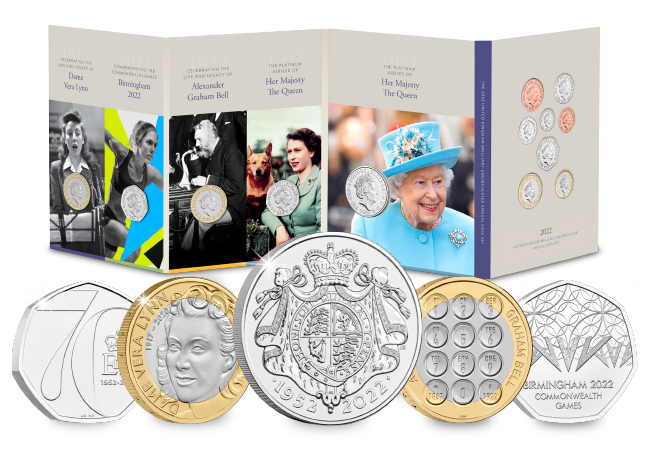 To give as many collectors as possible the chance to own these highly sought-after coins, The Royal Mint has issued them in Brilliant Uncirculated quality, which is coveted by collectors as it means each coin is free from any marks you would find on circulated coins.
In this BU Pack you'll find the five brand new commemorative coins alongside the eight definitive coins from the 1p to the £2, all newly dated for 2022.
Each one is protectively encapsulated in its attractive original packaging from The Royal Mint to preserve its quality for generations to come.
What's more, you can secure this BU Pack for The Royal Mint's official issue price of just £60 (+p&p). Click here to find out more >>
This set of coins is also available as a Change Checker CERTIFIED BU Commemorative Coin Set for £40 (+p&p). Click here to find out more >>
---
UK 2022 Annual Collector Proof Coin Set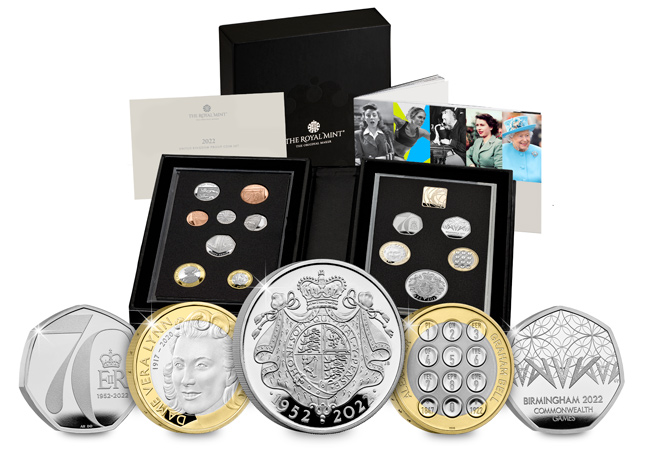 Whilst being struck from base metal, the coins in this set have been struck to a stunning superior Proof finish.
Including all 5 commemorative coins alongside the new definitive coins for 2022, these sets are always extremely sought after.
You can order the UK 2022 Annual Collector Proof Coin Set here with a down payment of just £15.50 (+p&p) followed by 9 further interest-free instalments – that's the Royal Mint issue price. Click here to find out more >>
---
UK 2022 DateStamp™ Specimen Set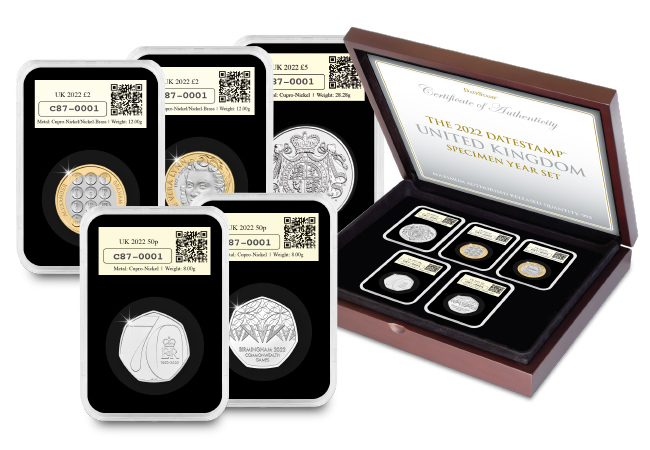 The most limited way to own the five new 2022 commemorative coins is by securing the UK 2022 DateStamp™ Specimen Set. In fact, JUST 995 collectors worldwide can own this unique set.
What truly sets the 2022 Specimen Year Set apart from all other 2022 Annual Sets is the fact that it is forever set in time by the official Royal Mail postmark that marks the coins' first day of release – 4th January 2022.
Each coin is struck to the highly desirable Brilliant Uncirculated quality, and come individually presented in tamper-proof capsules. What's more, each set has a unique serial number, confirming its place in the tiny edition limit, and you can even register your set online to guarantee its provenance!
This DateStamp set has a track record of completely selling out within a matter of days, so if you want to secure a set for yourself you'll need to be quick. You can reserve yours with a deposit of just £22. Click here to find out more >>