Late last year the UK 2022 Proof Sovereign was released featuring a one-year-only design change to celebrate Her Majesty's Platinum Jubilee.
10,500 were made available at 9am on launch day.
By 6pm that very same day they were gone.
That made it the fastest-selling sovereign ever.
But a new UK sovereign could break that record…
Just Released: The UK 2022 Piedfort Sovereign
The special Piedfort edition of the UK 2022 Proof Sovereign has just been released. With an edition limit of just 3,250 — less than one-third of the edition limit of its Proof Sovereign counterpart — thousands of collectors wanting to own both are set to miss out.
An extremely rare specification of Sovereign
This is only the third Piedfort Sovereign to be struck by The Royal Mint.
When the first Piedfort Sovereign was released in 2017 to mark the bicentenary of the modern sovereign, it too sold out in just 24 hours.
This new release has an edition limit of 500 less, so another fast sell-out looks guaranteed.
The pinnacle of Royal Mint craftsmanship
Piedfort coins are some of the finest examples of British craftsmanship and the Gold Proof Piedfort Sovereign is no exception. Each has been struck from 22-carat Gold, however, the Piedfort Sovereign has been struck using a double-thickness blank, meaning it contains twice the weight of Gold.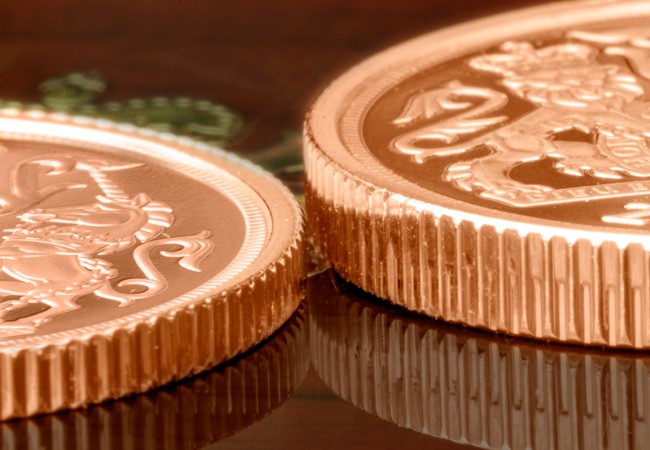 Considered extremely prestige pieces, Piedfort coins continue to be limited issues, and the striking of such coins is strictly reserved for the most important events. Therefore, it seems fitting for one to be issued in our Queen's milestone Platinum Jubilee year.
Act quickly or risk missing out
With the UK 2022 Proof Sovereign and the very first UK Piedfort Sovereign both selling out within 24 hours, this latest release is practically guaranteed to follow suit. High demand is guaranteed.
Thousands of collectors will miss out. Make sure you're not one of them.
Register below and we'll contact you about how you can own one of the UK 2022 Piedfort Sovereigns from our extremely limited stock.
It's time to inject some magic into your collection, this is your first look at the design of the UK's FIRST Harry Potter 50p…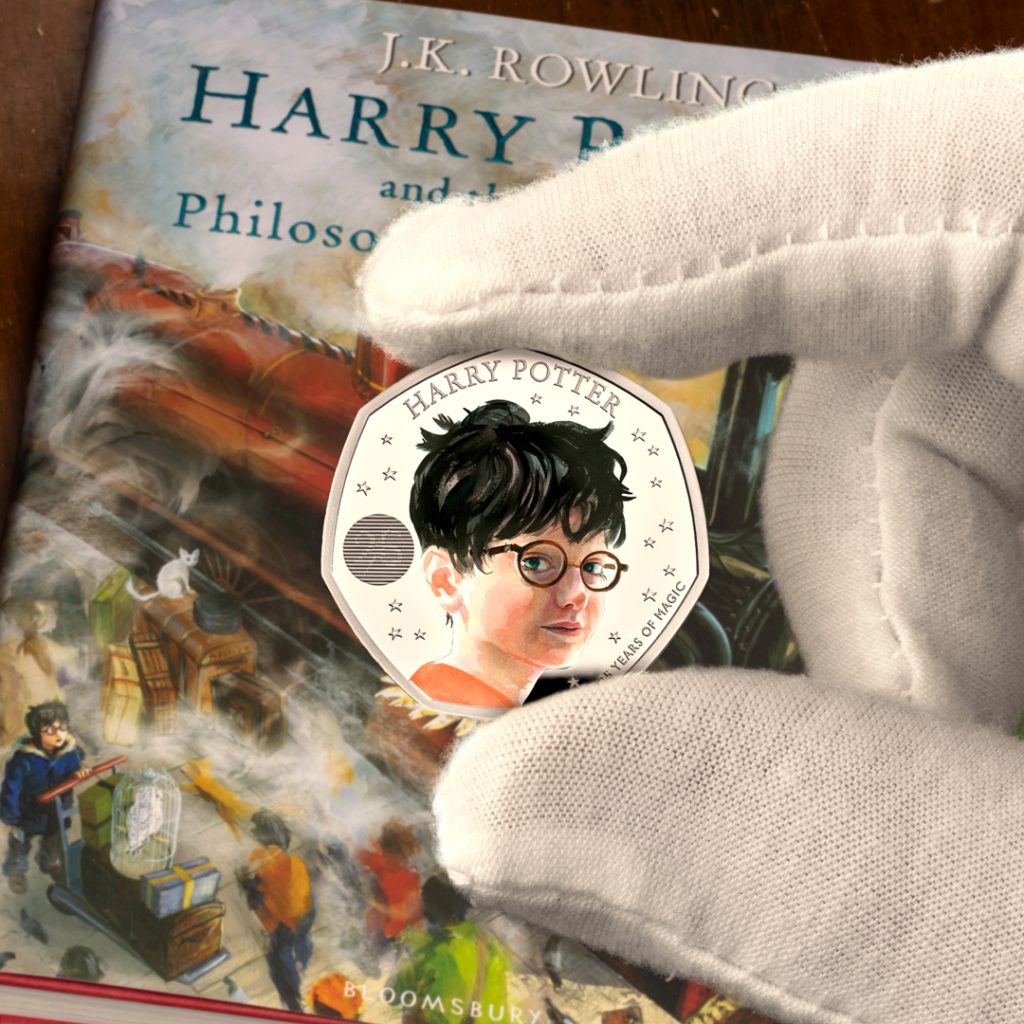 25 Years of Magic
2023 marks 25 years since the first publication of J.K. Rowling's Harry Potter and the Philosopher's Stone.
This was the first issue in what was to become a seven-part series of fantasy literature, inviting generations of readers to explore the magical world of witches and wizards.
The Harry Potter series is the highest-selling series of novels to ever exist, with millions of fans spanning across generations, and even around the globe. It's estimated that J. K. Rowling has sold over 500 million copies of her books, a testament to the popularity of the series.
Never before has there been an official UK coin featuring the Hogwarts School of Witchcraft and Wizardry, until now!
What will feature in the collection?
As well as the Harry Potter 50p coin, the Royal Proclamation has revealed that we can expect the following to feature in the collection:
A depiction of the Hogwarts Express and the figure of Harry Potter with the inscription, 'Hogwarts Express 25 Years of Magic'
A depiction of Albus Dumbledore and the inscription, 'Albus Dumbledore 25 Years of Magic'
A depiction of Hogwarts School and the inscription, 'Hogwarts 25 Years of Magic'
Sell-outs expected
2022 has already seen sell-outs across every denomination at The Royal Mint!
The Platinum Jubilee 50p and £5 coins sold out across their entire precious metal ranges within JUST hours of release. Just a month later, the Silver Proof, Silver Proof Piedfort, and Gold Proof specifications of the FA Cup £2 coin sold out within just a few hours.
With Harry Potter carrying a worldwide fanbase, we're expecting demand to outweigh availability for the precious metal ranges of this brand new 50p collection.
---
Register your interest below to be the first to hear updates about the UK Harry Potter 50p release.
A brand new 50p is being released by The Royal Mint to mark the 50th anniversary of Pride!
Back in December 2021, The Royal Proclamation announced plans for a Pride 50p, and today the first details of this coin's release have been revealed — including the design!
The Design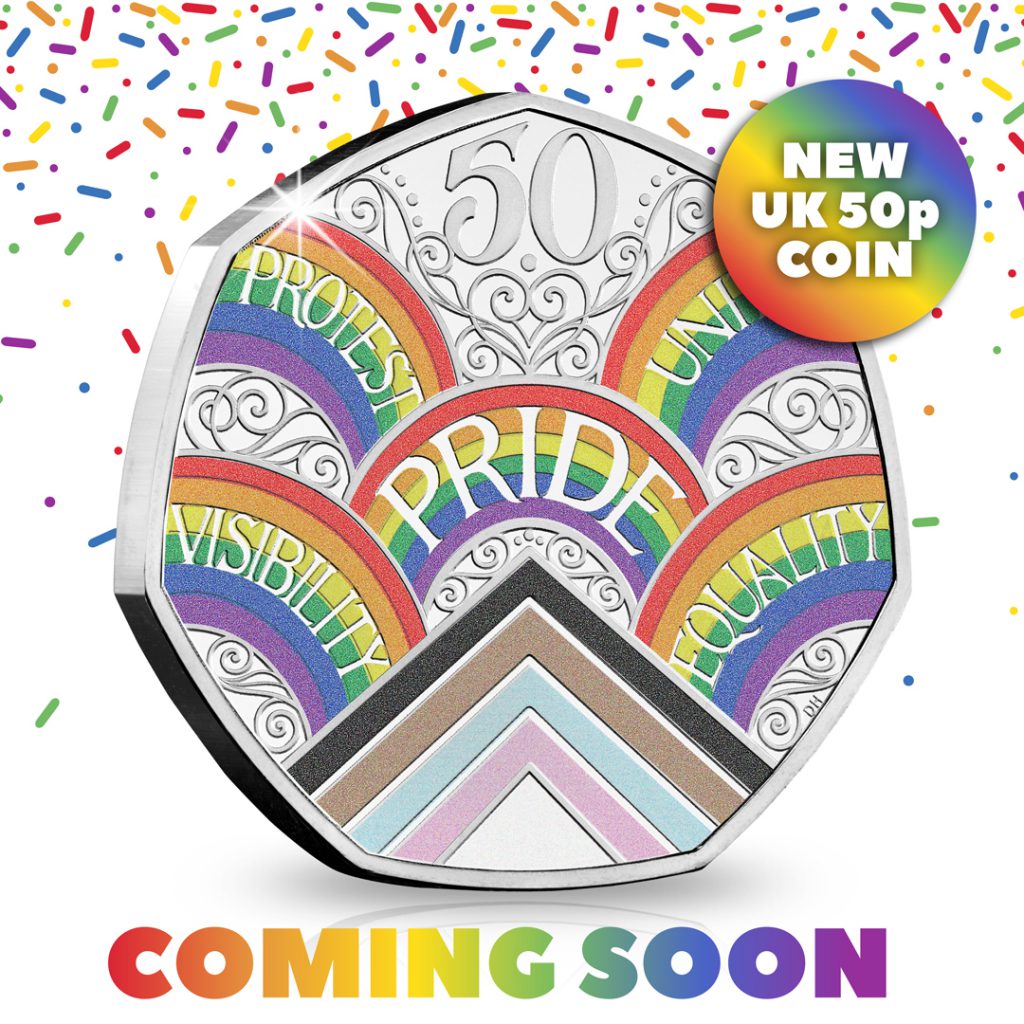 Designed by LGBTQ+ activist Dominique Holmes, this new 50p design features five rainbows — each accompanied with part of the inscription, "PRIDE PROTEST VISIBILITY UNITY EQUALITY". It's scheduled for release this summer, coinciding with Pride celebrations across the country.
A Collecting First
Collecting firsts are without a doubt some of the most popular coins released. They become much harder to source in the coming years, often seeing sell-outs across whole ranges! And, as the FIRST ever 50p released in honour of Pride, this coin is likely to be incredibly popular with collectors.
The coin will be available in multiple specifications, including the standard Brilliant Uncirculated and the stunning colour Silver Proof, adding apt depth and vibrancy to the design. For the ultimate collector's item, it's also available in Gold Proof too.
High Demand Expected
As well as being the very first UK coin to commemorate Pride, this coin also marks the 50th anniversary of the first UK Pride march, held in London, 1972. Pride in London 2022 will pay tribute to this by retracing the historic 1972 route around London.
Pride in London now attracts a huge crowd, with 1.5 million walking in the 2019 procession, with hundreds of thousands more attending other Pride events across the UK.
After a two-year hiatus due to COVID-19, this year's Pride events are expected to be more popular than ever — and with so much interest in this year's events, this UK-first 50p coin is expected to be in high demand.
---
If you want to ensure you don't miss out on owning the very first UK Pride 50p, make sure you sign up below for updates on this coin's release.