**INCLUDES TWO PLATINUM JUBILEE COMMEMORATIVES**
Each year, The Royal Mint marks important British anniversaries, events or accomplishments on our coins and today I'm delighted to reveal the UK's new coin designs for 2022.
This year's collection includes TWO special tributes to Her Majesty Queen Elizabeth II as she marks her Platinum Jubilee in 2022 – including the UK's FIRST EVER Royal 50p.
Watch our latest video below to find out everything you need to know…
There are 5 new commemorative coins, paired alongside the eight definitive coins from the 1p to the £2, all newly dated for 2022.
The commemorative coins are:
Platinum Jubilee 50p – the UK's first ever Royal 50p!
Commonwealth Games 50p – issued to commemorate the 22nd Commonwealth Games in Birmingham this year
Alexander Graham Bell £2 – issued to mark 100 years since the passing of Scottish-born inventor, scientist, and engineer who invented the first telephone
Dame Vera Lynn £2 – issued to commemorate the iconic wartime singer, famed for boosting morale and supporting British troops during the Second World War
Platinum Jubilee £5 – issued to commemorate 70 years of Her Majesty the Queen's reign
What's more, you have the opportunity today to secure them in a variety of different presentations or specifications – there's sure to be something for everyone…
---
UK 2022 Annual Coin Set BU Pack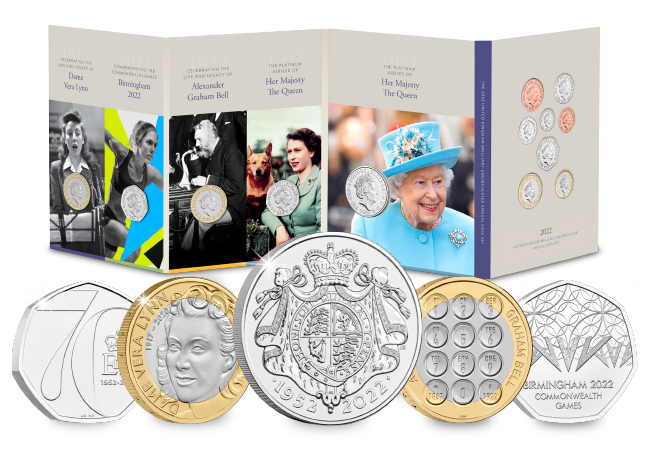 To give as many collectors as possible the chance to own these highly sought-after coins, The Royal Mint has issued them in Brilliant Uncirculated quality, which is coveted by collectors as it means each coin is free from any marks you would find on circulated coins.
In this BU Pack you'll find the five brand new commemorative coins alongside the eight definitive coins from the 1p to the £2, all newly dated for 2022.
Each one is protectively encapsulated in its attractive original packaging from The Royal Mint to preserve its quality for generations to come.
What's more, you can secure this BU Pack for The Royal Mint's official issue price of just £60 (+p&p). Click here to find out more >>
This set of coins is also available as a Change Checker CERTIFIED BU Commemorative Coin Set for £40 (+p&p). Click here to find out more >>
---
UK 2022 Annual Collector Proof Coin Set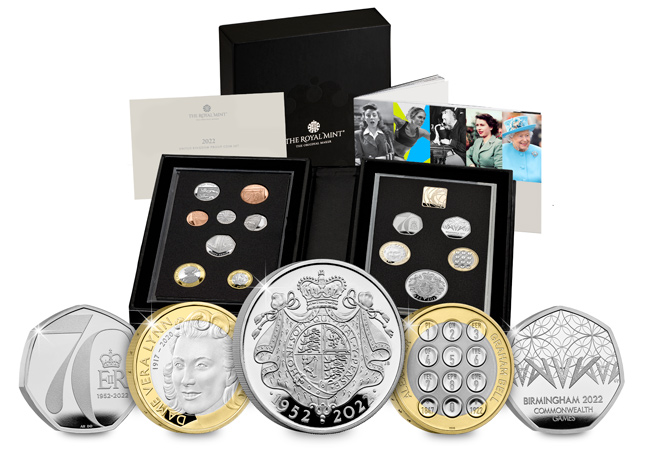 Whilst being struck from base metal, the coins in this set have been struck to a stunning superior Proof finish.
Including all 5 commemorative coins alongside the new definitive coins for 2022, these sets are always extremely sought after.
You can order the UK 2022 Annual Collector Proof Coin Set here with a down payment of just £15.50 (+p&p) followed by 9 further interest-free instalments – that's the Royal Mint issue price. Click here to find out more >>
---
UK 2022 DateStamp™ Specimen Set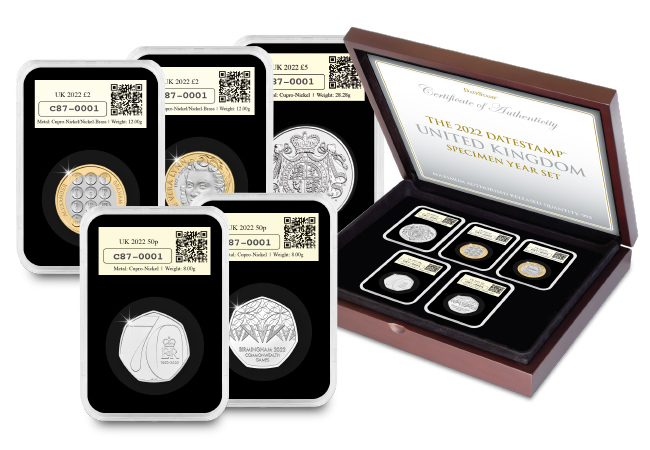 The most limited way to own the five new 2022 commemorative coins is by securing the UK 2022 DateStamp™ Specimen Set. In fact, JUST 995 collectors worldwide can own this unique set.
What truly sets the 2022 Specimen Year Set apart from all other 2022 Annual Sets is the fact that it is forever set in time by the official Royal Mail postmark that marks the coins' first day of release – 4th January 2022.
Each coin is struck to the highly desirable Brilliant Uncirculated quality, and come individually presented in tamper-proof capsules. What's more, each set has a unique serial number, confirming its place in the tiny edition limit, and you can even register your set online to guarantee its provenance!
This DateStamp set has a track record of completely selling out within a matter of days, so if you want to secure a set for yourself you'll need to be quick. You can reserve yours with a deposit of just £22. Click here to find out more >>
Happy Birthday to Her Majesty!
This year, Queen Elizabeth II celebrates her 95th birthday. A remarkable milestone for the record breaking monarch and a moment that is crucial to our country's history. Her reign alone has seen the transformation of the Commonwealth, our entry into and exit from the European Union, the invention of the internet, and 14 prime ministers! As the Queen's 95th birthday approaches, not only has she become the first monarch to reach a Sapphire Jubilee, but she is also the first to reach this milestone age.
Many historic commemoratives have been issued to mark these important moments, and these have become must-haves for collectors. With the Queen's next milestone birthday approaching, the demand for these commemoratives is rising and they're becoming harder to source, especially those more historic issues…
The Coronation Crown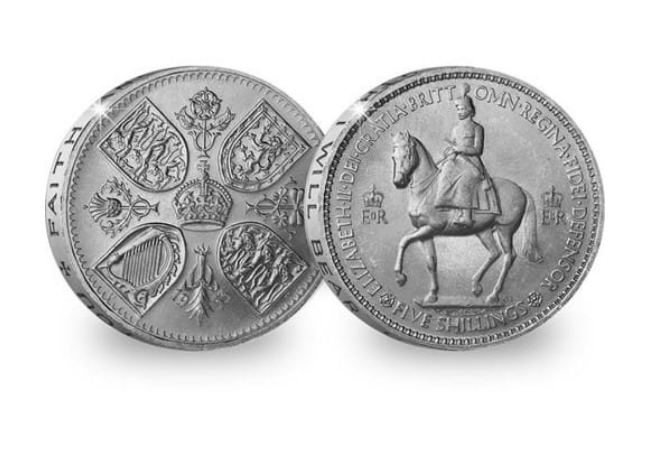 The most famous historic commemorative in the collecting world has got to be the UK Coronation Crown. Issued in 1953, the year of the Queen's coronation, this Crown coin represents the beginning of a long and prosperous reign for the Queen. It features a special effigy of the Queen on horseback, a fitting tribute to the young Queen's love of horses. At almost 70 years old, this coin has become a staple for Royal and Historic collectors as it marks one of the most important years of the Queen's life.
The 1953 Coronation Stamps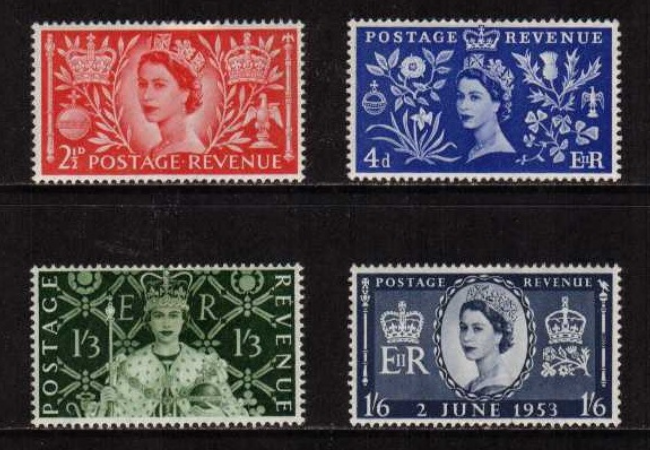 Alongside the Coronation Crown, four commemorative one-year-only stamps were also issued with a special design specifically for the coronation. At 68 years old, these stamps are extremely hard to source in good condition. They are popular with collectors around the world, particularly the Yellow-Green 1/3 stamp, which shows the Queen in her Coronation gown and crown.
The Longest Reigning Monarch Issues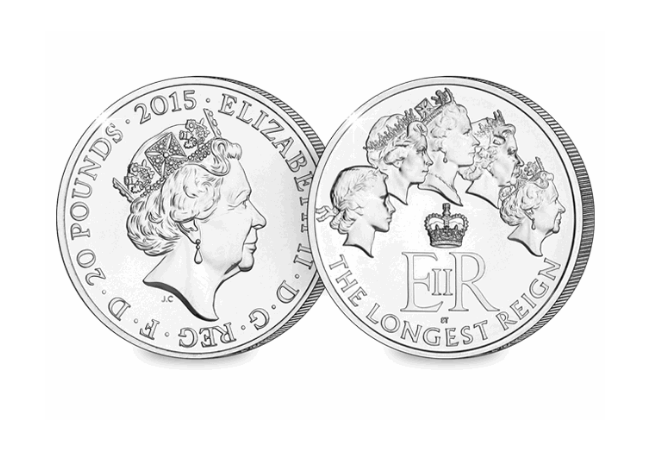 In 2015, the Queen became the longest reigning monarch, as she passed Queen Victoria's record, marking an important moment in history. The Royal Mint issued a remarkable £20 Silver Coin, which included five portraits of Queen Elizabeth II on the reverse creating a timeline effect of the Queen's historic reign.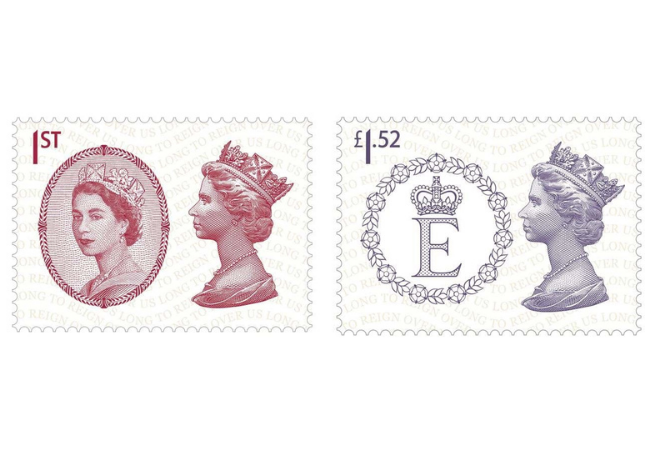 Alongside this the Royal Mail also issued special one-year-only commemorative stamps to celebrate this important moment, including a special purple 1st class definitive stamp.
The Sapphire Jubilee Gold £5 Coin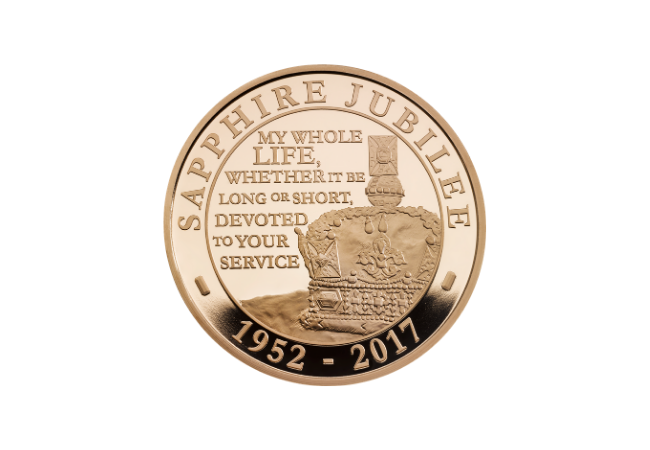 The Royal Mint has issued several remarkable commemoratives to celebrate the Queen's life and service, but the 2017 Sapphire Jubilee Gold £5 coin stands out above the rest. Struck for the 65th year of the Queen's reign, the design includes a quote from the Queen's 21st Birthday Speech "My whole life, whether it be long or short, devoted to your service", represents the Queen's lifelong dedication to serving the country. Less than 650 of these coins were ever issued and it has become one of the most sought-after Gold £5 coins ever…
The Queen's 95th Birthday £5 Coin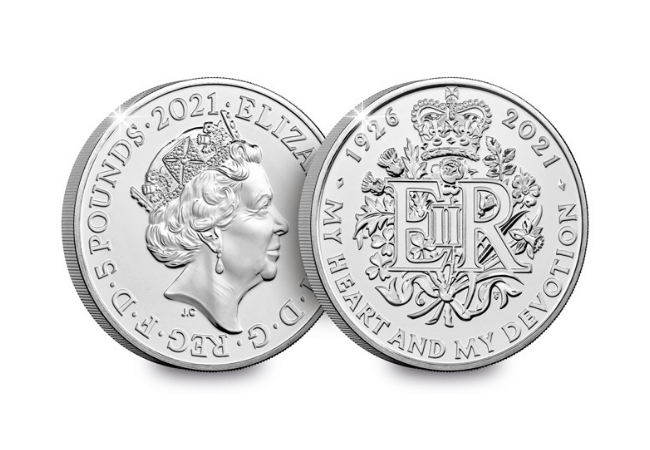 Potentially the most important £5 ever issued is the UK 2021 95th Birthday £5. It holds multiple tributes to her Majesty's long life, including the year of her birth – 1926. The coin also features the inscription "My Heart and My Devotion" in reference to the promise made in her first ever televised speech on Christmas Day in 1957.
As the Queen reaches her birthday this year, demand for this issue has already proven to be incredibly high with collectors. This coin is set to be a long lasting symbol of the Queen's longevity, and one that collectors won't want to miss out on.
So there's our Top 5 commemoratives which celebrate the Queen's legacy, which one is your favourite? Let us know in the comments below!
---
If you're interested: The Queen's 95th Birthday Coin and Stamp Collection!
Own the Queen's 95th Birthday Coin and Stamp collection for JUST £64.99 (+p&p). Including four one-year only historic coronation stamps, the first Crown of the Queen's reign, the BRAND NEW UK 95th Birthday £5 Coin in Brilliant Uncirculated finish, and limited to JUST 295, this set really does have it all…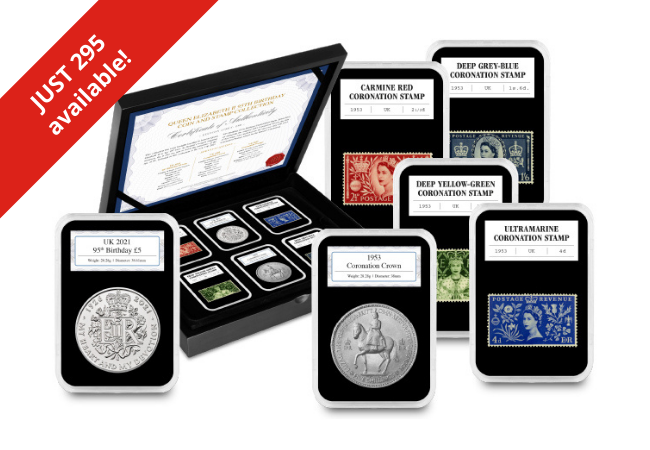 Did you know that a NEW Royal UK coin has been issued to celebrate Her Majesty's 95th Birthday?
And it has TWO designs! Making today's release an incredibly special one.
Watch my latest video to learn all about it…
---
If you're interested…