Posts Tagged 'uk sovereign'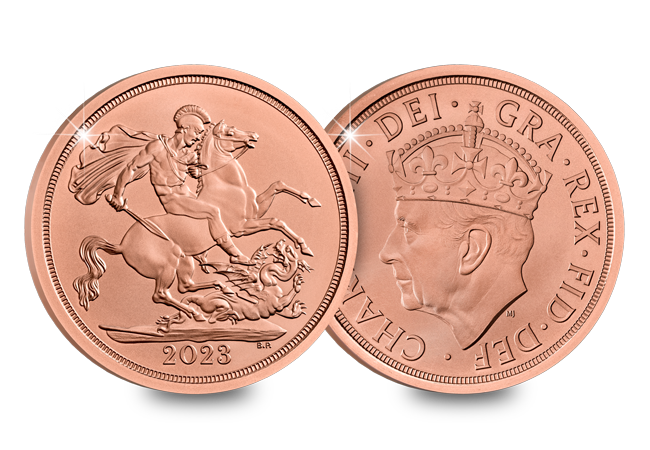 The Coronation of His Majesty King Charles III was one of the most momentous occasions in modern British History, marking the culmination of a 74-year journey to the throne.
A huge global spectacle, the ceremony itself defined a new chapter for the British monarchy, as His Majesty The King was crowned alongside Her Majesty The Queen.
And now, you can commemorate this landmark event with the new Coronation Sovereign 2023 Range, celebrating The King's coronation.
The range isn't available just yet, but the Struck on the Day Coronation Sovereign has already sold out – so make sure you register your interest below to be the first to receive the latest news on this milestone Sovereign release.
Many look back fondly at 1966, when Bobby Moore's team beat West Germany 4-2 in the Football World Cup final, securing the coveted trophy.
In 2003, rugby fans cheered as England defeated Australia in the nail-biting Rugby World Cup final.
And, the 2019 ICC Cricket World Cup saw the England team claim victory over rivals New Zealand.
All 3 sporting events have been forever engraved into England's history books, and they are revisited by fans each time the World Cup tournaments come back around.
Celebrating the legacy of our sporting achievements, the Sovereign World Cup Winners Collection brings together 3 historic Sovereigns.
Each represents the 3 years that England's sporting teams were victorious in a World Cup competition have been hand selected to form this magnificent collection.
These have been incredibly difficult to source – particularly the 1966 Sovereign, owing to the fact it is over 50 years old.
Because of this scarcity, only 25 collections are available. And, when you consider their precious metal content and the great significance of these years, they surely won't be available for long.
If you become one of just 25 collectors to own this sporting Sovereign trio, you'll be able to stylishly present them in a luxurious wooden display case for all to see.
To find out more about this incredible collection, click here >>
Did you know that the Gold Sovereign has an incredibly rich history stretching back over 530 years!
Known as the flagship coin of Great Britain, it's easily one of the most famous coins in the world.
And in my latest video I tell you everything you need to know spanning from 1489 to the modern day.
---
If you're interested…