Posts Tagged 'king charles III coronation'
On Saturday, we spent the day with the crowds at the Mall seeing the Royal Family on the balcony and waving our Union Jacks alongside thousands of others!
Even in the rain, the atmosphere was amazing. Union Jacks everywhere, cheering crowds, and more bunting than we've ever seen in our lives. It was truly British Royal pageantry at its splendid best.
What an event it was – the first King our great country has crowned for 86 years.
We hope you enjoyed the Coronation, wherever you were watching and whatever you were doing.
But whilst we were enjoying the festivities, a small group of people were hard at work striking an exclusive set of Coronation Silver Proof Commemoratives.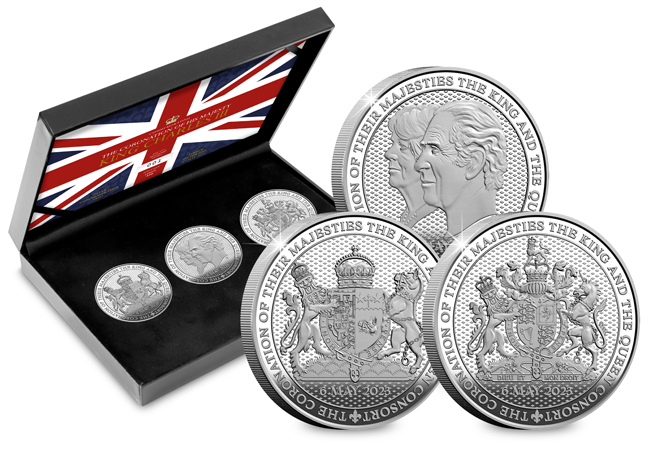 In fact, this was happening just a stone's throw from Westminster Abbey where the King was being crowned.
And this prestigious set is really remarkable.
Considering most of the country shut down to celebrate, it's a unique piece of memorabilia which in turn is strictly limited and ever so collectable.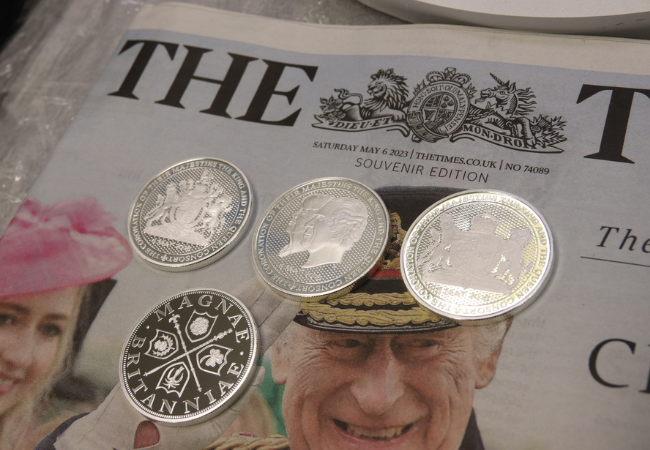 We've already seen multiple sell outs across the Coronation range, but you may still have an opportunity to add this set to your collection if you act now!
Here are the three key points that make this set so special:
1: It's a set of three 1oz Silver Proof Commemoratives that feature the Official Royal Coat of Arms of His Majesty King Charles III and Her Majesty Queen Camilla, alongside a stunning dual portrait of the new monarchs.
2: Each medal was struck on the Official Coronation date – 6th May 2023 – meaning that the set will forever be linked to this important moment in history.
And most importantly…
3: Only 350 sets are available. 350 simply won't be enough! Since the Coronation date was announced, demand for commemoratives has been sky-high and it shows no sign of slowing down.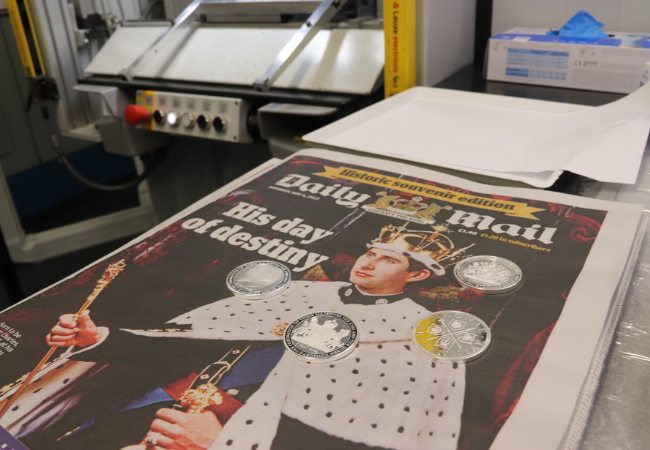 You can secure your Coronation Silver Proof Commemoratives set completely risk free for just £32.50 here. And importantly, you won't pay a thing until your set has been despatched to you. But if you don't act now, we wouldn't be surprised if they're all completely allocated before the general release!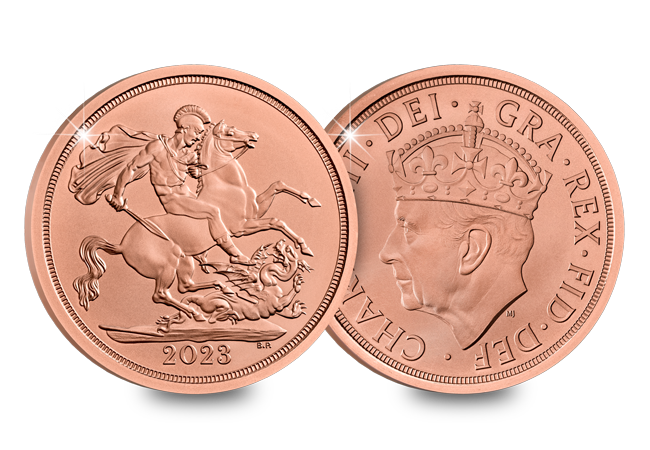 The Coronation of His Majesty King Charles III was one of the most momentous occasions in modern British History, marking the culmination of a 74-year journey to the throne.
A huge global spectacle, the ceremony itself defined a new chapter for the British monarchy, as His Majesty The King was crowned alongside Her Majesty The Queen.
And now, you can commemorate this landmark event with the new Coronation Sovereign 2023 Range, celebrating The King's coronation.
The range isn't available just yet, but the Struck on the Day Coronation Sovereign has already sold out – so make sure you register your interest below to be the first to receive the latest news on this milestone Sovereign release.
Today, Royal Mail have revealed their brand-new Coronation stamps. Comprised of four stamps, the official Coronation Miniature Sheet pays tribute to four elements of King Charles III's legacy.
And following the insatiable demand we have already seen this week for The Royal Mint's Coronation range, collectors are desperate to pair their coin with the official Coronation stamps!
That's because, on 6th May, we will mark the biggest royal event in decades.
So, why not kick off the celebrations with an exclusive combination of numismatic and philatelic history?
Read on to learn more about the stamps themselves, and how you can secure all four in an exclusive presentation alongside some of the UK 2023 Coronation coins…
The Design
Designed by British artist, Andrew Davidson, Royal Mail's official Coronation Miniature Sheet symbolises four elements of King Charles' legacy.
Each stamp has been divided into representations of the Coronation, Diversity and Community, The Commonwealth, and Sustainability and Biodiversity. The designs embody themes of heritage, tradition, cohesion, democracy, peace, and nature – integral values to His Majesty.
These stamps have been thoughtfully set against a design of intermingling foliage, representing the union of the four UK countries: the rose, thistle, daffodil, and shamrock.
UK 2023 Coronation Covers
And today, we have been able to present all four of these official UK Coronation stamps in limited edition covers.
Paired alongside the UK 2023 Coronation 50p, £5, or both, you can secure the Coronation Miniature Sheet beside The Royal Mint's new coins in either Brilliant Uncirculated or Silver Proof!
Or, you can get your hands on the extremely sought-after UK 2022 Memorial Sovereign – the first to feature His Majesty – in an exclusive cover with these stunning new Coronation stamps.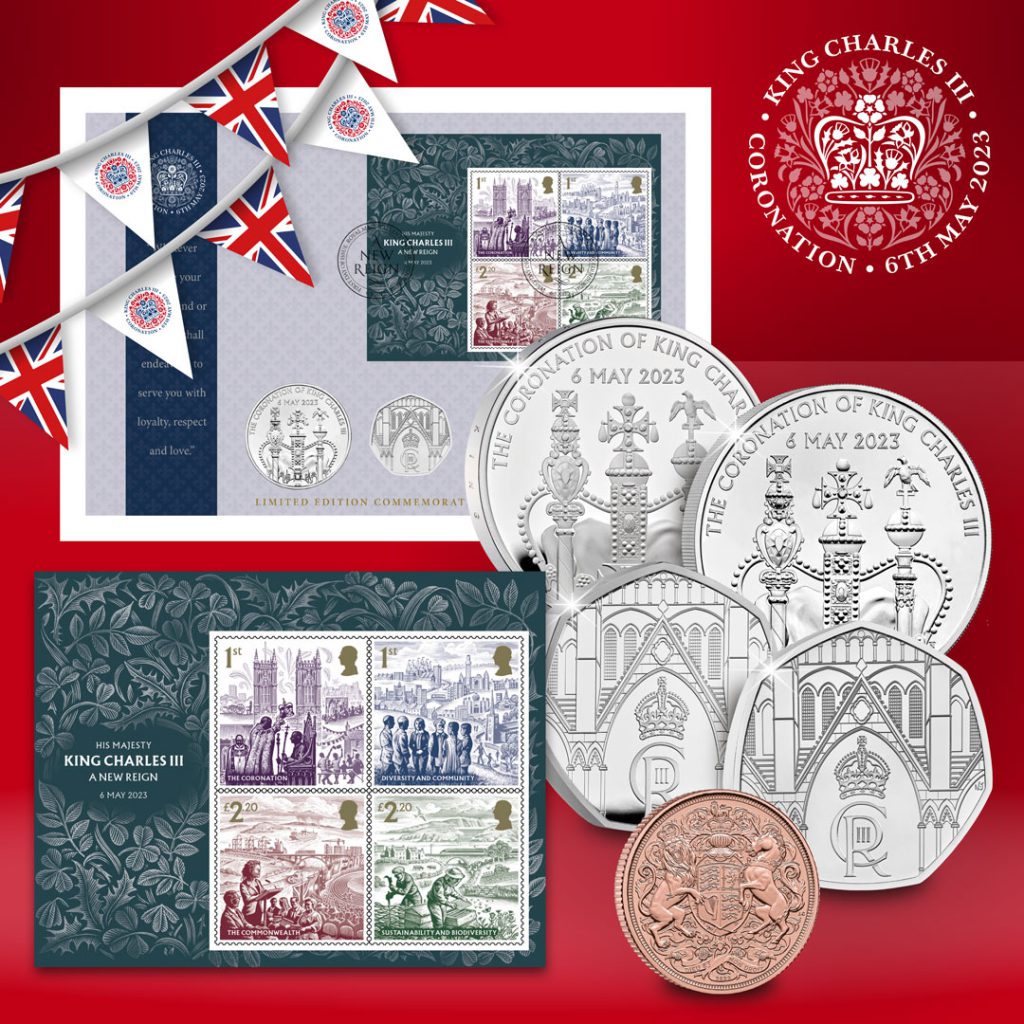 These limited edition covers are the perfect way to capture this poignant moment in history. In fact, they have all been postmarked by Royal Mail on the date of His Majesty's Coronation – 6th May – which truly preserves this extraordinary historical feat and ensures no more can ever be made…
Extreme Demand for Coronation Coins
When The Royal Mint launched the UK 2023 Coronation coin range on the 24th April, nothing could have prepared collectors for the insatiable demand…
Nearly 70,000 people queued for the launch, and the Coronation coins were being snapped up within minutes.
So considering this could be your last chance to secure a UK 2023 Coronation coin, you don't want to miss out on these exclusive coin covers.
Click here to explore the range, with prices starting from £39.99 >>