Posts Tagged 'In Memoriam'
One year has now passed since the world mourned the loss of a remarkable monarch, a beloved leader and a symbol of strength and grace.
And our latest video has been dedicated to the memory of Her Late Majesty, Queen Elizabeth II. Watch below.
Her Royal Highness Queen Elizabeth II committed herself to a life of royal duty, earning the affection of generations here in the United Kingdom, across the Commonwealth, and around the world.
To preserve her majesty's memory after her passing last year and the profound impact she made on countless lives, a breathtaking collection of memoriam coins has been unveiled – a testament to her tireless devotion to duty, and unwavering commitment to her people.
Each commemorative coin in this new collection serves as a token of remembrance – discover the intricate details and heartfelt symbolism woven into these coins.
View the key pieces below and delve into the depths of this magnificent collection.
---
Own the whole story with the In Memoriam Proof £5 Set
Introducing the 2023 British Isles 'In Memoriam' Proof £5 Set, a collection of three extraordinary coins commemorating the life and legacy of Queen Elizabeth II – featuring three £5 coins from Jersey, Guernsey, and the Isle of Man.
Strictly Limited to JUST 995 Collectors WORLDWIDE — That's a tiny number for such an important anniversary and a sell-out looks guaranteed.
Own a piece of history with this extraordinary tribute to a beloved Queen by clicking here >>
---
A touching tribute with the Silver Proof £5
Meticulously crafted from sterling silver to a stunning Proof finish, this new £5 features an original design by specialist heraldry artist, Neil Bromley.
What is so poignant about this design is the quote from the Shakespearean play Hamlet, "May flights of Angels sing thee to thy rest" which were the touching words expressed by her son King Charles in his speech on September 9th, the day after he acceded the throne.
Click here to secure a poignant reminder of Queen Elizabeth II's enduring legacy which redefined royalty >>
---
A reign to remember through the Silver Proof £5 set
In a heartfelt tribute to a reign which shaped history and touched countless lives, a British Isles Queen Elizabeth II 'In Memoriam' Silver Proof £5 Collection has been released, one year after Her Late Majesty's passing.
Each coin has been officially approved by Buckingham Palace and has been struck from Sterling Silver to a pristine Proof finish.
Featuring three unique designs, this brand-new set honours Her Late Majesty's extraordinary life, unwavering service and ever-lasting grace.
Click here to explore this limited-edition collection >>
---
A true gem for your collection – the stunning Silver 5oz
Struck from five ounces of Pure Silver, the 65mm diameter is the perfect way to show off this fantastic tribute.
Fully approved by Buckingham Palace, the Queen's funeral wreath of symbolic flowers: Rosemary, Geraniums, Dahlias, English Oak, and Roses are wonderfully depicted.
The Inscription 'In Loving and Devoted Memory' is taken directly from the handwritten card that accompanied the wreath.
Click here to secure the prestigious Silver 5oz Coin for your collection >>
Let me introduce you to a coin that speaks volumes…
Meticulously crafted from Pure Silver, the impressive King's Speech 5oz 100mm Coin has been issued to honour King Charles III's defining moment as Monarch.
Every word of the emotional and historic address he gave to the nation following the passing of Queen Elizabeth II feature on this coin – that's 977 words in total!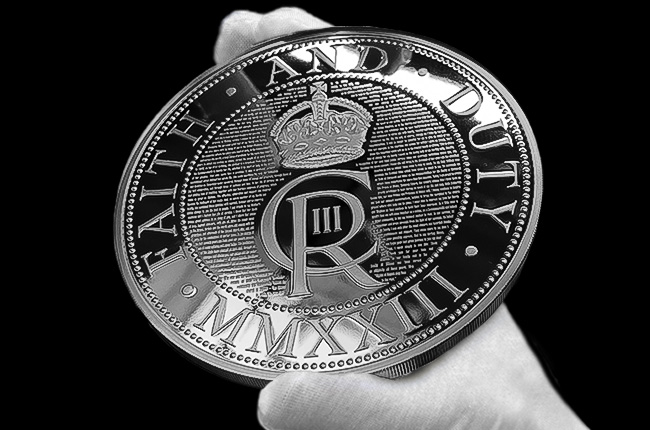 A Monarch's Defining Moment
On the 9th September 2022, just one day removed from Her Late Majesty's passing, King Charles III made the poignant speech. In the address he paid tribute to his mother and pledged to show the same unwavering commitment to duty.
And so, this coin not only commemorates King Charles III's first ever speech as Monarch but it also honours the incredible reign of Queen Elizabeth II.
Relive the King's Speech…
The King's Speech Pure Silver 5oz Coin is a true numismatic masterpiece, one that has seen incredible demand from collectors worldwide.
In fact its Pure Gold Counterpart, priced at a staggering £59,995, had an edition limit of JUST 5.
Making a Masterpiece
The King's Speech Silver 5oz is an impressive combination of artistic expression and technical prowess.
The delicate process of striking 977 words onto a coin has been achieved using the process of micro-engraving. Every single word has been meticulously engraved onto the die, a painstaking process that requires remarkable precision and expertise. Skilled artisans devoted countless hours to ensuring that each letter has been flawlessly etched.
Once the micro-engraving is complete, the die is ready to undergo the next step in the coin production process. With force and finesse, it is expertly struck multiple times, employing immense pressure to achieve the pristine Proof finish which brings the micro-engraved words to life.
Of course, fitting a 9 minute speech onto a coin presented a major challenge. That's why each coin has been struck from FIVE OUNCES of Pure Silver and measure at an incredible 100mm.
With its minted design, lustrous silver content and the sheer significance of the occasion it commemorates, this coin is an absolute must-have for collectors worldwide.
If you're interested…
A strict edition limit of 750 has been set. For one of the most remarkable coins we've ever seen, that simply will not be enough…