Posts Tagged 'Silver £5 Coin'
A symbol of royal power for nearly 1,000 years, the Tower of London remains one of Britain's most iconic attractions.
But did you know that for over 500 years The Tower of London housed The Royal Mint?
It's safe to say that during The Royal Mint's time in The Tower, making coins was hot, noisy and dangerous affair. So much so that tampering with coins was considered treason, and the threat of gruesome punishment alone was enough to deter most, if not all, forgers and thieves.
For me, there's no coin stories as fascinating as the ones that originate from The Royal Mint's time a at The Tower. Here's a selection of my very favourite ones…
Health and Safety was not a concern
In stark comparison to the society we live in today, the health and safety of Mint workers was not a top priority during the Mint's time in The Tower.
Mechanisation in the 1600's was welcome relief for Mint workers, as up until this point, all coins were made by hand. As a result, it wasn't unusual for workers to be injured, and the loss of fingers and eyes was not uncommon.
When it came to striking the coins, split second timing and staying alert could mean the difference between making a coin and losing a finger! That's because in order to strike a coin, one worker would place a handmade piece of metal between two engraved stamps – called dies – and a second worker would then strike it with a hammer. This procedure would stamp the coin design on to the metal, but if both parties were not on the ball sometimes a finger would be removed in the process.
Even then, it actually wasn't until screw-operated presses were introduced in the 1700's that life for Mint workers became relatively safe.
Dirty, deadly money
Working in the Mint was dirty and dangerous work. Huge furnaces were used to melt down precious metal, and the air was full of deadly chemicals and poisonous gases. This made the coin making process a real hazard.
In the 1560's a group of unfortunate German workers learned this the hard way. Several of them were suspected to have been poisoned by clouds of noxious gas, and they fell incredibly ill. Seasoned workers at the Mint advised them of the cure – to drink milk from a human skull! Despite the so called 'cure', several men died.
The mysterious case of Sleeping Beauty
Several decades prior to this, in the 1540's, William Foxley was another victim of the Mint's lax health and safety. Though how exactly, still no one to this day knows for sure! Foxley was a potter at the Mint, and one day he fell asleep over his pots and no one could wake him up.
It's unclear what exactly caused Foxley's coma, and allegedly King Henry VIII himself swung by The Tower to check out the mysterious sleeping beauty. For the majority of the British population, the only way they knew what their monarch looked like was thanks to the obverse of the coin. So Foxley will have been disappointed to have slept through his audience with the King.
This case perplexed physicians for 14 days, after which Foxley woke up and was the picture of perfect health. Remarkably he lived for another 40 years.
Tampering with coins was considered treason
Treason was not taken lightly. In fact any tampering with coins, such as shaving silver from the edge of a coin to steal it, was classed as treason and the severe punishments that awaited thieves and forgers was nearly enough in most instances to put them off.
During medieval times, the sentence for a first-time convicted counterfeiter was to remove their right hand. Any second offences were punishable by castration. It's unknown exactly what followed this particularly gruesome punishment for a third or even a fourth offence.
But if you think this is severe, in later years and right up until the 1700's male forgers suffered a traitor's death – that is to be hung, drawn and quartered. Meanwhile, female forgers were either burned at the stake or transported on one of the infamous convict ships to their designated place of exile.
---
If you're interested…
The Royal Mint has just released a BRAND NEW UK £5 coin to celebrate its longstanding and fascinating history with The Tower of London.
The coin is available in a range of specifications, including Brilliant Uncirculated and extremely limited edition Silver Proof and Silver Proof Piedfort. Given the historical significance of this commemorative, it is expected to be highly sought-after by serious collectors now and in years to come. That said, we do not expect to be able to offer it for long.
*** BRAND NEW Battle of Britain coins – on sale now ***
This year marks the 80th Anniversary of the Battle of Britain. Fought over British skies during 1940, the battle was a turning point in WWII and ultimately saved Britain from German invasion.
In 1940, a terrifying dark shadow descended over Europe. The relentless advance of Hitler forces overwhelmed everything in their path and the world suddenly became very dark. Following the evacuation of French and British soldiers from Dunkirk and the subsequent French surrender on 22nd June 1940, Hitler believed that WWII was practically over and that Britain would quickly come to terms. However, even with a seemingly unstoppable enemy on the doorstep, Winston Churchill stepped up to become Britain's wartime leader and refused to surrender.
On 10th July 1940 a battle was fought – and won – by a courageous few; arguably one of the crucial turning points that led to British Victory in WWII.
The Battle of Britain remains one of the truly great chapters in our history, and to mark 80 years since that momentous battle, a brand new range of commemoratives have been issued. Whether you're looking for the new centrepiece for your collection, you're an avid collector, a Military enthusiast or you're looking for the perfect tribute, there's bound to be something within the range for you.
Click here to view the 2020 Battle of Britain 80th Anniversary range >>
Or, find out more about each of the stunning coins we have available below….
JUST 150 collectors can own this BRAND NEW Battle of Britain Silver 5oz Coin
Struck in five ounces of 925/1000 solid silver, this coin barely fits in the palm of your hand. Not only is the size and weight impressive – but so is its engraving.
Approved by Her Majesty the Queen, the reverse design has been created by renowned sculptor Mike Guilfoyle and takes inspiration from an old war-time poster synonymous with the Battle of Britain. The design features three pilots in front of an aircraft with the text 'The Battle of Britain 1940-2020' to honour the heroic efforts of the RAF in changing the course of WWII and leading us to victory.
Click here to secure this Silver 5oz Coin for your collection >>
Battle of Britain 80th Anniversary Gold Proof Sovereign – 15 times RARER than the UK's recent Gold Proof Sovereign!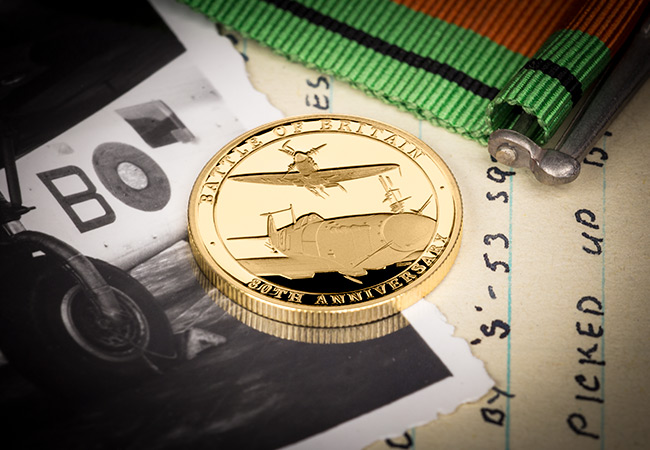 Over the years, the popularity of various coins have come and gone. But none have stayed as unrivalled as the Gold Sovereign. Quite simply, the Sovereign is without a doubt the world's premier Gold Coin. Struck from 22 Carat Gold to the exact same specification since 1817, it epitomises all that is British.
Issued in recognition of the historic Battle of Britain 80th Anniversary, this extremely limited Isle of Man Gold Proof Sovereign is limited to just 495 pieces. This is more than 15 times RARER than the UK's recent Gold Proof Sovereign. 495 coins is a tiny edition limit for a gold Sovereign-specification coin such as this.
This brand new British Isles Sovereign is the most important gold coin you can find right now. Click here to secure one for yourself >>
JUST 495 Battle of Britain 80th Anniversary Gold Proof Pennies Authorised
To mark such a historic anniversary, a special strike of 495 Solid Gold Pennies have been authorised. The release of a Gold Penny is an extremely rare event and one that collectors will look out for, especially as they are only issued to mark the most important anniversaries and are always severely limited. In fact, this is the most limited issue for some time.
The exquisite design features three Spitfire silhouettes engraved on to the coin to signify the bravery of all the RAF pilots who defended our skies In the summer of 1940. It has been struck in Solid Gold to the standard United Kingdom Penny diameter and finished in the collectors preferred finish, Proof.
Click here to secure one for you collection now >>
The Limited Edition Battle of Britain 80th Anniversary Spitfire Silver Proof £5
The £5 coin is the single most prestigious coin issued across the British Isles, reserved for the most important commemorations of the year. The Battle of Britain anniversary is certainly no exception deserving of only the very finest commemorative £5 coin.
The design features the legendary Spitfire with a Union Jack trailing from behind. Also, a notable inclusion to the edge of the design is an excerpt from Winston Churchill's famous speech 'So Much, So Many, So Few', his moving tribute to the brave pilots of the RAF.
The background fittingly displays a 'V for Victory' design which has been finished with the unique addition of Spitfire silhouettes.
Only 2,020 coins have been issued worldwide. This unprecedented decision comes as a surprise, especially when you consider the historical significance of this anniversary.
Click here to secure the brand new Silver Proof £5 Coin >>
Officially Licensed RAF Spitfire Gold-plated Coin
This Official RAF Battle of Britain 80th Anniversary Gold-Plated Coin comes highly recommended. Not only is it extremely desirable in its own right, it is a fantastic tribute to the skilled pilots both past and present who have had the honour flying in the RAF. It features a dramatic colour recreation of the legendary Supermarine Spitfire by renowned Airfix artist Adam Tooby.
Featuring 24 carat gold-plating and struck to a flawless Proof finish, this is the perfect Battle of Britian 80th Anniversary commemorative.
Click here to secure your Official Gold-Plated Coin now >>
---
Please note, extremely high demand is expected for these brand new Battle of Britain Commemorative coins. It is highly advised that you act quickly to secure your favourite pieces from the collection to avoid disappointment.
Click here to find out more about the range and order one of the BRAND NEW Battle of Britain 80th Anniversary Commemorative coins >>
It's surprising, in this new digital age, just how 'hands-on' designing a coin is. In fact, it's very much the job of a master craftsman.
Never was this more evident than when the Isle of Man Treasury chose to mark the 200th Anniversary of the birth of Queen Victoria with three new coins, each with a brand new portrait.
The man they turned to was renowned sculptor Luigi Badia and here's the remarkable process of how these coins were developed.
First Stage – Pencil designs
Like most products across all industries, designing a coin starts with pencil sketches. These are then amended, potentially many times, until a final sketch is produced and approved.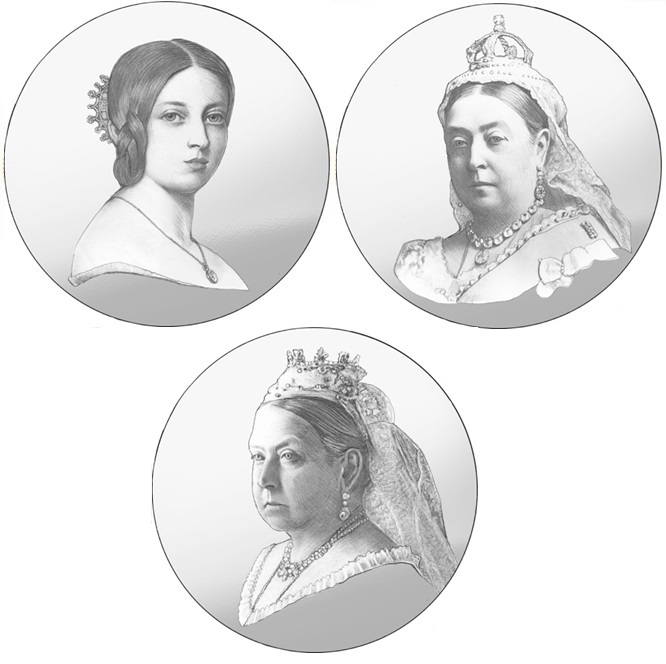 Second Stage – Plaster modelling
The second stage is arguably the most visually stunning. The sculptor, Luigi Badia in this case, will turn their sketches into a 3D 'Plaster' design. The skill involved in this process is really very impressive as every tiny detail must be modelled.
The plaster is far larger than the actual coin size to allow for this detail to be captured. The design will be resized in the next step of the process.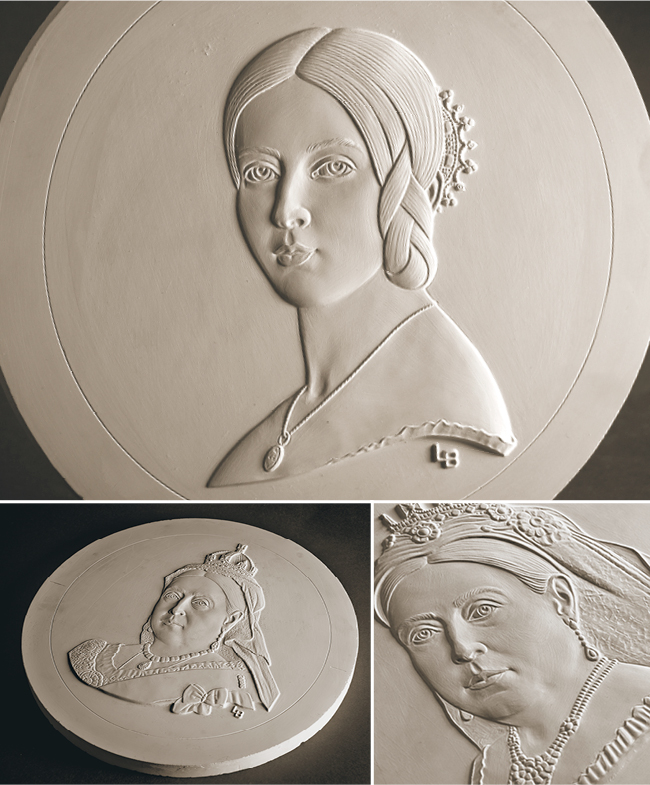 Third Stage – Digital Modelling
It's during this stage where technology has certainly helped the design process. The 3D 'Plaster' designs are scanned and a digital file, called a greyscale, is created.
An engraving machine then uses this file to cut the design into a piece of steel that's the actual size of the final coin. This will then be used to make the dies that will actually strike the coins.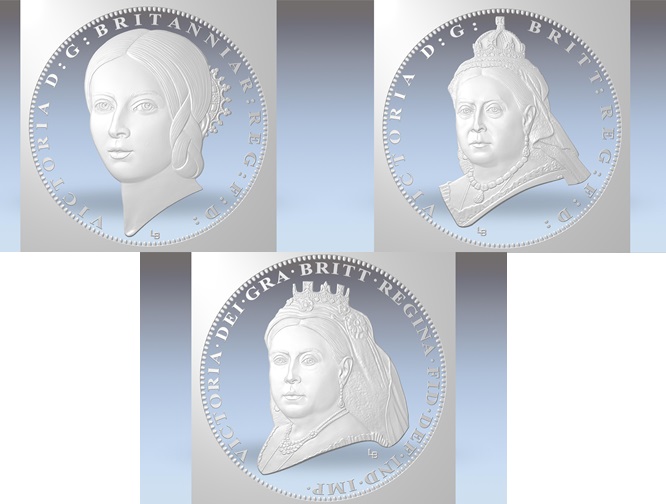 Fourth Stage – Coin Striking
This final stage is when the physical coin comes to life. The specially prepared die is used to 'strike' the design onto a metal 'blank'. The metal used for the blank can vary widely, from cupro-nickel to silver and gold.
Only once the mint is perfectly happy with the quality of the struck coins will they be issued.
---
The Queen Victoria Silver Antique £5 Set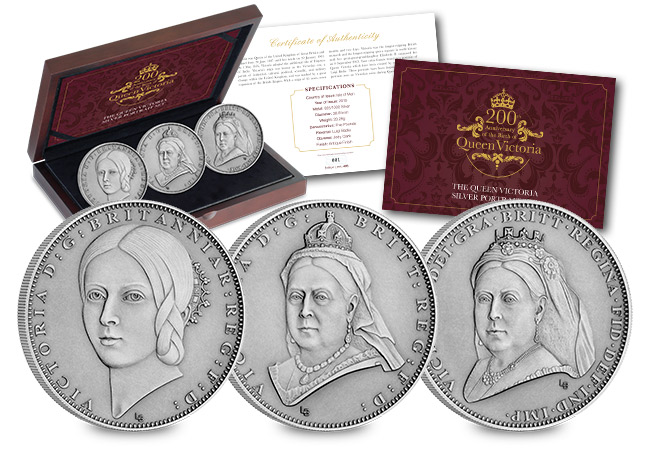 This set is the only way to own all three of these stunning, specially commissioned Antique Silver £5 Coins.
Just 495 of these stunning sets are available worldwide and exclusive to The Westminster Collection.
You can secure yours today for a down payment of just £54 >>