Posts Tagged 'new uk coin announcement'
Speculation in the collecting community has been brewing for months about the next British star to be honoured in The Royal Mint's hall of fame that is the Music Legends series.
And now collectors and fans will surely be rejoicing from Ibiza to the Norfolk Broads, and perhaps even on Mars, as the next Music Legend to feature on a BRAND NEW UK coin has been confirmed to be none other than the Starman himself, David Bowie!
From Space Oddity to Life on Mars? there is no denying that David Bowie is one of the most iconic and influential British musicians to have ever graced our stages. Known for his reinvention, he was a fearless, creative, inspirational icon that changed the lives of so many people.
Here at The Westminster Collection we cannot think of a better way to celebrate his contribution to British music and his lasting legacy than with a coin.
And what a coin it is – keep on reading to see the spectacular design for yourself!
Plus, if you want to be the first to know when this new coin is released, simply register your interest below.
David Bowie Coin
The design of the new David Bowie coin is a real tribute to the king of glam rock. The main talking point of this 1oz Pure Silver Proof coin is without a doubt the coloured element. The red and blue lightning bolt motif is instantly recognisable from the Aladdin Sane era and is synonymous with the musician.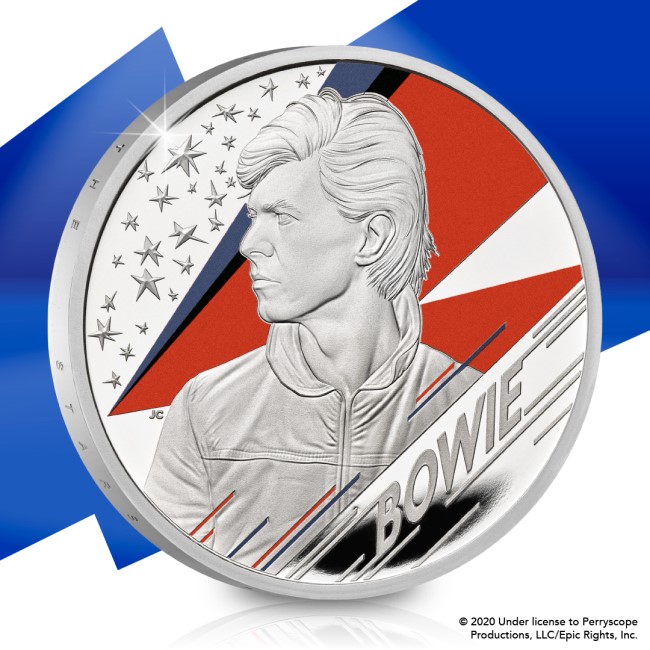 Interestingly, I'd say that this is the FIRST pop culture themed coin I can think of that features a portrait – until now portraits on coins have been reserved for Royalty or prominent historical figures. This is incredibly unusual for a coin and means it will be sought-after by knowledgeable collectors.
Register your interest
The David Bowie coin follows in the footsteps of Queen and Elton John where we saw SELL-OUTS within hours of release!
This surely means that considering the sell-out success of the previous coins in the Music Legends series, that this new David Bowie coin is sure to be in high demand and collectors will have to act quickly to guarantee one for their collections.
If you want to be kept up to date and be the first to know when these coins are available, then simply register your interest below and we'll email you as soon as we have more information.
The Royal Mint have just confirmed a brand new 50p series will be launching on 23rd September featuring characters from Britain's favourite books – Winnie the Pooh!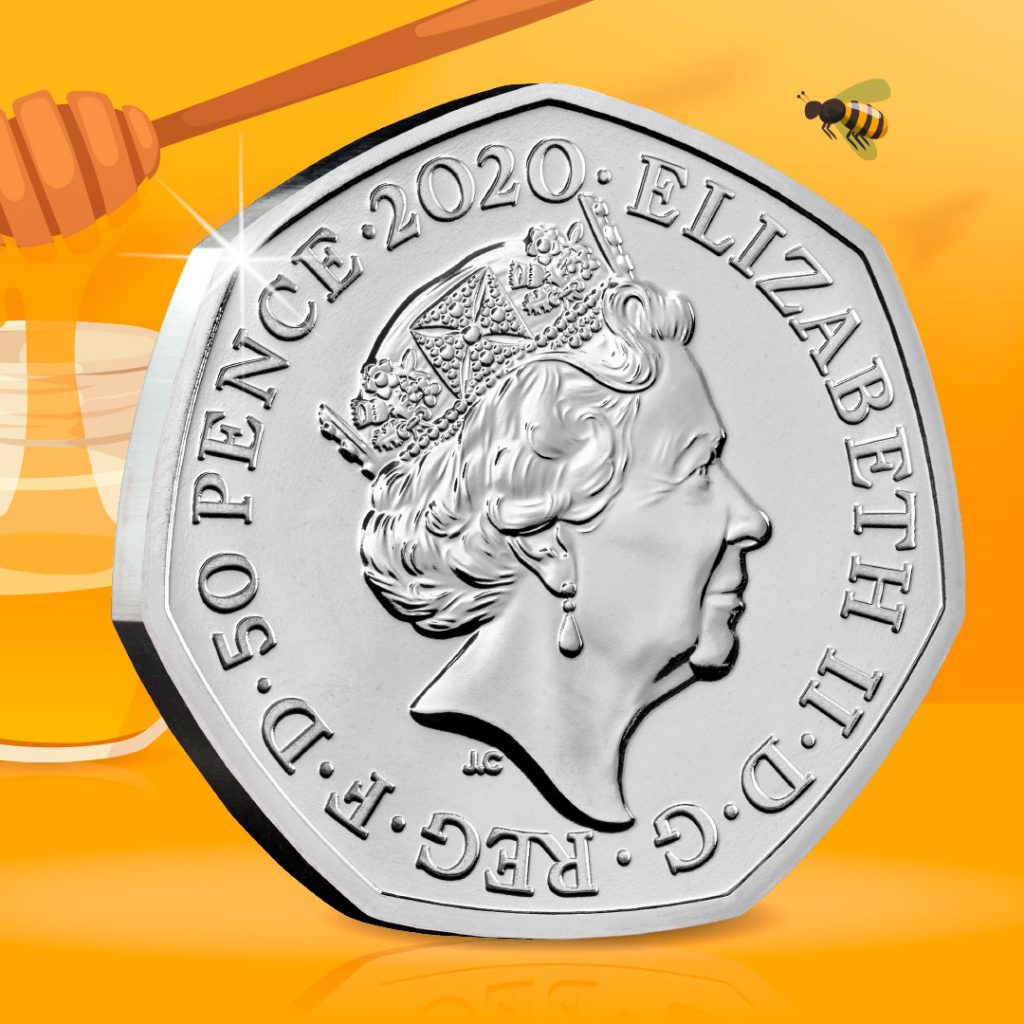 Each design has been inspired by A.A. Milne's classic children's stories starting with Pooh Bear himself and is sure to be one of the most popular coin releases this year.
Originally published in 1926, Winnie the Pooh is a story about the adventures of Christopher Robin's honey-loving teddy bear and his friends Piglet, Tigger, Eeyore, Owl, Kanger, and Rabbit.
Since then, Winnie the Pooh has featured in over 11 films, 11 television programmes, 4 different books, and has become a worldwide collectable item.
Whilst the designs of the upcoming 50p coins are currently top-secret, we can't wait to see this loveable bear and his friends come to life once more, this time on the UK's most collected coin.
But who is your favourite character? Let us know in the comments below!
And if you want to be the very first to hear of any updates, make sure you sign up at the bottom of this blog!
By signing up we'll make sure you're the first to know any updates about these new coins, including when they are launched. So what are you waiting for?
It's a coin story the UK, if not the world, has been watching now for several years. And finally we have reached its conclusion, as today the UK withdraws from the European Union. To mark the occasion a brand new official UK 50p has been released.
Plans to release special Brexit coins were first announced by former chancellor Philip Hammond in 2018. Years in the making, I suspect this will be one of the most eagerly anticipated issues we've ever seen – it's surely the coin of the decade!
Regardless of how you voted back in the historic referendum in 2016, it goes without saying that the 31st January 2020 will go down as one of the most significant dates in the UK's history. This new coin is both marking this important moment in time and acts as a symbol of the UK's future.
The new 50p coin has been struck to a variety of specifications. Each one features the inscription "Peace, prosperity and friendship with all nations", as well as the withdrawal date.
A 50p coin was struck when the UK joined the European Economic Community in 1973 and when the UK held the presidency of the EU in 1998. So it only seems fitting one is released to mark the UK's departure from the EU. And by marking such a pivotal event in our history, this coin is certain to be sought-after by collectors in years to come.
Simply read on to discover how you can be one of the first UK collectors to add this brand new UK 50p to your collection…
---
The Official UK Brexit 50p BU Pack
To give as many collectors as possible the chance to own this highly sought-after coin, The Royal Mint has issued it in Brilliant Uncirculated quality. This finish is coveted by collectors as it means each coin is free from any marks you would find on circulated coins.
Each coin is protectively encapsulated in its attractive original Royal Mint packaging to preserve its quality for generations to come. What's more, you can secure this BU Pack at the Royal Mint issue price of just £10 (+p&p).
Click here to find out more >>
---
Limited Edition Silver Proof Brexit 50p
Whilst thousands, if not millions of these new coins will be struck, you can choose to own the official Withdrawal from the EU 50p coin in a far more limited way.
Just 47,000 coins have been issued worldwide in a superior specification, struck from .925 Sterling Silver to a Proof finish. Given how popular commemorative 50ps are, this exclusive precious metal version is sure to be an even bigger hit.
What's more, there will surely not be enough coins to satisfy demand – especially if you consider that over 17 million people voted to leave the EU in the historic 2016 referendum . That's 307 voters for every new coin issued!
You can secure one for your collection today for just £60 (+p&p) – that's the Royal Mint issue price.
Click here to find out more >>
---
Extremely Rare Gold Proof Brexit 50p
Finally, the rarest version of all. Just 1,500 collectors worldwide will be able to own the Withdrawal from the EU 50p impeccably struck to the most superior specification of all, from 22 Carat Red Gold to a proof finish.
Gold Proof 50ps have some of the fastest sell-out rates around – previous issues, including the Snowman and the Gruffalo, have sold out within 24 hours of release. So this history-making issue is not expected to be available for long. You can reserve yours today with a deposit of just £99.50 (+p&p) followed by nine further interest-free instalments – clearly the most affordable way to own this superior issue.
Click here to find out more >>
---
Please note, collector demand is expected to be extremely high so it is advised that you act quickly to avoid disappointment.
You can view the full UK Brexit 50p range by clicking here >>