This year the 50p turns 50 years old. And to mark the occasion The Royal Mint re-issued for 2019 some of the most popular 50ps to have ever been issued – including the rare Kew Gardens 50p which is the pinnacle for most collectors.
Unsurprisingly, the limited edition proof sets sold out in record time – just 2 hours!
Now, to continue the celebrations of the 50th year of the 50p, The Royal Mint has released a second set of iconic 50ps, this time celebrating British military history. It is no coincidence this collection has been released on the 75th Anniversary of D-Day.
The collection has been officially released today, in a number of precious metal versions and we're delighted to provide you with all the details you need to know about this latest edition to the 50p family…
Five iconic designs celebrating British military history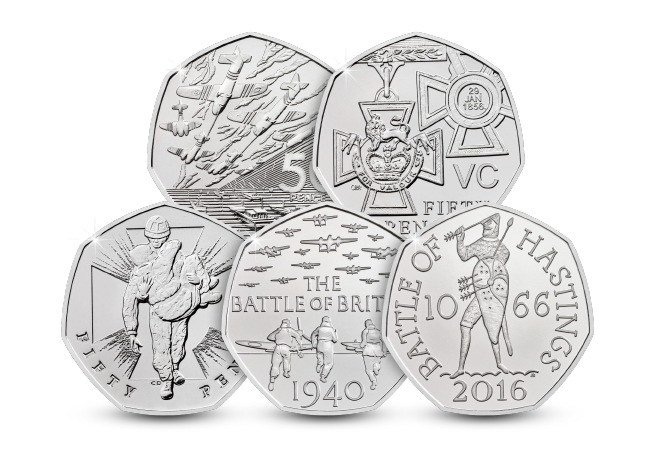 Each set includes five popular 50p designs which are a true tribute to British military history, including:
50th Anniversary of D-Day – originally issued in 1994, the design depicts the D-Day landings of the Allied forces as they head for Normandy by air and sea.
Victoria Cross Heroics Acts – released in 2006, this 50p commemorates the 150th Anniversary of the Victoria Cross and is one of two designs issued to honour award. This one features a design of a soldier carrying an injured comrade.
150th Anniversary of the Victoria Cross Award – the second 50p issued in 2006 to mark the 150th Anniversary of the Victoria Cross, featuring an image of the medal itself.
75th Anniversary of the Battle of Britain – first issued in 2015, this 50p features three airmen running to their planes with enemy aircraft overhead.
950th Anniversary of the Battle of Hastings – showing the scene from the Bayeux tapestry depicting King Harold with an arrow in his eye, this coin was originally released in 2016.
Demand for military commemoratives is at an all-time high, especially this year when we mark the 75th Anniversary of D-Day, and as such it is expected these sets will attract a lot of interest from collectors.
50th Anniversary of the 50p Military Brilliant Uncirculated Pack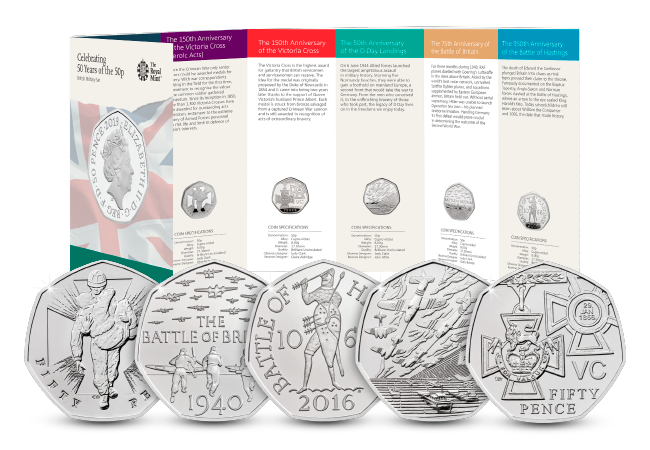 To give as many collectors as possible the chance to own these highly sought-after coins, The Royal Mint has issued them in Brilliant Uncirculated quality, which is coveted by collectors as it means each coin is free from any marks you would find on circulated coins.
Each one is protectively encapsulated in its attractive original Royal Mint packaging to preserve its quality for generations to come. What's more, you can secure this BU Pack at the Royal Mint issue price of just £45 (+p&p). Click here to find out more>>>
50th Anniversary of the 50p Military Base Proof Set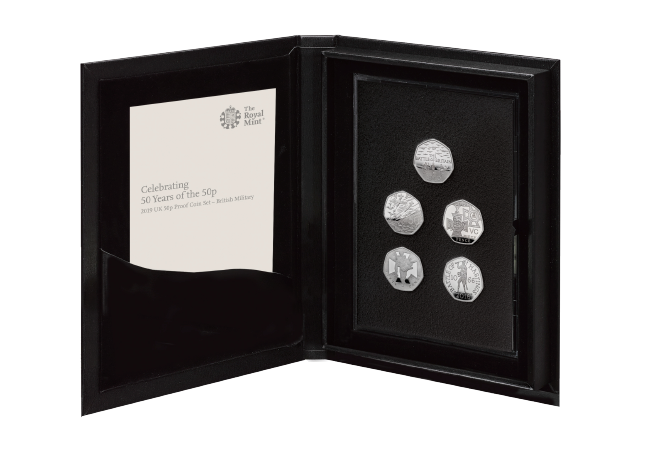 Whilst being struck from base metal, the coins in this set have been struck to a stunning superior proof finish. Just 3,500 50th Anniversary of the 50p Military Base Proof Sets have been released worldwide, making this set extremely sought after.
You can order the new 50th Anniversary of the 50p Military Base Proof Set here with a down payment of just £19.80 (+p&p) followed by 4 further interest-free instalments. Click here to find out more>>>
50th Anniversary of the 50p Silver Proof Set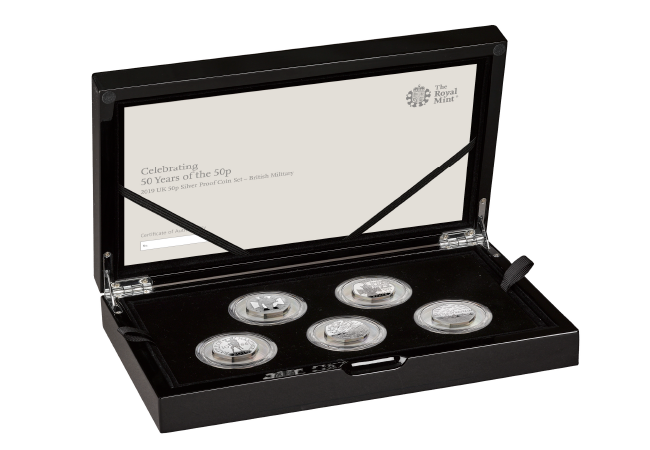 However, you can own the 50th Anniversary of the 50p Military Set in an even more limited way – so limited just 1,969 collectors worldwide can own it.
Each set contains the same five iconic 50p designs, but these have been struck in superior .925 Sterling Silver to a perfect proof finish. Given how popular commemorative 50ps are, this ultimate set is sure to be an even bigger hit.
You can secure this extremely limited set for your collection now for just £29.50 (+p&p), followed by just 9 further equal interest-free monthly instalments. Click here to find out more>>>
50th Anniversary of the 50p Gold Set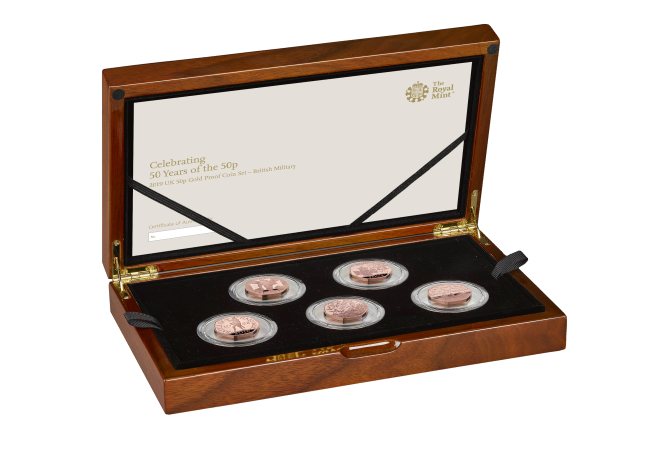 Finally, the rarest set of all. Just 75 collectors worldwide will be able to own the 50th Anniversary of the 50p Military Set impeccably struck from 22 Carat Gold to a proof finish.
The Royal Mint has today announced the release of a coin that everyone has been anticipating since the moment HRH Prince George of Cambridge was born on 22nd July 2013 – a coin celebrating the four generations of royalty.
This is the first time that all four generations of royalty have been celebrated on a UK coin. The last time four generations of royalty were celebrated together was in 1894 under the reign of Queen Victoria.
2018 is an incredibly special year for the Royal family as they celebrate a variety of important milestones including the Queen's 65th anniversary of her Coronation, the Prince of Wales' 70th birthday and Prince George's 5th birthday so it's perfect timing for such a special coin issue!
Here's everything you need to know about this important new release:
The stunning reverse features an original design by much-loved heraldic artist Timothy Noad, and ornately shows the initials of the current four generations, E, C, W, G, and represents the heritage of the House of Windsor.
The coin is available in several different finishes, all with varying edition limits that are likely to sell out quickly. Here's your guide to the new 2018 Four Generations of Royalty coin range:
Perfect Quality. Very Affordable.
The Royal Mint is releasing a brilliant uncirculated base metal version of the Four Generations of Royalty £5 coin. These coins have been specially struck and carefully handled to ensure that they are free of scratches and chips found amongst circulating coins.
Known as Brilliant Uncirculated (BU), they are available for £13.00 in a Royal Mint Presentation Pack or £10.99 in a Change Checker Certified Brilliant Uncirculated Collector Card.
Silver Proof – the Collector's Favourite.
The Silver Proof £5 coin is firmly established as the most sought-after coin amongst collectors because they have all the qualities that collectors really desire.
Precious metal content– struck from 925/1000 Sterling Silver.
Strictly Limited Edition– just 5,000 coins. That's 3,000 less than the Sapphire Jubilee £5 Silver Proof coin. That had a mintage of 8,000 and completely sold out at The Royal Mint.
The perfect Proof Finish– even better than Brilliant Uncirculated. Proof coins are struck several times using specially polished dies to create a flawless finish with a perfect mirrored background. The ultimate coin quality.
Double the thickness. More than twice as limited.
For silver collectors looking for something even more collectable, the double thickness Piedfort edition is the pinnacle of Royal Mint craftsmanship, they are twice the thickness and weight of a standard coin. They also have much lower edition limits than their standard silver counterparts.
There are just 2,000 Four Generations of Royalty £5 silver proof Piedfort's – less than half the maximum mintage for the standard £5 silver proof.
The Gold Standard
For the ultimate limited edition, you can own the Four Generations of Royalty in Gold proof. This has been issued in two specifications: the Gold Proof ¼ oz coin and the £5 Gold Proof coin.
The ¼ oz is struck from 24 Carat Gold and just 1,100 have been authorised for release.
The £5 is struck from 39.94g of 22 Carat Gold to a flawless proof finish. Only 500 will be issued – 250 LESS than the equivalent Sapphire Jubilee Gold £5 that completely sold out at the Mint in ONE WEEK.
Due to its very limited nature, we will contact you directly to discuss owning the Gold Proof £5 Coin if you are interested – please complete the form below:
If you're interested …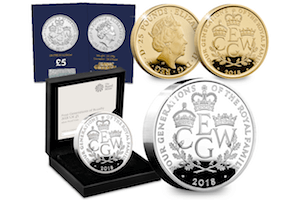 You can own one of the special collector edition Four Generations of Royalty £5 coins today, click here to view the full range >>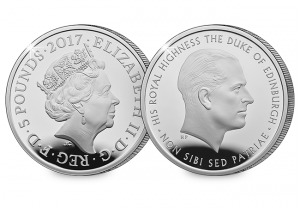 The Royal Mint has confirmed the release of the LOWEST EVER edition limit for a Silver Proof Piedfort £5 Coin.
This release marks HRH the Duke of Edinburgh's record-breaking 70 years of service to Her Majesty the Queen and the United Kingdom and comes on the heels of the standard £5 Silver Proof's 24 hour recent sell out.
Piedfort coins are the pinnacle for serious collectors. Struck on superior double-thickness blanks finished to the very highest proof standard, they are always popular and usually sell-out at the Mint quickly upon release.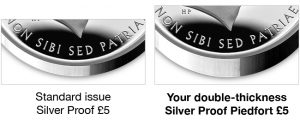 Importantly, it coin has been strictly limited to just 1,250 pieces worldwide, a tiny amount, especially when you consider the popularity of the other specifications. In fact, it's actually the lowest EVER edition limit for a UK £5 Piedfort coin.
We expect a full sell-out. And fast.
The UK Prince Philip Silver Piedfort will be available from 10th November but can be pre-ordered now.
---
If you're interested…
You can pre-order one of the Prince Philip Silver Piedfort Coins by clicking here now >>