Posts Tagged 'brand new uk coins'
**INCLUDES TWO PLATINUM JUBILEE COMMEMORATIVES**
Each year, The Royal Mint marks important British anniversaries, events or accomplishments on our coins and today I'm delighted to reveal the UK's new coin designs for 2022.
This year's collection includes TWO special tributes to Her Majesty Queen Elizabeth II as she marks her Platinum Jubilee in 2022 – including the UK's FIRST EVER Royal 50p.
Watch our latest video below to find out everything you need to know…
There are 5 new commemorative coins, paired alongside the eight definitive coins from the 1p to the £2, all newly dated for 2022.
The commemorative coins are:
Platinum Jubilee 50p – the UK's first ever Royal 50p!
Commonwealth Games 50p – issued to commemorate the 22nd Commonwealth Games in Birmingham this year
Alexander Graham Bell £2 – issued to mark 100 years since the passing of Scottish-born inventor, scientist, and engineer who invented the first telephone
Dame Vera Lynn £2 – issued to commemorate the iconic wartime singer, famed for boosting morale and supporting British troops during the Second World War
Platinum Jubilee £5 – issued to commemorate 70 years of Her Majesty the Queen's reign
What's more, you have the opportunity today to secure them in a variety of different presentations or specifications – there's sure to be something for everyone…
---
UK 2022 Annual Coin Set BU Pack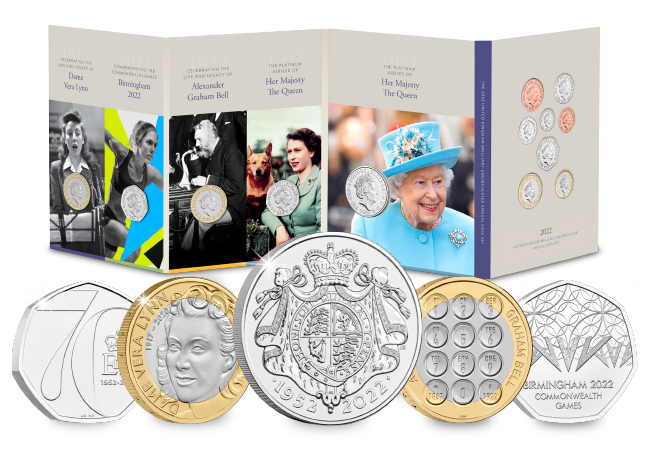 To give as many collectors as possible the chance to own these highly sought-after coins, The Royal Mint has issued them in Brilliant Uncirculated quality, which is coveted by collectors as it means each coin is free from any marks you would find on circulated coins.
In this BU Pack you'll find the five brand new commemorative coins alongside the eight definitive coins from the 1p to the £2, all newly dated for 2022.
Each one is protectively encapsulated in its attractive original packaging from The Royal Mint to preserve its quality for generations to come.
What's more, you can secure this BU Pack for The Royal Mint's official issue price of just £60 (+p&p). Click here to find out more >>
This set of coins is also available as a Change Checker CERTIFIED BU Commemorative Coin Set for £40 (+p&p). Click here to find out more >>
---
UK 2022 Annual Collector Proof Coin Set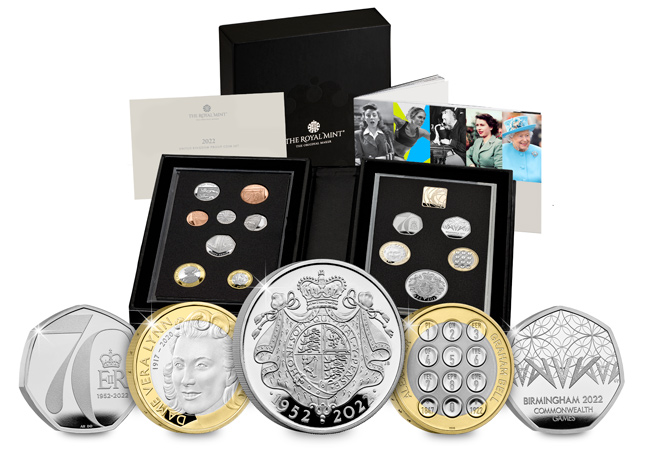 Whilst being struck from base metal, the coins in this set have been struck to a stunning superior Proof finish.
Including all 5 commemorative coins alongside the new definitive coins for 2022, these sets are always extremely sought after.
You can order the UK 2022 Annual Collector Proof Coin Set here with a down payment of just £15.50 (+p&p) followed by 9 further interest-free instalments – that's the Royal Mint issue price. Click here to find out more >>
---
UK 2022 DateStamp™ Specimen Set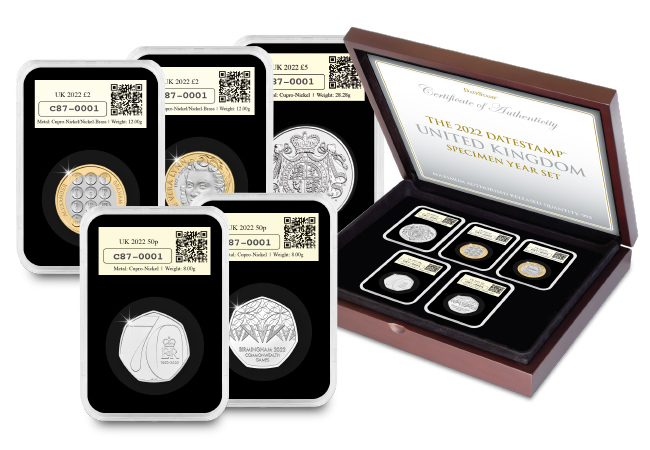 The most limited way to own the five new 2022 commemorative coins is by securing the UK 2022 DateStamp™ Specimen Set. In fact, JUST 995 collectors worldwide can own this unique set.
What truly sets the 2022 Specimen Year Set apart from all other 2022 Annual Sets is the fact that it is forever set in time by the official Royal Mail postmark that marks the coins' first day of release – 4th January 2022.
Each coin is struck to the highly desirable Brilliant Uncirculated quality, and come individually presented in tamper-proof capsules. What's more, each set has a unique serial number, confirming its place in the tiny edition limit, and you can even register your set online to guarantee its provenance!
This DateStamp set has a track record of completely selling out within a matter of days, so if you want to secure a set for yourself you'll need to be quick. You can reserve yours with a deposit of just £22. Click here to find out more >>
Can you believe that October has come to an end?
But blimey, was it a busy month for collectors. From a Remembrance Day £5 coin to Star Trek stamps, we've seen some BIG releases in October.
Need a reminder of what they were? Just watch my latest video to see a countdown of the top releases of the month.
---
If you're interested…
Click here to add these must have collectables to your collection today >>
In recent years there's one coin that has catapulted to the top of the must-have list for many collectors. Of course, I'm talking about the 50p.
And whilst the 50p has always had a place in collector's hearts – it has after all featured some of the most sought-after designs of all-time, such as Kew Gardens – it wasn't until Beatrix Potter's mischievous, blue-coated bunny first appeared on a 50p that our love for the 7-sided coin really took off. And with it came a whole new dawn of collecting, and a new generation of collectors.
Our tale starts back in 2016…
150th Anniversary of Beatrix Potter
It all started with the milestone 150th anniversary of one of Britain's most beloved children's book authors – Beatrix Potter.
The Tale of Peter Rabbit was her very first children's tale to be published, in 1902, and it was an instant success. Spurred on by this, and inspired by fairy tales and fantasy, Potter penned 23 original children's books in total, featuring charming illustrations and imaginative animal characters.
What Beatrix Potter didn't know at the time was that her lively illustrations would later prove to be the inspiration behind one of, if not the, most popular coin series ever released.
Peter Rabbit's 50p Debut
In honour of Beatrix Potter and her legacy, the Royal Mint announced a 50p coin collection in 2016, featuring four of her characters, and a design paying tribute to the author herself.
The obvious starting place was with Beatrix Potter's most famous creation – Peter Rabbit. Known for his cheeky escapades in Mr McGregor's garden, Peter Rabbit featured in 6 of Beatrix Potter's tales.
The 50p release of Peter Rabbit was special for several reasons: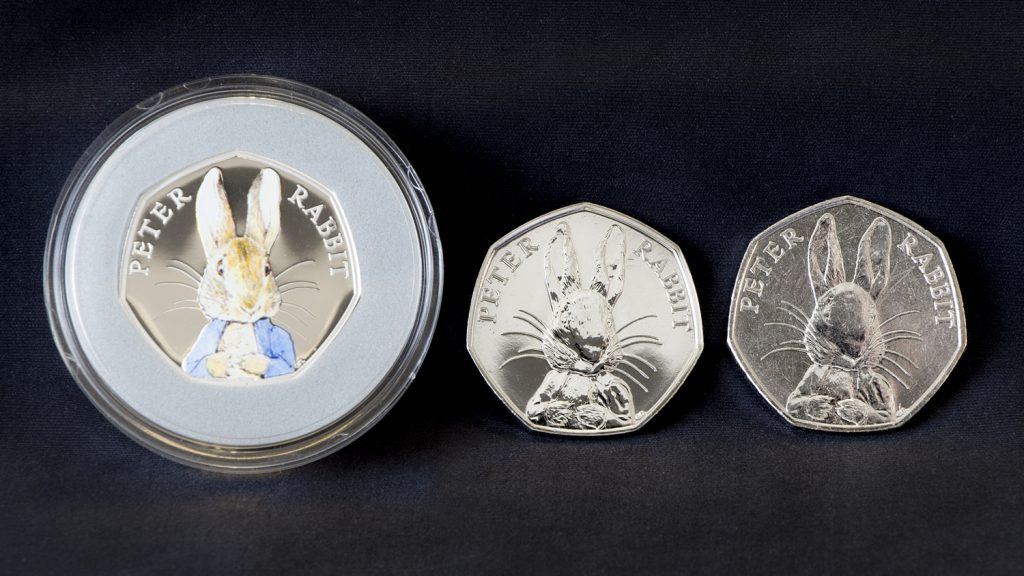 First time a fictional, children's book character had featured on a UK 50p – paving the way for future popular issues such as The Gruffalo, The Snowman and Paddington Bear.
The Silver Proof version of the coin featured colour printed image for the very first time.
These two facts revolutionised 50p collecting, and our furry little friend Peter went from being a beloved literary character to a collecting sensation.

Start of the Collecting Storm
It's safe to say that The Royal Mint created a collecting storm. The UK 2016 Peter Rabbit Silver 50p was so popular that by mid-morning on the day it was released, The Royal Mint's website crashed under the sheer weight of public interest. Not long after, all 15,000 coins completely sold out.
But that was just the start.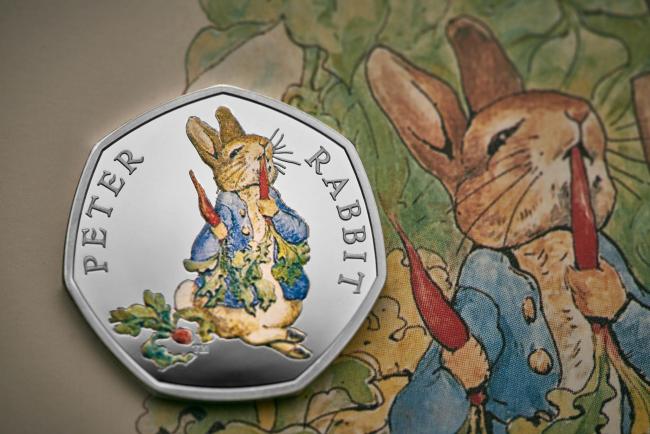 Peter Rabbit has now featured on five 50ps, and the collector response has continued to be unprecedented – his popularity is unrivalled. Even when the edition limit of the Silver Proof 50p more than doubled to 35,000 in 2018, it completely sold out!
In fact, the Silver Proof 50p has become the must-have specification and sell-outs mean it's notoriously difficult for collectors looking to back-fill gaps in their collections – some issues are virtually impossible to come across now.
It's become imperative for collectors to snap up Silver Proof 50ps when they can – as in some cases waiting even just a few hours could prove to be too late. Take the Gruffalo Silver 50p – it took a mere 12 hours for the entire edition limit of 25,000 to sell-out. That's a record.
Last Ever UK Peter Rabbit 50p
All in all, there has been 15 Beatrix Potter 50ps issued since 2016, each one helping solidify the Beatrix Potter 50p series as one of, if not the, most collectable coin series we've ever seen.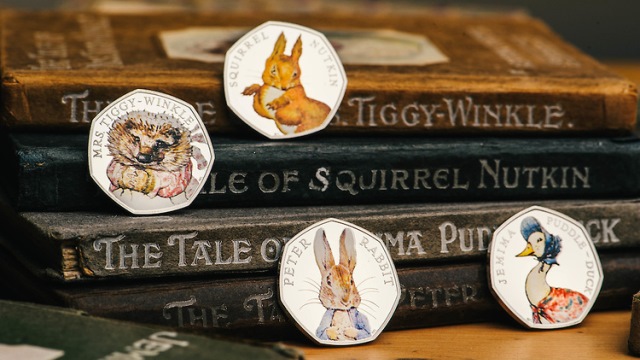 The coin collecting world was shook earlier this year when it was announced that 2020 would be the very last time Peter Rabbit would feature on a UK 50p coin.
Even though this may be the end of Peter Rabbit's 50p journey, there's no doubt that all the Beatrix Potter coins will continue to be highly desirable for years to come.
But this does now leave collectors wondering will the next collecting sensation be? Let us know your thoughts in the comments!
---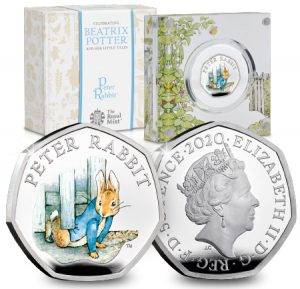 If you're interested…
The LAST EVER UK Peter Rabbit Silver 50p was released earlier this year, and we're lucky to have a limited number available. Expertly struck from .925 Silver to a proof finish, it features a coloured image of Peter Rabbit escaping from Mr McGregor's garden – a classic Beatrix Potter illustration! This is a must-have for all Beatrix Potter fans and 50p collectors alike. Click here for more information >>