Posts Tagged 'brand new uk coins'
Can you believe that October has come to an end?
But blimey, was it a busy month for collectors. From a Remembrance Day £5 coin to Star Trek stamps, we've seen some BIG releases in October.
Need a reminder of what they were? Just watch my latest video to see a countdown of the top releases of the month.
---
If you're interested…
Click here to add these must have collectables to your collection today >>
In recent years there's one coin that has catapulted to the top of the must-have list for many collectors. Of course, I'm talking about the 50p.
And whilst the 50p has always had a place in collector's hearts – it has after all featured some of the most sought-after designs of all-time, such as Kew Gardens – it wasn't until Beatrix Potter's mischievous, blue-coated bunny first appeared on a 50p that our love for the 7-sided coin really took off. And with it came a whole new dawn of collecting, and a new generation of collectors.
Our tale starts back in 2016…
150th Anniversary of Beatrix Potter
It all started with the milestone 150th anniversary of one of Britain's most beloved children's book authors – Beatrix Potter.
The Tale of Peter Rabbit was her very first children's tale to be published, in 1902, and it was an instant success. Spurred on by this, and inspired by fairy tales and fantasy, Potter penned 23 original children's books in total, featuring charming illustrations and imaginative animal characters.
What Beatrix Potter didn't know at the time was that her lively illustrations would later prove to be the inspiration behind one of, if not the, most popular coin series ever released.
Peter Rabbit's 50p Debut
In honour of Beatrix Potter and her legacy, the Royal Mint announced a 50p coin collection in 2016, featuring four of her characters, and a design paying tribute to the author herself.
The obvious starting place was with Beatrix Potter's most famous creation – Peter Rabbit. Known for his cheeky escapades in Mr McGregor's garden, Peter Rabbit featured in 6 of Beatrix Potter's tales.
The 50p release of Peter Rabbit was special for several reasons: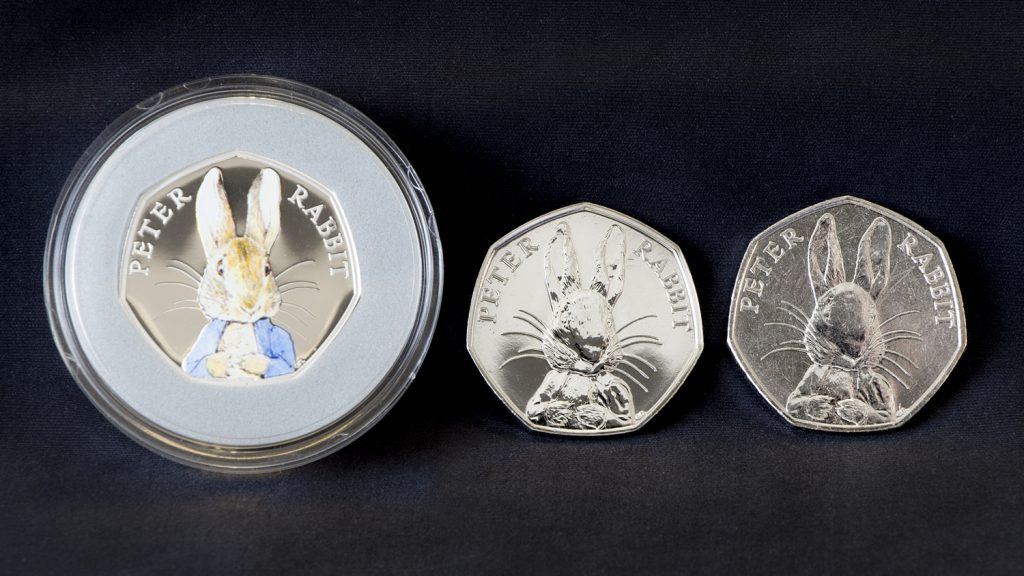 First time a fictional, children's book character had featured on a UK 50p – paving the way for future popular issues such as The Gruffalo, The Snowman and Paddington Bear.
The Silver Proof version of the coin featured colour printed image for the very first time.
These two facts revolutionised 50p collecting, and our furry little friend Peter went from being a beloved literary character to a collecting sensation.

Start of the Collecting Storm
It's safe to say that The Royal Mint created a collecting storm. The UK 2016 Peter Rabbit Silver 50p was so popular that by mid-morning on the day it was released, The Royal Mint's website crashed under the sheer weight of public interest. Not long after, all 15,000 coins completely sold out.
But that was just the start.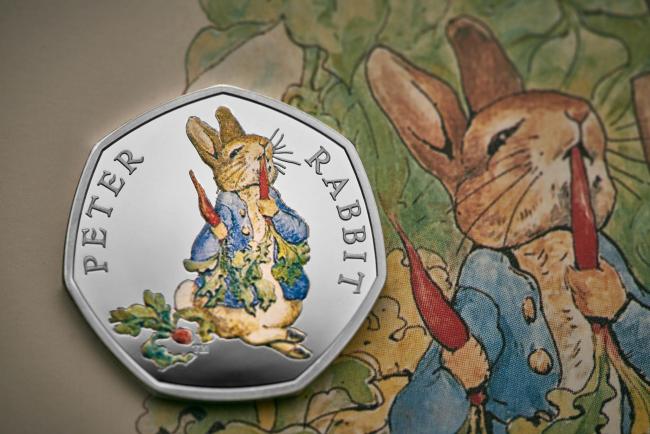 Peter Rabbit has now featured on five 50ps, and the collector response has continued to be unprecedented – his popularity is unrivalled. Even when the edition limit of the Silver Proof 50p more than doubled to 35,000 in 2018, it completely sold out!
In fact, the Silver Proof 50p has become the must-have specification and sell-outs mean it's notoriously difficult for collectors looking to back-fill gaps in their collections – some issues are virtually impossible to come across now.
It's become imperative for collectors to snap up Silver Proof 50ps when they can – as in some cases waiting even just a few hours could prove to be too late. Take the Gruffalo Silver 50p – it took a mere 12 hours for the entire edition limit of 25,000 to sell-out. That's a record.
Last Ever UK Peter Rabbit 50p
All in all, there has been 15 Beatrix Potter 50ps issued since 2016, each one helping solidify the Beatrix Potter 50p series as one of, if not the, most collectable coin series we've ever seen.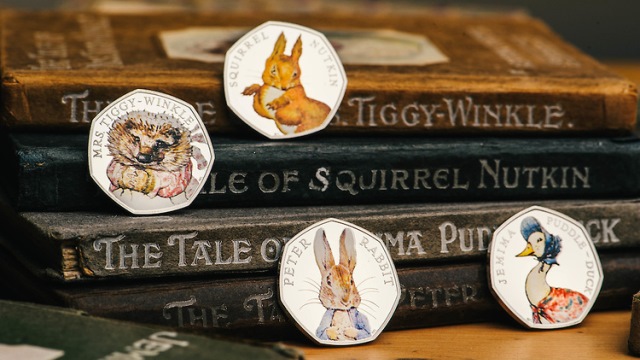 The coin collecting world was shook earlier this year when it was announced that 2020 would be the very last time Peter Rabbit would feature on a UK 50p coin.
Even though this may be the end of Peter Rabbit's 50p journey, there's no doubt that all the Beatrix Potter coins will continue to be highly desirable for years to come.
But this does now leave collectors wondering will the next collecting sensation be? Let us know your thoughts in the comments!
---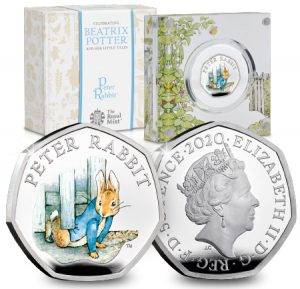 If you're interested…
The LAST EVER UK Peter Rabbit Silver 50p was released earlier this year, and we're lucky to have a limited number available. Expertly struck from .925 Silver to a proof finish, it features a coloured image of Peter Rabbit escaping from Mr McGregor's garden – a classic Beatrix Potter illustration! This is a must-have for all Beatrix Potter fans and 50p collectors alike. Click here for more information >>
*** BRAND NEW Battle of Britain coins – on sale now ***
This year marks the 80th Anniversary of the Battle of Britain. Fought over British skies during 1940, the battle was a turning point in WWII and ultimately saved Britain from German invasion.
In 1940, a terrifying dark shadow descended over Europe. The relentless advance of Hitler forces overwhelmed everything in their path and the world suddenly became very dark. Following the evacuation of French and British soldiers from Dunkirk and the subsequent French surrender on 22nd June 1940, Hitler believed that WWII was practically over and that Britain would quickly come to terms. However, even with a seemingly unstoppable enemy on the doorstep, Winston Churchill stepped up to become Britain's wartime leader and refused to surrender.
On 10th July 1940 a battle was fought – and won – by a courageous few; arguably one of the crucial turning points that led to British Victory in WWII.
The Battle of Britain remains one of the truly great chapters in our history, and to mark 80 years since that momentous battle, a brand new range of commemoratives have been issued. Whether you're looking for the new centrepiece for your collection, you're an avid collector, a Military enthusiast or you're looking for the perfect tribute, there's bound to be something within the range for you.
Click here to view the 2020 Battle of Britain 80th Anniversary range >>
Or, find out more about each of the stunning coins we have available below….
JUST 150 collectors can own this BRAND NEW Battle of Britain Silver 5oz Coin
Struck in five ounces of 925/1000 solid silver, this coin barely fits in the palm of your hand. Not only is the size and weight impressive – but so is its engraving.
Approved by Her Majesty the Queen, the reverse design has been created by renowned sculptor Mike Guilfoyle and takes inspiration from an old war-time poster synonymous with the Battle of Britain. The design features three pilots in front of an aircraft with the text 'The Battle of Britain 1940-2020' to honour the heroic efforts of the RAF in changing the course of WWII and leading us to victory.
Click here to secure this Silver 5oz Coin for your collection >>
Battle of Britain 80th Anniversary Gold Proof Sovereign – 15 times RARER than the UK's recent Gold Proof Sovereign!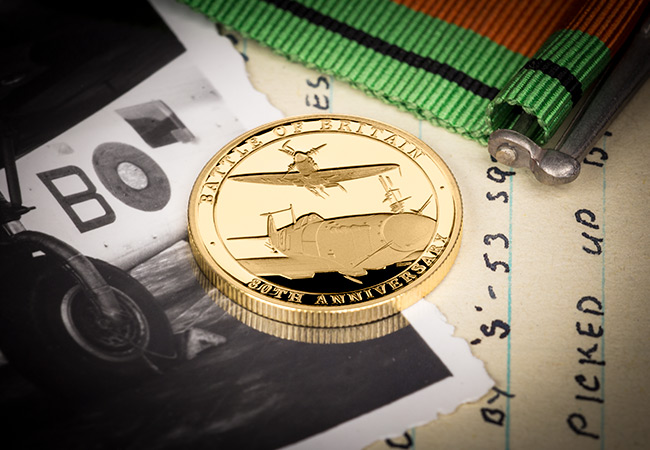 Over the years, the popularity of various coins have come and gone. But none have stayed as unrivalled as the Gold Sovereign. Quite simply, the Sovereign is without a doubt the world's premier Gold Coin. Struck from 22 Carat Gold to the exact same specification since 1817, it epitomises all that is British.
Issued in recognition of the historic Battle of Britain 80th Anniversary, this extremely limited Isle of Man Gold Proof Sovereign is limited to just 495 pieces. This is more than 15 times RARER than the UK's recent Gold Proof Sovereign. 495 coins is a tiny edition limit for a gold Sovereign-specification coin such as this.
This brand new British Isles Sovereign is the most important gold coin you can find right now. Click here to secure one for yourself >>
JUST 495 Battle of Britain 80th Anniversary Gold Proof Pennies Authorised
To mark such a historic anniversary, a special strike of 495 Solid Gold Pennies have been authorised. The release of a Gold Penny is an extremely rare event and one that collectors will look out for, especially as they are only issued to mark the most important anniversaries and are always severely limited. In fact, this is the most limited issue for some time.
The exquisite design features three Spitfire silhouettes engraved on to the coin to signify the bravery of all the RAF pilots who defended our skies In the summer of 1940. It has been struck in Solid Gold to the standard United Kingdom Penny diameter and finished in the collectors preferred finish, Proof.
Click here to secure one for you collection now >>
The Limited Edition Battle of Britain 80th Anniversary Spitfire Silver Proof £5
The £5 coin is the single most prestigious coin issued across the British Isles, reserved for the most important commemorations of the year. The Battle of Britain anniversary is certainly no exception deserving of only the very finest commemorative £5 coin.
The design features the legendary Spitfire with a Union Jack trailing from behind. Also, a notable inclusion to the edge of the design is an excerpt from Winston Churchill's famous speech 'So Much, So Many, So Few', his moving tribute to the brave pilots of the RAF.
The background fittingly displays a 'V for Victory' design which has been finished with the unique addition of Spitfire silhouettes.
Only 2,020 coins have been issued worldwide. This unprecedented decision comes as a surprise, especially when you consider the historical significance of this anniversary.
Click here to secure the brand new Silver Proof £5 Coin >>
Officially Licensed RAF Spitfire Gold-plated Coin
This Official RAF Battle of Britain 80th Anniversary Gold-Plated Coin comes highly recommended. Not only is it extremely desirable in its own right, it is a fantastic tribute to the skilled pilots both past and present who have had the honour flying in the RAF. It features a dramatic colour recreation of the legendary Supermarine Spitfire by renowned Airfix artist Adam Tooby.
Featuring 24 carat gold-plating and struck to a flawless Proof finish, this is the perfect Battle of Britian 80th Anniversary commemorative.
Click here to secure your Official Gold-Plated Coin now >>
---
Please note, extremely high demand is expected for these brand new Battle of Britain Commemorative coins. It is highly advised that you act quickly to secure your favourite pieces from the collection to avoid disappointment.
Click here to find out more about the range and order one of the BRAND NEW Battle of Britain 80th Anniversary Commemorative coins >>