On 1st June 1969 room 1742 of The Queen Elizabeth Hotel in Montreal, Canada, became a recording studio.
It is there that John Lennon, alongside Yoko Ono, debuted his powerful anti-war anthem Give Peace a Chance. Written in protest against the Vietnam War and as a promotion of peace, the song was the pinnacle of the newlywed's infamous protest "Bed In for Peace".
It was a moment that has forever cemented a bond between John Lennon and Canada. A bond that is now marked by the release of an exclusive new limited edition coin by the Royal Canadian Mint, issued in celebration of the 50th Anniversary of Give Peace a Chance.
It was unveiled yesterday by Ian Graham, International Sales Director of the Royal Canadian Mint, in front of the John Lennon Peace Monument in Lennon's hometown – Liverpool. We were lucky enough to attend this special launch event and captured all the details as they unfolded for you.
Check out our exclusive footage below:
The Royal Canadian Mint are renowned for their innovative coins and eye catching designs but their latest coin release holds a more poignant message.
Struck from one once of .9999 or 'four nines' silver to a perfect proof finish, the coin features a photographic image of John Lennon and Yoko Ono during their Montreal "Bed-in for Peace".
As one of the most famous anti-war anthems of all time, this powerful song has remained in the hearts of generations of pacifists and music fans around the world for 50 years.
Remarkably, there are just 9,999 of these special coins being released for worldwide distribution. That's almost certainly not enough for Canadian fans, let alone collectors across the globe.
In fact, I haven't seen John Lennon officially portrayed on a coin since 2010. And guess what… that one sold out in a few days.
So if you'd like to GIVE PEACE A CHANCE and secure one of these for your collection then you'll need to be quick.

Videos going viral is nothing new; most will remember 'Charlie bit my finger', 'Fenton' or 'Star Wars kid'.
However, perhaps the one video most did not expect to be a hit around the world was 'The Classic Tetris World Championship Final' (yes, there's a Tetris World Championship).
I'll set the scene.
Joseph Saelee, just 16 years old and a huge underdog, was facing 7 times World Champion Jonas Neubauer. Nobody gave him a chance.
After 26 minutes of playing, Neubauer, as expected, takes the lead. However, after a rare mistake, he crashes out.
Saelee needs another 108,120 points to win…just 3 Tetris' will do it. He holds his nerve and with lightning fast reactions, upsets the odds and takes the title.
The skill of the players is remarkable, I mean truly remarkable.
See the video for yourself, nearly 7 million others have watched it, you won't be disappointed:
What's so interesting is that when I showed this to some of my colleagues in the office they were initially not at all interested…30 seconds in they were hooked!
They loved the fact that such an old game, invented by a Russian back in 1984, was still so popular today and they couldn't believe that the players were using an actual Nintendo Entertainment System from 1983.
One said, "I love how retro it is!" and I couldn't agree more.
Retro has made a comeback and in a big way. In particular retro arcade games.
Our Space Invaders coin, that we launched last month, SOLD OUT in record time. Had we been able to source more, it would have sold double!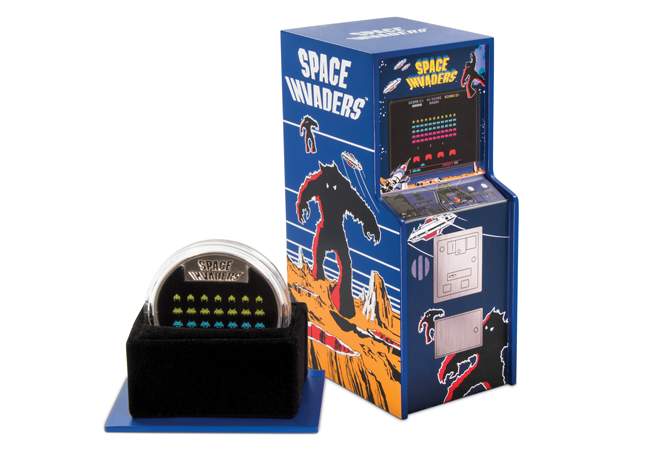 It proved how incredibly collectable retro themed coins are, especially when their box is a replica of the original gaming machines.
The Official Tetris Silver Coin has just been released worldwide. If retro is your thing, I'd suggest snapping one up quickly.
---
If you're interested

Issued in 1oz .999 Silver, to celebrate the 35th Anniversary of Tetris, the coin features the Tetris games icon Tetriminos on a chequered, Proof background, and appears as if the blocks are falling, much like in the game itself. Click here to secure yours>>

2019 marks the 50th anniversary since Neil Armstrong and Buzz Aldrin first stepped foot on the moon. This remarkable feat was a triumph not only for science and engineering, but also for Mankind as a whole.
Events as historically significant as this will be remembered for the entirety of humanity. To think that since that first landing 50 years ago, there have only been 5 manned trips to the moon. This further proves the difficulty that the Apollo 11 Mission faced and the height of this achievement.
People will commemorate and pay tribute to such events in many ways, including marking the event with a collectible item. From specially produced stamps featuring Neil Armstrong to Landing Craft figurines, there's a wealth of merchandise on the market, so it's not a surprise that there have been a number of coins released to mark the occasion.
But for me, one particular coin caught my eye. This coin features incredible detail, an outstanding minting technique and state-of-the-art hydrographic technology.
This is the amazing Moon Landing 50th Anniversary Pure Silver Spherical Coin and it embodies exquisite design, cutting edge technology and arguably mankind's greatest achievement.
It has been struck from an ounce of pure silver and to a perfect spherical shape. The cratered surface reflects that of the moon and the details come to life through the high quality antique finish. I've personally never seen a coin struck to a spherical shape, and I don't think that's down to a lack of popularity in the design, rather the painstaking minting process which is necessary to executing this stunning finish.
A fantastic addition is the indent of Neil Armstrong's boot, symbolising the first step man ever took on the Moon in 1969. This gives the coin a unique high relief aspect as the main feature is indented as opposed to being raised like your usual 'high relief' coin.
Another lovely aspect is the coat of arms of the issuing country. Not just the inclusion but the process which it went through to apply it, the highly innovative hydrographic technology known as 'Water Transfer Printing'.
In summary, there have been some great release that do this monumental event justice but, for me, it's the Moon Landing Spherical Coin which stands out.
Check out this video that really shows off this coin
---
If you're interested…
We've managed to secure a small number for our customers so if you're blown away by this coin like I have been, you can click here to read more >>