Watch my video to witness a coin with an extraordinary double-sided high-relief Proof finish!
Unlike traditional minting where only one side of the coin is stamped, the 2023 Sparta 50g Copper Coin has been crafted using Smartminting technology – this allows for a three-dimensional design to be achieved on both sides of the coin, resulting in a stunning, proof-like finish…
This technology is particularly groundbreaking when applied to copper coins, which have traditionally been difficult to mint with high relief due to the softness of the metal.
Due to the risk of damaging the copper during the minting process, the coins have historically been restricted to flat or low-relief designs. However, smartminting has broken through these barriers and has made it possible to achieve unprecedented relief levels.
One of the most impressive aspects of smartminting on copper coins is the ability to achieve a high-relief, proof-like finish on BOTH sides…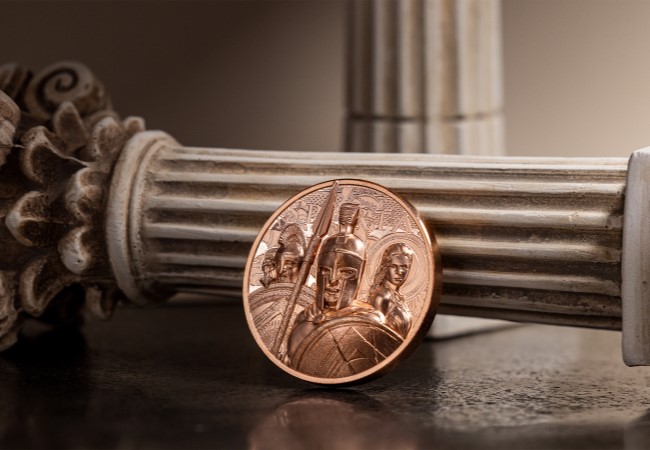 This is a rare feat – most copper coins that have been made high-relief will have a proof finish on one side and a plain or textured background on the other. Smartminting has made it possible to achieve a uniform, high-relief, proof-like finish on both sides of the coin, resulting in a stunning piece of art that truly captures the beauty and detail of the design.
Of course, with such advanced technology comes a higher level of rarity and exclusivity. Smartminting on copper is still a relatively new and expensive process, making coins minted using this technique much rarer than traditional copper coins.
In fact, many smartminted copper coins are issued in limited quantities. This 2023 Sparta 50g Copper Coin is no exception – JUST 5,000 are available worldwide.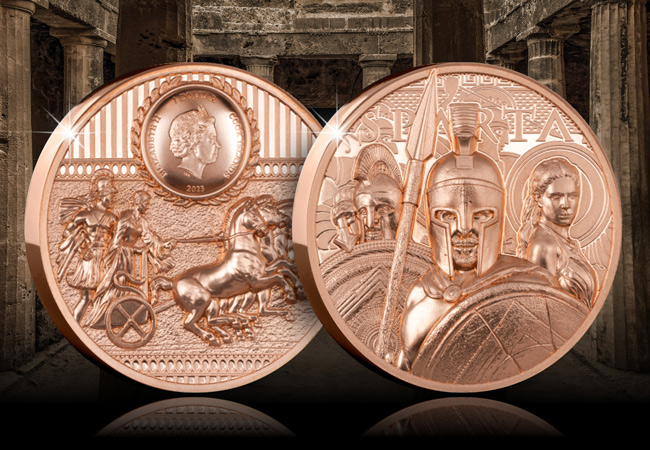 The coin's intricate design and extraordinary high relief are a reflection of the Spartans' attention to detail and their pursuit of perfection in all areas of life. A testament to the innovative spirit that drove the Spartans to greatness, it's the perfect design to experience the power and strength of one of the most famous civilisations of all time.
With such a small quantity issued worldwide, this is a highly exclusive collector's item and has proven difficult to source for our Westminster collectors. However, we have managed to secure a limited allocation for those who can act the fastest.
Priced at JUST £65 (+p&p), click here to secure the majestic Sparta 50g Copper Coin for your collection NOW >>
On Saturday, we spent the day with the crowds at the Mall seeing the Royal Family on the balcony and waving our Union Jacks alongside thousands of others!
Even in the rain, the atmosphere was amazing. Union Jacks everywhere, cheering crowds, and more bunting than we've ever seen in our lives. It was truly British Royal pageantry at its splendid best.
What an event it was – the first King our great country has crowned for 86 years.
We hope you enjoyed the Coronation, wherever you were watching and whatever you were doing.
But whilst we were enjoying the festivities, a small group of people were hard at work striking an exclusive set of Coronation Silver Proof Commemoratives.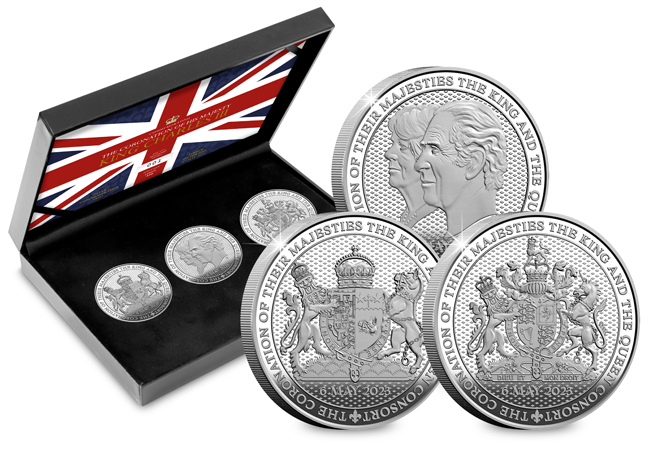 In fact, this was happening just a stone's throw from Westminster Abbey where the King was being crowned.
And this prestigious set is really remarkable.
Considering most of the country shut down to celebrate, it's a unique piece of memorabilia which in turn is strictly limited and ever so collectable.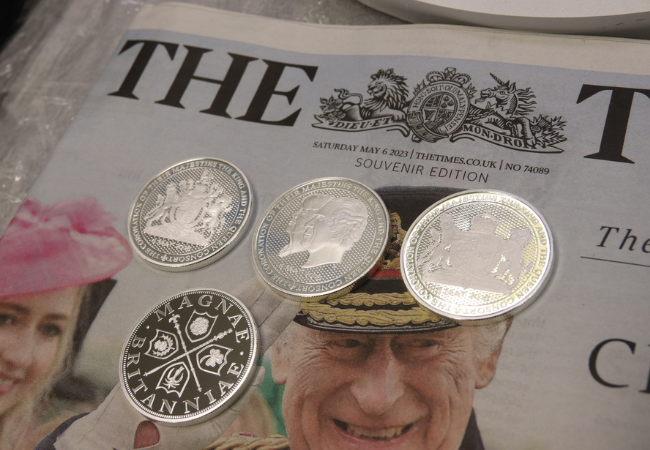 We've already seen multiple sell outs across the Coronation range, but you may still have an opportunity to add this set to your collection if you act now!
Here are the three key points that make this set so special:
1: It's a set of three 1oz Silver Proof Commemoratives that feature the Official Royal Coat of Arms of His Majesty King Charles III and Her Majesty Queen Camilla, alongside a stunning dual portrait of the new monarchs.
2: Each medal was struck on the Official Coronation date – 6th May 2023 – meaning that the set will forever be linked to this important moment in history.
And most importantly…
3: Only 350 sets are available. 350 simply won't be enough! Since the Coronation date was announced, demand for commemoratives has been sky-high and it shows no sign of slowing down.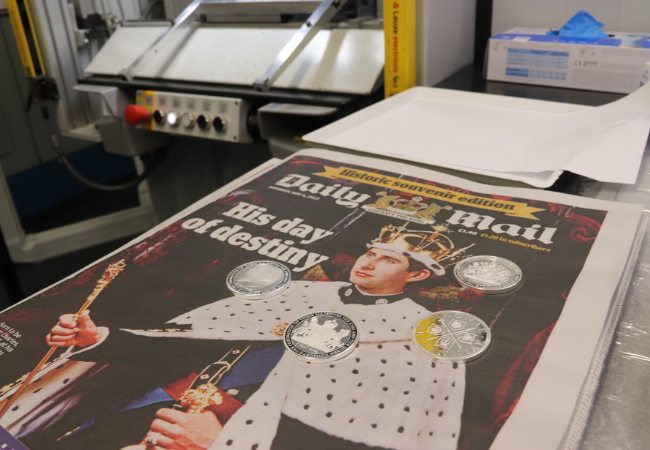 You can secure your Coronation Silver Proof Commemoratives set completely risk free for just £32.50 here. And importantly, you won't pay a thing until your set has been despatched to you. But if you don't act now, we wouldn't be surprised if they're all completely allocated before the general release!
UPDATE: The Royal Proclamation has now been released, so we know a little bit more information about the reverse designs – they will feature depictions of:
R2-D2 and C-3PO
Darth Vader and Emperor Palpatine
Luke Skywalker and Princess Leia
Han Solo and Chewbacca
All of the reverse designs will also include the inscription 'STAR WARS' and feature Martin Jennings' UK King Charles III effigy on the obverse.
---
Today, the FIRST EVER UK Star Wars™ 50p coin has been announced as part of a brand-new four-coin collection.
The original Star Wars™ trilogy helped create an all-encompassing fictional universe that has since amassed one of the largest fan bases in the world.
Whilst details about the designs are still top secret, we do know that the coins will feature Martin Jennings' UK King Charles III effigy on the obverse.
So, don't miss out on being the first to hear more about these Star Wars™ coins, including the designs and when you can get your hands on them.
Sign up below today and May the 4th be with you!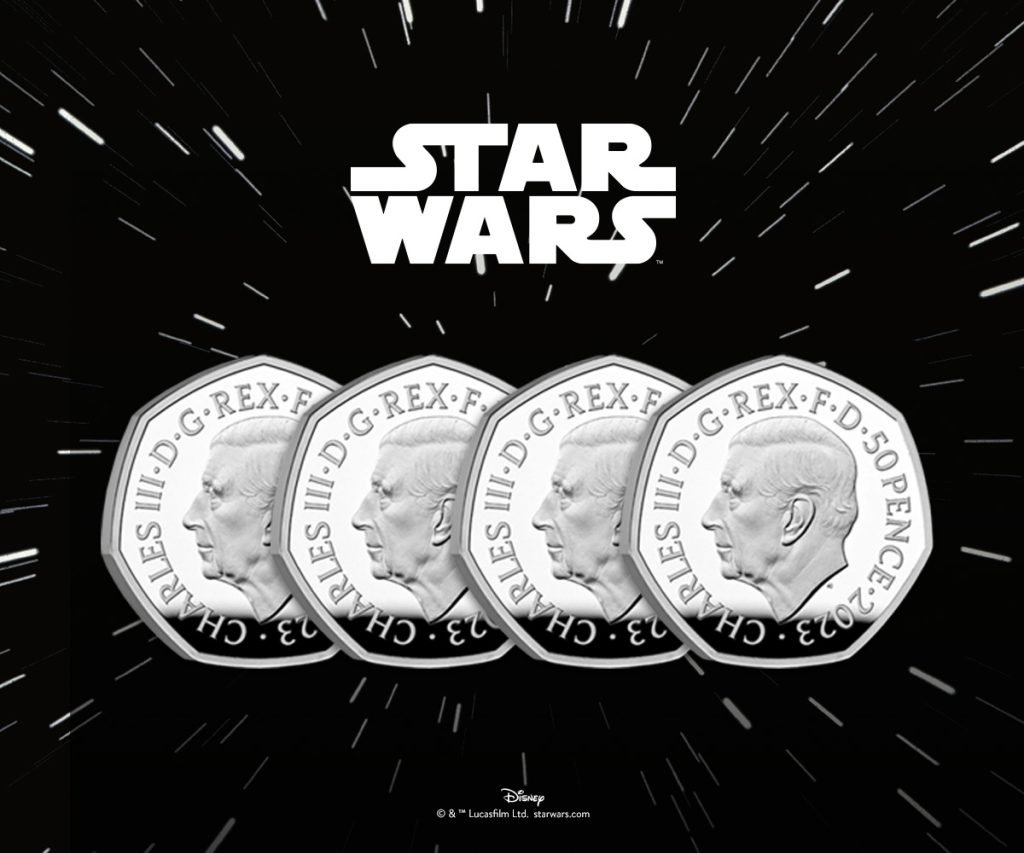 ---