When I think of Canada several things spring to mind: the iconic maple leaf, the caribou and beaver, ice hockey and Celine Dion, just to name a few. But at the top of my list is without a doubt the Royal Canadian Mint.
As one of the three 'Royal' Mints in the world – alongside The Royal Mint here in the UK and the Royal Australian Mint – they are known for their innovation and impressive minting techniques, resulting in some of the most magnificent issues I've ever seen.
So to celebrate Canada Day, I've rounded-up my top five favorite Canadian releases, each demonstrating why they are one of the most prestigious mints in the world. Believe me, some of these issues are truly incredible!
Take a look for yourself…
The R&D Security Test Token Set
It will come as no surprise to know that the Royal Canadian Mint is the market leader in numismatic security.
The R&D Test Token set offers us a glimpse at never-before-seen minting techniques which will shape our future coins, and are sure to impress even the most seasoned coin collectors.
Included are six specimen tokens with high-tech design elements showcasing fascinating examples of tri-metal technology and micro-text. What's more, each token included in the set is a real life trial piece which has been used in laboratory testing. So each set is completely unique – no two will be the same! Click here to find out more >>
Lest We Forget Silver Helmet-Shaped Coin
This issue truly is one of a kind. The minting expertise required to strike such an impressive coin is astounding – I've never seen a coin like it.
Not only is it struck from the Mint's signature .9999 Pure Silver, but it's an incredible miniature replica of the steel Brodie helmets worn by British and Commonwealth forces during the First World War.
How the Mint achieved this result I will never know – it remains a closely guarded secret. There are even engraved cracks and markings you would find on an original helmet. The final antique finish gives an authentic distressed look, the fine detail is incredible. Click here to find out more >>
Pure Silver D-Day Coin
The first step in to battle takes incredible courage, and this year to mark the landmark 75th anniversary of D-Day the Royal Canadian Mint issued perhaps the most poignant D-Day commemorative yet.
This stunning issue perfectly captures the moment Canadian soldiers set foot on Juno Beach. It is expertly struck from a quarter ounce of .9999 Pure Silver – or "four nines Silver", the purest grade available for which the Mint is known – and has an innovative reverse proof finish which replicates the texture of the sand. Click here to find out more >>
3D Monarch Caterpillar Coin
Some of nature's most beautiful things come in small packages. And this remarkable issue is no different.
The Monarch Caterpillar Pure 1oz Silver Coin is a perfect combination of Italian craftsmanship and Canadian design. It features a stunning 3D Monarch Caterpillar handcrafted from Murano glass, poised upon the selectively coloured design of a swamp milkweed plant leaf.
The combined traditional engraving, colour and Murano glass creates a truly unforgettable piece. Click here to find out more >>
John Lennon Silver 1oz Coin
It's hard to believe that just 50 years ago, John Lennon and Yoko Ono conducted their "Bed-in for Peace" protest against the Vietnam War and debuted the most famous anti-war anthem of all time – Give Peace a Chance.
It was a moment that has forever cemented a bond between John Lennon and Canada. A bond that is marked by the release of this limited edition John Lennon commemorative.
Using bespoke printing technology the coin features a photographic image of John and Yoko during their protest and is struck from 1oz Pure Silver to a mirror-like proof finish.
Considering the worldwide popularity of John Lennon and the legacy of Give Peace a Chance, it comes as no surprise that this coin has been incredibly popular. Click here to find out more >>
---
But that's not all! There's plenty of other fantastic coins that have been issued by the Royal Canadian Mint. You can take a look at the full range by clicking here >>
The wait is finally over and it is with great excitement that we can reveal our brand new Peter Pan British Isles 50p coin range with you all!
The coins have been issued in partnership with Great Ormond Street Hospital Children's Charity. For every coin sold a donation will be made to the Charity to help the hospital and the seriously ill children from across the UK who are cared for there.
Find out all about the WORLD'S FIRST Peter Pan 50p coins by clicking here>>
This year the 50p turns 50 years old. And to mark the occasion The Royal Mint re-issued for 2019 some of the most popular 50ps to have ever been issued – including the rare Kew Gardens 50p which is the pinnacle for most collectors.
Unsurprisingly, the limited edition proof sets sold out in record time – just 2 hours!
Now, to continue the celebrations of the 50th year of the 50p, The Royal Mint has released a second set of iconic 50ps, this time celebrating British military history. It is no coincidence this collection has been released on the 75th Anniversary of D-Day.
The collection has been officially released today, in a number of precious metal versions and we're delighted to provide you with all the details you need to know about this latest edition to the 50p family…
Five iconic designs celebrating British military history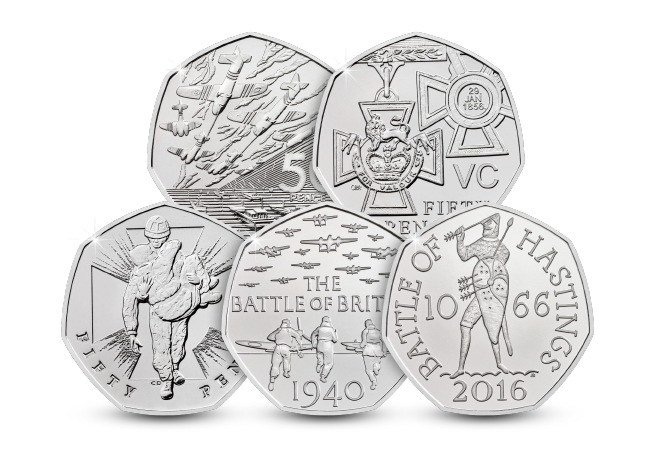 Each set includes five popular 50p designs which are a true tribute to British military history, including:
50th Anniversary of D-Day – originally issued in 1994, the design depicts the D-Day landings of the Allied forces as they head for Normandy by air and sea.
Victoria Cross Heroics Acts – released in 2006, this 50p commemorates the 150th Anniversary of the Victoria Cross and is one of two designs issued to honour award. This one features a design of a soldier carrying an injured comrade.
150th Anniversary of the Victoria Cross Award – the second 50p issued in 2006 to mark the 150th Anniversary of the Victoria Cross, featuring an image of the medal itself.
75th Anniversary of the Battle of Britain – first issued in 2015, this 50p features three airmen running to their planes with enemy aircraft overhead.
950th Anniversary of the Battle of Hastings – showing the scene from the Bayeux tapestry depicting King Harold with an arrow in his eye, this coin was originally released in 2016.
Demand for military commemoratives is at an all-time high, especially this year when we mark the 75th Anniversary of D-Day, and as such it is expected these sets will attract a lot of interest from collectors.
50th Anniversary of the 50p Military Brilliant Uncirculated Pack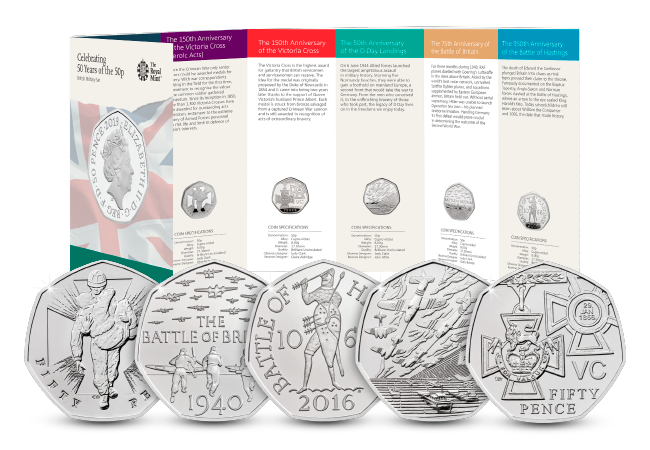 To give as many collectors as possible the chance to own these highly sought-after coins, The Royal Mint has issued them in Brilliant Uncirculated quality, which is coveted by collectors as it means each coin is free from any marks you would find on circulated coins.
Each one is protectively encapsulated in its attractive original Royal Mint packaging to preserve its quality for generations to come. What's more, you can secure this BU Pack at the Royal Mint issue price of just £45 (+p&p). Click here to find out more>>>
50th Anniversary of the 50p Military Base Proof Set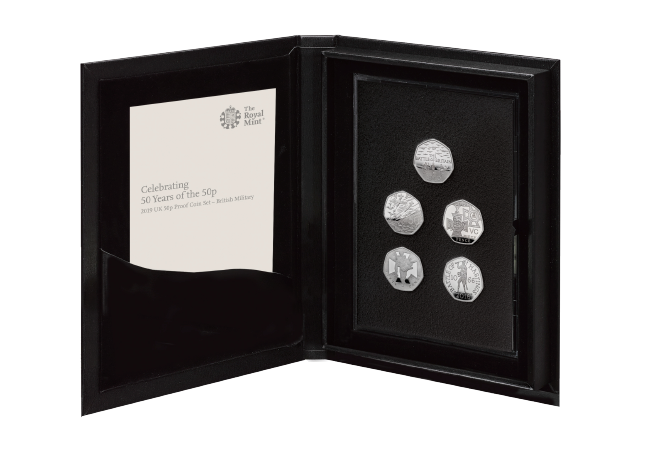 Whilst being struck from base metal, the coins in this set have been struck to a stunning superior proof finish. Just 3,500 50th Anniversary of the 50p Military Base Proof Sets have been released worldwide, making this set extremely sought after.
You can order the new 50th Anniversary of the 50p Military Base Proof Set here with a down payment of just £19.80 (+p&p) followed by 4 further interest-free instalments. Click here to find out more>>>
50th Anniversary of the 50p Silver Proof Set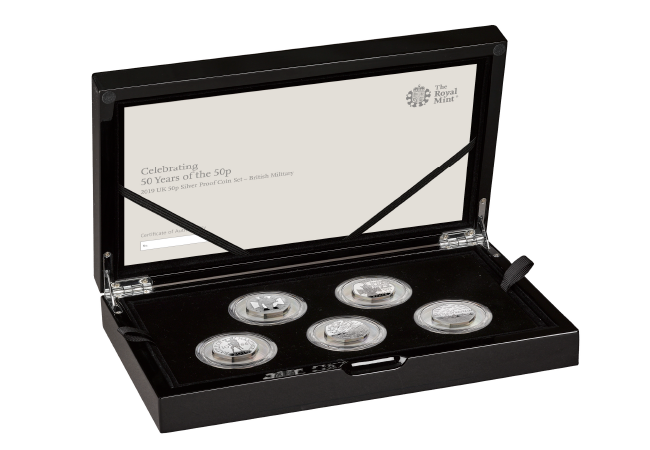 However, you can own the 50th Anniversary of the 50p Military Set in an even more limited way – so limited just 1,969 collectors worldwide can own it.
Each set contains the same five iconic 50p designs, but these have been struck in superior .925 Sterling Silver to a perfect proof finish. Given how popular commemorative 50ps are, this ultimate set is sure to be an even bigger hit.
You can secure this extremely limited set for your collection now for just £29.50 (+p&p), followed by just 9 further equal interest-free monthly instalments. Click here to find out more>>>
50th Anniversary of the 50p Gold Set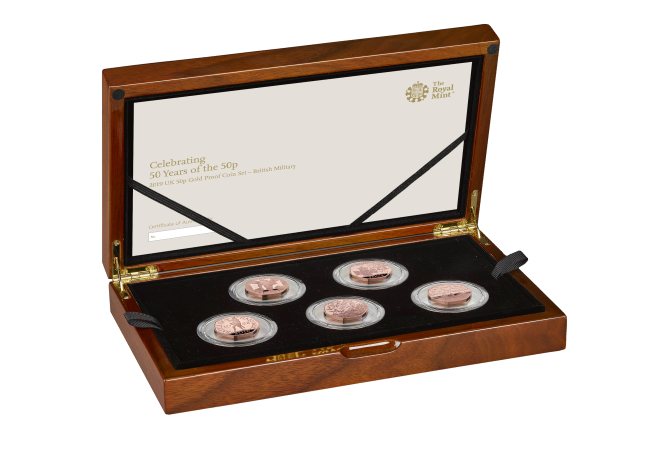 Finally, the rarest set of all. Just 75 collectors worldwide will be able to own the 50th Anniversary of the 50p Military Set impeccably struck from 22 Carat Gold to a proof finish.