Posts Tagged 'historic coins'
The 19th century saw many political changes, but there was always one constant: women were not allowed to vote in national elections.
It took decades and many different campaign groups to raise awareness of the inequality. In fact, it wasn't until 1918 that women over thirty were granted the right to vote.
But now, over 100 years later, we can reflect on the brave work of the Suffragettes who have shaped the modern world into what is today.
Read on to learn about the importance of the Suffragettes movement and how you can preserve their story for generations to come with this Historic Collection…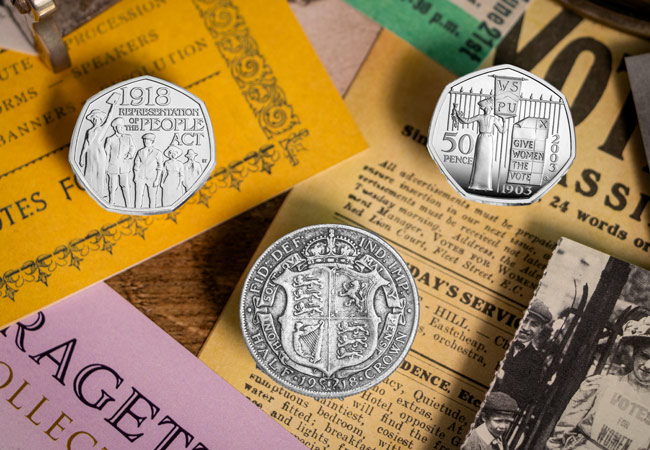 Who were the Suffragettes and What Did They Do?
Following the 1867 vote, the London Society for Women's Suffrage was formed to peacefully protest for the right for women's votes. In 1897, their group expanded to form the National Union of Women's Suffrage Societies (NUWSS). This campaign group was led by Millicent Fawcett, the sister of Elizabeth Garrett-Anderson, the first female doctor in the UK.
After little success from both groups, Emmeline Pankhurst and her daughters Christabel and Sylvie, formed the Women's Social and Political Union (WSPU) in 1903. They became known as the Suffragettes, as they used harsher, more direct tactics to raise awareness.
The movement saw great success, granting women over thirty the right to vote as part of the Representation of the People Act in 1918.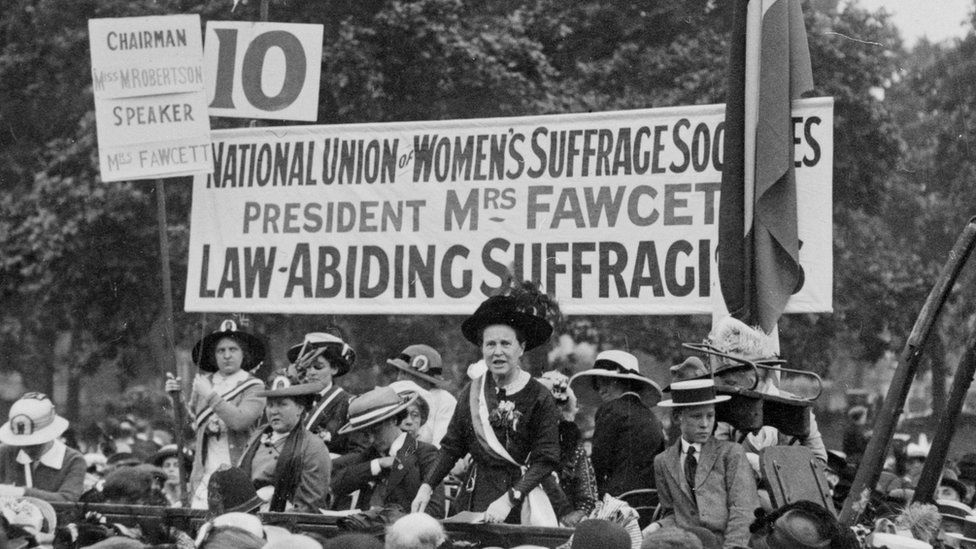 The SELL-OUT Royal Mint Coins
In 2003, The Royal Mint issued a Silver Proof 50p coin to commemorate the centenary of the establishment of the Women's Social and Political Union.
Even with an edition limit of 15,000, they all swiftly sold-out at The Mint.
Following this success, The Royal Mint issued a new UK 50p in 2018, this time marking 100 years since the passing of the Representation of the People Act, and it was just as popular.
In fact, all of the 2018 Representation of the People Act 50p coin specifications are no longer available at The Mint.
But today, you can secure BOTH coins in a complete Suffragettes collection alongside an extra special historic coin…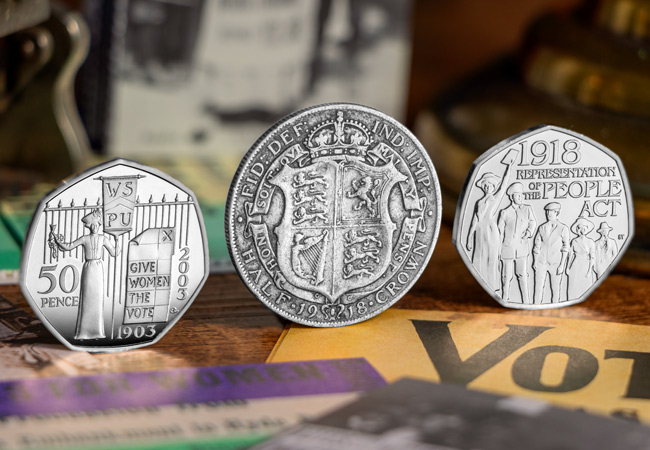 The Historic 1918 Half Crown
Also included in this Suffragettes Historic Collection is a genuine UK 1918 Half Crown. Struck from Sterling Silver, this coin was issued in the year that the Representation of the People Act was passed.
But, considering this coin was also struck in the final year of World War One, they are extremely scarce and rarely appear on the secondary market.
Suffragettes Memorabilia
But this collection doesn't stop there, as this historic set also houses replicas of Suffragettes memorabilia, truly transporting you back to the time when women made history.
Whether it's a 1915 Votes for Women newspaper, Suffragettes Membership card, jail letter, a relic of Emily Davidson's tragic demise at Epsom, or even the flyer of the Buckingham Palace protest – these replicas capture the most poignant moments of the Suffragettes movement.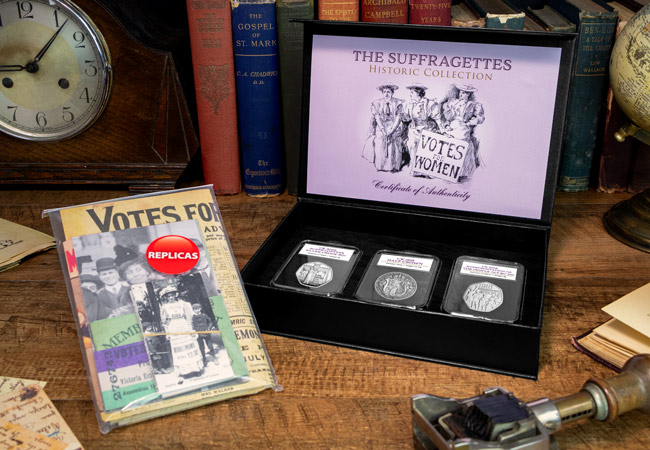 Secure yours Suffragettes Collection NOW!
Considering these coins are either no longer available to buy from the Mint or extremely hard to source on the secondary market, this collection was nearly impossible to create.
And with just 41 remaining, this is one you don't want to miss out on.
A few years back, one of my contacts at HMS Victory presented me with a very special opportunity. It was the chance to secure genuine wood from HMS Victory, removed during restoration.
What an incredible opportunity to own such a fascinating piece of history.
This was real wood from the most famous ship from possibly the most important naval victory in British history.
Of course, I had to say yes!
Since then I've wanted to create a really special collector item with this piece of history. But I've never found a coin issue I considered worthy of including such a treasured artefact.
Until now.
Introducing the Masterpiece Silver 5oz 50p Coin
This limited edition Silver Antique Finish 5oz 50p coin celebrates the history of HMS Victory and Admiral Nelson.
And 50 of these brand-new coins include an actual piece of wood from HMS Victory.
This British Isles 50p has been struck from five ounces of .999 Pure Silver to an Antique finish and features a glorious depiction of HMS Victory with selective gold plating.
Also, it spans a huge diameter of 54.60mm and weighs a hefty 5oz. That's twice the size of a standard 50p and more than 17 times heavier.
Collecting opportunity – strictly limited to only 50 pieces
What's more, alongside this Silver Antique Finish 5oz 50p is a genuine piece of wood from HMS Victory — sealed in a tamper-proof capsule to preserve it forever.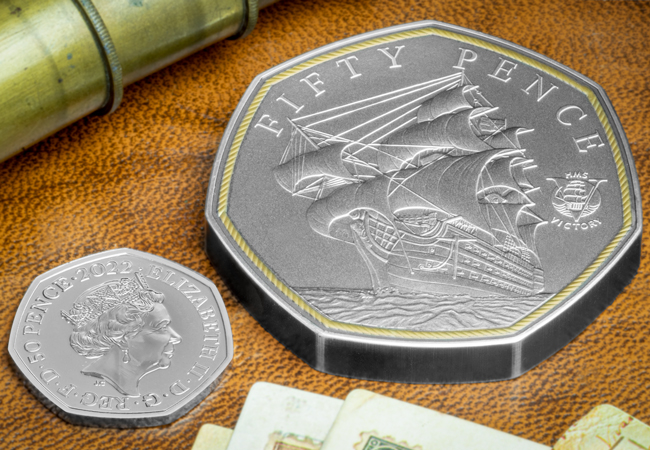 This is an incredible opportunity, but you'll need to act now as 95% of these limited edition pieces have already sold.
You can secure yours today with an initial payment of just £69.50 followed by 9 interest-free instalments of £69.50.
Click here to own the HMS Victory Silver Antique Finish 5oz 50p Coin alongside wood from HMS Victory.
---
PS. By owning one of only 50 of these unique presentations you will be helping to maintain HMS Victory. £41.66 from each coin sold will be donated to the National Museum of the Royal Navy.
You can watch our unveiling of the HMS Victory Masterpiece Silver 5oz 50p coin in our video below.
---
You may also be interested in our blog on the HMS Victory Silver Proof 50ps, taken on board HMS Victory as we explore the famous ship.
Since 1952, the Queen has celebrated her official birthday on a different date each year. In fact, for the past five years alone she has celebrated her birthday on the 8th, 9th, 10th, 11th and 13th June, and next week she will celebrate her birthday on the 12th!
Now you're probably wondering how this can be… and that's because the Queen actually has two birthdays every year.
The first is on the actual day the Queen was born – 21st April 1926 – meaning that in April this year she marked her 95th birthday, although the celebrations were far more muted than normal.
Currently the reigning monarch's second birthday is an official birthday on the second Saturday in June – a practice that dates back as far as 1748.
When King George II was the sovereign, the annual military procession (which later became the 'Trooping the Colour' parade) became synonymous with celebrating the monarch. However, King George II's birthday was in October, and since good weather couldn't be guaranteed for the annual parade in autumn, he decided to mark the date in the summer instead when there was a better chance of good weather.
And so, the tradition to celebrate the monarch's birthday in the summer stuck, and each summer the Queen gets the chance to celebrate her birthday again!
This year 12th June will mark a particularly special birthday for the Queen. Turning 95 is a milestone achievement – less than 1% of the population reach this impressive age, so it's no wonder that the Queen's June birthday is set to be an important moment for the country and collectors alike.
And with the Queen's 95th birthday being such a milestone achievement, many commemoratives were issued to mark the occasion in April. Since then we have seen repeated sell-outs.
But there's one commemorative that has been issued specifically to mark the Queen's official birthday that only 750 collectors will have the chance to own.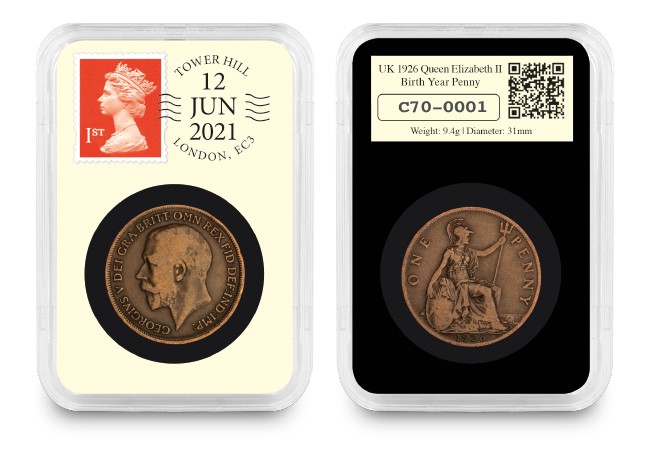 The Queen's Official 95th Birthday Penny DateStampTM is set to be released on the 12th June. Most notably, this commemorative contains an original penny struck in 1926, the year the Queen was born. Each one has been individually capsulated and postmarked with the Queen's official 95th birthday – 12th June 2021. What's more, the one day only postmark ensures that the edition limit is guaranteed and that no more can ever be produced.
With such a limited number available, this DateStampTM issue is sure to be another sell-out as collectors aim to pay tribute to the Queen's milestone birthday and her longevity. You can be one of them today by clicking the link below.
---
If you're interested:
You can pay tribute to our longest reigning monarch by pre-ordering the Queen's Official 95th Birthday Penny DateStampTM here. Only 750 will ever be issued, so you'll need to be quick.