The countdown to Christmas has begun! With less than one month to go, we've got just the thing to brighten up your winter… an array of exquisite Christmas coins that could be yours this festive season!
Read on to learn more about the coins that have made it into The Westminster Collection's "Good List" and how you can secure these cracking stocking fillers yourself…
---
Coming in first with the best in snow is the Christmas Gifts Rotating 5oz Silver coin! Renowned for their incomparable sell-out history and remarkable innovative technology, The Royal Canadian Mint have certainly outdone themselves with this festive edition…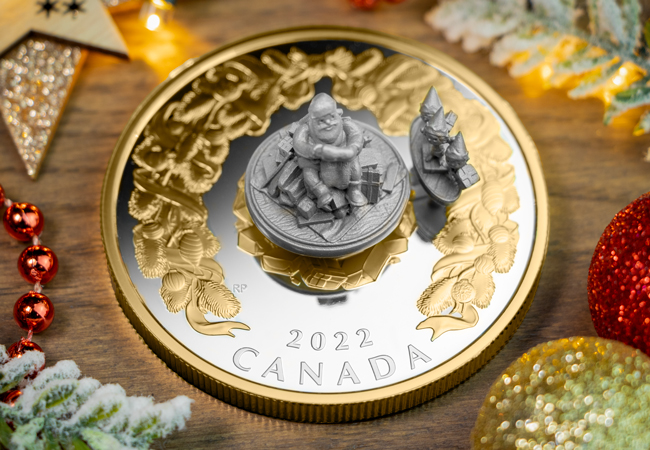 This exquisite Christmas coin is struck from 5oz of 99.99% pure silver and embellished with a gold-plated garland. What's more, the grand 65mm diameter allows you to appreciate every detail of this stunning minting!
Using a 3D sculpture and gyroscopic technology, Santa and his elves are truly brought to life as the elves spin around the coin! Click here to see for yourself in our video! But hurry – we have less than 50 remaining! >>
---
Celebrate the 30th anniversary of the timeless classic Christmas film, The Snowman™, with his return to UK 50p coins. But to make this Christmas more special than ever, he is joined for the very first time by his four-legged friend: The Snowdog!
The adorable reverse design has been created by Robin Shaw – the assistant director of the original The Snowman™ and The Snowdog film – as it hits its 10-year anniversary.
The coin is accompanied by official Royal Mint packaging, which for this special occasion, takes the form of a stunning festive Christmas card encapsulating your Brilliant Uncirculated 50p!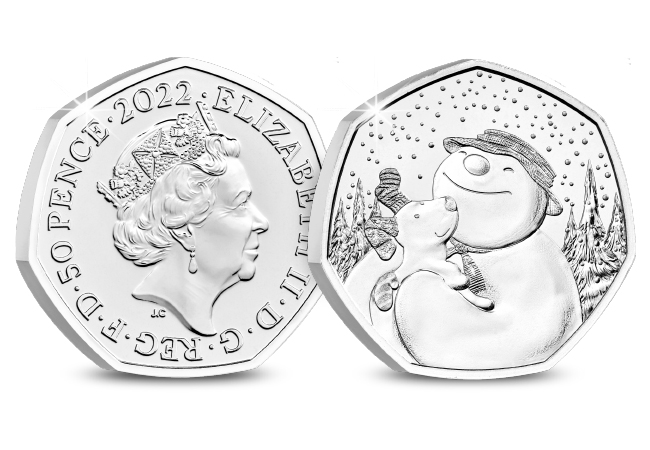 With our Gold and Silver allocation fully sold-out, you must act now and secure one of our remaining few Snowman™ and Snowdog 50ps to avoid missing out on one of the most popular releases this Christmas…
Click here to secure your The Snowman™ and The Snowdog BU 50p for the official Royal Mint price of JUST £11! >>
---
Treat yo'ELF this Christmas with the perfect stocking filler for all the family! This fun-filled lenticular coin from The Royal Canadian Mint is embellished with the rich colours of Christmas and an interactive feature only you can control…
Tilt the coin from one way to another and watch Santa's elves hop around his sleigh!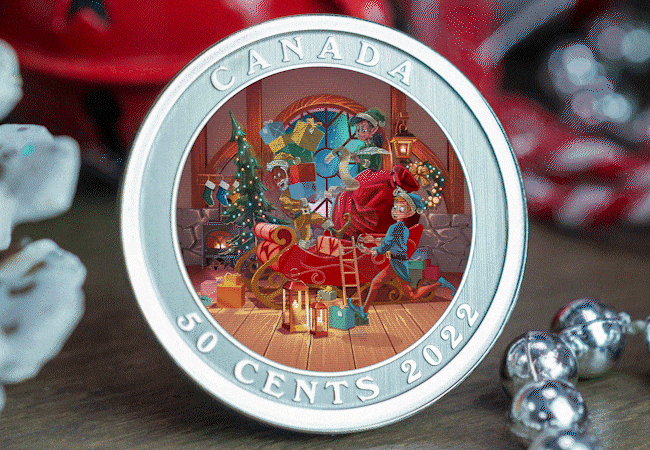 The Royal Canadian Mint have been producing exquisite lenticular coins since 2008. But despite their changing designs, one thing stays the same… consistent sell-outs! Even with mintages as high as 100,000, lenticular coins still fly off the shelves.
But with less than 40 remaining and Christmas right round the corner, this tiny allocation won't be around for long…
So, make someone's Christmas with the brand-new Santa's Sleigh Lenticular Coin and secure yours today for JUST £29.99 (+p&p) >>
---
In 2018, The Royal Mint celebrated Christmas with the Nutcracker £5 coin. Designed by acclaimed Royal Mint engraver, Harry Brockway, this coin depicts the enchanting Christmas Nutcracker scene!
Struck to superior Brilliant Uncirculated quality, your coin has been carefully encapsulated in Official Change Checker packaging with that all-important security hologram, guaranteeing its quality and authenticity.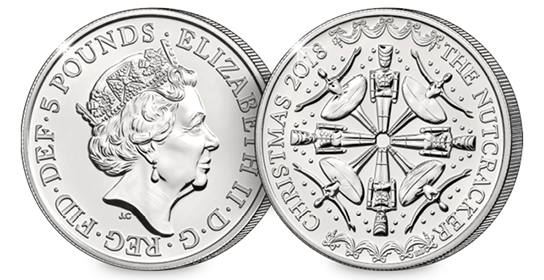 Given its stunning minting and festive sentiment, this coin is now SOLD-OUT at the Royal Mint! But today, we have a select few remaining just in time for Christmas at the small price of £24.99.
Click here to avoid missing out on this sell-out coin! >>
---
Following the extreme success of the 2022 Harry Potter 50p's, it is only fitting to celebrate Christmas at Hogwarts with this Harry Potter Christmas Commemorative!

Featuring the iconic Hogwarts 'H' symbol in vivid full-colour, this stunning product has been expertly plated in 24 Carat Gold to an immaculate Proof finish.
But, out of the 2,022-edition limit, we have just 32 remaining! So, get your wands at the ready this festive season and give someone a spellbinding Christmas…
Click here to magic yours into your collection NOW! >>
---
Explore the rest of the Christmas range yourself – find the perfect gift for you or your loved ones this festive season by clicking here >>
Innovation is nothing new to The Royal Canadian Mint. Whether it be a new shape or size, or using never before-seen technology, they are always looking for ways to push the limits on what can be achieved in the minting world.
Over the last few years, The Royal Canadian Mint's results have seen some of the world's most stunning, technologically-advanced coins, with sell-outs almost guaranteed.
And with the release of their brand new 2022 coin, you can truly appreciate the beauty of their craftsmanship by watching the video below:
Introducing the latest innovative coin from The Royal Canadian Mint… it's set to SELL OUT!
The Christmas Gifts Rotating Silver 5oz Coin is the latest release from The Royal Canadian Mint that follows on from their previous SELL-OUT Christmas Tree and Train Silver 5oz. It uses state-of-the-art innovative gyroscopic technology, allowing the coin to actually move!
It features a 3D sculpture of Santa Claus himself, cast in sterling silver and surrounded by a gold-plated garland. Struck from 5oz 99.99% pure silver, the coin boasts a huge 65mm in diameter – perfect for showing off each and every intricate detail.
It really is the most remarkable coin from recent years, and we encourage you to watch the video to fully appreciate all the stand-out features. It's an outstanding work of art that delivers a festive dose of Christmas cheer!
If you want to add one to your collection, you'll have to act fast. We only have 50 available for Westminster collectors – click here to secure yours now >>
Christmas is fast approaching, and that can only mean one thing… BRAND NEW Christmas 50ps!
FIVE new 50p coins have just been issued by Guernsey, celebrating a 'Traditional Christmas'. The must-have new releases feature a Christmas tree, an Ice rink, a Robin, a Snowman, and Santa himself switching the Christmas lights on. Check out our video below to see them up close…
Collectors have ALREADY been rushing to secure their own. So much so that we've already seen a sell-out in one release!
But not to worry, we've picked out some of our favourite specifications below, one of which features something never seen before on a set of 50p coins!
With Christmas just around the corner, this really is the perfect coin collection to get you in the festive spirit! You're going to want to take a closer look at these very festive designs…
---
A Traditional Christmas Silver Proof 50p Set
There's a good reason why this 50p set is limited to just 500 worldwide…
Brought to life in vivid colour ink, these are the FIRST EVER 50ps to have the extra addition of GLITTER!
Each of the five 50p coins in the set is struck from .925 Sterling Silver to a Proof finish, arriving in a display box complete with a certificate of authenticity.
The perfect gift can be hard to come by, but these first ever Silver Glitter 50p set are MUST-HAVE on our Christmas wish-list.
Secure your very own set here >>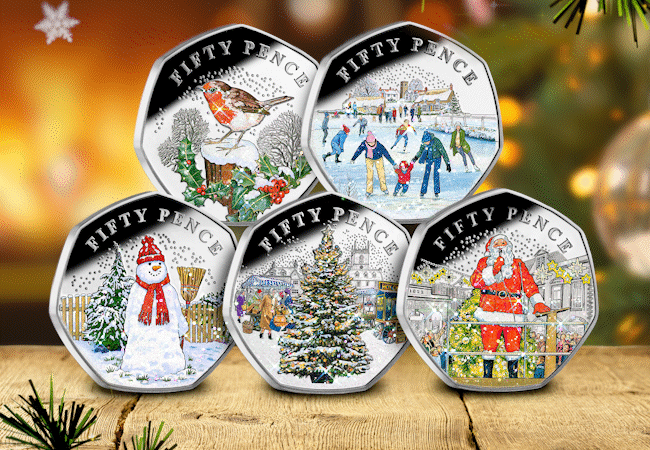 ---
Traditional Christmas Robin Colour 50p Card
The 'Traditional Christmas' Robin 50p is presented here in a beautiful Christmas card.
Featured on wrapping paper, Christmas cards and more, the Robin has become a well-established part of a British Christmas.
The design of Britain's National Bird is brought to life with the addition of selective colour ink.
But that's not all – your Robin 50p is struck to a superior Brilliant Uncirculated quality, with each 50p Christmas card left blank inside to write your own personalised message. What better way to wish friends and family a Merry Christmas!
Click here to secure yours today for just £12.50 (p&p) >>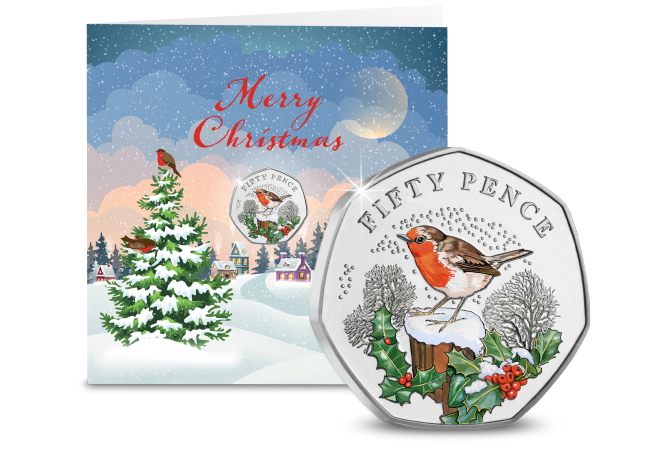 ---
A Traditional Christmas BU 50p Set
Looking to own ALL FIVE 50ps in Brilliant Uncirculated Quality? Look no further than the Traditional Christmas BU 50p Set.
Your coins arrive housed in a special festive presentation pack, which is one of the only ways to own all five of these coins as a complete set.
Whether for a fellow collector, loved one or even as a special treat for yourself, this is a lovely collection to treasure forever.
Don't miss out, secure yours here for just £34.95 (+p&p) >>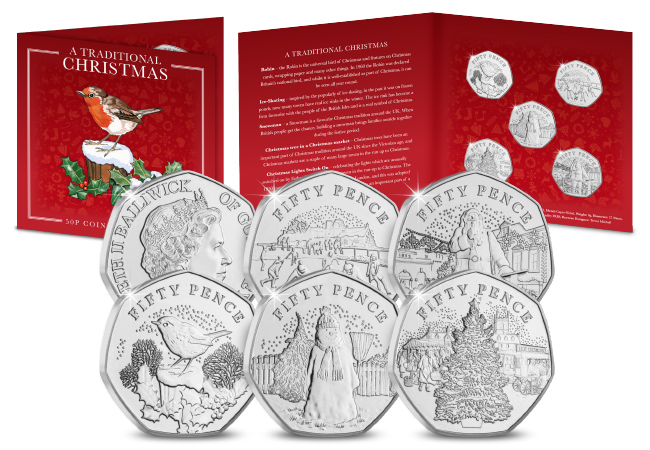 With prices starting from JUST £6.99, you can discover all the brand new products in the 'Traditional Christmas' 50p range here. I'm sure there's something just for you!
Click here to browse the full range of 'Traditional Christmas' 50p releases starting from JUST £6.99 >>