This year the 50p turns 50 years old. And to mark the occasion The Royal Mint re-issued for 2019 some of the most popular 50ps to have ever been issued – including the rare Kew Gardens 50p which is the pinnacle for most collectors.
Unsurprisingly, the limited edition proof sets sold out in record time – just 2 hours!
Now, to continue the celebrations of the 50th year of the 50p, The Royal Mint has released a second set of iconic 50ps, this time celebrating British military history. It is no coincidence this collection has been released on the 75th Anniversary of D-Day.
The collection has been officially released today, in a number of precious metal versions and we're delighted to provide you with all the details you need to know about this latest edition to the 50p family…
Five iconic designs celebrating British military history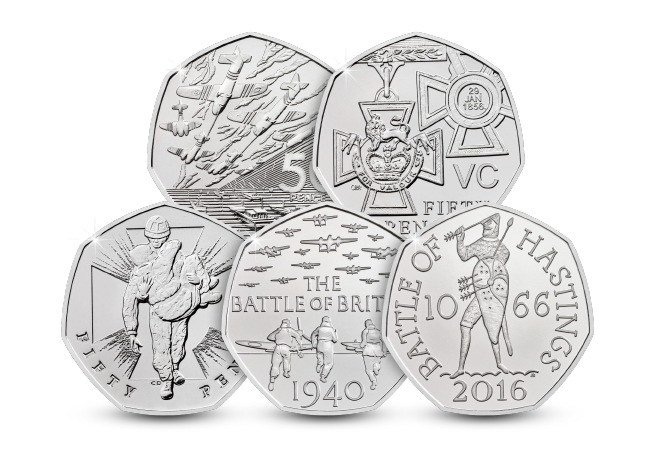 Each set includes five popular 50p designs which are a true tribute to British military history, including:
50th Anniversary of D-Day – originally issued in 1994, the design depicts the D-Day landings of the Allied forces as they head for Normandy by air and sea.
Victoria Cross Heroics Acts – released in 2006, this 50p commemorates the 150th Anniversary of the Victoria Cross and is one of two designs issued to honour award. This one features a design of a soldier carrying an injured comrade.
150th Anniversary of the Victoria Cross Award – the second 50p issued in 2006 to mark the 150th Anniversary of the Victoria Cross, featuring an image of the medal itself.
75th Anniversary of the Battle of Britain – first issued in 2015, this 50p features three airmen running to their planes with enemy aircraft overhead.
950th Anniversary of the Battle of Hastings – showing the scene from the Bayeux tapestry depicting King Harold with an arrow in his eye, this coin was originally released in 2016.
Demand for military commemoratives is at an all-time high, especially this year when we mark the 75th Anniversary of D-Day, and as such it is expected these sets will attract a lot of interest from collectors.
50th Anniversary of the 50p Military Brilliant Uncirculated Pack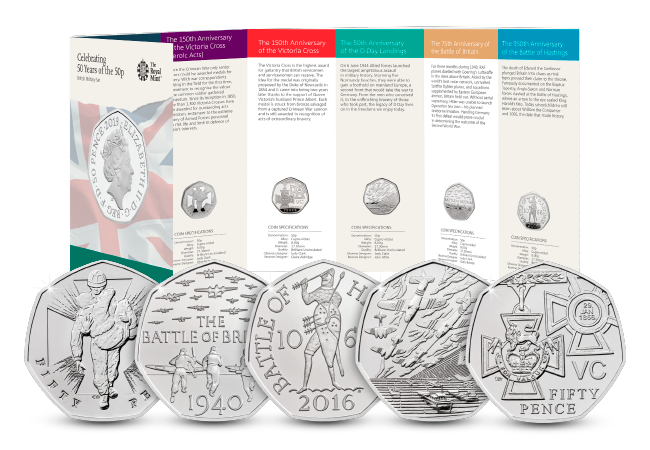 To give as many collectors as possible the chance to own these highly sought-after coins, The Royal Mint has issued them in Brilliant Uncirculated quality, which is coveted by collectors as it means each coin is free from any marks you would find on circulated coins.
Each one is protectively encapsulated in its attractive original Royal Mint packaging to preserve its quality for generations to come. What's more, you can secure this BU Pack at the Royal Mint issue price of just £45 (+p&p). Click here to find out more>>>
50th Anniversary of the 50p Military Base Proof Set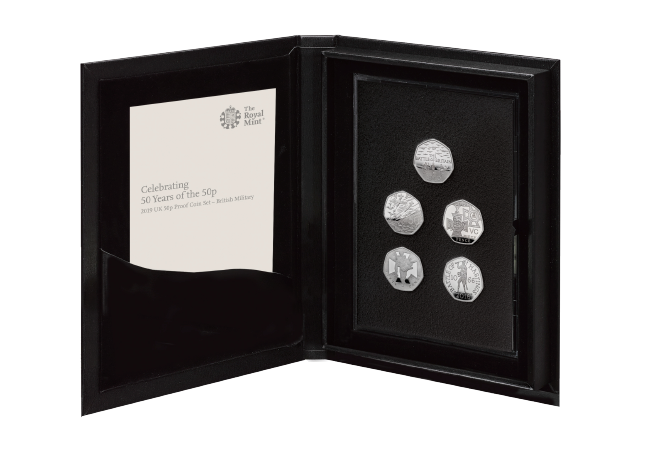 Whilst being struck from base metal, the coins in this set have been struck to a stunning superior proof finish. Just 3,500 50th Anniversary of the 50p Military Base Proof Sets have been released worldwide, making this set extremely sought after.
You can order the new 50th Anniversary of the 50p Military Base Proof Set here with a down payment of just £19.80 (+p&p) followed by 4 further interest-free instalments. Click here to find out more>>>
50th Anniversary of the 50p Silver Proof Set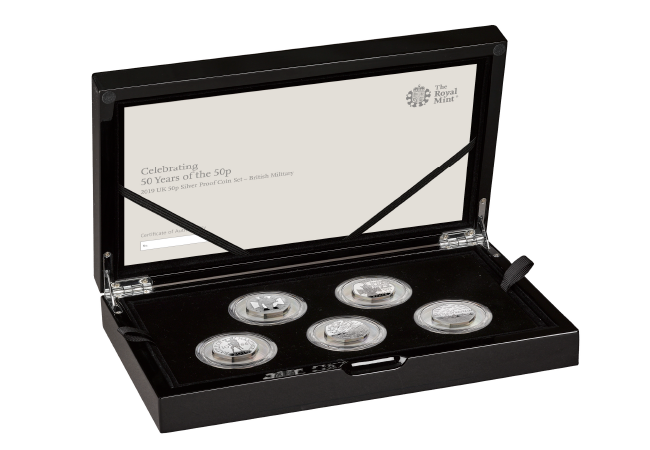 However, you can own the 50th Anniversary of the 50p Military Set in an even more limited way – so limited just 1,969 collectors worldwide can own it.
Each set contains the same five iconic 50p designs, but these have been struck in superior .925 Sterling Silver to a perfect proof finish. Given how popular commemorative 50ps are, this ultimate set is sure to be an even bigger hit.
You can secure this extremely limited set for your collection now for just £29.50 (+p&p), followed by just 9 further equal interest-free monthly instalments. Click here to find out more>>>
50th Anniversary of the 50p Gold Set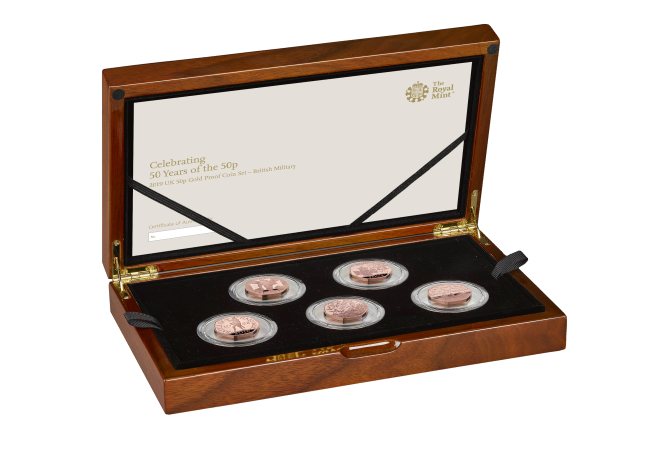 Finally, the rarest set of all. Just 75 collectors worldwide will be able to own the 50th Anniversary of the 50p Military Set impeccably struck from 22 Carat Gold to a proof finish.
On 1st June 1969 room 1742 of The Queen Elizabeth Hotel in Montreal, Canada, became a recording studio.
It is there that John Lennon, alongside Yoko Ono, debuted his powerful anti-war anthem Give Peace a Chance. Written in protest against the Vietnam War and as a promotion of peace, the song was the pinnacle of the newlywed's infamous protest "Bed In for Peace".
It was a moment that has forever cemented a bond between John Lennon and Canada. A bond that is now marked by the release of an exclusive new limited edition coin by the Royal Canadian Mint, issued in celebration of the 50th Anniversary of Give Peace a Chance.
It was unveiled yesterday by Ian Graham, International Sales Director of the Royal Canadian Mint, in front of the John Lennon Peace Monument in Lennon's hometown – Liverpool. We were lucky enough to attend this special launch event and captured all the details as they unfolded for you.
Check out our exclusive footage below:
The Royal Canadian Mint are renowned for their innovative coins and eye catching designs but their latest coin release holds a more poignant message.
Struck from one once of .9999 or 'four nines' silver to a perfect proof finish, the coin features a photographic image of John Lennon and Yoko Ono during their Montreal "Bed-in for Peace".
As one of the most famous anti-war anthems of all time, this powerful song has remained in the hearts of generations of pacifists and music fans around the world for 50 years.
Remarkably, there are just 9,999 of these special coins being released for worldwide distribution. That's almost certainly not enough for Canadian fans, let alone collectors across the globe.
In fact, I haven't seen John Lennon officially portrayed on a coin since 2010. And guess what… that one sold out in a few days.
So if you'd like to GIVE PEACE A CHANCE and secure one of these for your collection then you'll need to be quick.
Despite ruling over 400 million people in an empire that covered almost a quarter of the world's surface, Queen Victoria had never set foot in many of the countries that she ruled over.
For many of those people, the only way to catch a glimpse of their empress was by looking at the portraits on the coins that passed through their hands every day. These coins formed a vital connection between people, even though they may have lived on opposite sides of the world and experienced very different lives.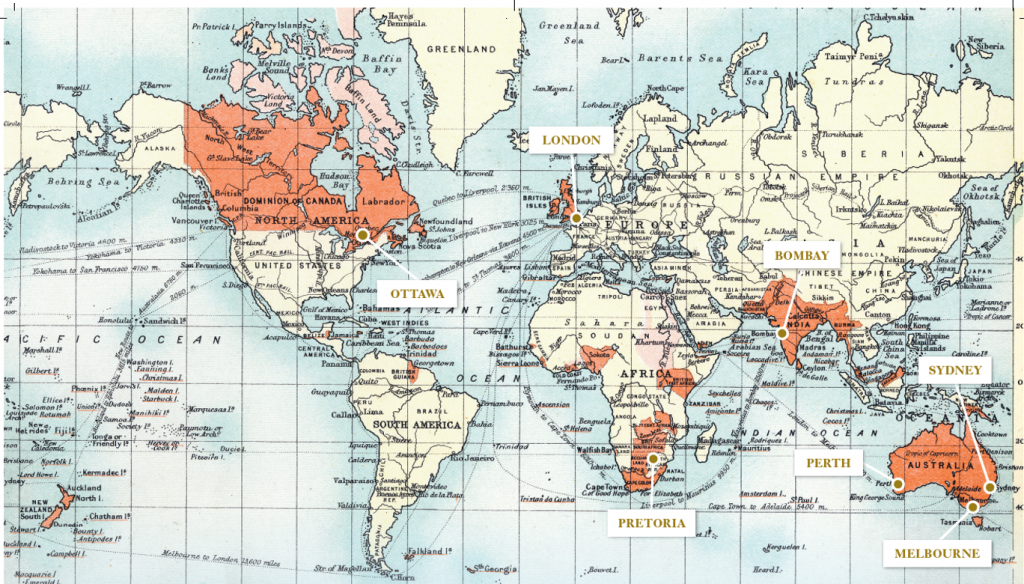 India became known as the Jewel in the Empire's crown, and was so important to Victoria that she was awarded the title of the "Empress of India" in 1876. Although she never stepped foot in the subcontinent, the currency of India (the rupee) was minted with her portrait on from 1840, so people could recognise their empress despite living 4,500 miles away!
The rupee is one of the oldest currencies in the world, so to feature a British monarch for the first time was an important moment in numismatic history. The later portrait issued on rupees was similar to the Gothic Head effigy can be considered one of the most beautiful coins of the empire.
1840 Indian Rupee

1886 Indian Rupee
Another numismatic first took place in Australia in 1855, one more country that Victoria never visited (which is hardly surprising as it would have taken her almost two months to get there!). As the empire grew, so did the need for coins and the Royal Mint opened branches in Australia to mint sovereigns for the empire. In 1855 the first ever sovereign to be minted outside of the UK, the Sydney sovereign, was issued. It featured a portrait of Victoria that was based on the Young Head effigy, but with a sprig of banksia weaved through Victoria's hair, giving the portrait a distinct Australian feel.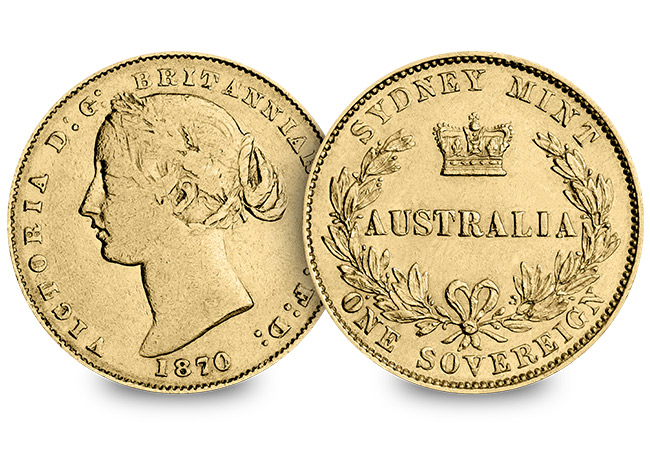 A number of Royal Mint branches were opened throughout Australia after the success of the Sydney sovereign. To identify the mint that sovereigns were produced in, mintmarks were added to the coins, with a small 'P' for Perth, and an 'M' for Melbourne. The sovereign became legal tender in the majority of British colonies in the 1860s, and its importance in British trade, and worldwide circulation earned it the title "the King of Coins". By the final years of the British Empire, the sovereign was minted in four continents across the globe.
'P' Mintmark for sovereigns minted in Perth

'M' Mintmark for sovereigns minted in Melbourne
India and Australia weren't the only countries that saw Victoria's portrait. Her image also reached as far as Hong Kong, Ceylon, East Africa and New Zealand. In 1870 the first Canadian dollar with Victoria's portrait was issued, taking Victoria's image to a new side of the world for people to see.
Victoria never left Europe, but her portrait and image stood strong on coins around the world. Whilst she never stepped foot in many of the countries that she ruled over, that didn't stop people recognising her image around the world. The coins that they used every day provided a link to the empire that they were a part of, despite the miles between them.
---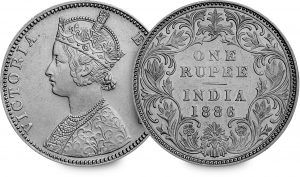 If you're interested
You can now own a genuine Victorian Silver Rupee, minted over 4,500 miles away! Click here for more info>>>>