100 years ago this year, at 11 o'clock on 11th of November, the guns of war finally fell silent. The First World War was over.
While many fathers, sons, uncles and brothers came home, millions lay where they fell, on the Battlefields of Europe. Those who were lucky enough to be identified were placed in makeshift graves, often only identified by a rifle placed in the earth with his steel helmet placed on top as a final memorial.
To commemorate the Armistice Centenary, The Royal Canadian Mint have issued a remarkable new coin that honours each and every fallen soldier.
Struck in the shape of a WWI Brodie Helmet, it is more deeply curved surface than any other concave or convex-shaped coin I've seen before. The design is so unique in fact, that the Mint have kept the minting technique a closely guarded secret.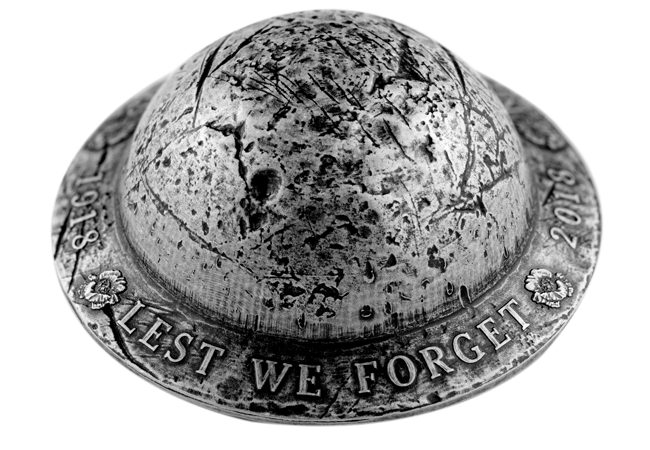 Although the original helmet would have been cast from Steel, this coin has been struck in the very finest .9999 or "four nines" silver, this is the purest grade of silver available. The Royal Canadian Mint is one of the very few Mints in the world with enough minting expertise able to strike coins with this incredible high relief finish. It's an exceptional feat of craftsmanship.
What's more the attention to detail is outstanding, each coin has been given a final antique finish and there are even engraved cracks and markings which complete the helmet's battle-worn appearance. A reminder of the hardships endured by those who fought.
The amount of 2018 Silver 'Helmet-Shaped' coins available is very low. A worldwide edition limit of just 6,500 has been set by the Mint, but of course many of these won't even make it out of Canada. Without any doubt, this has to be one of the most collectable issues ever struck.
The First World War will always be known as one of Man Kind's darkest hours but poignant issues like this one allow us to remember those who have made the ultimate sacrifice.
---
If you're interested…
We have just 500 WWI Lest We Forget Silver 'Helmet-Shaped' coins available for UK collectors, but to get one you'll have to act quickly.
Click here for more details >>


Last month I had the honour of meeting all 9 Red Arrows pilots at the Bournemouth Air Festival to present them with a very special gift…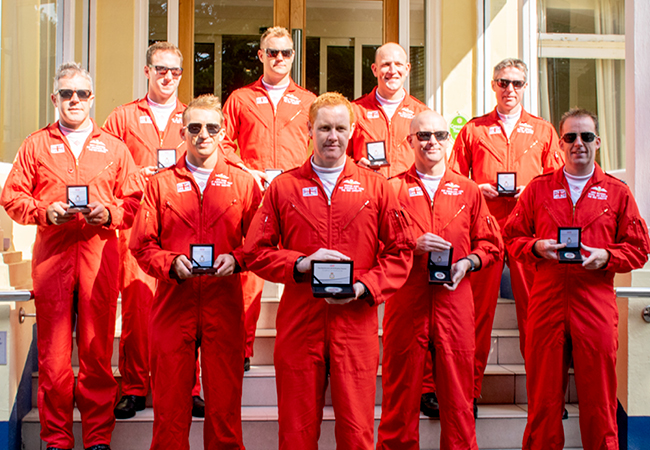 A lifelong fan of the Reds, I was delighted to be given the chance of personally presenting them with the Official 2018 Red Arrows Signature Medal.
Struck in 5oz of Pure 999/1000 Silver, the medal features the intricate engravings of all 9 Red Arrows pilots' signatures, and has been fully endorsed by the team.
What's more, their medal is one of JUST 450 that have been issued for worldwide distribution, with the last number in that edition being presented to the Reds.
And so they didn't have to share, I also brought along an extra 9 Official 2018 Red Arrows Silver 1oz Medals, for each of the team to take home.
Each signature on the 5oz Silver Medal is meticulously engraved above their team number. To complete the piece, each member's iconic Hawk jet with the RAF roundel at the centre is highlighted in vivid colour, surrounded by an altimeter inspired pattern – the most fitting piece to present to the Reds today.
---
If you're interested…
You have the opportunity to own the Official Red Arrows Signature 5oz Silver Medal. This is a rare chance to own an item so closely and personally linked to the Red Arrows themselves and we only have a few remaining so you'll have to act quickly to secure yours. Click here for more information and to order yours now >>>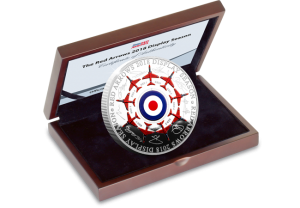 50 years ago in 1964 Her Majesty the Queen approved a new portrait for her coinage, and set in motion a chain of events that led to the creation of the most reproduced image in the world.
The portrait in question was designed by Arnold Machin RA – and if you look in your pocket now you're still likely to find a coin bearing the distinctive profile.
But even though millions of coins are struck every year – it was when the design was adapted for use on our stamps that it really took off…
300 billion and counting
Best estimates suggest that the Arnold Machin RA effigy of Queen Elizabeth II has now been reproduced on our stamps over 300 billion times – a staggering number.
In fact, amongst collectors, UK definitive stamps are now simply referred to as 'Machins' because the image is so ubiquitous.
But who is Arnold Machin RA, and how did he come to design this instantly recognisable image?
From pottery to sculpting the Queen's portrait
Arnold Machin was born in 1911 in Stoke-on-Trent. Modelling and sculpture was in the family, but his father struggled to make ends meet with his freelance modelling job. Consequently Machin started work aged 14 at the Minton China Factory, as an apprentice china painter.
But he could not keep away from sculpture, and after a working for many years in the arts was appointed an associate member of the Royal Academy of Arts in London in 1947.
As if this wasn't enough of an honour, in 1964 Machin was approached to design an effigy of the Queen for the new decimal coinage to be introduced in 1971. So, despite never having designed a coin before, Machin was granted four sittings with the Queen.
Cleverly using the bas-relief technique, which creates a raised sculpture from a plaster base, Machin came up with a design the Queen appreciated so much she has insisted it be used unchanged on our stamps for the past 40 years.
An £18,000 plaster cast
Perhaps testament to the enduring popularity of the image, and the design process behind it, one of Machin's original plaster casts recently sold at auction for the princely sum of £18,000.
And I don't think this will be the last we'll hear of record breaking Machin sales – as time goes by the power of the image will not diminish, yet the availability of collectables will.
And now we are due to see a new portrait of the Queen on our coinage in 2015, this is bound to be an area to watch.
---
You may be interested in…
The Arnold Machin Queen Elizabeth II Philatelic Silver Set
The Westminster Collection is proud to present the first ever officially licensed silver philatelic set featuring Arnold Machin's famous effigy of the Queen.
NOW SOLD OUT