It is always exciting to see new, innovative products coming out of the numismatic industry, and there is nothing quite like the test token set issued by the Royal Canadian Mint's Research and Development lab. When you see this set it's no surprise that the Royal Canadian Mint is a market leader in security. Looking to be at the forefront of new minting technologies this latest collection showcases some never before seen minting techniques which are guaranteed to impress both seasoned and budding collectors alike.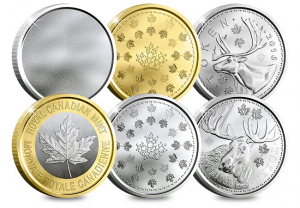 So what exactly is a 'test token' I hear you ask? A test token is a prototype of next generation currency, and is created purely to test new technologies and minting techniques before giving the green light to produce future coins with the technology. Since the tokens are test pieces their designs and technologies will not necessarily be replicated in future currency, perhaps only some of the techniques or designs will be taken forward,so the test pieces are one of a kind.
Chief Technology Officer at the Royal Canadian Mint, Dr Xianyao Li, says "the products in our R&D Lab Collection are tried,tested and true examples of forward-thinking technology that could re-define the future of domestic and foreign coins."
Now we're suitably intrigued about the new technologies featured in the set, let's take a closer look at the tokens…


Pie-Chart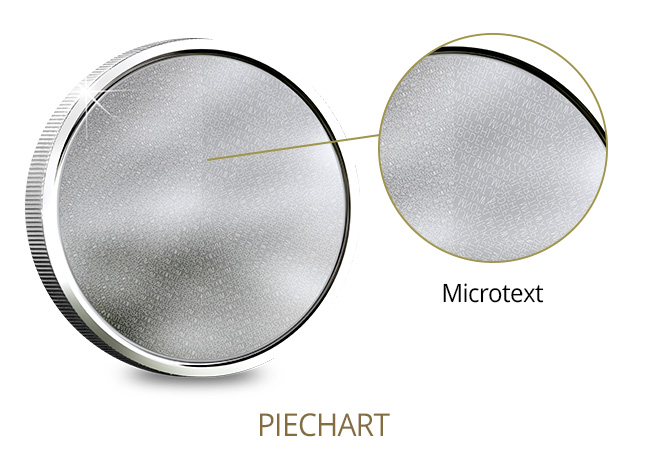 At first glance this perhaps looks to be the most unassuming token of the set, but looks can be deceiving as this token is an example of the advances currently being made in coin production to prevent counterfeiting. If you inspect the surface of the coin closely you will notice it resembles a pie-chart, with the surface subtly split up in to segments which are only just distinguishable. The slices are differentiated by the orientation and size of micro text which varies between segments. Micro text is one of the advancements in minting technology which has emerged in the last few years with the aim of preventing counterfeit coins, as the tiny text is difficult to replicate. Not only is the text extremely difficult to reproduce, it is also virtually indiscernible to the naked eye!


Caribou and Moose
The Caribou and the Moose instantly spring to mind when contemplating iconic Canadian imagery, so it would seem only natural they make an appearance in this set. Each token is crafted from multi-ply plated steel and includes both raised and incused maple leaf designs, instantly creating a noticeably three-dimensional textured surface. The depictions of the creatures on each coin have micro text hidden in their fur as an added security feature, and the maple leaf above the shoulder of each creature is also composed of micro text.


Leaf
The maple leaf is synonymous with Canada and is instantly recognisable as one of its national symbols dating back to the 18th century. Considering this it is unsurprising then that The Royal Canadian Mint also uses this iconic leaf as its logo, creating a strong identity link between country and coinage. Two pieces in the set celebrate the maple leaf with both sides of the tokens featuring raised and incused leaves in a circular pattern with the Royal Canadian Mint's logo at the centre. The combination of raised and stamped elements create a unique texture on the token which adds an extra layer of security because forgers will struggle to perfectly mimic it in counterfeits.


Tri-metal
The clue is in the title with this one, as it has been produced from a Canadian patented tri-metal compound, consisting of a carefully balanced combination of multi-ply plated steel, brass plated steel, nickel plated steel and copper plated steel. Complex multi-metal compound technology is a security feature to prevent counterfeiting as the exact compound composition is patented and unknown so cannot be easily recreated in a replica.


Own a piece of history in the making
What makes this test token set truly remarkable is the fact that pieces included in the set are the real trial pieces which have been used in calibration and laboratory testing, so each one has been tried and tested making the collection truly unique – no two will be the same!
---
If you're interested…
You can now own a piece of numismatic history in the making as we have secured 149 of these unique sets from the Royal Canadian Mint. Be ahead of the curve and add this sneak peek at the next generation of coinage to your collection today!
Click here to order this fantastic set >>>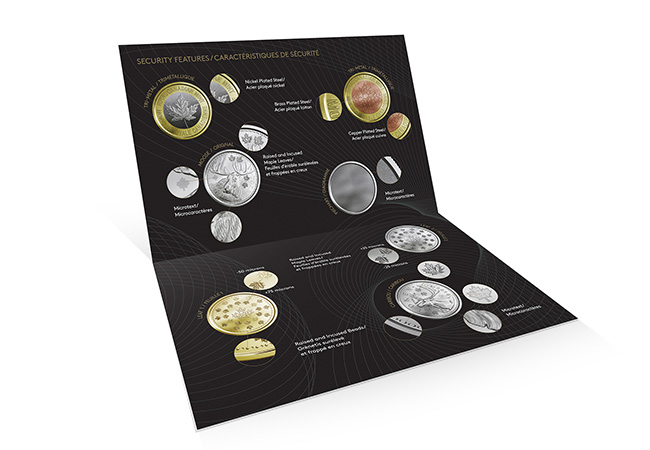 The Beano turns 80 this year. I'll just let that sink in.
I still remember running down to my old corner shop every Wednesday after school to pick up the brand new Beano comic for 2p (the mind boggles!), then running home to try and get a read of the first few pages before mum cleared the table for dinner.
Of all the Beano characters, there was one character I looked forward to reading about more than any other – my favourite mischief maker – Dennis the Menace.
And that's why I have been so excited over the last few months to be able to work personally on an exclusive and highly collectable Beano Commemorative – especially as this year the comic turns 80.
Brand new never before seen Dennis illustration
As a special privilege for their 80th birthday, Beano have given us unparalleled permission to create some brand new Beano artwork.
That's because, for the very first time, Dennis the Menace has been brought to life on a brand new and exclusive Silver-Plated Commemorative by actual Beano artist – Wayne Thompson.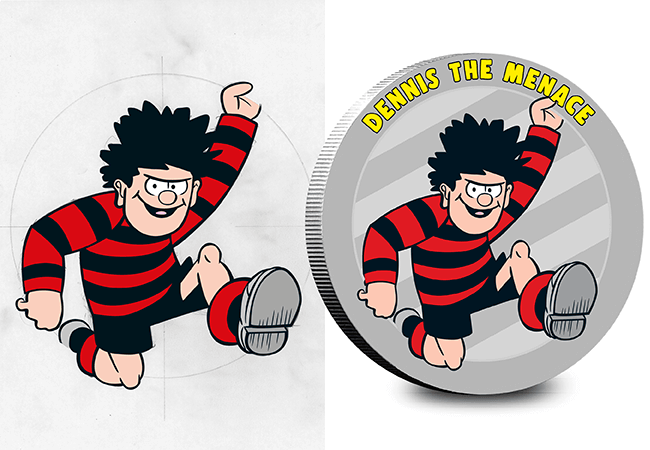 As you can see, the medal is a perfect limited edition tribute to Dennis in his classic red and black sweater that you, I, and many generations of children have grown up to love.
And as I mentioned, the Dennis the Menace illustration has been specially commissioned exclusively for Mint Editions. No one has ever seen it before and it has come straight from The Beano studios, direct to us from their artist – Wayne Thompson.
A whole collection of beloved Beano favourites
Just as in the comics, Dennis is never far from his trusted companion Gnasher, who is also part of the collection of new medals featuring beloved Beano favourites.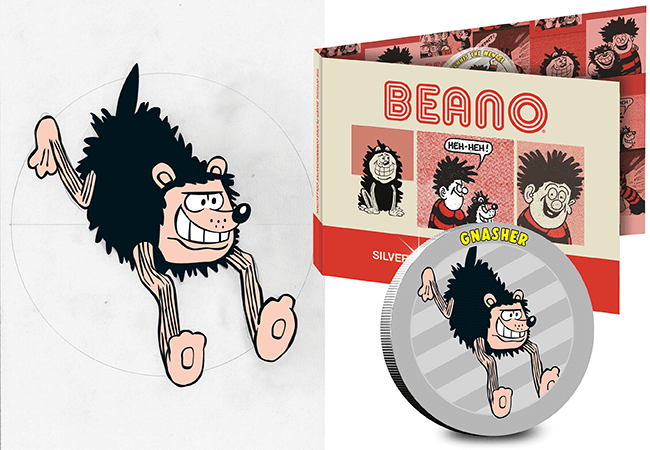 The complete collection of eight medals also includes Bananaman, Plug, Minnie the Minx, Roger the Dodger, Danny and Pieface – and each Silver-Plated Medals all feature brand new never-before-seen illustrations from Wayne.
---
Your invitation to SAVE £10.00 when you order today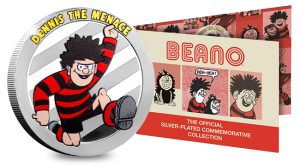 Today, I would like to personally invite you to start your collection with the Dennis the Menace Silver-Plated Medal – for JUST £14.99… that's an exclusive £10.00 SAVING. What's more, alongside your second delivery you'll also receive a free collecting pack to house and protect each Silver-Plated Medal.
100 years ago this year, at 11 o'clock on 11th of November, the guns of war finally fell silent. The First World War was over.
While many fathers, sons, uncles and brothers came home, millions lay where they fell, on the Battlefields of Europe. Those who were lucky enough to be identified were placed in makeshift graves, often only identified by a rifle placed in the earth with his steel helmet placed on top as a final memorial.
To commemorate the Armistice Centenary, The Royal Canadian Mint have issued a remarkable new coin that honours each and every fallen soldier.
Struck in the shape of a WWI Brodie Helmet, it is more deeply curved surface than any other concave or convex-shaped coin I've seen before. The design is so unique in fact, that the Mint have kept the minting technique a closely guarded secret.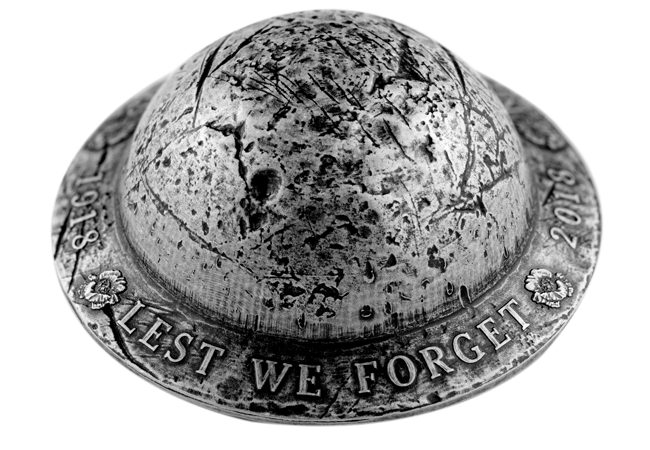 Although the original helmet would have been cast from Steel, this coin has been struck in the very finest .9999 or "four nines" silver, this is the purest grade of silver available. The Royal Canadian Mint is one of the very few Mints in the world with enough minting expertise able to strike coins with this incredible high relief finish. It's an exceptional feat of craftsmanship.
What's more the attention to detail is outstanding, each coin has been given a final antique finish and there are even engraved cracks and markings which complete the helmet's battle-worn appearance. A reminder of the hardships endured by those who fought.
The amount of 2018 Silver 'Helmet-Shaped' coins available is very low. A worldwide edition limit of just 6,500 has been set by the Mint, but of course many of these won't even make it out of Canada. Without any doubt, this has to be one of the most collectable issues ever struck.
The First World War will always be known as one of Man Kind's darkest hours but poignant issues like this one allow us to remember those who have made the ultimate sacrifice.
---
If you're interested…
We have just 500 WWI Lest We Forget Silver 'Helmet-Shaped' coins available for UK collectors, but to get one you'll have to act quickly.
Click here for more details >>