The Christmas countdown has started early here at the Westminster Collection.
And you can join the 1,000's of collectors who have already ordered the BRAND NEW festive 50p coins celebrating the most wonderful time of the year!
Featuring Father Christmas, a Christmas tree, Christmas pudding, Carol Singers and a Christmas cracker, they've proven to be an instant hit with collectors.
And in my latest video, I tell you why you NEED to add them to your collection this festive season…
---
If you're interested…

A new UK 50p has just been released!
The design pays tribute to 100 years since the discovery of insulin, which saved MILLIONS of lives around the world.
And in my latest video I tell you everything you need to know about this latest addition to the Innovation in science series!
---
If you're interested…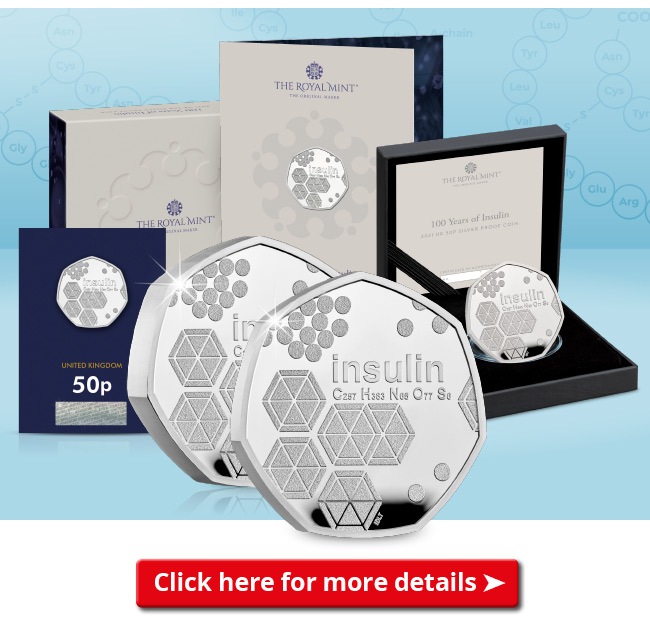 Today's video is a special one, as I give you an exclusive FIRST LOOK at the Alice Through the Looking-Glass Silver Proof 50p collection.
Issued to celebrate Lewis Carroll's literary classic 'Through the Looking-Glass, and what Alice found there', today's new release follows in the footsteps of these Alice's Adventures in Wonderland 50p coins that quickly became one of the most popular coins releases of the year.
And In the video I'll reveal exactly what you'll find inside of the limited edition Silver Proof collection that only 1,995 collectors can own!
---
If you're interested…