Posts Tagged 'bank of england'
Almost 50 years ago, the ten bob note was in every wallet, purse and pocket in Britain. The 10 Shilling banknote would have been recognisable to every schoolchild in Britain, a fact that certainly isn't the case today!
Worth the equivalent of 50p, back then it would have bought you 6 pints of beer, 10 loaves of bread, or 17 pints of milk. It's hard to imagine a 50p going so far these days!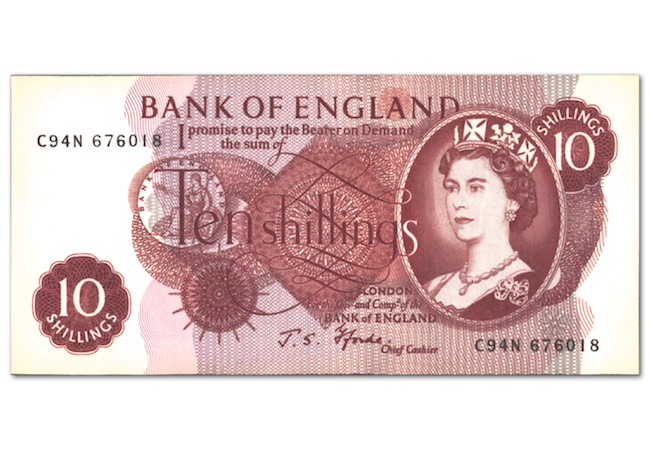 The 10 Shilling banknote was the smallest denomination note ever issued by the Bank of England. The denomination was first issued as a banknote by the Treasury during the First World War as an emergency currency and was then issued as a generally circulating note by the Bank of England from 1928.
However, in 1966 when the decision was made to convert Britain's coinage to a decimal currency it sadly meant saying goodbye to the well-loved 10 Shilling Note.
Under this new system, there was no place for the 10 bob note. It was decided that the new decimal replacement should be issued as a coin, the main reason being that notes had an average lifetime of about five months so it was inefficient to keep replacing a note with such a low denomination.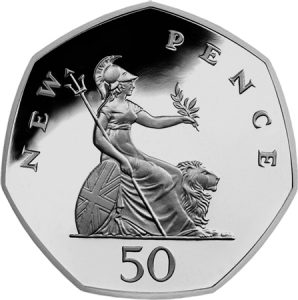 As a result, the first ever 7-sided coins was introduced in 1969 – the now instantly recognisable 50p coin. The two currencies co-existed for around a year, but finally, on 22nd November 1970, the old 10 bob note ceased to be legal tender.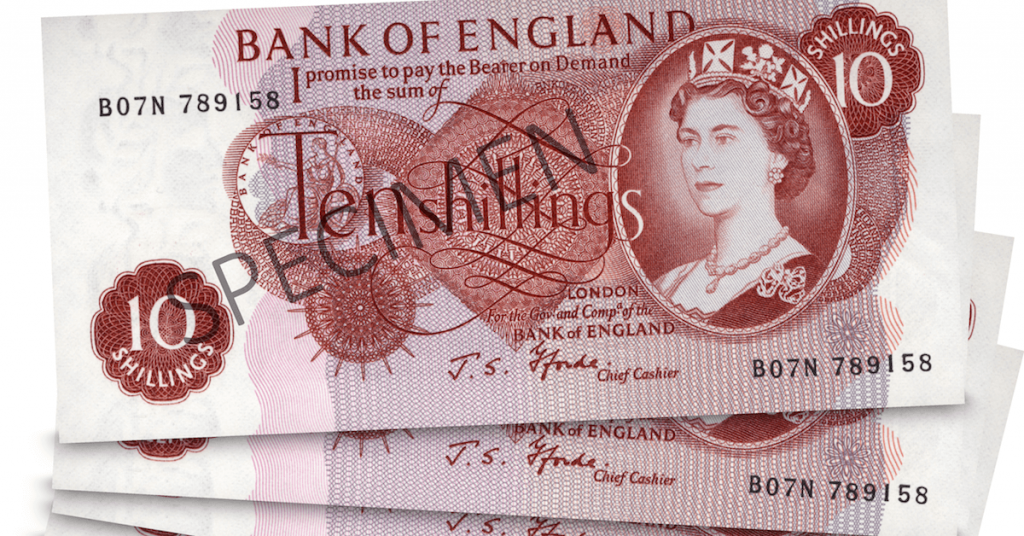 Almost 50 years on, the 50p is now a staple of British culture and one of the most collectable coins internationally. The 10 bob note stands as an important reminder of the pre-decimal coinage our generation grew up with and also of one of the most significant moments in the history of British currency – decimalisation.
---
If you're interested…
Today you have the opportunity to own a FINE SILVER reproduction of the 10 Shilling Banknote for JUST £45. But with limited stock available, you will need to act quickly to secure this perfect piece of nostalgia…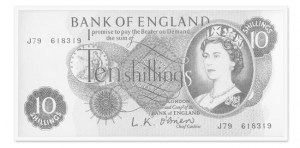 Click here to order your FINE SILVER reproduction 10 Shilling Note >>>
On 13 September, the Bank of England will issue a new £5. It will be the first-ever polymer (or "plastic") banknote that they have issued.
But is it the UK's first?
Well it is certainly not the first polymer banknote issued in the UK.
Last year Clydesdale Bank issued Scotland's first polymer banknote to mark the 125th Anniversary of the Forth Roadbridge.
But it was Northern Ireland that beat everyone else to it with a commemorative polymer banknote in 1999 issued to mark the millennium.
So the new Bank of England £5 note is certainly not the first polymer note to be issued IN the UK but perhaps it is still the first UK-wide polymer banknote…
The murky question of legal tender
So this might surprise you. No Scottish or Northern Irish banknotes are legal tender.
Bank of England banknotes are – but only in England and Wales.
But don't panic – if you live in Scotland or Northern Ireland – your money's not worthless! Legal tender does not mean quite what you think. It has a very narrow technical definition which relates to your ability to pay a debt into a court.
In fact all Scottish and Northern Irish notes are considered "legal currency" across the whole of the UK. But that does not mean that they have to be accepted and it's not unusual for English or Welsh shop owners to be reluctant to accept non-Bank of England notes.
So where does this all leave us?
The Northern Irish and Scottish polymer banknotes clearly beat the new fiver. But they were special commemorative issues with limited circulation and little recognition outside of their issuing nation.
The new polymer £5 note is certainly the first "legal tender" note issued in the UK but that's not as important as it first seems.
It is, however, the first polymer banknote issued for ongoing circulation (rather than as a commemorative issue) which is generally accepted across the whole of the United Kingdom.
---
Mark the moment the UK £5 banknote changed forever…
Just 5,000 new UK Polymer £5 Notes have been reserved for a Limited Edition DateStamp™ release.
This is the VERY FIRST time that a DateStamp™ banknote has been released.
Later this year, a brand new banknote will enter circulation, but this banknote will be unlike any other seen before…
It wasn't until 1793 that the first five pound note came into existence. The £5 denomination, known as the 'white fiver' lasted with relatively few changes until 1956 when it was last issued and replaced a year later with a new blue five pound note.
The banknote was changed primarily to combat forgery following 'Operation Bernhard' – a huge German war effort which took place during the Second World War and saw around 9 million fake notes printed.
Of course, there have been numerous changes to the £5 banknote since then, from different designs, sizes, colourings and security features.
In 1970 a new series of notes were designed, each featuring an historical figure on the back. Portraits and highly detailed machine engraving blended into historical scenes making the new notes more difficult to copy.
But perhaps the biggest change of all is yet to come…
On 13th September 2016 a brand new banknote will enter circulation featuring the portrait of much-loved Prime Minster, Sir Winston Churchill . However, this new fiver is unlike any we have ever seen before – it's printed on polymer.
Polymer notes are made from a
flexible plastic
, which is resistant to dirt and moisture, which means they will last longer and are better for the environment.
The new note has a number of security features including a see-through window and foil Elizabeth Tower – which is gold on the front and silver on the back. It also features multiple holograms and micro-lettering under the Queen's portrait – which can only be viewed under a microscope.
You have until May 2017 to spend your current £5 notes, after that they will cease to be legal tender – but will still be exchangeable at the Bank of England.
What do you think about the new era of plastic banknotes? Let us know in the comments below.
---
You can own Britain's most famous banknote… in silver!

In a remarkable feat of craftmanship the White Fiver banknote has been re-isued in fine silver – and you can add one to your collection today.