Posts Tagged 'white fiver'
First issued by the Bank of England in 1694, Banknotes were originally supposed to be used as a receipt in exchange for gold loans to the bank. Owners of Banknotes could literally take their note to the Bank of England and exchange it for the equivalent price in gold.
In fact, all British notes still have the statement "I promise to pay the bearer on demand the sum of…" to this day.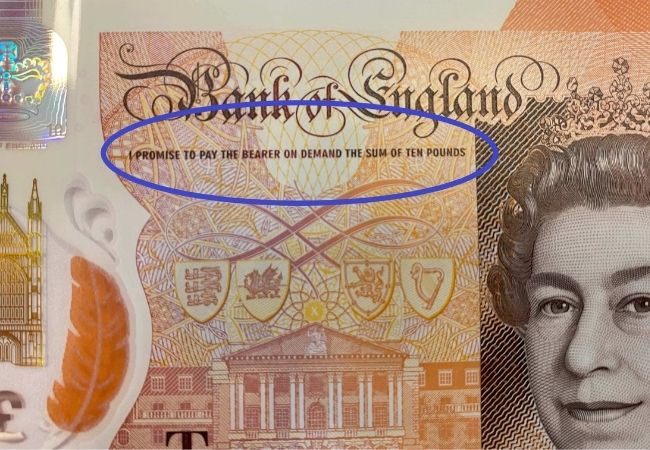 Britain stopped using the gold standard in 1931, meaning that the right to redeem Banknotes for gold ceased. And by 1945, a metal thread had to be introduced on the £5 note following a security threat from Nazi Germany.
In this blog, we'll explore the history of the 'White Fiver', why an estimated 70,000,000 of these 'notes' were burned and the story of one of wartime's most over-the-top secret plots…
The Story Behind The 'White Fiver'
The £5 note was only ever intended as a temporary measure, William Pitt, the Prime Minister at the time originally planned to take the £5 out of circulation once economic conditions improved. However, the £5 note has since become the longest serving denomination and at one point was even the highest denomination Bank of England note.
Active between 1793 and 1945, the Bank of England's White Paper £5 note was the second variant of the denomination and became known as the 'White Fiver'. Much bigger than today's equivalent (which stands at 135 x 70mm), the original paper notes were a huge 195 x 120mm.
But production of these notes was halted during World War II and a new metal thread security feature was introduced to combat counterfeiting attempts from Nazi Germany.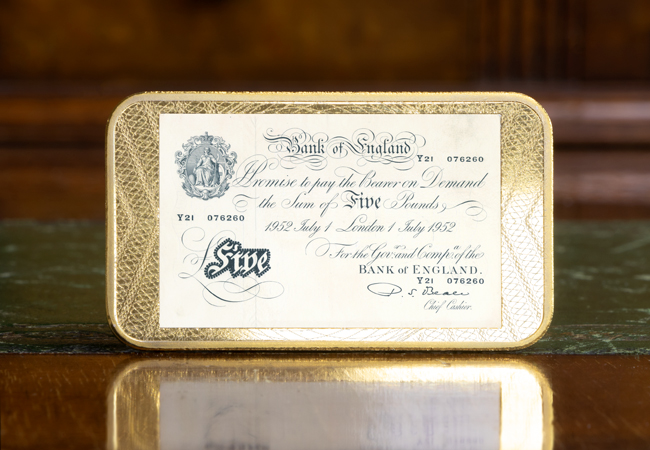 Operation Bernhard
The largest counterfeiting operation in history, Operation Bernhard was the codename of a secret Nazi plot to destabilise the British economy. The Nazis planned to drop counterfeit notes throughout Europe to cause artificial inflation of the British pound.
In 1942, production of counterfeit British 'White Fivers' began behind the gates of Sachsenhausen concentration camp. Prisoners worked to perfect the process, revealing over 150 secret security marks, creating identical ink, solving the serial numbering system and printing the notes. By 1945 it is estimated that 70,000,000 notes were printed by inmates – a cache of upwards of £100,000,000.
The plot never came to fruition and at the end of the war Nazis burned huge amounts of British "currency". But the Bank of England didn't take any chances and withdrew all circulating notes.
Unsurprisingly Operation Bernhard, as it was known, is remembered as one of wartime's most over-the-top secret plots.
And that's why, over 60 years since it was legal tender, the 'White Fiver' remains the most famous banknote ever issued…
Your Limited Edition Collecting Opportunity
Today you can own the White Fiver Gold-plated Ingot for FREE (you'll only pay postage!) with this introductory offer.
Your White Fiver Ingot is plated in 24 Carat Gold and struck to a Proof-like finish, framing the famous black and white design superbly.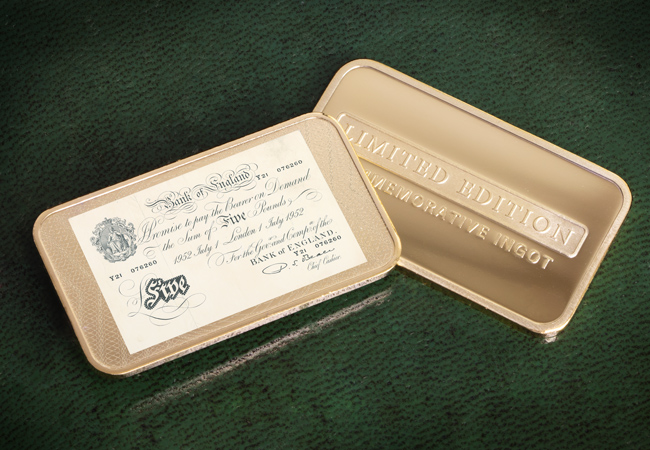 Just 9,950 of these White Fiver Gold-plated Ingots have been issued for collectors worldwide, a tiny number given the important part the White Fiver has played in British history.
And what's more, you will gain exclusive access to the History of Banknotes Ingot Collection.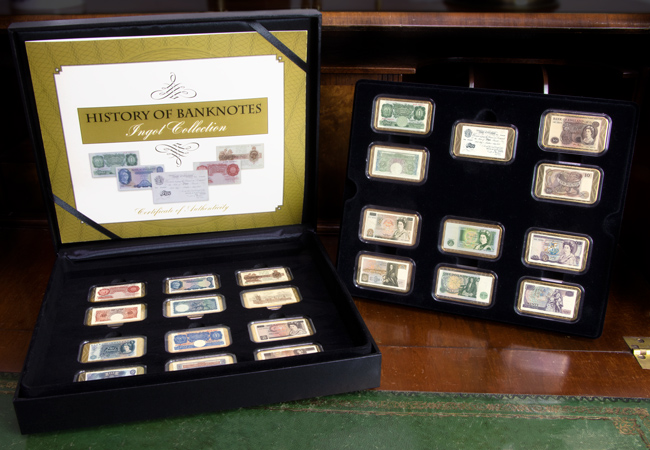 Introductory Offer
The White Fiver is an Introductory Offer for the History of Banknotes Ingot Collection. Each month, you'll receive two Gold-plated Banknote Ingots for £25.00 (+postage). Next month, you'll also receive your FREE Presentation Case to house your collection. You can cancel your subscription at anytime. Click here to secure yours >>
Click here to purchase the White Fiver Gold-Plated Ingot with no subscription for the full price of £19.99 (+postage).
Later this year, a brand new banknote will enter circulation, but this banknote will be unlike any other seen before…
It wasn't until 1793 that the first five pound note came into existence. The £5 denomination, known as the 'white fiver' lasted with relatively few changes until 1956 when it was last issued and replaced a year later with a new blue five pound note.
The banknote was changed primarily to combat forgery following 'Operation Bernhard' – a huge German war effort which took place during the Second World War and saw around 9 million fake notes printed.
Of course, there have been numerous changes to the £5 banknote since then, from different designs, sizes, colourings and security features.
In 1970 a new series of notes were designed, each featuring an historical figure on the back. Portraits and highly detailed machine engraving blended into historical scenes making the new notes more difficult to copy.
But perhaps the biggest change of all is yet to come…
On 13th September 2016 a brand new banknote will enter circulation featuring the portrait of much-loved Prime Minster, Sir Winston Churchill . However, this new fiver is unlike any we have ever seen before – it's printed on polymer.
Polymer notes are made from a
flexible plastic
, which is resistant to dirt and moisture, which means they will last longer and are better for the environment.
The new note has a number of security features including a see-through window and foil Elizabeth Tower – which is gold on the front and silver on the back. It also features multiple holograms and micro-lettering under the Queen's portrait – which can only be viewed under a microscope.
You have until May 2017 to spend your current £5 notes, after that they will cease to be legal tender – but will still be exchangeable at the Bank of England.
What do you think about the new era of plastic banknotes? Let us know in the comments below.
---
You can own Britain's most famous banknote… in silver!

In a remarkable feat of craftmanship the White Fiver banknote has been re-isued in fine silver – and you can add one to your collection today.
The Bank of England recently revealed the face of the new £20 note…
In 2007 a new-style £20 note was introduced, featuring one of the father's of modern economics, Adam Smith. New security features were added, including a holographic strip, enhanced watermark and ultra-violet features.
However, almost 10 years later The Bank of England has announced an update to the note, with a new design scheduled for 2020.
Meet the new £20 note character: JMW Turner
Find out more: https://t.co/CsMLVfc9DJ#turner #jmwturner #20poundnote pic.twitter.com/5quxL5SnJz

— Bank of England (@bankofengland) April 22, 2016
For the first time ever, The Bank of England asked the British public to nominate people of 'historical significance' from a list of 590 eligible candidates. The candidates, from the world of visual arts, included Alfred Hitchcock, Isambard Kingdom Brunel, Richard Attenborough, Beatrix Potter and William Blake to name just a few.
Once the nominations were in, an appointed committee, with input from public focus groups, produced a shortlist of five candidates – artist JMW Turner, designer Josiah Wedgwood, filmmaker Charlie Chaplin, sculptor Barbara Hepworth and painter William Hogarth.
The final decision was made by the Bank's governor, Mark Carney, and it has now been revealed that a self-portrait of Joseph Mallord William Turner will replace famous economist and philosopher Adam Smith on the new banknote.
Also featured alongside the self-portrait will be 'The Fighting Temeraire' which was painted by Turner in 1839 and is currently on display in the National Gallery.
Turner's selection represents the first time that the Bank of England has turned to the British public to assist in the selection process. However, it isn't just the design that's changing, the note itself will become the third banknote to be made from Polymer – which are more secure, cleaner, durable and environmentally friendly compared to the existing paper notes.
You won't have to wait until 2020 to see your first polymer UK banknote though, with the new polymer £5 note, featuring Winston Churchill, due to enter circulation September 2016.
---
Own Britain's most famous banknote – issued in fine silver.
British banknotes have undergone many changes since their initial introduction in 1697, from the printing techniques and watermarks to the introduction of colour in 1957.
We have a small stock of Britain's most famous banknote – the 'White Fiver' available, which has been issued in Fine Silver.
You can add one to your collection today.