Posts by Kathryn Thompson

Back in January, I attended the largest coin show in the world – the World Money Fair. Thousands of collectors and hundreds of dealers and Mints from all over the world attend the annual fair to showcase their new releases and the very latest in minting technology.
I'm always looking for new and unusual coins to offer collectors, whether that be a shape, size or technologically advanced coins that push the limits on what can be achieved in the minting world.
So, ever since I arrived back in the UK, there's been some incredibly exciting coin news I've been wanting to share with you.
But before you read anything else, you need to know that the majority of the range completely SOLD OUT before going on general release so you get the enormity of how big a deal this is!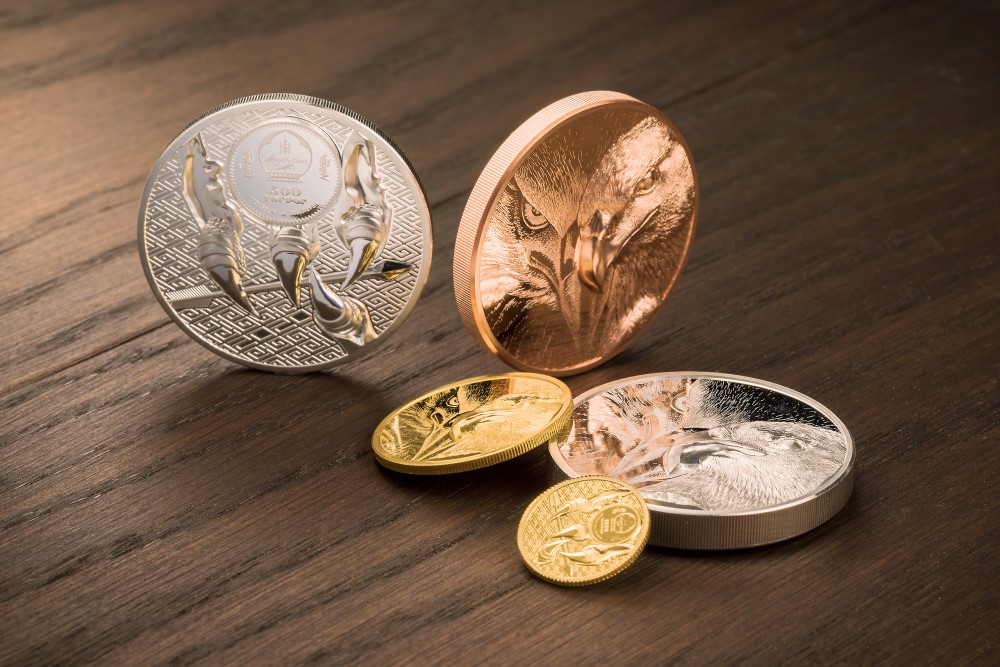 Introducing Smartminting 2.0
Most collectors are already familiar with Smartminting technology. Only achieved by a small number of mints across the world, the exact techniques used in Smartminting are a fiercely guarded secret, but essentially the state of the art technology allows unprecedented levels of intricate detail and extraordinary high relief while only very slightly increasing the weight.
So what more could Smartminting 2.0 possibly offer I hear you ask?
This new technology (or 'Smartminting Reloaded' as it's been coined in the collecting world) breaks many barriers that were previously considered impossible… Until now.
Take a look at the images I've included below, and you'll see BOTH sides of the coin can now be struck to an incredible high relief proof finish. But that's not all, the relief levels are 100% higher than what was previously possible!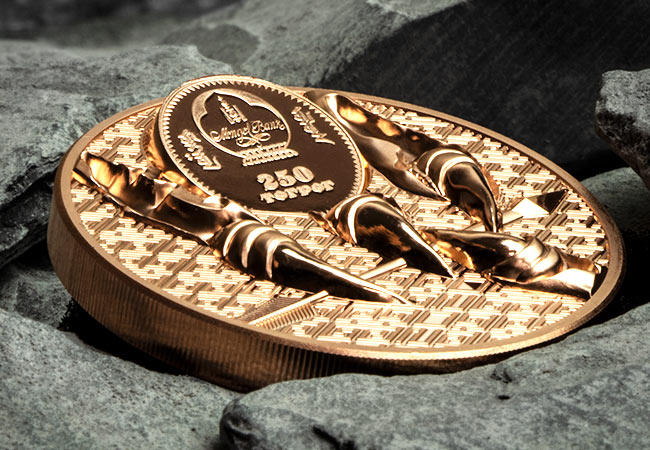 And if that's not enough, for the FIRST TIME EVER, Smartminting technology has been applied to a coin made from copper.
You'll notice the incredible relief of the Eagle's claws which make it look like they're literally ripping through the metal and right through the other side of the coin!
Featuring 'Incuse' Striking
It also features 'incuse' striking. An incuse strike is a relatively new minting process that allows a design to be struck into a coin creating a 'sunken' design, as opposed to the standard raised relief. Few mints in the world have attempted Incuse striking as the unique and unusual format makes them more challenging to strike and, therefore highly unusual to come by.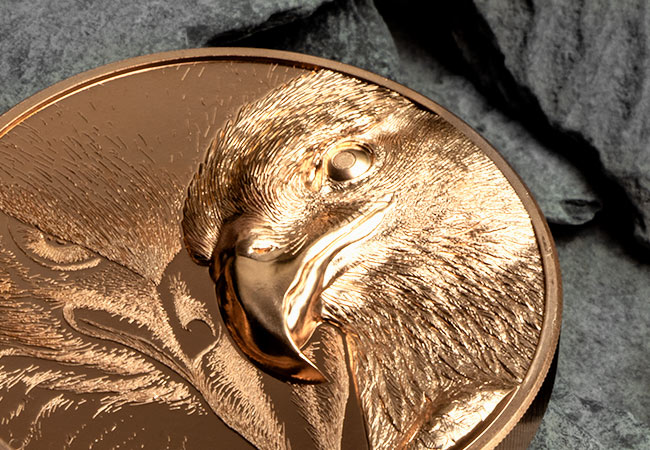 The 'Incuse' strike is visible where the depth of the claw marks are left in the surface of the coin.
Also notice how the high relief of the Eagle's head extends to the edges of the coin instead of just the centre, leveraging the whole surface area of the coin.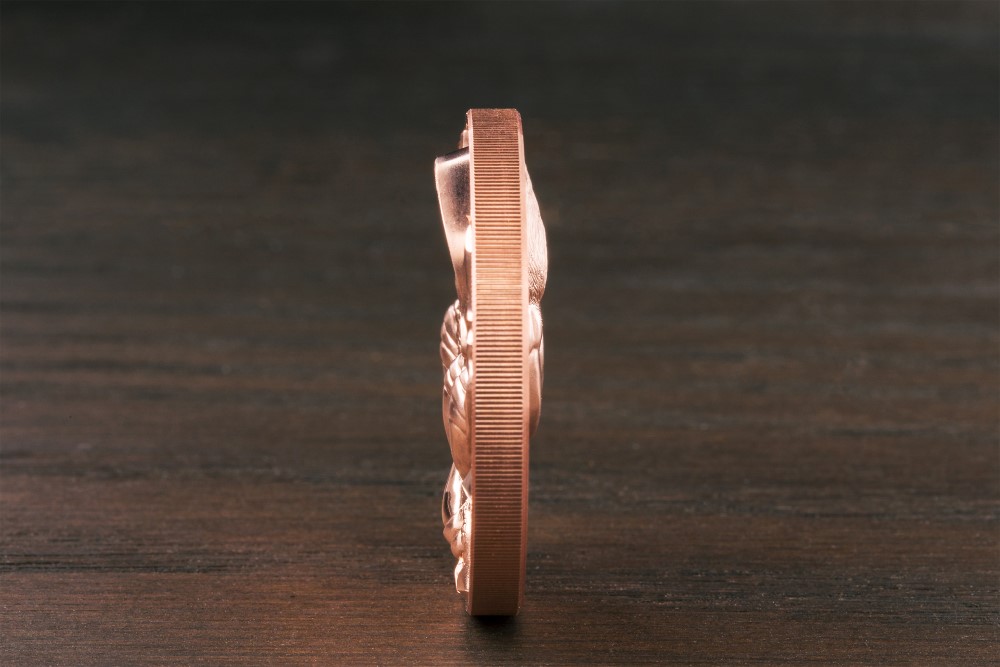 This ground-breaking technology has been deployed on a range of Majestic Eagle coins. The design featured was chosen to symbolise strength, leadership and vision and I'm sure you'll agree it beautifully showcases just what the new Smartminting enhancements are.
However, to fully appreciate this coin, I ask, that you to watch this video. This coin really is an outstanding work of art and this video is the only way to fully appreciate this coin without physically holding it.
---
If you're interested…
The Majestic Copper Eagle is strictly limited to JUST 5,000 collectors worldwide and I am delighted to have been able to get hold of an allocation to offer collectors. But they've been selling extremely quickly, so you'll need to pre-order one now to ensure you can add one to your collection. Priced at JUST £55 (+p&p), click here to secure the Majestic Copper Eagle for your collection NOW >>
From Tiny Dancer, to Rocket Man, there's no denying that Elton John has produced some of the most recognisable and popular hits the world has ever seen. His impressive resumé includes over 4,000 performances in over 80 countries, and in excess of 300 million record sales worldwide.
Now there's a new addition to his CV: first ever appearance on a UK coin. This makes him the second British act to feature in The Royal Mint's Music Legends series.
We're delighted to provide you with all the details you need to know about this latest edition to the Music Legends family…
Design fit for a British icon
Importantly, this is the very first time that Elton John has featured on a UK coin. What's more, the design has been approved by Elton John himself.
The design, by Bradley Morgan Johnson, features imagery that is synonymous with the star of the coin – Elton's boater hat, bow tie and glasses. The design exudes a sense of fun and is an authentic tribute to the singer and his incredible career.
BU Pack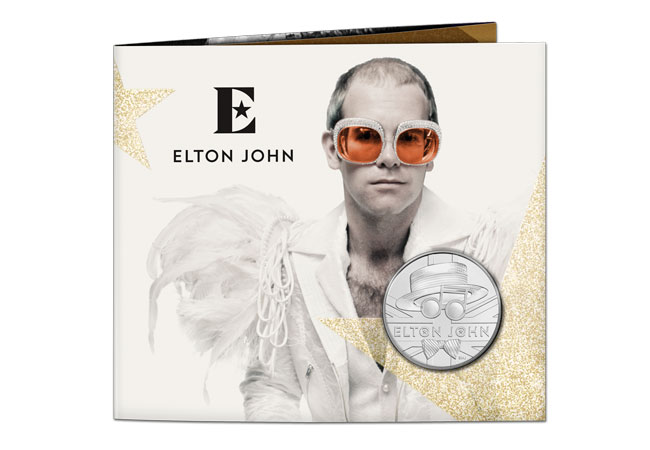 To give as many collectors as possible the chance to own the first ever UK coin to feature Elton John, The Royal Mint has issued it in Brilliant Uncirculated quality, which is coveted by collectors as it means each coin is free from any marks you would find on circulated coins.
Each one is protectively encapsulated in its attractive original Royal Mint packaging to preserve its quality for generations to come. What's more, you can secure this BU Pack at The Royal Mint issue price of just £13 (+p&p). Click here to find out more >>
---
Half Ounce Silver Proof £1 Coin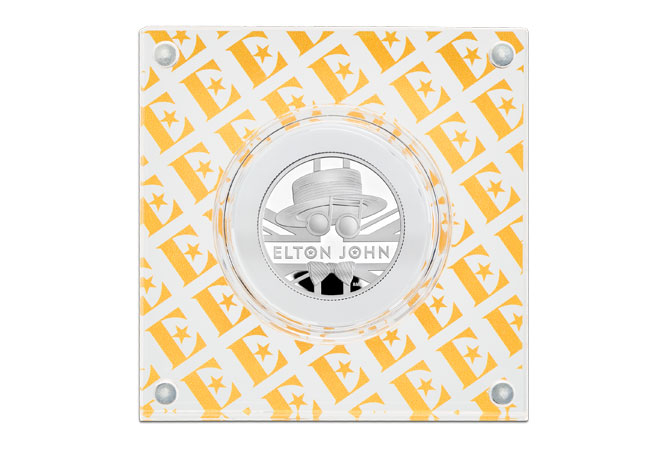 The design has been issued expertly struck from half an ounce of .999 pure silver to a pristine proof finish. What's most significant about this coin though, is its specification. That's because the Half Ounce Silver Proof specification is very rare and tends to be reserved only for flagship Britannia issues. And even then, it is often reserved as part of a fractional set, not available as a single issue.
JUST 14,000 Half Ounce Silver Proof Coins have been released worldwide – certainly not enough for British collectors, let alone the worldwide interest guaranteed for this issue. It comes ready to display in an eye-catching bespoke Perspex presentation box and is available for The Royal Mint issue price of £60. Click here to find out more >>
---
1oz Silver Proof £2 Coin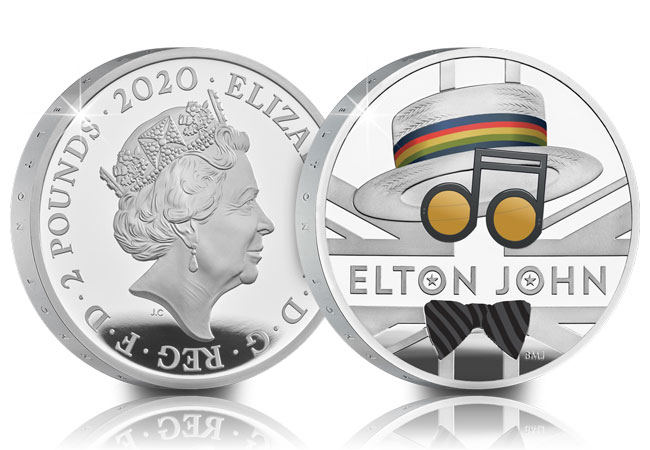 There is one coin in the range that stands out above all others – it's the 1oz Silver Proof £2 Coin. It is the ONLY coin in the range to have two special features:
Colour printing – colour printing technology accents details within the design to make it stand out.
Special edge inscription – a decorative star pattern and in incuse letters the inscription "ELTON JOHN".
These two features make this coin unique, and easily makes it the most desirable coin in the range. It will be sought-after by knowledgeable collectors in years to come.
JUST 7,500 coins have been impeccably struck from one full ounce of .999 pure silver to a proof finish and issued worldwide. This is the same number as the Queen 1oz Silver coin that completely sold out earlier this year, so high demand and another sell-out is expected. It's available today for £125. Click here to find out more >>
In recent years there's one coin that has catapulted to the top of the must-have list for many collectors. Of course, I'm talking about the 50p.
And whilst the 50p has always had a place in collector's hearts – it has after all featured some of the most sought-after designs of all-time, such as Kew Gardens – it wasn't until Beatrix Potter's mischievous, blue-coated bunny first appeared on a 50p that our love for the 7-sided coin really took off. And with it came a whole new dawn of collecting, and a new generation of collectors.
Our tale starts back in 2016…
150th Anniversary of Beatrix Potter
It all started with the milestone 150th anniversary of one of Britain's most beloved children's book authors – Beatrix Potter.
The Tale of Peter Rabbit was her very first children's tale to be published, in 1902, and it was an instant success. Spurred on by this, and inspired by fairy tales and fantasy, Potter penned 23 original children's books in total, featuring charming illustrations and imaginative animal characters.
What Beatrix Potter didn't know at the time was that her lively illustrations would later prove to be the inspiration behind one of, if not the, most popular coin series ever released.
Peter Rabbit's 50p Debut
In honour of Beatrix Potter and her legacy, the Royal Mint announced a 50p coin collection in 2016, featuring four of her characters, and a design paying tribute to the author herself.
The obvious starting place was with Beatrix Potter's most famous creation – Peter Rabbit. Known for his cheeky escapades in Mr McGregor's garden, Peter Rabbit featured in 6 of Beatrix Potter's tales.
The 50p release of Peter Rabbit was special for several reasons: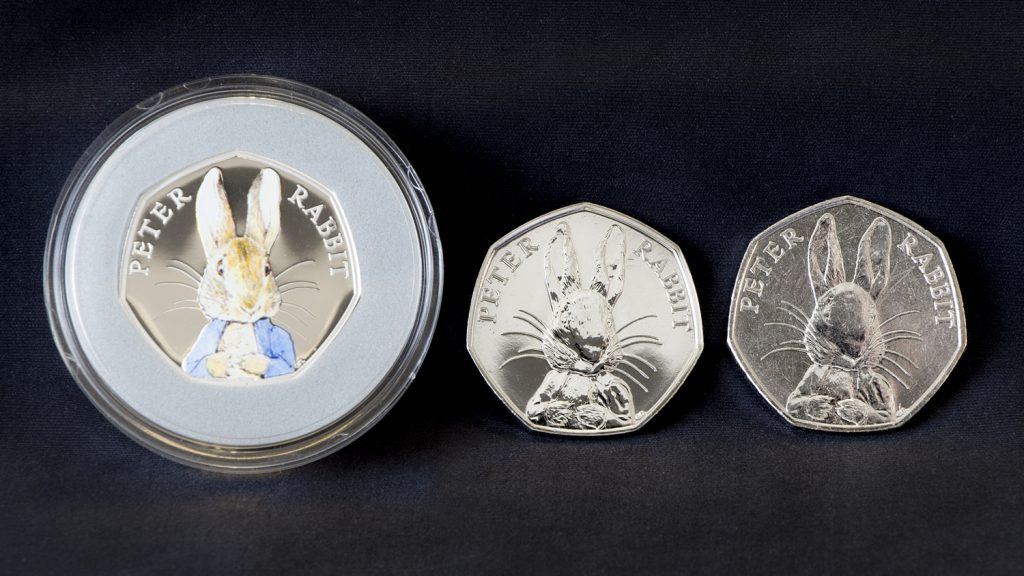 First time a fictional, children's book character had featured on a UK 50p – paving the way for future popular issues such as The Gruffalo, The Snowman and Paddington Bear.
The Silver Proof version of the coin featured colour printed image for the very first time.
These two facts revolutionised 50p collecting, and our furry little friend Peter went from being a beloved literary character to a collecting sensation.

Start of the Collecting Storm
It's safe to say that The Royal Mint created a collecting storm. The UK 2016 Peter Rabbit Silver 50p was so popular that by mid-morning on the day it was released, The Royal Mint's website crashed under the sheer weight of public interest. Not long after, all 15,000 coins completely sold out.
But that was just the start.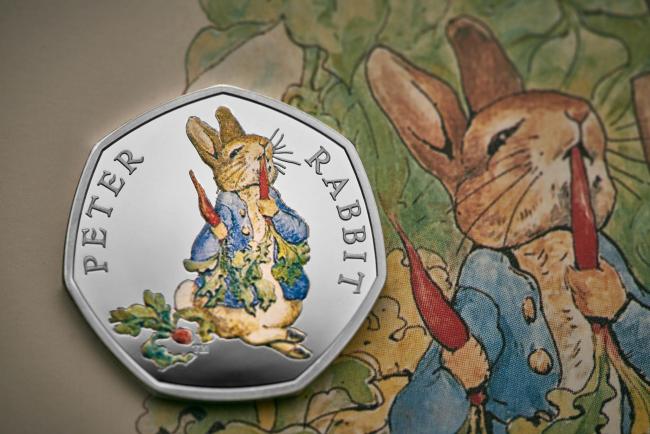 Peter Rabbit has now featured on five 50ps, and the collector response has continued to be unprecedented – his popularity is unrivalled. Even when the edition limit of the Silver Proof 50p more than doubled to 35,000 in 2018, it completely sold out!
In fact, the Silver Proof 50p has become the must-have specification and sell-outs mean it's notoriously difficult for collectors looking to back-fill gaps in their collections – some issues are virtually impossible to come across now.
It's become imperative for collectors to snap up Silver Proof 50ps when they can – as in some cases waiting even just a few hours could prove to be too late. Take the Gruffalo Silver 50p – it took a mere 12 hours for the entire edition limit of 25,000 to sell-out. That's a record.
Last Ever UK Peter Rabbit 50p
All in all, there has been 15 Beatrix Potter 50ps issued since 2016, each one helping solidify the Beatrix Potter 50p series as one of, if not the, most collectable coin series we've ever seen.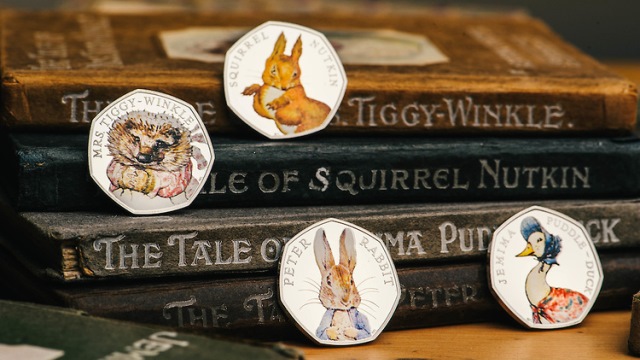 The coin collecting world was shook earlier this year when it was announced that 2020 would be the very last time Peter Rabbit would feature on a UK 50p coin.
Even though this may be the end of Peter Rabbit's 50p journey, there's no doubt that all the Beatrix Potter coins will continue to be highly desirable for years to come.
But this does now leave collectors wondering will the next collecting sensation be? Let us know your thoughts in the comments!
---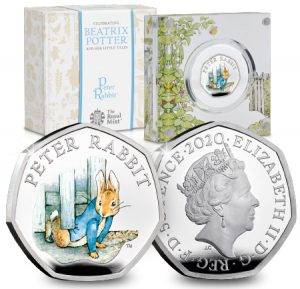 If you're interested…
The LAST EVER UK Peter Rabbit Silver 50p was released earlier this year, and we're lucky to have a limited number available. Expertly struck from .925 Silver to a proof finish, it features a coloured image of Peter Rabbit escaping from Mr McGregor's garden – a classic Beatrix Potter illustration! This is a must-have for all Beatrix Potter fans and 50p collectors alike. Click here for more information >>