Posts by Kathryn Thompson
As the nights get colder and the evenings get darker, we've got the perfect thing to lift your spirits.
A BRAND NEW UK 50p is on its way, bringing with it some festive spirit in the form of our favourite snowy Christmas tale!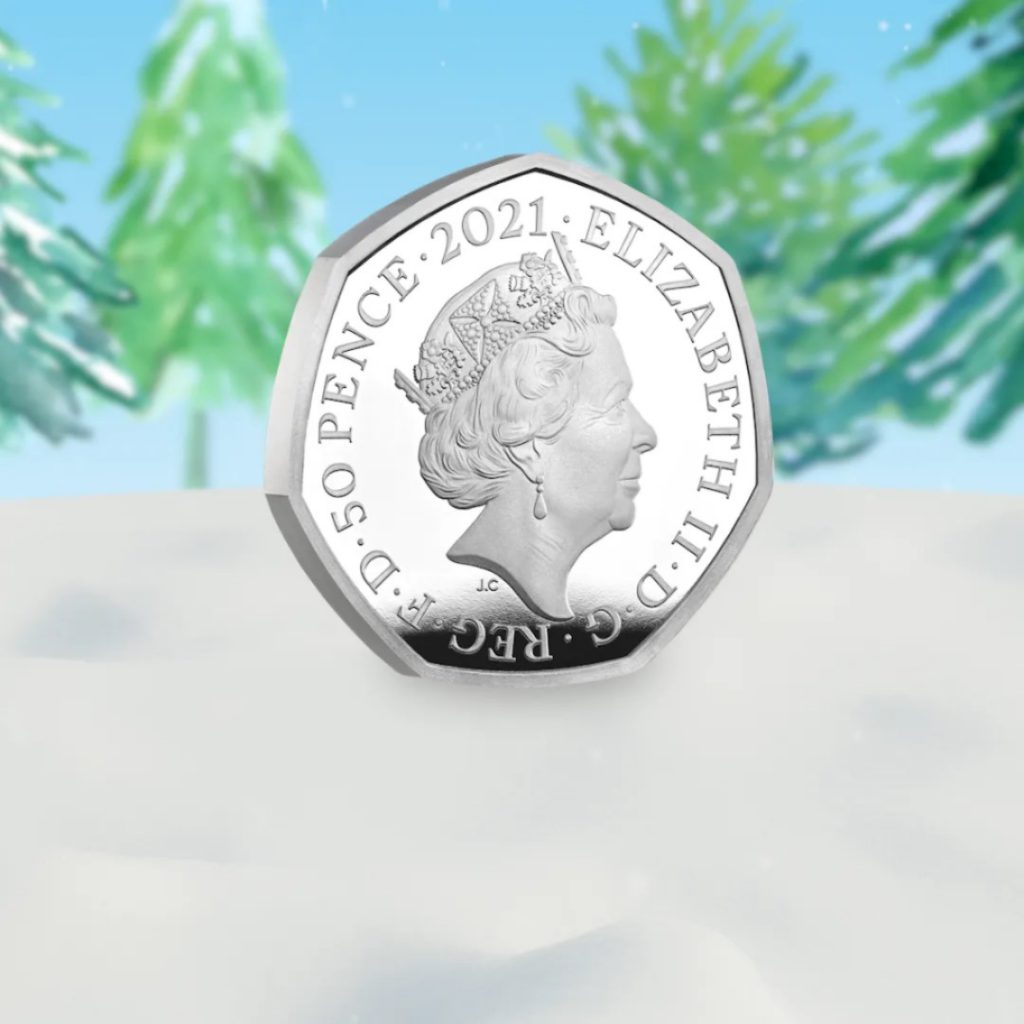 Could this be the perfect Christmas gift for a loved one? Or perhaps you want to treat yourself this winter?
Whatever you do, make sure you don't miss out and register your interest below for future updates!
On the 8th September 1981 over 9 million people sat down at their televisions to watch a brand new show called 'Only Fools and Horses'. Little did we know that this show would one day become one of the top British television programmes of all-time.
Over a total of 10 years, 7 series, 64 episodes and 16 Christmas specials we followed the trials and tribulations of ambitious market trader Derek 'Del Boy' Trotter (played by David Jason) and his idealistic younger brother Rodney Trotter (played by Nicholas Lyndhurst) in their attempts to get rich! Supported by a cast of colourful characters including Grandad, Trigger, Boycie and Uncle Albert.
This time next year we'll be millionaires…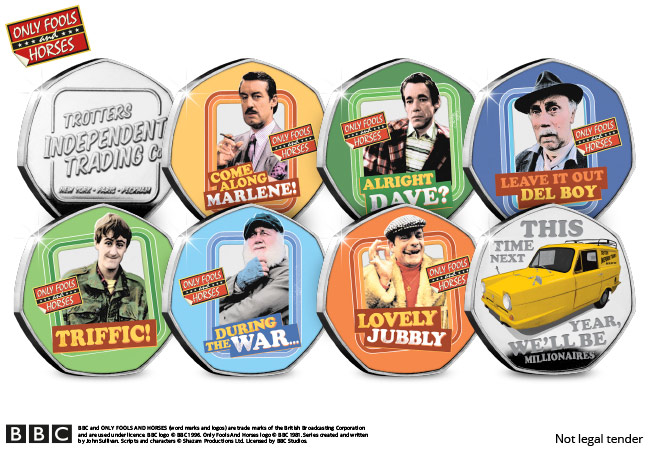 No other TV show has influenced British culture as much. Critically and popularly acclaimed, the series received numerous awards. It was voted Britain's Best Sitcom in 2004 and in a BBC poll Del Boy was ranked fourth on their list of the 100 Greatest TV Characters.
Its success spawned a successful spin-off series, 'The Green Green Grass,' a Sport Relief special episode guest starring David Beckham, and even a musical adaptation of the show was created which launched at the Theatre Royal Haymarket in London's West End!
The final episode in which the Trotters finally became millionaires was watched by 24.3 million viewers and holds the record for the highest UK audience for a sitcom episode.
So to celebrate the 40th anniversary of one of Britain's greatest TV shows a number of brand new officially licensed Only Fools and Horses Commemoratives have been released… 'lovely jubbly'!
---
'Triffic' BRAND NEW Only Fools and Horses Commemorative Set
Officially licensed by the BBC each commemorative in this set has been struck to a proof-like finish and features a design of some of the most popular characters from the programme; including, Del Boy, Rodney Trotter, Boycie, Trigger, Grandad and Uncle Albert.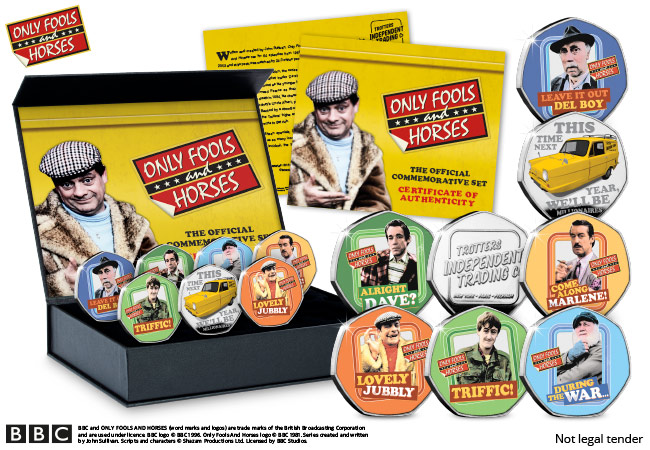 Limited to just 9,995 collectors worldwide, this is one of the only ways you can own all 7 commemoratives. They will arrive protectively sealed in an official presentation pack.
This complete set is a MUST-HAVE for any Only Fools and Horses Fan and is available for your collection today for JUST £39.99 (+p&p). Click here to secure yours >>
---
The Only Fools and Horses SUPERSIZE Commemorative!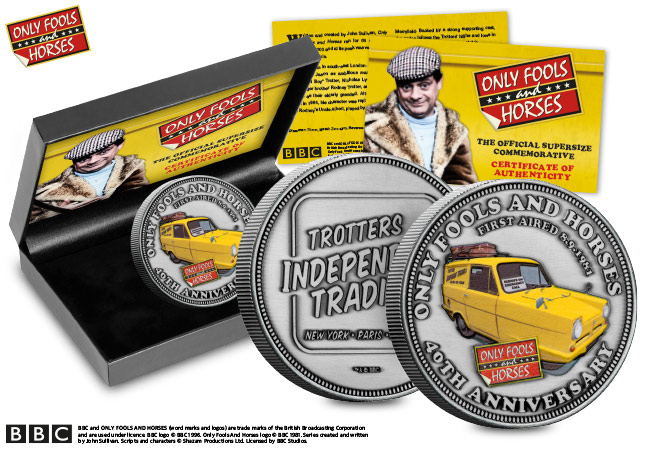 This NEW Supersize Only Fools and Horses Commemorative has been expertly finished in antique silver and features a most intricate design of Britain's most beloved three-wheel car – the Reliant Regal! It has then been carefully finished with the addition of vivid colour – to really bring the 'Trotters Independent Trading Co.' car to life!
But, JUST 995 will be released for collectors worldwide! That makes it 10 TIMES more limited than the complete commemorative set and therefore one of the most limited ways in which you can own a commemorative for the 40th Anniversary.
Arriving in a Deluxe Presentation Case with a Certificate of Authenticity, uniquely numbered with your place in the edition limit, this is the perfect way to remember such an iconic show. Click here to secure your SUPERSIZE Only Fools and Horses Commemorative now >>
---
Don't miss out. As Del Boy would say, 'He who dares, wins! He who hesitates…don't.'
'Bonjour.'
Today's video is a special one, as I give you an exclusive FIRST LOOK at the Alice Through the Looking-Glass Silver Proof 50p collection.
Issued to celebrate Lewis Carroll's literary classic 'Through the Looking-Glass, and what Alice found there', today's new release follows in the footsteps of these Alice's Adventures in Wonderland 50p coins that quickly became one of the most popular coins releases of the year.
And In the video I'll reveal exactly what you'll find inside of the limited edition Silver Proof collection that only 1,995 collectors can own!
---
If you're interested…