Posts by Kathryn Thompson


Last month I had the honour of meeting all 9 Red Arrows pilots at the Bournemouth Air Festival to present them with a very special gift…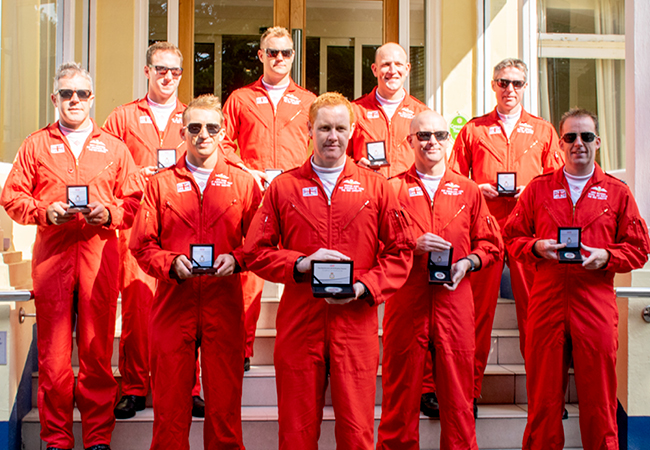 A lifelong fan of the Reds, I was delighted to be given the chance of personally presenting them with the Official 2018 Red Arrows Signature Medal.
Struck in 5oz of Pure 999/1000 Silver, the medal features the intricate engravings of all 9 Red Arrows pilots' signatures, and has been fully endorsed by the team.
What's more, their medal is one of JUST 450 that have been issued for worldwide distribution, with the last number in that edition being presented to the Reds.
And so they didn't have to share, I also brought along an extra 9 Official 2018 Red Arrows Silver 1oz Medals, for each of the team to take home.
Each signature on the 5oz Silver Medal is meticulously engraved above their team number. To complete the piece, each member's iconic Hawk jet with the RAF roundel at the centre is highlighted in vivid colour, surrounded by an altimeter inspired pattern – the most fitting piece to present to the Reds today.
---
If you're interested…
You have the opportunity to own the Official Red Arrows Signature 5oz Silver Medal. This is a rare chance to own an item so closely and personally linked to the Red Arrows themselves and we only have a few remaining so you'll have to act quickly to secure yours. Click here for more information and to order yours now >>>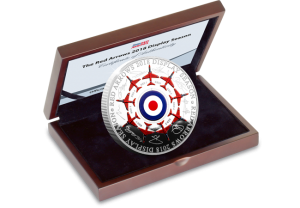 George VI stands out as one of the most popular and interesting monarchs in British history.
After the shock abdication of his brother, he courageously led the country through World War Two and became a national hero. His story has since been famously portrayed in the Oscar winning 2010 film, The King's Speech, and the popular TV series The Crown.
Just as interesting as his reign itself, were the coins that were issued during his 16 years on the throne. Only two Crown coins were issued, but both are extremely significant in British numismatic history and mark important changes for our coinage…


1937 Coronation Crown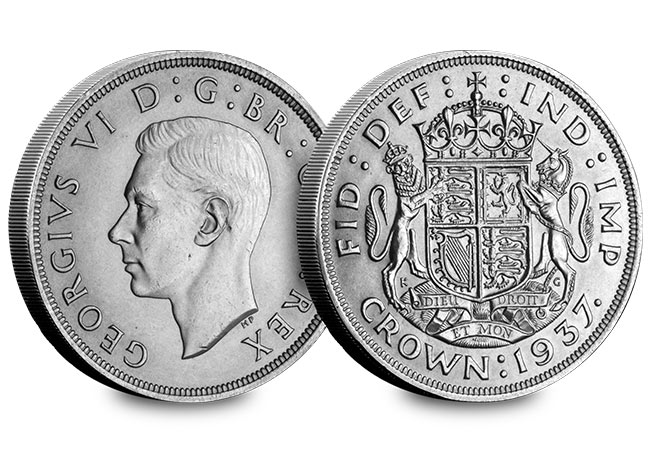 It has been a tradition held by many British monarchs to issue a Crown coin in their coronation year, however, this tradition was a difficult one to maintain for George VI's coronation in 1937.
That's because it was decided that George VI's Coronation would be on the same day that was planned for his brother Edward VIII before his infamous abdication. With a race against the clock to strike a coin for the Coronation, a new portrait was hurriedly prepared and quickly engraved before the ceremony.
What makes this coin so important for collectors is that it was the last ever Coronation Crown struck in Silver by The Royal Mint.


1951 Festival of Britain Crown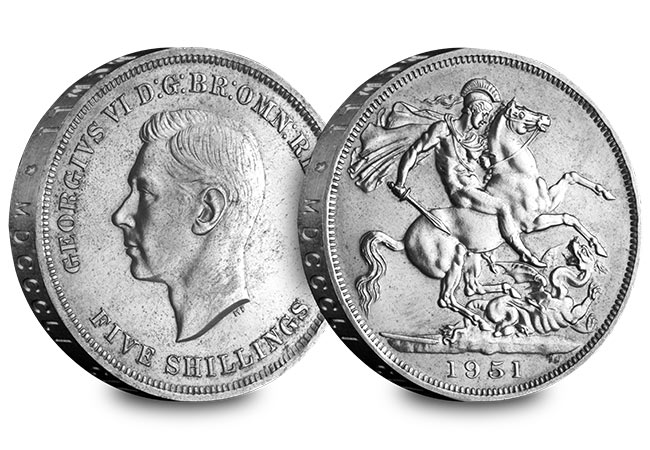 The only other Crown coin issued during the reign of George VI was struck in 1951 to mark the Festival of Britain. To commemorate this hugely popular event, The Royal Mint decided to issue a brand new coin.
This specially issued coin was the first ever Crown struck in cupro-nickel and was the first Crown issued to commemorate a non-royal event.

Since this coin, The Royal Mint have issued many Crowns commemorating non-royal events of national significance and in doing so have created one of the most popular numismatic collecting themes internationally. This coin marks the start of this famous collecting trend that has transformed commemorative coins in Britain and across the world.


Both of these significant coin issues are now over 65 years old and as a result are becoming increasingly difficult to acquire.
However, I would consider them key coins for any Royal or 20th century coin collection because of the popular monarch that issued them and the important moments they mark for British numismatic history.
---
If you're interested…
We have a limited number of George VI Crown Pairs available for collectors. However, with such limited stock available I suggest you act now if you want to add these two extremely significant coins to your collection.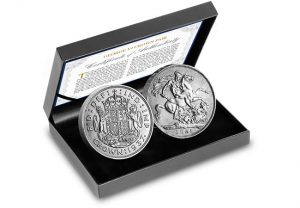 We all have our favourite coins to collect, whether it be historic coins, special 50p designs or coins from around the world.
But one thing that piques the interest of almost all collectors, including myself, is the elusive 'error' coin.
Considering the high levels of technology involved in minting coins and the number of different quality controls in place, it is extremely rare that a coin is minted with an error. And it is even rarer for an error coin to be released to the public.
However, over the years there have been sporadic cases of error coins being struck and issued to the public. Just a few things that would be considered an error would be an off-centre strike, a crack in the die or even use of the wrong die completely!
And that last one is exactly what happened to the 2014 Year of the Horse Lunar Silver Coin when it was incorrectly struck with the distinctive denticle obverse of the 2014 Britannia coin.
After an investigation, it was discovered that approximately 38,000 Year of the Horse coins were struck with the incorrect denticled edge on the obverse. And once The Royal Mint confirmed this as a genuine error, these coins understandably became incredibly sought after.
What makes these error coins particularly desirable is that, because it was issued as a bullion coin, many were sold around the world to coin dealers and investors. That means that they are much harder for the British public to track down. Plus, of course, in terms of pure numbers struck they are considerably scarcer than previous errors such as the 'undated 20p'.
In fact, Ebay listings have seen the value of these coins soar to around 30 times their original value! So if you are lucky enough to own the 2014 Year of the Horse coin, I'd suggest you go and have a closer look at it!
---
If you're interested…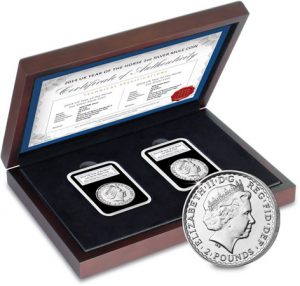 We have a small number of the 'Year of the Horse Silver Mule Sets' available to buy. This set contains the Year of the Horse error coin alongside the correct version of the coin for easy comparison. This 'mule' is an absolute must for any collection and is extremely rare, so secure yours today.