Posts by Kathryn Thompson
To celebrate the 150th anniversary of the FA Cup, The Royal Mint have JUST CONFIRMED that a new UK £2 coin will be released this year.
The real magic of football all started with the FA Cup. Where underdogs play alongside premier league giants creating unforgettable sporting moments. The local games, the atmosphere, the people, the community spirit and the feeling that you really are part of it. It's amazing to think that what all starts in your local park could take your team to Wembley stadium, and the infamous tournament final.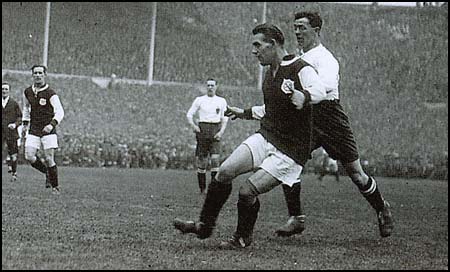 The FA Cup is the longest standing football tournament, producing hometown heroes and capturing the nation every year since the first ever final was played in 1872.
Ahead of this release, we've put together 7 top football facts to test your knowledge of the popular sport.
1. FIFA is a French acronym for Fédération Internationale de Football Association (International Federation of Association Football) and manages football around the world. They organise and champion worldwide tournaments, most notably the World Cup.
2. Not every country can participate in FIFA – Greenland isn't able to join as the country cannot grow regulation-length grass. Seems ironic, doesn't it?
3. As I'm sure many football fans will know (or will want to forget), Arsenal FC has won the FA Cup 14 times since it began in 1871.
4. Do you know the offside rule? It's football topic talked about enough to have been made into a coin design in 2011! To put it somewhat simply, a player is offside if the ball is played forward to them in the opposing teams half of the pitch, and there is no one on the opposite team between them and the opposing goalkeeper.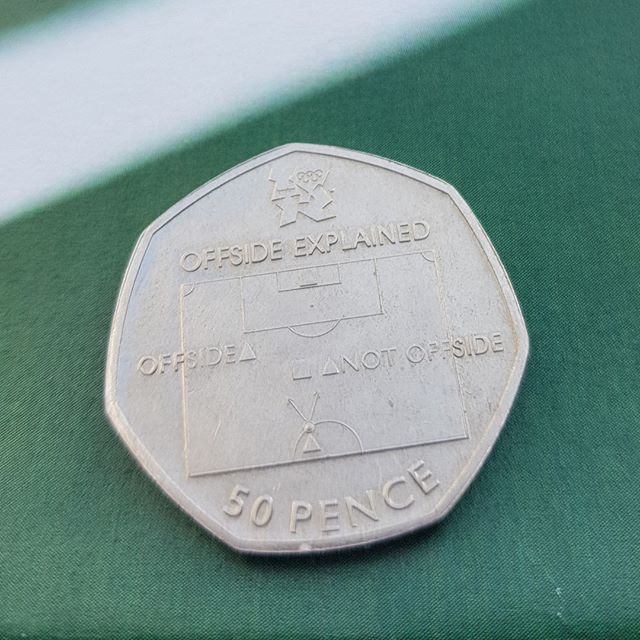 5. If you thought those old and torn footballs at the bottom of the pile at school were bad, at least you didn't use an animal's organ! Apparently, an inflated pig's bladder was once used to play the famous sport.
6. Did you know that, if a team scores an own goal through a direct free kick, then it's a corner to the opposing team, rather than a goal?
7. Chilean football team Colo-Colo walked into the Estadio Monumental of Santiago with rescue dogs that were in need of a home. In partnership with shelter Union de Amigos de los Animales (UAA), the team highlighted the need for adoption of homeless dogs.
Let us know your favourite football facts in the comments!
We all know how popular football is across the UK – and just how popular Football themed commemoratives can be.

If you want to make sure you score a Football £2 for your collection on release day, before anyone else, you can sign up to our UK New Issue BU Pack Coin subscription.
It means that you'll automatically be sent the new coin issue on launch day, without having to do anything, securing your commemorative before anyone else.
And you can always cancel or pause your subscription online!
The Rolling Stones are revered as one of the greatest live acts of all time, they have sold over 250 million records and, in the UK, have had eight No.1 singles and twelve No.1 albums.
And, to celebrate the 60th anniversary of this legendary rock and roll band this year, Royal Mail have just released BRAND-NEW Rolling Stones stamps in their Music Giants Series!
The stamps will be officially released today, 20th January 2022, and feature photos of some of the bands most memorable performances over the years. In the last 60 years, their singles and albums have produced a string of evergreen rock classics, powered by some of the greatest guitar riffs ever written.
Given the success of previous 'Music Giants' stamps, these are bound to be incredibly popular. Here's your guide to the most collectable versions of the new Rolling Stones stamps available to pre-order now…
---
The Framed Edition
This framed edition of the new Rolling Stones stamps features panes 1 and 2 from the Prestige Stamp Book and is one of just 1,962 that will ever be issued – signifying the band's first gig 60 years ago in 1962.
Postmarked on the stamps official issue date, 20th January 2022, each presentation comes ready to exhibit in stylish A4 frame – perfect for displaying in the home.
Click here to order yours today for just £34.99 today >>
---
The Ultimate Edition
What makes the ULTIMATE Edition 'ultimate' is the fact is comprises the official Royal Mail First Day Cover, with adjoining release notes AND the Royal Mail Rolling Stones Miniature Sheet Pack! This means, you will own not only all eight new stamps, but four additional stamps featuring tour posters!
Given the multiple elements of this professionally mounted frame, this must-have piece of memorabilia is limited to just 750 – making it over twice as limited as the framed edition!
Click here to order yours today for just £60 >>
---
** INCLUDES TWO PLATINUM JUBILEE COMMEMORATIVES **
Each year, The Royal Mint marks important British anniversaries, events or accomplishments on our coins and today we're delighted to reveal the UK's new coin designs for 2022.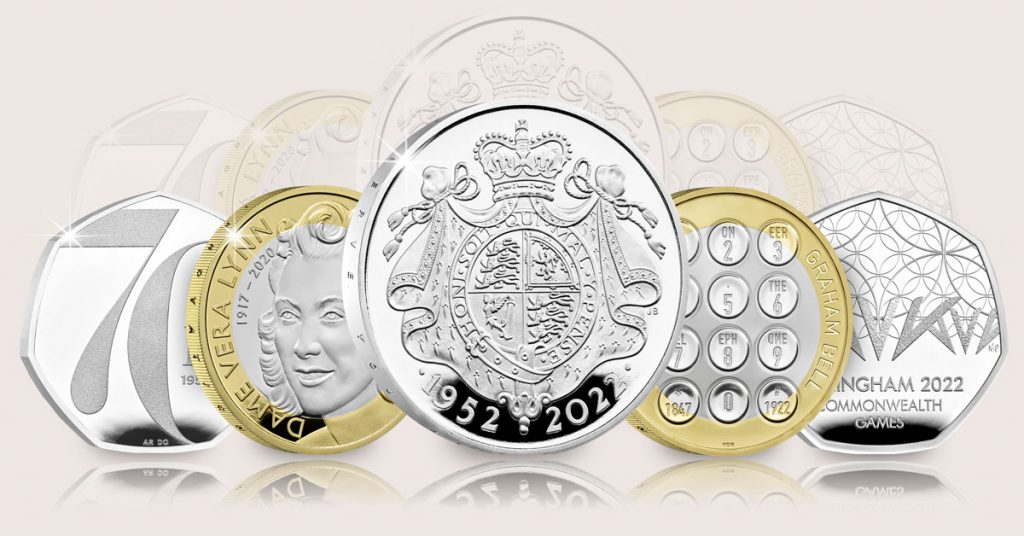 This year's collection includes TWO special tributes to Her Majesty Queen Elizabeth II as she marks her Platinum Jubilee in 2022 – including the UK's FIRST EVER Royal 50p.
And we can also announce that this year's Annual Coin Set will be released on 4th January 2022 at 9am and the Platinum Jubilee coin issues will be released individually on 6th January 2022.

While you wait, scroll down to take a closer look at each design. We're sure you'll agree 2022 is set to be another significant year for coin collectors, with some exceptional designs
The Platinum Jubilee 50p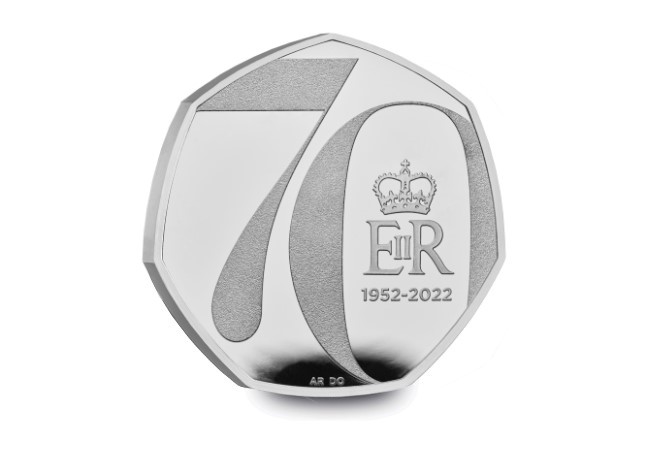 This is the UK's first ever Royal 50p! What's more we can announce today that it will be released individually on 6th January 2022.
Commonwealth Games 50p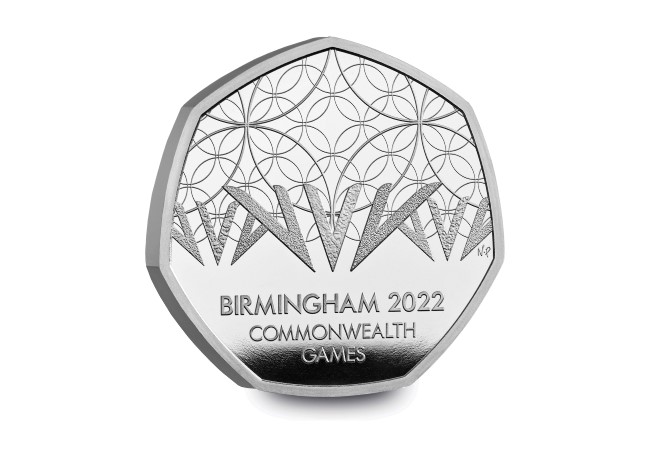 This 50p commemorates the 22nd Commonwealth Games which will be held in Birmingham on 28th July 2022.
Alexander Graham Bell £2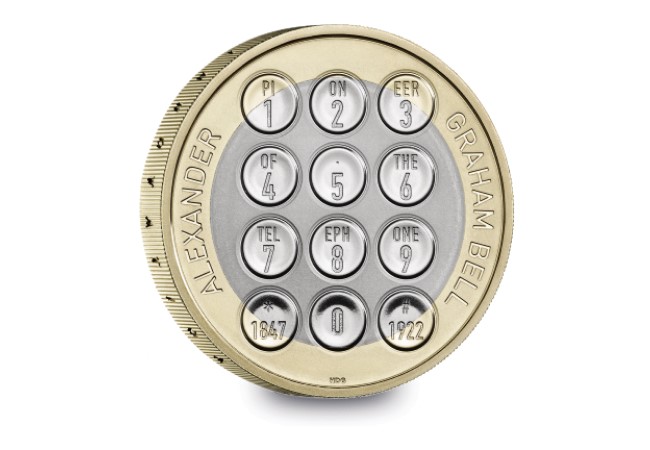 This £2 coin marks 100 years since the passing of the Scottish-born inventor, scientist, and engineer who invented the first telephone.
The Dame Vera Lynn £2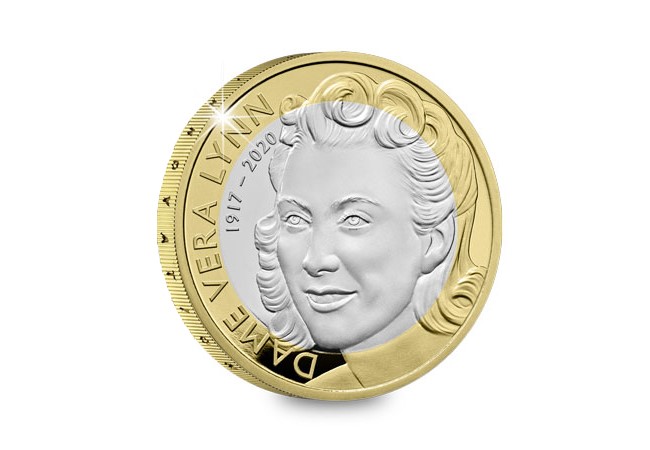 This £2 coin celebrates the iconic wartime singer, famed for boosting morale and supporting British troops during the Second World War.
Platinum Jubilee £5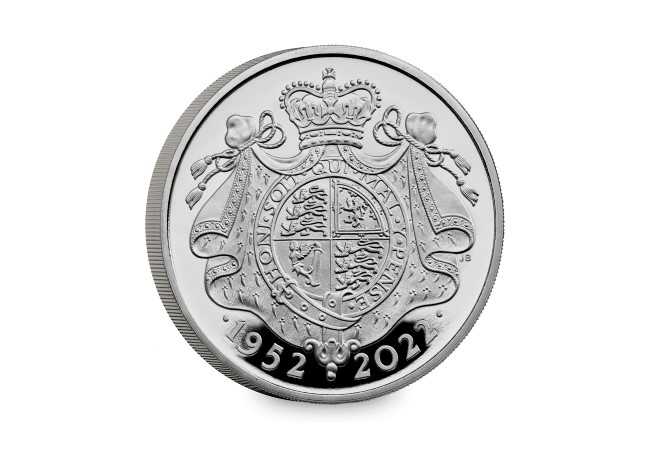 This £5 coin commemorates 70 years of Her Majesty the Queen's reign and will also be released individually on 6th January 2022.
---
To secure the Platinum Jubilee coins, make sure to visit our website on 6th January 2022.