Posts by Kathryn Thompson
The Avro Lancaster is one of the most well-known heavy bombers that participated in the Second World War, and is iconic when thinking about the contribution it had towards the Allies achieving victory over tyranny and persecution.
Out of the thousands that were built during wartime, only two Avro Lancaster's exist today that are still airworthy – one of which is the Avro Lancaster PA474.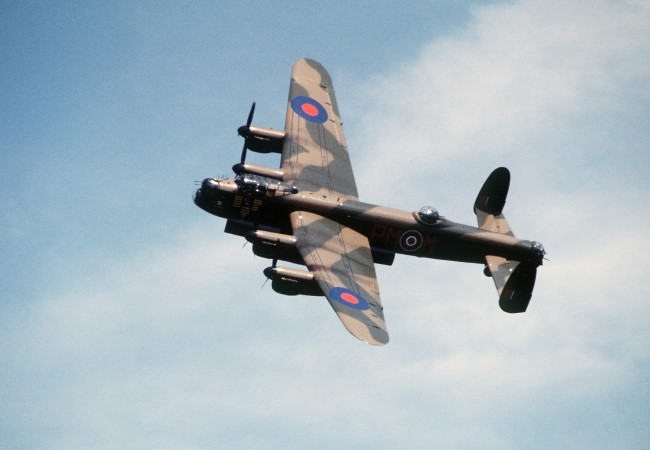 The Avro Lancaster PA474 was built in 1945 at the Vickers Armstrong Factory at Harwarden Airfield in Chester, and was originally used for strategic bombings in the Far East. After the war ended when Japan surrendered, the Lancaster PA474 was assigned to Photographic Reconnaissance duties in Africa, before being used as a pilotless drone, and even appeared in two iconic films – The Guns of Navarone and Operation Crossbow.
In 1973, this Lancaster was restored back to wartime standard and joined the Battle of Britain Memorial Flight at RAF Coningsby (BBMF). The BBMF's main purpose is to maintain the priceless artefacts of our national heritage in airworthy condition, in order to promote the modern day Air Force and to inspire future generations.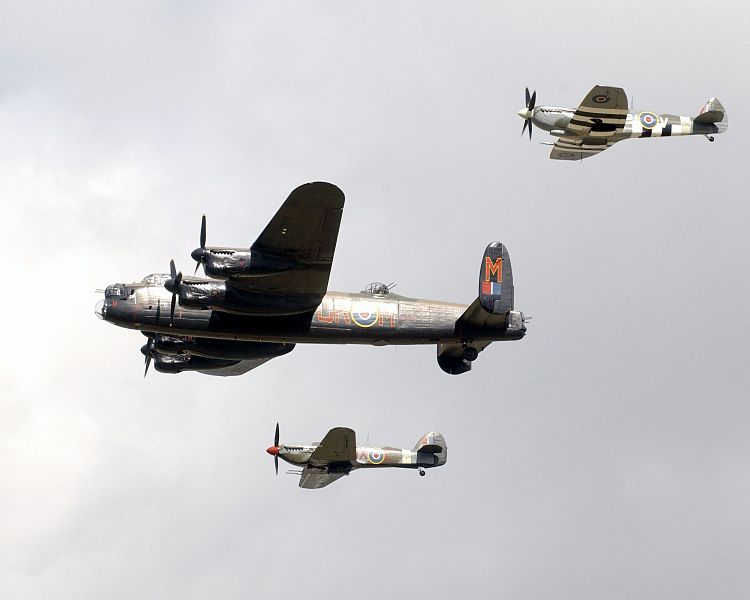 In 2015, the Avro Lancaster PA474 had an in-flight engine fire. The aluminium engine casing from this was then melted down, and sculpted into models of Lancaster planes, which you can now own in this historic commemorative…
The BRAND NEW Avro Lancaster Provenance Medal
Today, a small number of collectors have the chance to own a BRAND NEW Commemorative featuring an ACTUAL piece of the Avro Lancaster PA474 that flew during the war.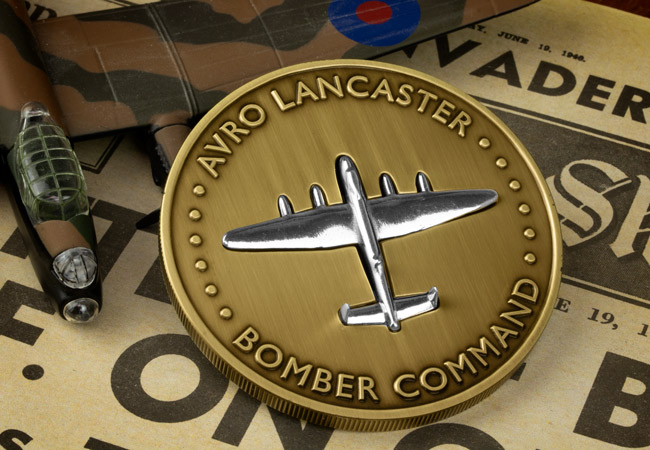 This incredible commemorative features an original piece of Avro Lancaster, hand-sculpted into the shape of a Lancaster and precision set into the deluxe SUPERSIZE 70mm Medal.
Just 250 lucky collectors will have the chance to own this special commemorative. The last Provenance medal featuring a piece of Hurricane SOLD OUT in a matter of weeks.
Click here to secure your Lancaster Commemorative while you still can!
Each year, The Royal Mint marks important British anniversaries, events or accomplishments on our coins and today I'm delighted to reveal the UK's new coin designs for 2021.
What's more, you have the opportunity today to secure them in a variety of different presentations or specifications – I'm sure there is something for everyone.
Simply read on to discover how you can be one of the first UK collectors to add these coins to your collection…
FIVE new UK commemorative coins
The Royal Mint has just announced the five new commemorative coins for 2021, issued to mark a variety of occasions and landmark anniversaries that we'll see over the coming year:
The Queen's 95th Birthday £5 – marking Her Majesty the Queen's 95th birthday which she'll celebrate on 21st April 2021.
Sir Walter Scott £2 – celebrating the 250th anniversary of his birth and his literary legacy.
H. G. Wells £2 – commemorating the life and works of the renowned sci-fi author in the 75th anniversary of his passing.
John Logie Baird 50p – marking the 75th anniversary of his passing as well as his ground-breaking contributions to science.
Decimal Day 50p – a tribute to the greatest biggest change in British currency in over 1,000 years that took place 50 years ago.
The five new commemorative coins are accompanied by the eight definitive coins from the 1p to the £2, all newly dated for 2021. The coins in the set feature the Jody Clark effigy of Queen Elizabeth II, all except for one…
Special Decimal Day 50p obverse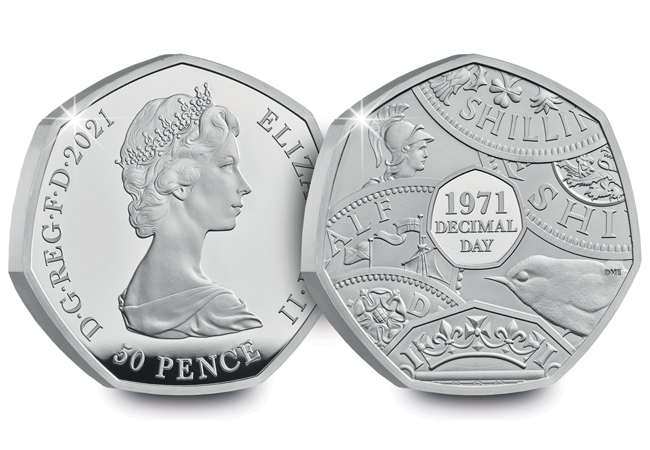 In this landmark year where we celebrate the 50th anniversary of decimalisation, the Decimal Day 50p in the Annual Set has a very special and nostalgic design feature, which is sure to excite collectors.
You see, this coin – the only one in the set – features the Arnold Machin effigy on its obverse. This is the second effigy of the Queen to feature on UK coinage, and was introduced specially for the first decimal coins – it's a fitting tribute to decimalisation!
Significantly, the only way you can own this special coin is by owning the complete Annual Set – you won't find it anywhere else.
UK 2021 Annual Coin Set BU Pack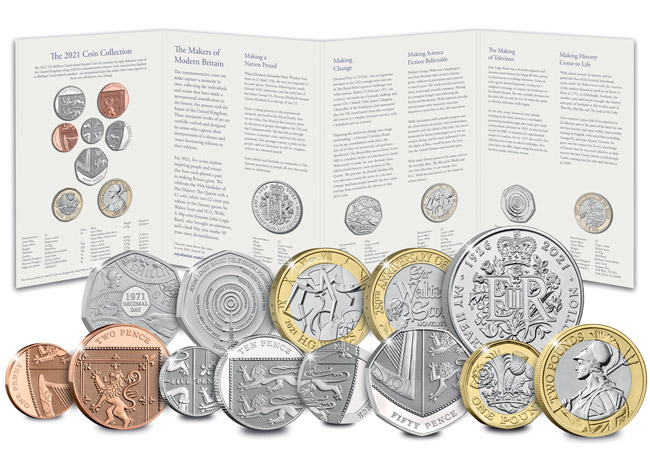 To give as many collectors as possible the chance to own these highly sought-after coins, The Royal Mint has issued them in Brilliant Uncirculated quality, which is coveted by collectors as it means each coin is free from any marks you would find on circulated coins.
In this BU Pack you'll find the five brand new commemorative coins alongside the eight definitive coins from the 1p to the £2, all newly dated for 2021.
Each one is protectively encapsulated in its attractive original packaging from The Royal Mint to preserve its quality for generations to come. What's more, you can secure this BU Pack for The Royal Mint's official issue price of just £55 (+p&p). Click here to find out more >>
This set of coins is also available as a CERTIFIED BU Commemorative Coin Set for £40 (+p&p). Click here to find out more >>
UK 2021 Annual Collector Proof Coin Set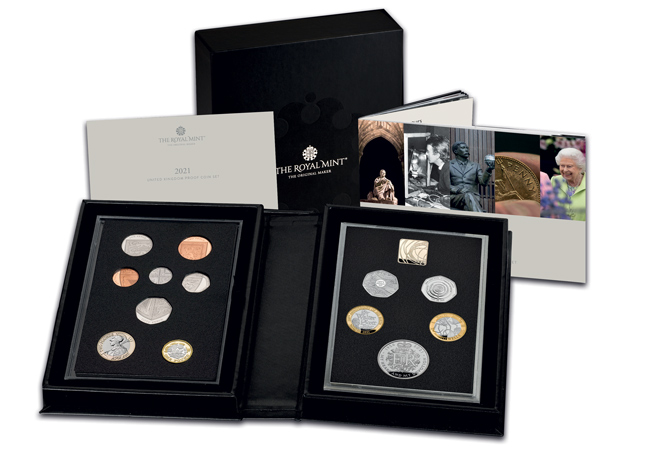 Whilst being struck from base metal, the coins in this set have been struck to a stunning superior Proof finish. This set also includes the five new commemorative coins alongside the eight definitive coins from the 1p to the £2, all newly dated for 2021.
Just 7,000 sets have been released worldwide in this limited edition presentation – that's under half the edition limit of previous issues that have completely sold out. So, it's expected this set will be extremely sought-after.
You can order the UK 2021 Annual Collector Proof Coin Set here with a down payment of just £31 (+p&p) followed by 4 further interest-free instalments – that's the Royal Mint issue price. Click here to find out more >>
UK 2021 DateStamp™ Specimen Set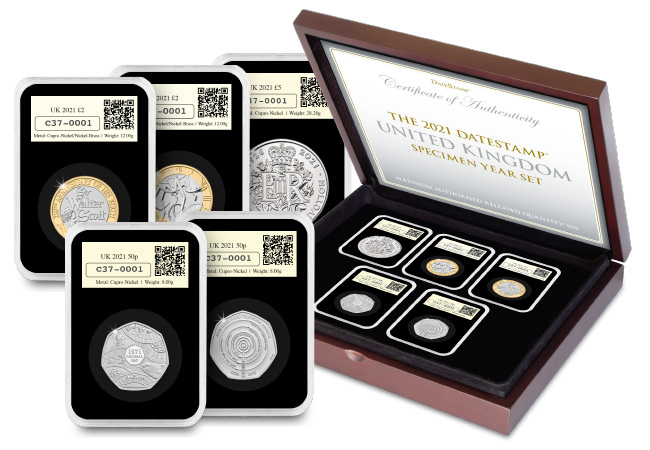 The most limited way to own the five new 2021 commemorative coins is by securing the UK 2021 DateStamp™ Specimen Set. In fact, JUST 995 collectors worldwide can own this unique set.
What truly sets the 2021 Specimen Year Set apart from all other 2021 Annual Sets is the fact that it is forever set in time by the official Royal Mail postmark that marks the coins' first day of release – 1st January 2021.
Each coin is struck to the highly desirable Brilliant Uncirculated quality, and come individually presented in tamper-proof capsules. What's more, each set has a unique serial number, confirming its place in the tiny edition limit, and you can even register your set online to guarantee its provenance!
This annual set has a track record of completely selling out within a matter of days, so if you want to secure a set for yourself you'll need to be quick. You can reserve yours with a deposit of just £22. Click here to find out more >>
Speculation in the collecting community has been brewing for months about the next British star to be honoured in The Royal Mint's hall of fame that is the Music Legends series.
And now collectors and fans will surely be rejoicing from Ibiza to the Norfolk Broads, and perhaps even on Mars, as the next Music Legend to feature on a BRAND NEW UK coin has been confirmed to be none other than the Starman himself, David Bowie!
From Space Oddity to Life on Mars? there is no denying that David Bowie is one of the most iconic and influential British musicians to have ever graced our stages. Known for his reinvention, he was a fearless, creative, inspirational icon that changed the lives of so many people.
Here at The Westminster Collection we cannot think of a better way to celebrate his contribution to British music and his lasting legacy than with a coin.
And what a coin it is – keep on reading to see the spectacular design for yourself!
Plus, if you want to be the first to know when this new coin is released, simply register your interest below.
David Bowie Coin
The design of the new David Bowie coin is a real tribute to the king of glam rock. The main talking point of this 1oz Pure Silver Proof coin is without a doubt the coloured element. The red and blue lightning bolt motif is instantly recognisable from the Aladdin Sane era and is synonymous with the musician.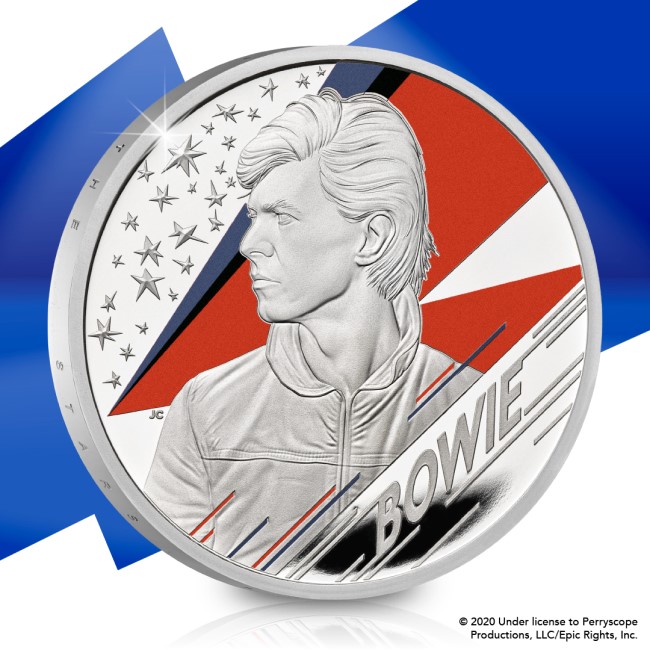 Interestingly, I'd say that this is the FIRST pop culture themed coin I can think of that features a portrait – until now portraits on coins have been reserved for Royalty or prominent historical figures. This is incredibly unusual for a coin and means it will be sought-after by knowledgeable collectors.
Register your interest
The David Bowie coin follows in the footsteps of Queen and Elton John where we saw SELL-OUTS within hours of release!
This surely means that considering the sell-out success of the previous coins in the Music Legends series, that this new David Bowie coin is sure to be in high demand and collectors will have to act quickly to guarantee one for their collections.
If you want to be kept up to date and be the first to know when these coins are available, then simply register your interest below and we'll email you as soon as we have more information.