Posts by Kathryn Thompson
Revealed for the first time today, Royal Mail are set to release 15 new MARVEL stamps, to celebrate 80 years since the founding of MARVEL Comics, and its irrefutable impact on British culture.
Scheduled for release on 14 March 2019, the new stamps will feature 10 of the best loved characters from Marvel's illustrious history, including Spider-Man, Iron Man, Hulk, Thor, Black Panther, and Doctor Strange, as well as an exclusive Miniature Sheet like no other – five bonus Marvel stamps that form part of a ten-panel never-before-seen comic book strip in which the Mad Titan, Thanos, launches a deadly attack on the world.
The stamps are Royal Mail's first ever MARVEL Comics stamp issue, and are likely to prove immensely popular with the British public, and collectors throughout the world!
Here's your first look at the new stamps alongside a bit of info about each one…
Spider-Man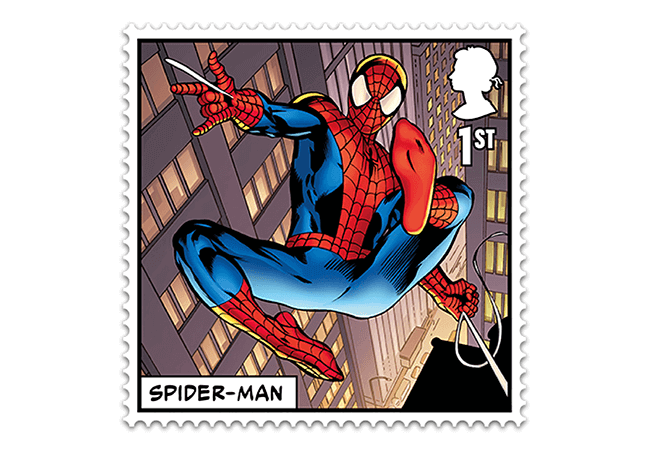 Peter Parker is Spider-Man, New York's amazing web-slinging hero. Bitten by a radioactive spider as a teenager, Peter Parker gained arachnid-like abilities and, after his Uncle Ben was murdered, swore to use his abilities to help others – having realised that with great power comes great responsibility.
Captain Marvel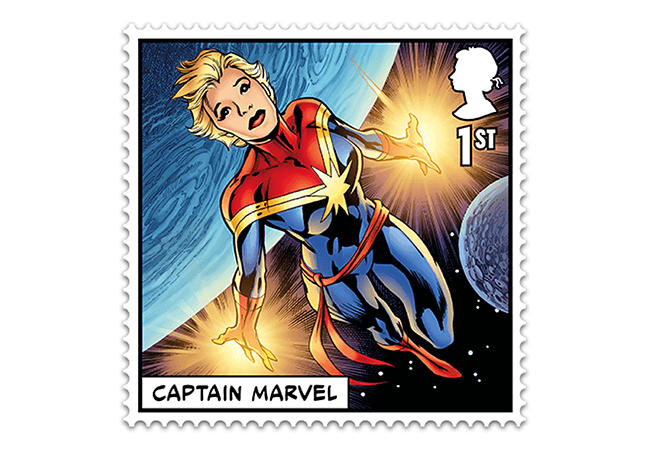 Carol Danvers was an Air Force officer when she met Kree hero Captain Mar-vell. After her DNA mixed with his during an explosion, she gained super powers and took the name Ms Marvel. Following the original's death, Carol took on the mantle of Captain Marvel to honour his legacy.
Hulk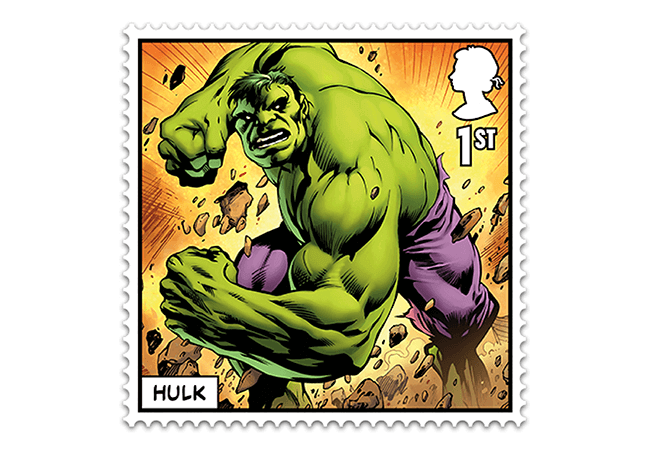 When mild-mannered scientist Bruce Banner was bombarded by radiation from a gamma bomb, he was transformed into the incredible Hulk. The green-skinned behemoth is one of the planet's most powerful and misunderstood heroes – feared by a world he has saved numerous times.
Captain Britain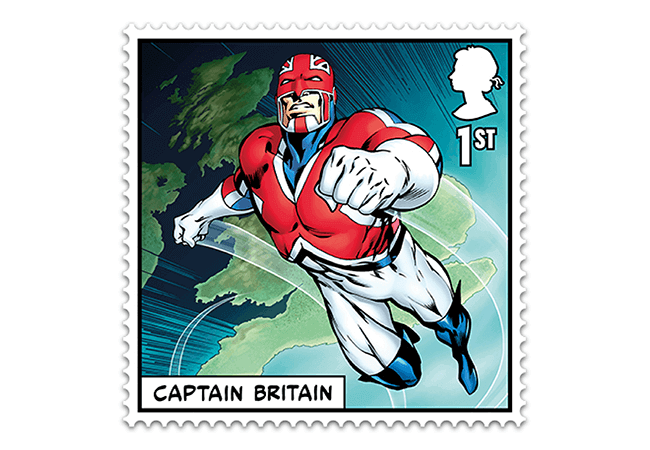 Brian Braddock was chosen by Merlyn to be Britain's greatest protector. Granted amazing powers, Brian became Captain Britain. He soon learned he was part of a multidimensional Captain Britain Corps and has fought alongside Excalibur and the Avengers to keep his country – and the world – safe from harm.
Doctor Strange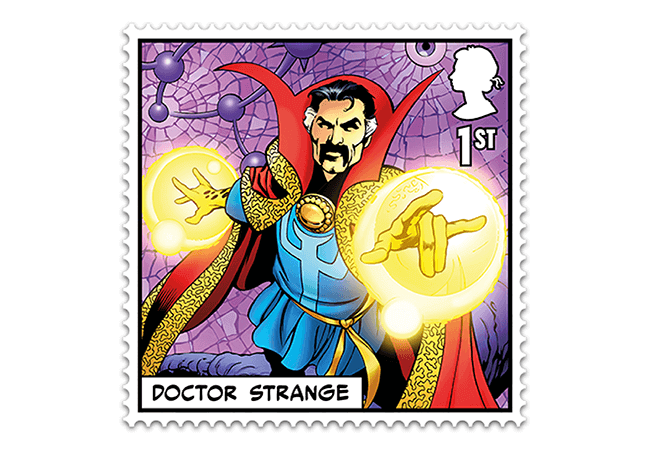 Once a brilliant yet vain surgeon, Stephen Strange sought out the help of the Ancient One when his hands were badly damaged in a car crash. Strange's path led him to become a Master of the Mystic Arts and Earth's Sorcerer Supreme, protecting the world from evil forces.
Peggy Carter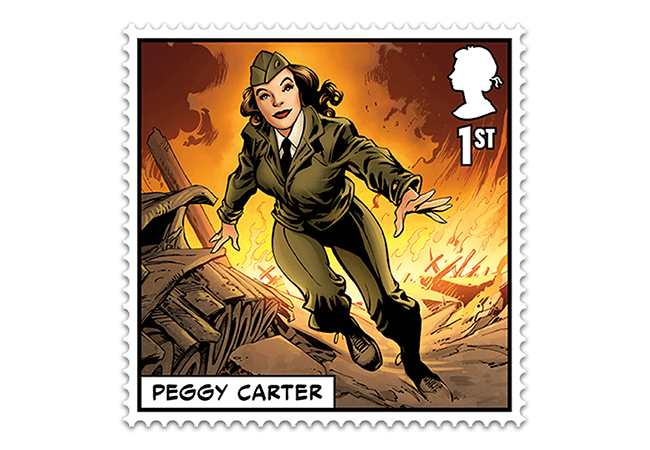 Peggy Carter was working for the French Resistance in the Second World War when she met and fell in love with Captain America. The two fought the Axis powers together before they were separated by the war. Peggy went on to become a leading agent of S.H.I.E.L.D. (Strategic Homeland Intervention, Enforcement and Logistics Division).
Iron Man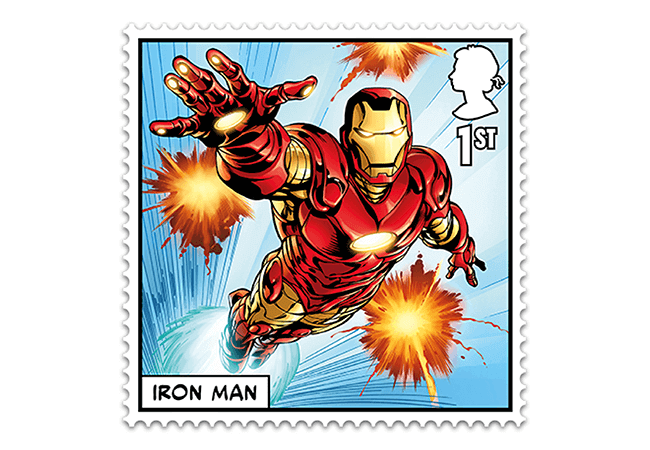 When terrorists captured billionaire inventor Tony Stark, they forced him to create weapons. With shrapnel near Stark's heart endangering his life, Stark tricked the terrorists, building a suit of powered armour to defeat them. It was the birth of the armoured Avenger – the invincible Iron Man.
Union Jack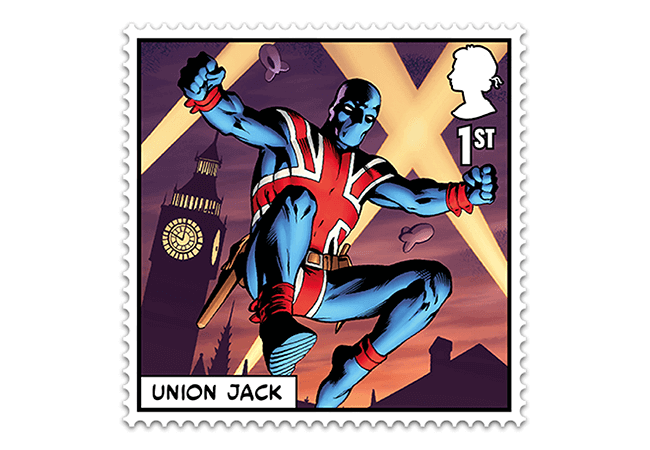 The original Union Jack was Lord James Falsworth, who fought in the First World War. When his descendant refused to take on the role, the mantle was passed to Joey Chapman, a working-class hero from Manchester, who has gone to fight alongside the Knights of Pendragon and the Invaders.
Black Panther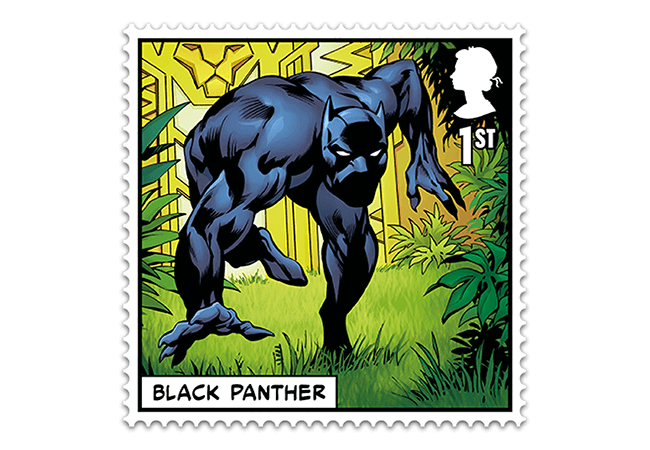 T'Challa is the Black Panther, ruler of the technologically advanced African nation of Wakanda and protector of its valuable vibranium supply. T'Challa first travelled to America to learn more about that country's heroes and soon became a leading member of the Avengers.
Thor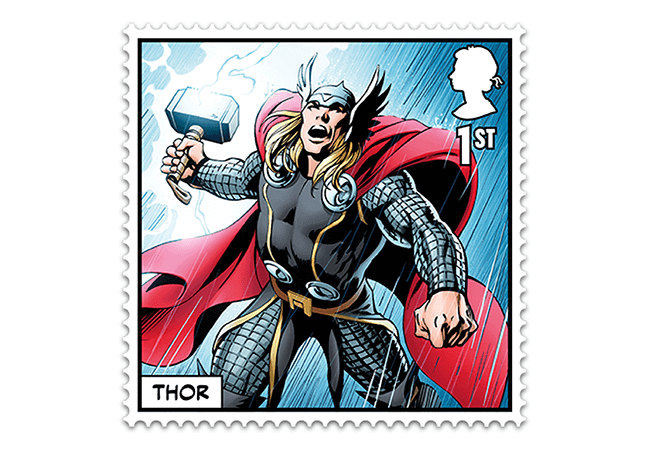 Thor is the Norse God of Thunder. Once cast out of Asgard for his pride, he was trapped on Earth as the injured doctor, Donald Blake. Thor's banishment is long ended and now he protects both Earth and Asgard as an Avenger.


The new and official UK MARVEL Stamps are sure to be a [HULK] SMASH with collectors
Generations have grown up with these timeless superheroes in comic books and more recently in hugely successful movies, and Royal Mail are celebrating this beloved pop-culture theme with original artwork by renowned British illustrator Alan Davis – long-time artist for MARVEL Comics.
Many of the classic superheroes celebrated in the new stamp issue were created in the 1960s, and in the 1970s a UK MARVEL imprint was created for British fans. 'Captain Britain Weekly' was launched in 1976, featuring the adventures of the first MARVEL UK superhero, closely followed by another British character, Union Jack. Both these take their place in the ranks of superheroes in the stamps.
This BRAND NEW set of Royal Mail Stamps are officially licensed and approved by MARVEL and feature a stunning set of 10 First Class stamps in the form of never-seen-before illustrations by renowned MARVEL Comics artist Alan Davis, including an original and exclusive comic book story contained in the miniature sheet, which is sure to be a must have for all MARVEL comic-strip fans and collectors alike.
This original, never-seen-before story with a unique British twist (look out for Trafalgar Square and the Gherkin!) has been specially written and designed by MARVEL and will only ever be available on the Miniature Sheet.
---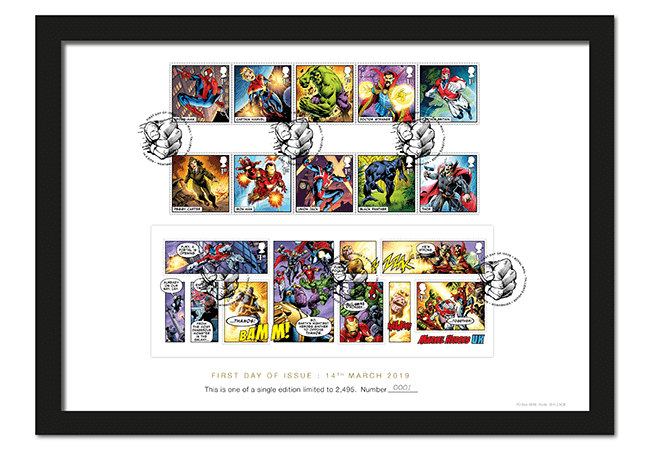 If you're interested…
You can reserve all of the new MARVEL Comics Stamps right now on a Limited Edition Collector Card – Professionally Framed and ready to hang. Click here for details>>>
British coinage has had its fair share of fascinating tales over the years. When searching for coins, I'm always seeking to find classic coins whose numismatic interest and history mean that they will forever be sought-after pieces.
Which is why, with the help of my UK coin specialist, I've decided to narrow down what I believe to be six of the most interesting and collectable UK historic silver coins issued over the past 200 years.
Read below to discover the stories of six coins that cover some of the most important events in British numismatic history – including influential design changes, mistaken introductions and controversial issues.

---
The Great Recoinage Shilling – George III Bull Head Silver Sixpence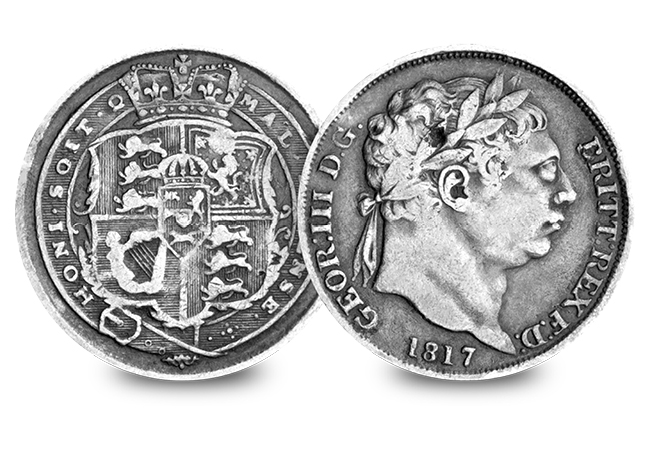 1816 marked one of the most important moments in the history of British coinage – The Great Recoinage. For Georgian Britain, it was a change as big as Decimalisation for you or me. The George III Bull Head Sixpence was introduced as part of an attempt to re-stabilise the currency following economic difficulties caused by both the French Revolutionary and Napoleonic Wars and marks one of the most important moments in British numismatic history.
The Coin of the Colonies – Victoria Silver Three Halfpence
During the 1800s demand grew for British coinage from all across the globe, with over 25% of the world's population using coins bearing Queen Victoria's portrait. The British three halfpence was a silver coin produced for circulation in the British colonies with a denomination which had never been seen in mainland Britain before. What makes this coin so interesting is that it has no indication of what country it was minted for, which meant that it could be used across most of the globe!
The Longest 'Reigning' Portrait – Victoria Young Head Shilling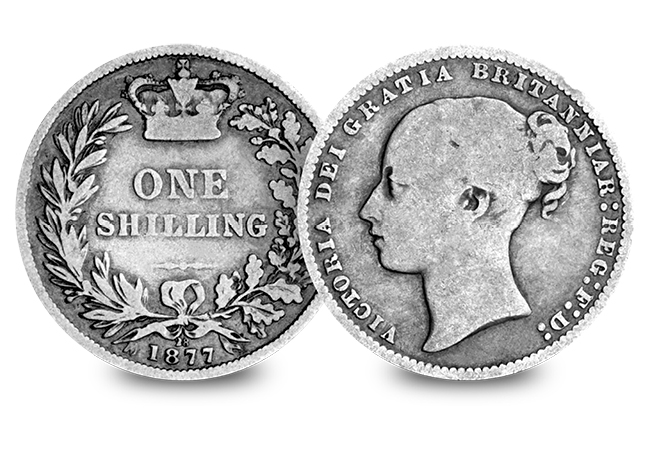 The first effigy to feature on Queen Victoria's coinage was the Young Head portrait featuring a particularly youthful and charming portrait of the young Queen. The Victoria Shilling featured the Young Head portrait from 1839 to 1887, which is the longest period a single portrait has ever featured on a British circulation coin.
The Withdrawn Sixpence Pair – 1887 Victoria Silver Sixpences
In 1887, new coin designs were issued to mark Queen Victoria's Golden Jubilee. Surprisingly, the new design of the Silver Sixpence shared the same design as the Gold Half Sovereign. Of course, it didn't take long for crafty opportunists to start coating the Silver Sixpence in gold paint and passing them off as the far more valuable Half Sovereign. The authorities hastily withdrew the Sixpence and a quick redesign took place with 'SIX PENCE' written across the middle of the coin.
The Rocking Horse Crown – 1935 George V Silver Crown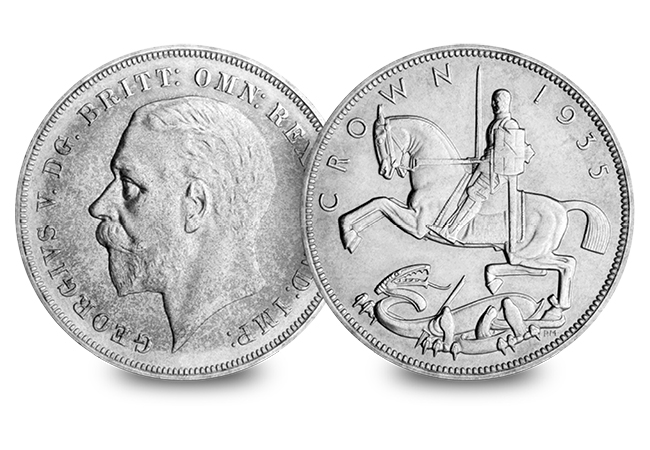 The 'Rocking Horse' Crown was issued for just one-year-only in 1935 to celebrate the Silver Jubilee of George V. Significantly, this special Silver Jubilee Crown was the first-time a commemorative crown was ever struck and started what is now one of the most popular numismatic collecting trends ever seen. Despite its significance, this coin caused controversy when it was first issued, with many traditionalists disliking the art deco reinterpretation of the iconic St. George and the Dragon design.

---
Each of these coins has unique story that makes them all must haves for any collector with an interest in historic UK coins. We're certainly lucky to live in a nation with such a rich numismatic history!

However, these coins are now historic artefacts in their own right, and considering that many have been melted down over the past two centuries for their valuable silver content, they are now extremely rare.

I'm sure you'll agree, that considering the fantastic history along with the scarcity of all six of these coins, they can all be considered amongst the most interesting and collectable UK Silver coins of the past 200 years.
---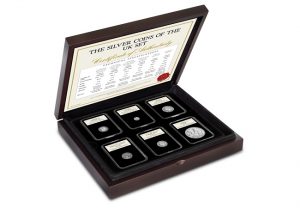 If you're interested…

Understandably, it is extremely difficult to build up a stock of these fascinating coins. But working with my extensive network of suppliers, I have been able to put together 22 sets of these iconic silver coins to now offer to my collectors. But with such limited numbers available you will need to act now if you want to add these fascinating coins to your collection.
Each year, The Royal Mint marks important British anniversaries, events or accomplishments on our coins and today we are delighted to reveal the UK's new coin designs for 2019.
Scroll down for a first look at all five of the brand new designs…

---
The 200th Anniversary of the Birth of Queen Victoria £5
After ascending to the throne in 1838 Queen Victoria's reign became the longest reign of a British monarch at the time. She oversaw a time of great change and expansion of the British Empire. This £5 coin has been issued to celebrate the 200th Anniversary of her birth and depicts some of the momentous changes in the British Empire witnessed under her rule, including advances in the industrial revolution due to the power of steam and the invention of the telephone and penny-farthing bicycle.
---
The 75th Anniversary of the D-Day Landings £2
On 6th June 1944 the largest seaborne invasion in history took place. The operation began the liberation of German occupied France during World War II, and D-Day, as it came to be known, laid the foundations of the Allied victory on the Western Front. This £2 coin has been issued to commemorate the 75th Anniversary of the Normandy Landings and its success which paved the way for the surrender of Nazi Germany. The coin features the 5 beaches codenamed Utah, Omaha, Gold, Juno and Sword, where the invasion took place.
---
The 350th Anniversary of Samuel Pepys' Last Diary Entry £2
Samuel Pepys is recognised as the most famous diarist who ever lived, providing valuable first-hand accounts of life in 17th century London and the English Restoration period. His private diary, which he kept from 1660-1669, also provides important eyewitness accounts of landmark events in British history, including the Great Plague of London and the Great Fire of London. This £2 coin has been issued to mark 350 years since Pepys' last diary entry and features one of his famous diary excerpts written in shorthand.
---
The 260th Anniversary of the Formation of Wedgwood £2
After Josiah Wedgwood founded the company in 1759, Wedgwood quickly became a pioneer for British pottery, taking it from a craft to an international industry. Largely taking inspiration from ancient cultures and mythologies the company was responsible for creating the ceramic bodies Queen's Ware (1762), Black Basalt (1768) and Jasper Ware (1774) which remain famous today. This £2 coin has been specially designed by the Wedgwood designers to celebrate 260 years since the establishment of the company.
---
The 160th Anniversary of the Birth of Sir Arthur Conan Doyle 50p
The prolific writer Sir Arthur Conan Doyle is best known for his incredibly popular detective stories featuring the fictional Sherlock Holmes. It is said his works revolutionised the crime genre, and despite Doyle sharing an ambivalent relationship with his famous character, Holmes appeared in 4 novels and 56 short stories, resulting in Doyle becoming one of the best-paid authors of the time. This 50p coin has been issued to mark 160 years since the renowned author's birth, and features his iconic character Sherlock Holmes.
---
All of these designs are stunning and there's no doubt that these coins will only become more desirable in the years to come.

Let us know in the comments which coin is your favourite!
---
If you're interested…

You can secure the brand new 2019 coins in the Brilliant Uncirculated coin pack.
Each coin has been struck to a superior Brilliant Uncirculated finish and is ready to display in an informative presentation pack. This pack features the definitive circulating coins and 5 new commemorative coins issued for 2019.