Posts by Kathryn Thompson
As they left for war in Autumn 1914, the soldiers, and the country, believed that it would all be over by Christmas of that year. We know now that the brutal conflict was to drag on for another 4 years, but Christmas 1914 became famous for being the first respite from the war.
Many felt the need to show give a small token of appreciation to those who had put their lives on the line. And so, on 30th October 1914, Princess Mary launched her Christmas Gift fund. She asked the public:

"I want you now to help me send a Christmas present from the whole nation to every sailor afloat and every soldier at the front."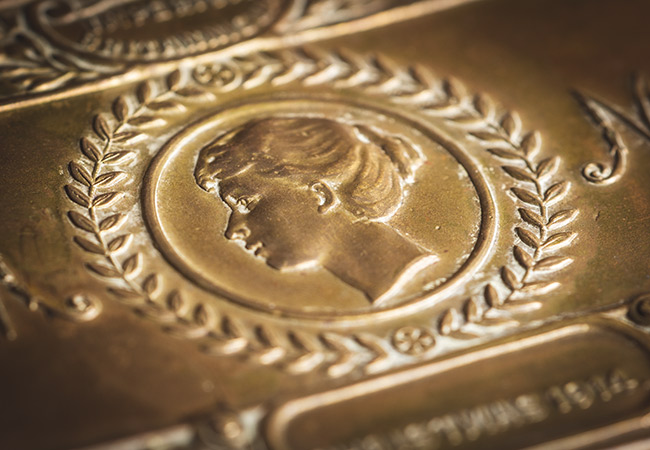 And they did. Her appeal was met with an enthusiastic response, eventually raising over £162,000 (an incredible sum at the time). This led to the memorable Princess Mary's Gift Box. It was a beautiful embossed brass box, 128 x 84 x 30mm (5 x 3.3 x 1.2 inches), containing one ounce of pipe tobacco, 20 cigarettes, pipe, a tinder lighter, a Christmas card and a photo of Princess Mary.
On Christmas Day 1914 alone, almost 500,000 Christmas tins were distributed to British service personnel. The boxes were sent to "every sailor afloat and every soldier at the front" in accordance with Princess Mary's wishes.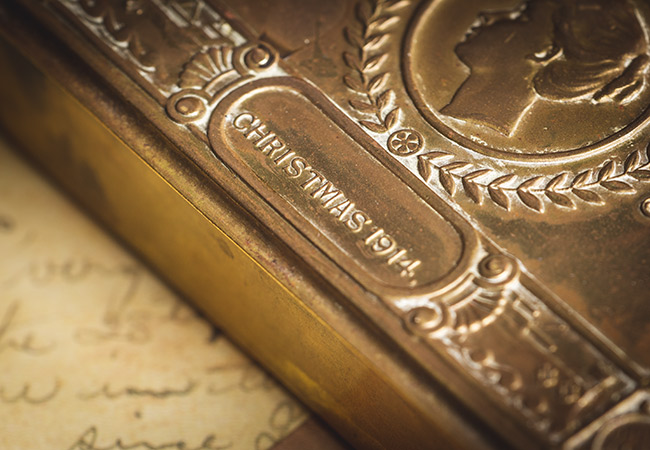 A large number of these tins were subsequently damaged in the war, with many being blown apart by shells or rusting away in the wet conditions in the trench. However, the boxes that have survived are now distinctive mementoes of the war's first Christmas.

They are also absolutely fascinating historic artefacts – each tin is totally unique and may have even been there in the trenches 100 years ago protecting a young tommy's keepsakes. They each tell their own story, and just looking at them you can see the small bits of damage, the smells and stains that tell the story of how they survived 100 years to remind us of the soldiers who suffered the extreme conditions of the Great War.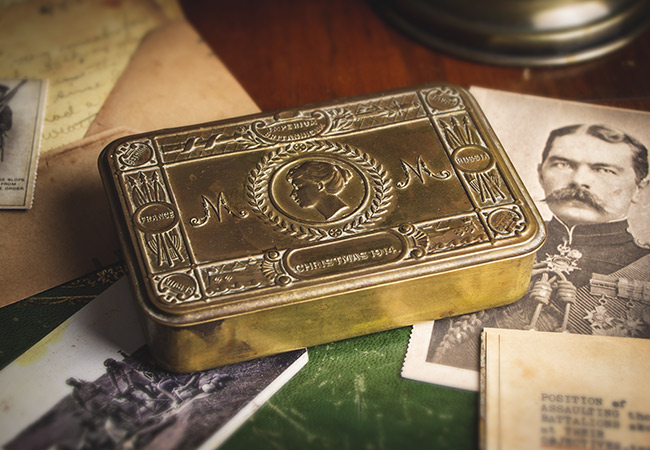 As the end of the First World War Armistice Centenary year approaches, it is especially important to remember those soldiers who would have received one of these tins. It's hard not to think about a young tommy, sitting in his trench on Christmas Day, opening his Princess Mary Christmas tin as carols drifted across No-Man's Land.
---
If you're interested…
We have 50 genuine Christmas Tins available and ready to deliver for Christmas, with 5 coins all from 1918. But with such a limited number available you will need to be quick to own this ultimate Armistice Christmas gift…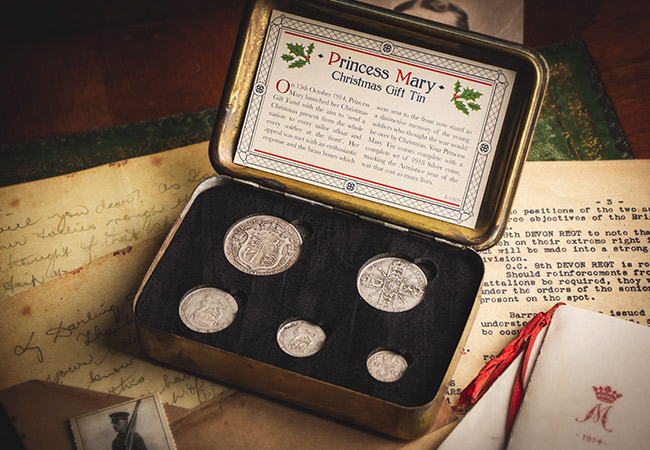 Almost 50 years ago, the ten bob note was in every wallet, purse and pocket in Britain. The 10 Shilling banknote would have been recognisable to every schoolchild in Britain, a fact that certainly isn't the case today!
Worth the equivalent of 50p, back then it would have bought you 6 pints of beer, 10 loaves of bread, or 17 pints of milk. It's hard to imagine a 50p going so far these days!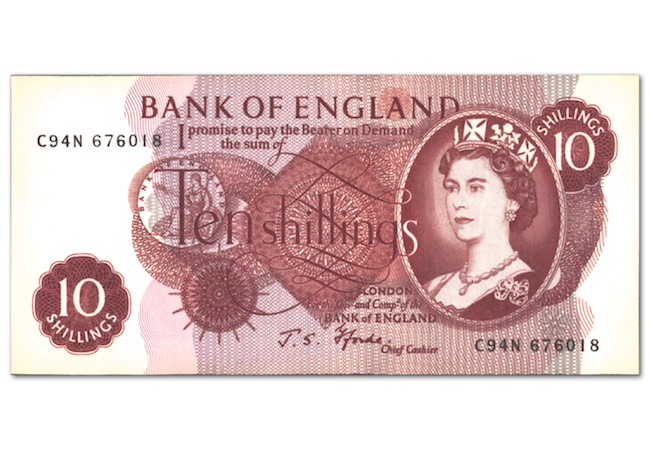 The 10 Shilling banknote was the smallest denomination note ever issued by the Bank of England. The denomination was first issued as a banknote by the Treasury during the First World War as an emergency currency and was then issued as a generally circulating note by the Bank of England from 1928.
However, in 1966 when the decision was made to convert Britain's coinage to a decimal currency it sadly meant saying goodbye to the well-loved 10 Shilling Note.
Under this new system, there was no place for the 10 bob note. It was decided that the new decimal replacement should be issued as a coin, the main reason being that notes had an average lifetime of about five months so it was inefficient to keep replacing a note with such a low denomination.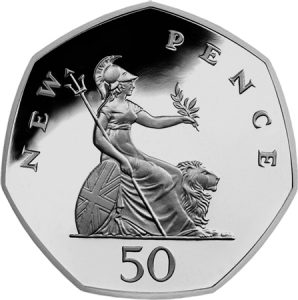 As a result, the first ever 7-sided coins was introduced in 1969 – the now instantly recognisable 50p coin. The two currencies co-existed for around a year, but finally, on 22nd November 1970, the old 10 bob note ceased to be legal tender.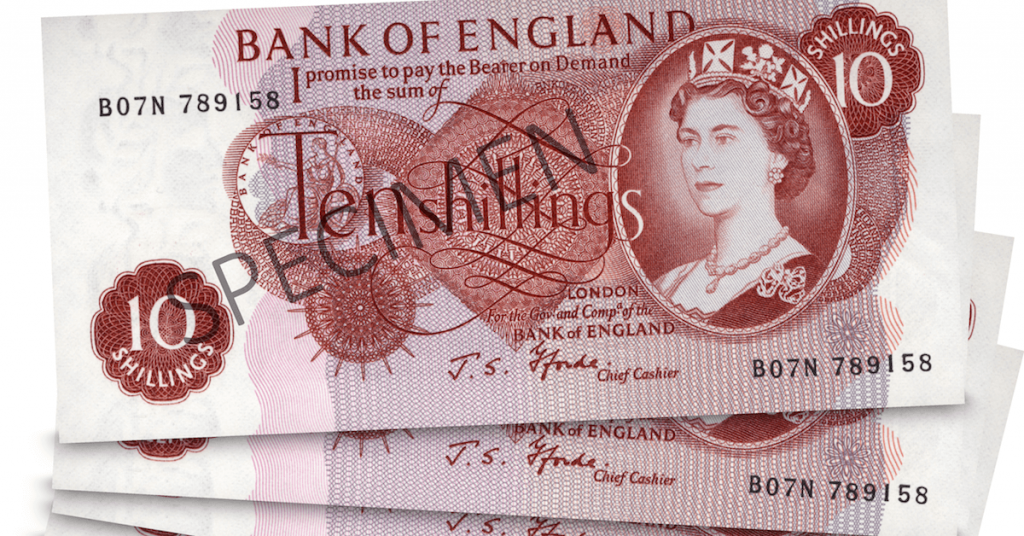 Almost 50 years on, the 50p is now a staple of British culture and one of the most collectable coins internationally. The 10 bob note stands as an important reminder of the pre-decimal coinage our generation grew up with and also of one of the most significant moments in the history of British currency – decimalisation.
---
If you're interested…
Today you have the opportunity to own a FINE SILVER reproduction of the 10 Shilling Banknote for JUST £45. But with limited stock available, you will need to act quickly to secure this perfect piece of nostalgia…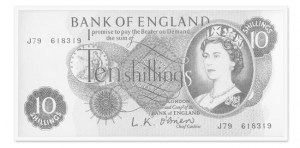 Click here to order your FINE SILVER reproduction 10 Shilling Note >>>
It is always exciting to see new, innovative products coming out of the numismatic industry, and there is nothing quite like the test token set issued by the Royal Canadian Mint's Research and Development lab. When you see this set it's no surprise that the Royal Canadian Mint is a market leader in security. Looking to be at the forefront of new minting technologies this latest collection showcases some never before seen minting techniques which are guaranteed to impress both seasoned and budding collectors alike.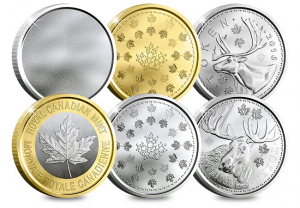 So what exactly is a 'test token' I hear you ask? A test token is a prototype of next generation currency, and is created purely to test new technologies and minting techniques before giving the green light to produce future coins with the technology. Since the tokens are test pieces their designs and technologies will not necessarily be replicated in future currency, perhaps only some of the techniques or designs will be taken forward,so the test pieces are one of a kind.
Chief Technology Officer at the Royal Canadian Mint, Dr Xianyao Li, says "the products in our R&D Lab Collection are tried,tested and true examples of forward-thinking technology that could re-define the future of domestic and foreign coins."
Now we're suitably intrigued about the new technologies featured in the set, let's take a closer look at the tokens…


Pie-Chart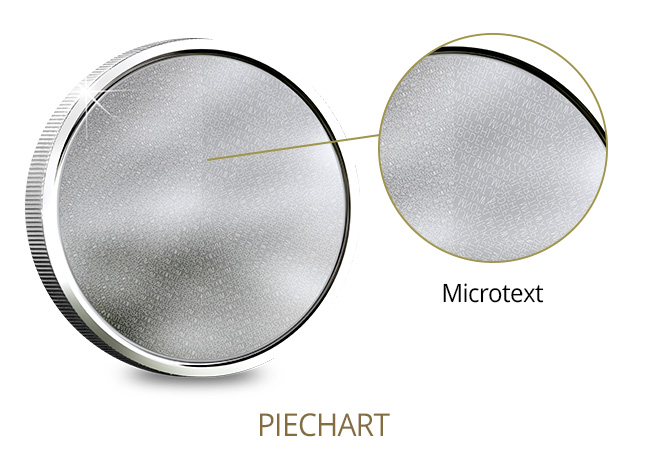 At first glance this perhaps looks to be the most unassuming token of the set, but looks can be deceiving as this token is an example of the advances currently being made in coin production to prevent counterfeiting. If you inspect the surface of the coin closely you will notice it resembles a pie-chart, with the surface subtly split up in to segments which are only just distinguishable. The slices are differentiated by the orientation and size of micro text which varies between segments. Micro text is one of the advancements in minting technology which has emerged in the last few years with the aim of preventing counterfeit coins, as the tiny text is difficult to replicate. Not only is the text extremely difficult to reproduce, it is also virtually indiscernible to the naked eye!


Caribou and Moose
The Caribou and the Moose instantly spring to mind when contemplating iconic Canadian imagery, so it would seem only natural they make an appearance in this set. Each token is crafted from multi-ply plated steel and includes both raised and incused maple leaf designs, instantly creating a noticeably three-dimensional textured surface. The depictions of the creatures on each coin have micro text hidden in their fur as an added security feature, and the maple leaf above the shoulder of each creature is also composed of micro text.


Leaf
The maple leaf is synonymous with Canada and is instantly recognisable as one of its national symbols dating back to the 18th century. Considering this it is unsurprising then that The Royal Canadian Mint also uses this iconic leaf as its logo, creating a strong identity link between country and coinage. Two pieces in the set celebrate the maple leaf with both sides of the tokens featuring raised and incused leaves in a circular pattern with the Royal Canadian Mint's logo at the centre. The combination of raised and stamped elements create a unique texture on the token which adds an extra layer of security because forgers will struggle to perfectly mimic it in counterfeits.


Tri-metal
The clue is in the title with this one, as it has been produced from a Canadian patented tri-metal compound, consisting of a carefully balanced combination of multi-ply plated steel, brass plated steel, nickel plated steel and copper plated steel. Complex multi-metal compound technology is a security feature to prevent counterfeiting as the exact compound composition is patented and unknown so cannot be easily recreated in a replica.


Own a piece of history in the making
What makes this test token set truly remarkable is the fact that pieces included in the set are the real trial pieces which have been used in calibration and laboratory testing, so each one has been tried and tested making the collection truly unique – no two will be the same!
---
If you're interested…
You can now own a piece of numismatic history in the making as we have secured 149 of these unique sets from the Royal Canadian Mint. Be ahead of the curve and add this sneak peek at the next generation of coinage to your collection today!
Click here to order this fantastic set >>>