Posts by Kathryn Thompson
Revealed for the first time today, Royal Mail are set to release 15 new Harry Potter stamps, to celebrate the global-success of the hit film series, filmed in the UK, and featuring a star studded cast brimming with home-grown talent.
Scheduled for release on 16 October 2018, the new stamps feature some of the most popular characters including Harry, Hermione, Ron, Ginny and Neville Longbottom, and five Hogwarts professors contained on a Special Miniature Sheet. Also appearing on the stamps are portkeys and the most iconic modes of transport – the Hogwarts Express, Hagrid's bike, the Knight Bus and the Triwizard Cup.
Some Special Features on the stamps include the official Harry Potter font denoting the '1st' Class service. There's also a little extra magic and intrigue to both the stamps and the Miniature Sheet which can be seen under UV light…
Here's your first look at the new stamps alongside a bit of info about each one…

Hermione Granger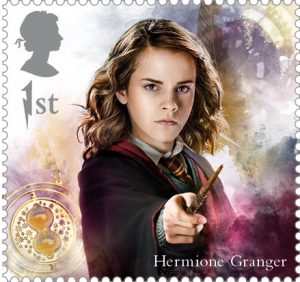 Hermione is considered by many at Hogwarts to be the brightest witch of her age. On her many adventures with Harry and Ron, it is often thanks to Hermione's educated mind, grasp of logic and quick thinking that the trio safely escapes.


Hogwarts Express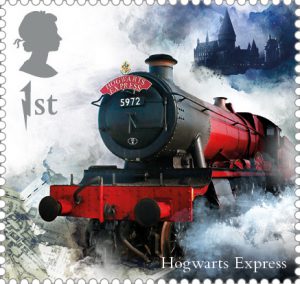 The Hogwarts Express train is used by pupils of Hogwarts School of Witchcraft and Wizardry. The steam train runs between King's Cross station in London and the village of Hogsmeade, from where the children reach Hogwarts by boat. Access to the train by wizards and witches can only be gained by running at speed through a brick wall to Platform Nine and Three-Quarters.


Harry Potter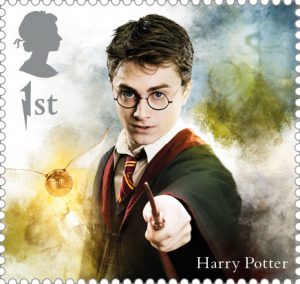 On his 11th birthday, Harry Potter learns that he has been accepted to Hogwarts School of Witchcraft and Wizardry. Harry and his friends, Ron and Hermione, brave the challenges of school life while facing the increasing threat of the dark forces led by Lord Voldemort. As Voldemort returns to power, Harry realises that only he can stop the Dark Lord.


Flying Ford Anglia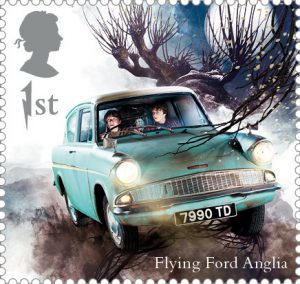 In Harry Potter and the Chamber of Secrets, the Weasley twins and Ron 'borrow' the car to rescue Harry through his bedroom window in the Dursleys' house. Later on, having missed the Hogwarts Express, Harry and Ron take the car on a precarious journey to Hogwarts.


Ron Weasley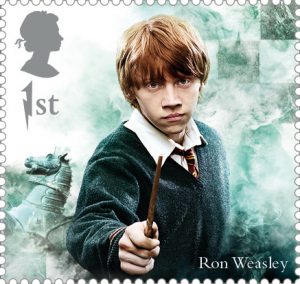 From the moment they meet on the Hogwarts Express train, Ron becomes Harry's best friend. Ron supports Harry on all of his risky adventures – often at the wheel of the Flying Ford Anglia – even when it means facing his worst fear: spiders.


Hagrid's Motorbike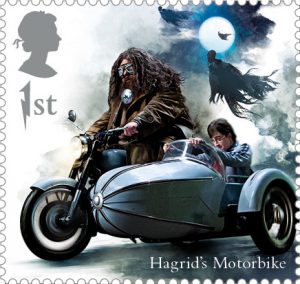 Riding a flying motorbike formerly owned by Sirius Black, Hagrid and Harry endure a hazardous journey while being pursued by Lord Voldemort and several Death Eaters in Harry Potter and the Deathly Hallows – Part 1.


Ginny Weasley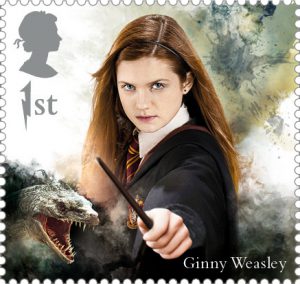 Younger sister of Ron Weasley, Ginny spends much of her first year at Hogwarts writing in Tom Riddle's diary and unknowingly doing the Dark Lord's bidding. In her fourth year, Ginny joins Dumbledore's Army and eventually makes her feelings for Harry known.


Triwizard Cup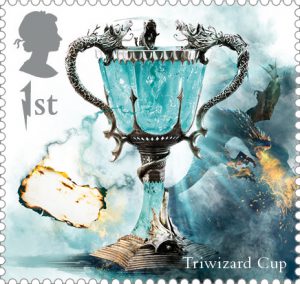 The Triwizard Cup is a trophy awarded to the winner at the end of the third and final task of the Triwizard Tournament. When Harry Potter competes in the Triwizard Tournament, a Death Eater turns the Cup into a Portkey to instantly transport the winner to the graveyard where Lord Voldemort is waiting.


Neville Longbottom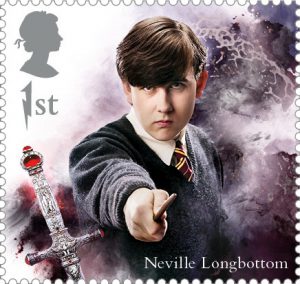 Neville Longbottom is known as a good-natured but accident-prone boy with an aptitude for Herbology. As the Dark Lord rises to power, Neville bravely joins Dumbledore's Army and ultimately plays an integral role in the destruction of Lord Voldemort.


Knight Bus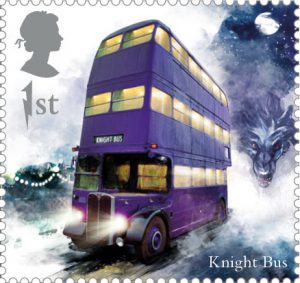 Described by its conductor as "Emergency transport for the stranded witch or wizard", the Knight Bus appears in Harry Potter and the Prisoner of Azkaban. It collects Harry and his trunk from the side of the road after he flees Privet Drive following an altercation with Mr Dursley's sister.


---
If you're interested…
You can reserve all of the new Harry Potter stamps right now on a limited edition Collector Card – professionally framed and ready to hang. Click here for details >>>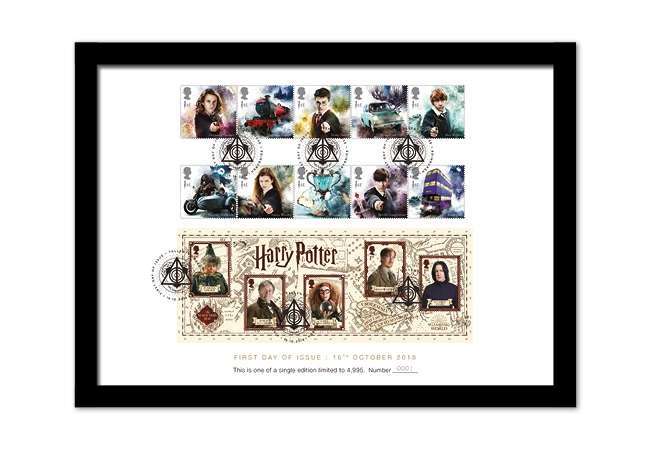 Last month I had the honour of meeting all 9 Red Arrows pilots at the Bournemouth Air Festival to present them with a very special gift…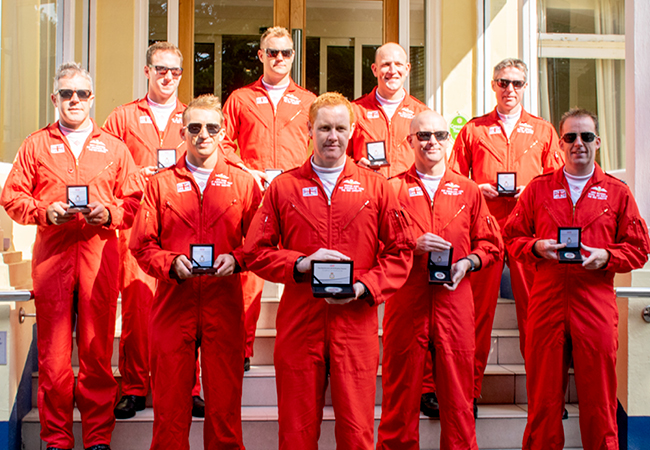 A lifelong fan of the Reds, I was delighted to be given the chance of personally presenting them with the Official 2018 Red Arrows Signature Medal.
Struck in 5oz of Pure 999/1000 Silver, the medal features the intricate engravings of all 9 Red Arrows pilots' signatures, and has been fully endorsed by the team.
What's more, their medal is one of JUST 450 that have been issued for worldwide distribution, with the last number in that edition being presented to the Reds.
And so they didn't have to share, I also brought along an extra 9 Official 2018 Red Arrows Silver 1oz Medals, for each of the team to take home.
Each signature on the 5oz Silver Medal is meticulously engraved above their team number. To complete the piece, each member's iconic Hawk jet with the RAF roundel at the centre is highlighted in vivid colour, surrounded by an altimeter inspired pattern – the most fitting piece to present to the Reds today.
---
If you're interested…
You have the opportunity to own the Official Red Arrows Signature 5oz Silver Medal. This is a rare chance to own an item so closely and personally linked to the Red Arrows themselves and we only have a few remaining so you'll have to act quickly to secure yours. Click here for more information and to order yours now >>>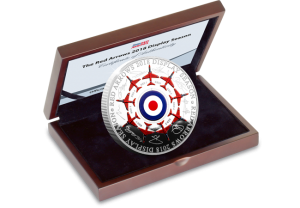 George VI stands out as one of the most popular and interesting monarchs in British history.
After the shock abdication of his brother, he courageously led the country through World War Two and became a national hero. His story has since been famously portrayed in the Oscar winning 2010 film, The King's Speech, and the popular TV series The Crown.
Just as interesting as his reign itself, were the coins that were issued during his 16 years on the throne. Only two Crown coins were issued, but both are extremely significant in British numismatic history and mark important changes for our coinage…


1937 Coronation Crown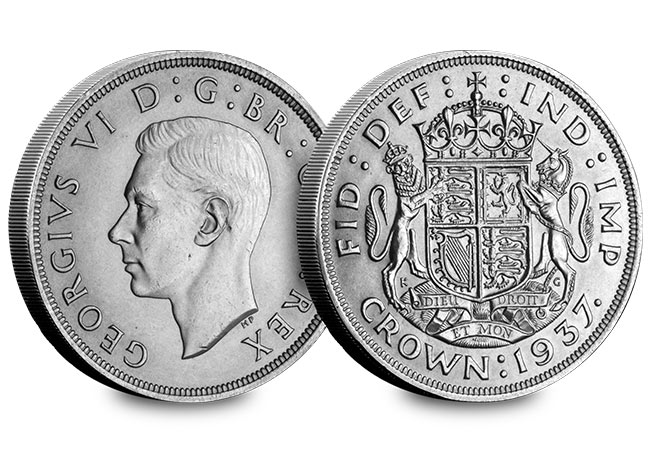 It has been a tradition held by many British monarchs to issue a Crown coin in their coronation year, however, this tradition was a difficult one to maintain for George VI's coronation in 1937.
That's because it was decided that George VI's Coronation would be on the same day that was planned for his brother Edward VIII before his infamous abdication. With a race against the clock to strike a coin for the Coronation, a new portrait was hurriedly prepared and quickly engraved before the ceremony.
What makes this coin so important for collectors is that it was the last ever Coronation Crown struck in Silver by The Royal Mint.


1951 Festival of Britain Crown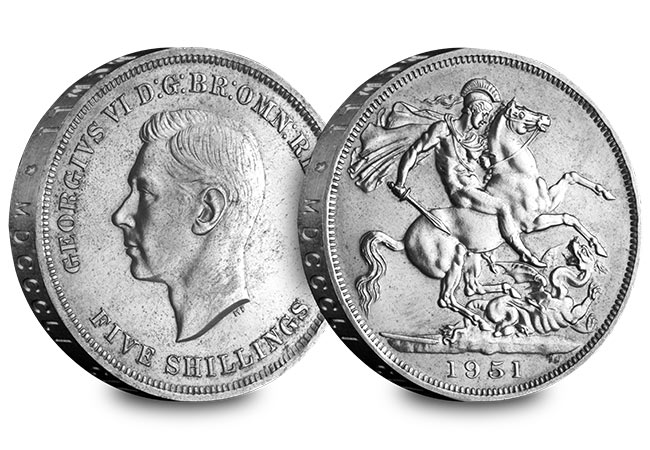 The only other Crown coin issued during the reign of George VI was struck in 1951 to mark the Festival of Britain. To commemorate this hugely popular event, The Royal Mint decided to issue a brand new coin.
This specially issued coin was the first ever Crown struck in cupro-nickel and was the first Crown issued to commemorate a non-royal event.

Since this coin, The Royal Mint have issued many Crowns commemorating non-royal events of national significance and in doing so have created one of the most popular numismatic collecting themes internationally. This coin marks the start of this famous collecting trend that has transformed commemorative coins in Britain and across the world.


Both of these significant coin issues are now over 65 years old and as a result are becoming increasingly difficult to acquire.
However, I would consider them key coins for any Royal or 20th century coin collection because of the popular monarch that issued them and the important moments they mark for British numismatic history.
---
If you're interested…
We have a limited number of George VI Crown Pairs available for collectors. However, with such limited stock available I suggest you act now if you want to add these two extremely significant coins to your collection.
Click here for more details >>>