Posts Tagged 'memorabilia'
When a new monarch is crowned, collectors rush to find the perfect memento to commemorate the event.
For Queen Elizabeth II's coronation back in 1953, a huge range of coronation themed memorabilia was created, including some flagship coin issues. And some of these collectibles fetch hefty sums on the secondary market.
Sought-after Coronation Dishes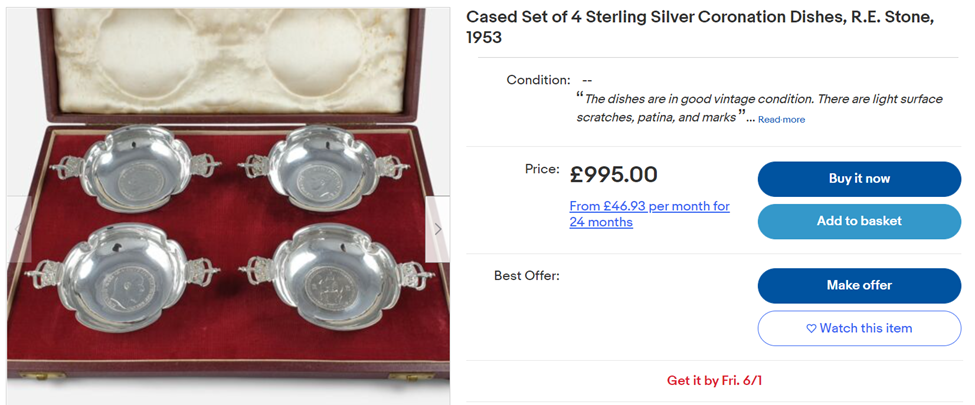 This set of silver 1953 coronation dishes by renowned silversmith, R. E. Stone are cast in the shape of the Royal Crown.
The bases are set with various coronation coins including a 1902 Edward VII crown, a 1935 George V crown, a 1937 George VI crown and a 1953 Elizabeth II crown.
A complete cased set of 4 of these coronation dishes in good condition have been listed on eBay for nearly £1,000! Always be cautious when purchasing collectibles on secondary sites – the best way to check the value of an item is to search sold listings on eBay.
Paragon Coronation Wall Plate and Royal Doulton Cup
Trays, plates and mugs were some of the most popular souvenirs issued to commemorate Queen Elizabeth II's 1953 Coronation.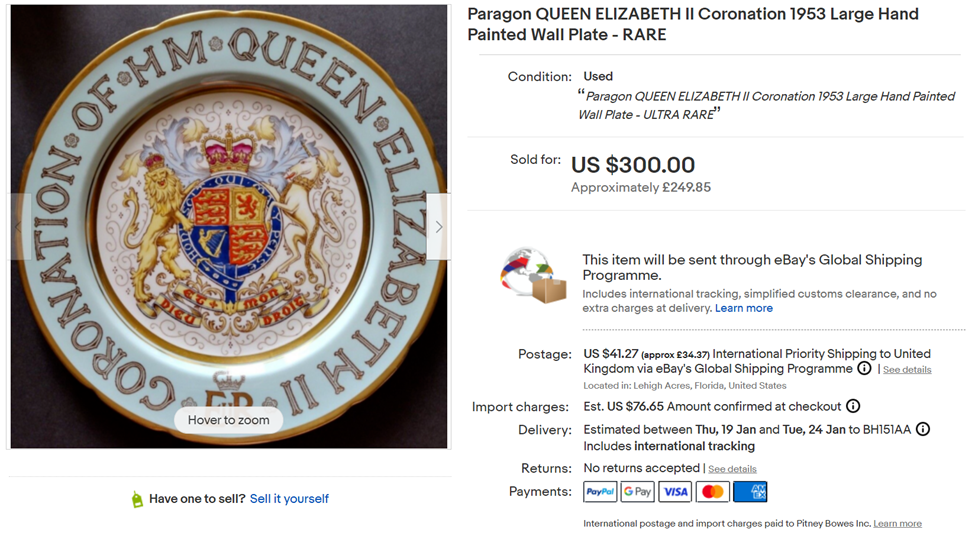 Listed as 'ultra rare', this hand painted 1953 Coronation wall plate by China manufacturer Paragon recently sold for nearly £250 on eBay.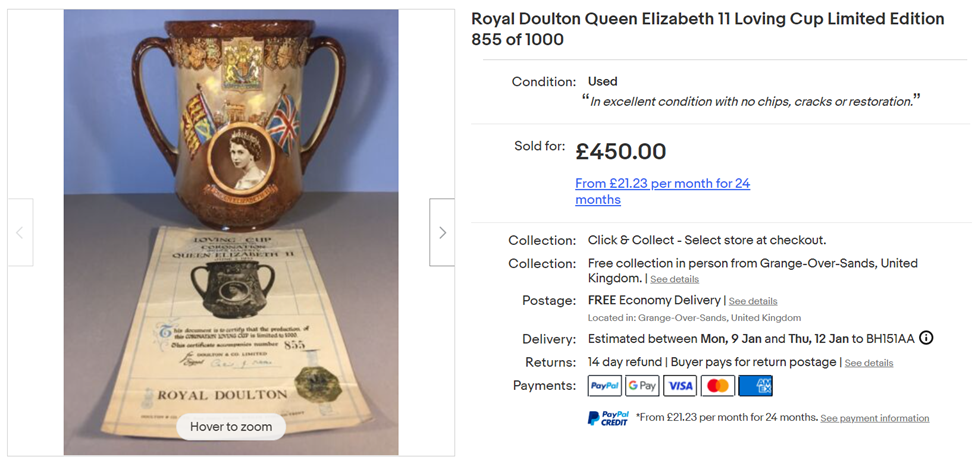 This stunning piece of Royal memorabilia recently sold for £450 on the secondary market. The Royal Doulton Queen Elizabeth II Loving Cup was listed with its original certificate, certifying that it was number 855 in an edition limit of 1,000. Edition limits play a huge role in driving collecting demand, so it's no surprise that this cup proved so sought-after.
Original 1953 Coronation Ticket
Original tickets to Queen Elizabeth II's Coronation are extremely sought after by collectors. Their time sensitivity makes them extremely limited.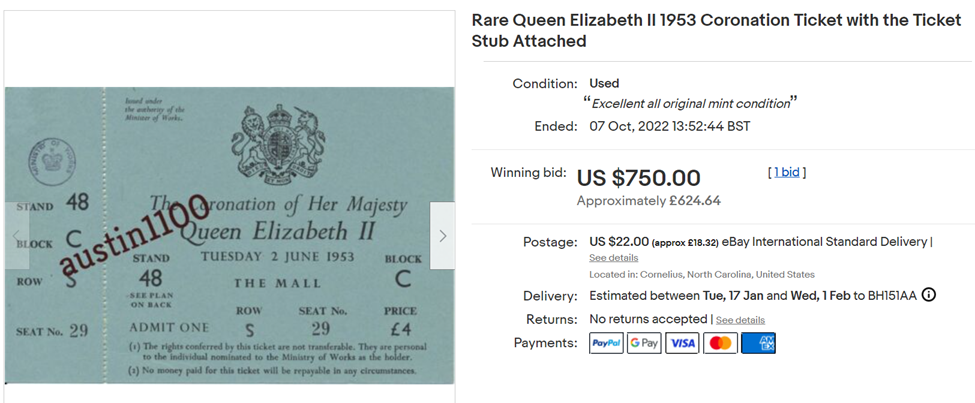 Coronation tickets without the stub attached range in price online from £200-£240. However, this official ticket with the stub still attached recently sold on eBay for more than £620!
Coronation Souvenir Biscuit Tin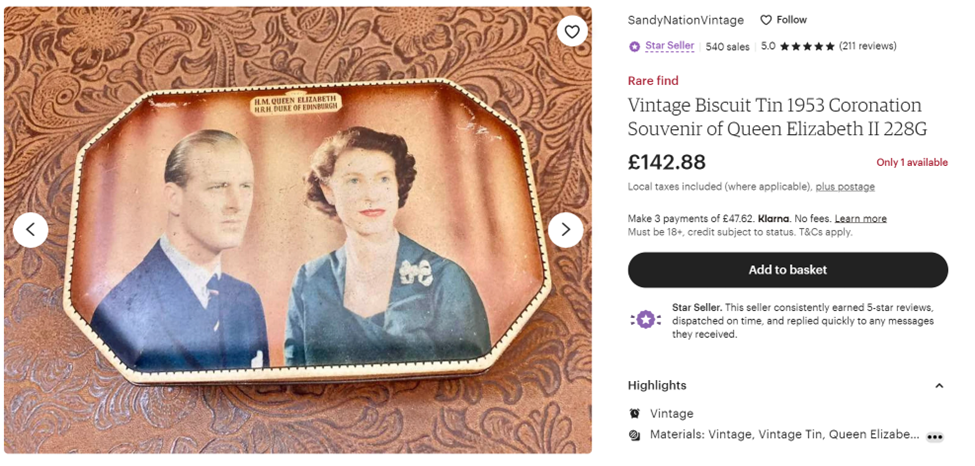 This vintage biscuit tin featuring a young Queen Elizabeth II and Prince Phillip was issued to mark the 1953 coronation.
These tins have been listed online for more than £142. Confectionery company George W. Horner also produced other coronation products such as toffee tins and mint tins.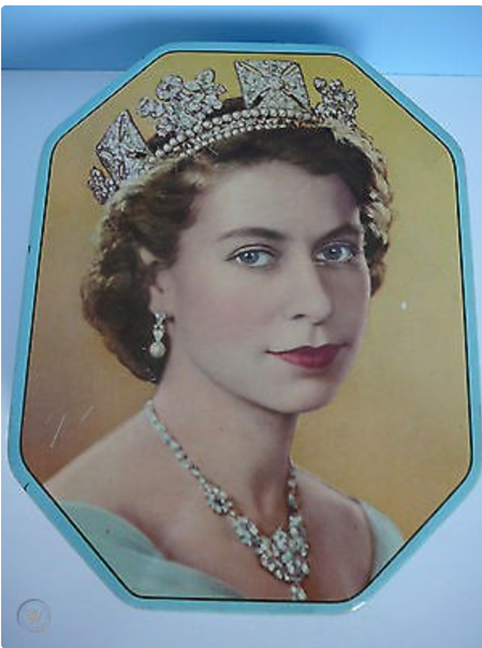 ---
Do you own any original 1953 coronation memorabilia? We're expecting demand to be extremely high for King Charles III coronation collectibles.
---
Sign-up for the latest news about King Charles III Coronation coins
Don't miss out on owning the very first King Charles III coronation collectibles. Sign up for all the latest updates below.
We will only use your details to contact you about King Charles III Coronation products.
Privacy Policy.
The Rolling Stones are revered as one of the greatest live acts of all time, they have sold over 250 million records and, in the UK, have had eight No.1 singles and twelve No.1 albums.
And, to celebrate the 60th anniversary of this legendary rock and roll band this year, Royal Mail have just released BRAND-NEW Rolling Stones stamps in their Music Giants Series!
The stamps will be officially released today, 20th January 2022, and feature photos of some of the bands most memorable performances over the years. In the last 60 years, their singles and albums have produced a string of evergreen rock classics, powered by some of the greatest guitar riffs ever written.
Given the success of previous 'Music Giants' stamps, these are bound to be incredibly popular. Here's your guide to the most collectable versions of the new Rolling Stones stamps available to pre-order now…
---
The Framed Edition
This framed edition of the new Rolling Stones stamps features panes 1 and 2 from the Prestige Stamp Book and is one of just 1,962 that will ever be issued – signifying the band's first gig 60 years ago in 1962.
Postmarked on the stamps official issue date, 20th January 2022, each presentation comes ready to exhibit in stylish A4 frame – perfect for displaying in the home.
Click here to order yours today for just £34.99 today >>
---
The Ultimate Edition
What makes the ULTIMATE Edition 'ultimate' is the fact is comprises the official Royal Mail First Day Cover, with adjoining release notes AND the Royal Mail Rolling Stones Miniature Sheet Pack! This means, you will own not only all eight new stamps, but four additional stamps featuring tour posters!
Given the multiple elements of this professionally mounted frame, this must-have piece of memorabilia is limited to just 750 – making it over twice as limited as the framed edition!
Click here to order yours today for just £60 >>
---
It is often touted as the best album of all time, and has become so ingrained as part of popular culture that it's hard to believe that the concept for Pink Floyd's The Dark Side of the Moon cover was actually born out of a simple textbook illustration.
We were lucky enough to have the album's original illustrator, George Hardie, visit us at our offices where we chatted about the album.
Perhaps unsurprisingly, the iconic design has its routes in a chance 1968 meeting in a photographic darkroom at the Royal College of Art in London. It was then that George first met Storm Thorgerson and Aubrey Powell – the creative minds behind now legendary design studio, Hipgnosis.
Over the year, Hipgnosis produced artwork for some of the most influential bands of the era including Led Zeppelin, Genesis and Black Sabbath, but it was the bold graphic design for The Dark Side of the Moon which thrust the studio's work into the public eye when it hit record stores in March 1973.
Until this point, much of Hipgnosis' work had been photographic. But under the direction of Pink Floyd's keyboardist Richard Wright to produce something "simple, clinical and precise" their ideas took on a new dimension. The breakthrough moment was provided by Storm Thorgerson who remembered an illustration from a photography book showing the process of light refraction through a glass prism; "An inspirational image in itself" as George recalls. The concept seemed particularly fitting for Pink Floyd who were famous for their use of light shows.
"Slightly re-arranging the illustration, I drew a line artwork and indicated colours using percentages of magenta, cyan, yellow and black from a printer's chart – the simplest way of making this kind of line artwork where the lines act as the edges of each colour and the printer fills in the colours." explains Hardie. The prism was airbrushed, black on white, and reversed out of a mechanical printer's black background to produce the final effect.
After its release, The Dark Side of the Moon went to number one on the US Billboard chart for one week, but it ended up staying in the charts for a consecutive 741 weeks from 1973 to 1988 – longer than any other album in history.
The band were suddenly propelled from the underground into the mainstream. With an estimated 45 million copies sold, it became Pink Floyd's most commercially successful album and is frequently ranked as one of the greatest rock albums of all time. The white beam of light passing through a prism to form the bright colours of the spectrum against a stunning black background invited listeners to discover the music inside, and it still does today.
---
If you're interested…
Own the Dark Side of the Moon Framed Edition
Now you can own this definitive piece of Pink Floyd memorabilia – a remastered copy of The Dark Side of the Moon vinyl professionally framed and signed by the original album artist, George Hardie himself.