Posts Tagged '1st Class Stamp'
With the arrival of a new season of Star Trek: Discovery this month, and the brand new series Picard which launched earlier this year, there's a lot for Star Trek fans to celebrate this year.
And now – in what you might say is the final frontier of stamp collecting – fans can get their hands on a brand new official Royal Mail stamp release comprising of some of the franchise's most famous faces.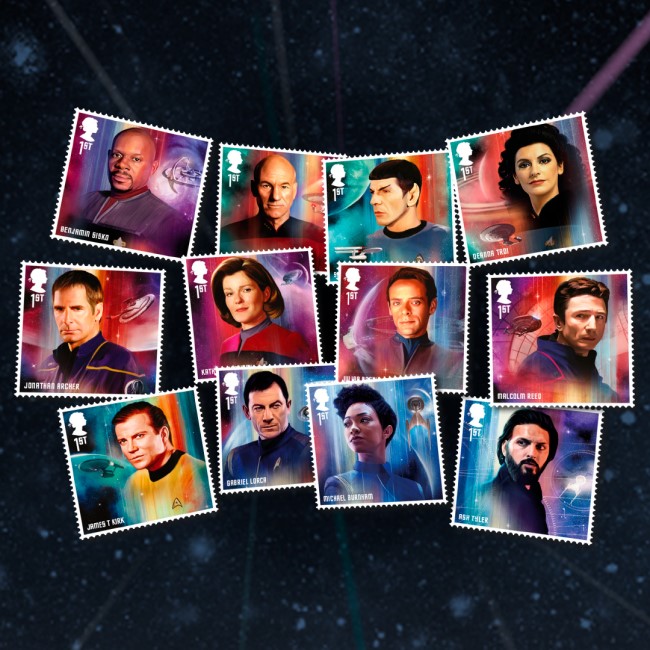 The stamps are officially released on November 13th, 2020, but you can shop our full range here and pre-order yours whilst stocks last. There are strict edition limits across our product range, so be quick if you'd like to secure yours.
Born from the mind of Gene Roddenberry, the Star Trek franchise began 54 years ago and has amassed a huge, global fanbase. It is a cultural phenomenon that's influence spans across many generations of devoted fans, creating a global community unlike any other.
Often praised for its impact on storytelling and its influence on modern-day technology, fans and scholars alike consider Star Trek to be highly progressive in its approach to social and political issues, offering the viewer a reflective view on historic and current affairs.
This culturally significant franchise has now been celebrated for the very first time on UK stamps.
"For more than 50 years Star Trek has enthralled and inspired generations of loyal fans with extraordinary adventures and an optimistic vision of humanity's future.

We celebrate the Star Trek Universe with stylish new stamps of its iconic characters."

Philip Parker, Royal Mail
There are several ways to own these new issue stamps, with each stamp presentation framed and ready to display, and will be officially postmarked by Royal Mail on the day of the stamps release.
Here's your guide to each of the products available and how you can be one of the limited number of collectors to own one of these limited edition pieces…
---
The Star Trek Collectors Frame
The Star Trek Collectors Frame features Royal Mail's Collector Sheet, and only 1,995 framed editions are available worldwide.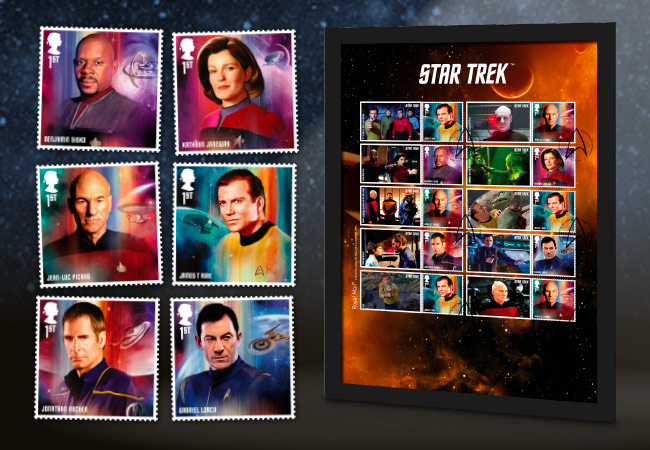 These stamps bring together captains from six Star Trek TV series, including Captains Kirk, Picard, and Archer. Each of the stamps featured is accompanied by an Officially Licenced Philatelic Label featuring scenes from the corresponding series.
Your Collector Sheet is A4 in size and is set against a dramatic space scene – perfect for displaying in your home!
Click here to pre-order one of the 1,995 Star Trek Collectors Frames now >>>
---
The Star Trek Definitive Frame
Collect every Royal Mail Star Trek Stamp issue with The Star Trek Definitive Frame! This framed presentation features 12 Star Trek First Class Stamps , alongside the Movie Stamp Miniature Sheet.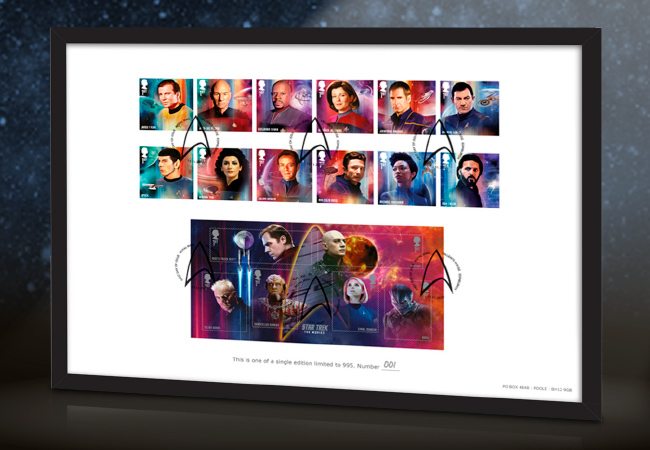 These 12 brand new stamps feature every captain, alongside other famous crew members from across the six principal TV series. Each character is set against a themed backdrop inspired by the series they are from.
As well as these new issue stamps, The Star Trek Definitive Frame also includes the Movie Stamp Miniature Sheet, which showcases British stars from the Star Trek movie series.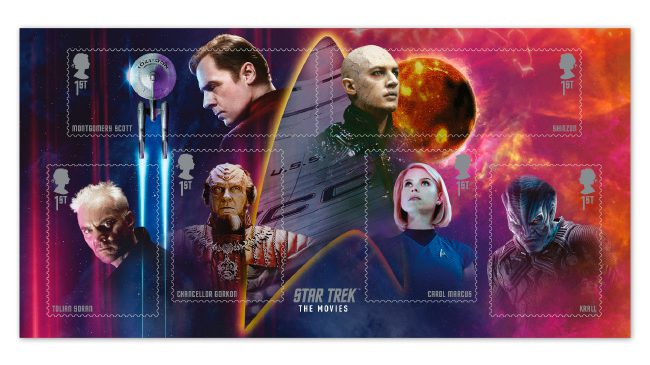 Your frame is A4 in size and ready to display. But with only 995 available worldwide, you'll have to be quick to snap this up for your collection.
Click here to pre-order one of the 995 Star Trek Definitive Frames now >>>
---
The Star Trek Ultimate Frame
While this is the first time Star Trek has featured on any UK stamp issue, it's not the first time the franchise has been celebrated on commemorative stamps! To honour the 50th anniversary in 2016, a range of Star Trek stamps was issued in the United States.
As of last year, the stamps are no longer available to buy from the US Postal Service, but you can find a selection of these stamps within The Star Trek Ultimate Frame.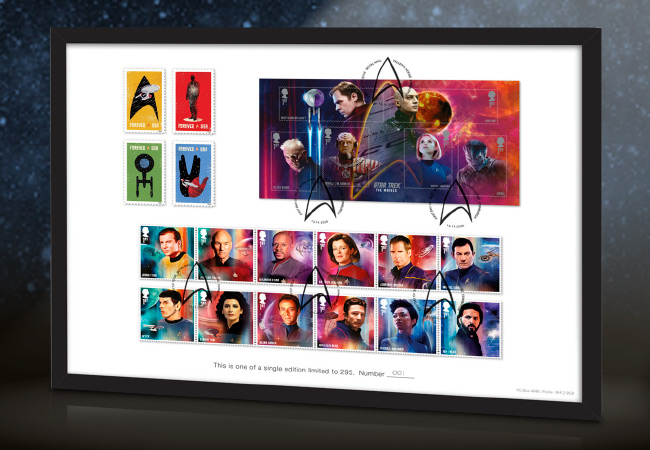 This really is the ultimate Star Trek stamp presentation, featuring every UK stamp issue alongside the no longer available US Star Trek Forever stamps.
Available in an A4 frame, there are only 295 of this very special stamp presentation available worldwide.
Click here to pre-order one of the 295 Star Trek Ultimate Frames now >>>
---
Remember, all framed editions of the Star Trek stamps are strictly limited. Shop the full range here to pre-order and secure yours ahead of their official release on November 13th.
It is often touted as the best album of all time, and has become so ingrained as part of popular culture that it's hard to believe that the concept for Pink Floyd's The Dark Side of the Moon cover was actually born out of a simple textbook illustration.
We were lucky enough to have the album's original illustrator, George Hardie, visit us at our offices where we chatted about the album.
Perhaps unsurprisingly, the iconic design has its routes in a chance 1968 meeting in a photographic darkroom at the Royal College of Art in London. It was then that George first met Storm Thorgerson and Aubrey Powell – the creative minds behind now legendary design studio, Hipgnosis.
Over the year, Hipgnosis produced artwork for some of the most influential bands of the era including Led Zeppelin, Genesis and Black Sabbath, but it was the bold graphic design for The Dark Side of the Moon which thrust the studio's work into the public eye when it hit record stores in March 1973.
Until this point, much of Hipgnosis' work had been photographic. But under the direction of Pink Floyd's keyboardist Richard Wright to produce something "simple, clinical and precise" their ideas took on a new dimension. The breakthrough moment was provided by Storm Thorgerson who remembered an illustration from a photography book showing the process of light refraction through a glass prism; "An inspirational image in itself" as George recalls. The concept seemed particularly fitting for Pink Floyd who were famous for their use of light shows.
"Slightly re-arranging the illustration, I drew a line artwork and indicated colours using percentages of magenta, cyan, yellow and black from a printer's chart – the simplest way of making this kind of line artwork where the lines act as the edges of each colour and the printer fills in the colours." explains Hardie. The prism was airbrushed, black on white, and reversed out of a mechanical printer's black background to produce the final effect.
After its release, The Dark Side of the Moon went to number one on the US Billboard chart for one week, but it ended up staying in the charts for a consecutive 741 weeks from 1973 to 1988 – longer than any other album in history.
The band were suddenly propelled from the underground into the mainstream. With an estimated 45 million copies sold, it became Pink Floyd's most commercially successful album and is frequently ranked as one of the greatest rock albums of all time. The white beam of light passing through a prism to form the bright colours of the spectrum against a stunning black background invited listeners to discover the music inside, and it still does today.
---
If you're interested…
Own the Dark Side of the Moon Framed Edition
Now you can own this definitive piece of Pink Floyd memorabilia – a remastered copy of The Dark Side of the Moon vinyl professionally framed and signed by the original album artist, George Hardie himself.
Royal Mail have revealed 10 new David Bowie stamps, which will mark a tribute to one of the most influential music and cultural figures of all time.
The stamps are Royal Mail's second dedicated music artist stamp issue, following on from the popular Pink Floyd release in the summer of last year.
Scheduled for release on 14th March 2017, the stamps will feature iconic album covers and live performances from 1971 right up to his final studio album Blackstar.
Here's your first look at the new stamps alongside a bit of info about each one…
1st Class – Hunky Dory:
His fourth album and released in December 1971. Time magazine chose it as part of their "100 best albums of all time" list in January 2010.
1st Class – Aladdin Sane:
His sixth album and released in April 1973. The album was among six Bowie entries in Rolling Stone magazine's 2003 list of the 500 greatest albums of all time.
1st Class – "Heroes":
His twelfth studio album and released in October 1977. This was the second instalment of his "Berlin Trilogy" recorded with Brian Eno and Tony Visconti. The title track remains one of Bowie's best known and acclaimed songs.
£1.52 – Let's Dance:
His fifteenth studio album and released in April 1983. Co-produced by Nile Rodgers, and featured three of the most successful singles "Let's Dance", "Modern Love" and "China Girl". Let's Dance is Bowie's bestselling album.
£1.52 – Earthling:
His twentieth studio album and released in February 1997, this was the first album Bowie had self-produced since Diamond Dogs.
£1.52 – Blackstar:
Bowie's final studio album, released on 8th January 2016 to coincide with his 69th birthday. Bowie died two days after its release.
The Miniature Sheet
1st Class – The Ziggy Stardust Tour, 1972: The tour promoted The Rise and Fall of Ziggy Stardust and the Spiders from Mars studio album and took in the UK, North America, and Japan.
1st Class – The Serious Moonlight Tour, 1983: The tour was designed to support the Let's Dance album and was Bowie's longest, largest and most successful concert tour.
£1.52 – The Stage Tour, 1978: Also known as Isolar II – The 1978 World Tour and The Low/Heroes World Tour because it was staged to promote the Low and Heroes albums.
£1.52 – A Reality Tour, 2004: Staged to promote the Reality album this tour was to be Bowie's last tour.
Background Image – The Glass Spider Tour, 1987: launched to promote the album Never Let Me Down.
A First Class Tribute to a Music Legend
These stamps are sure to be sought after by anyone looking for a really collectable piece of Bowie memorabilia. And there are even due to be limited edition 'fan sheets' issued for the those who want to keep something truly special.
I wasn't sure Royal Mail could top last year's Pink Floyd issue, but these stamps are so well executed and poignant in my opinion they will go down as some of the most important musical stamps ever to grace our postage.
---
If you're interested…
You can reserve all of the new David Bowie stamps right now on a limited edition Collector Card – professionally framed and ready to hang. Click here for details.