Posts Tagged 'hms victory'
What is the world's oldest naval ship still in commission?
I'll give you a clue (beyond the one in the title). It's now in its 245th year of service.
The answer is HMS Victory, probably the most famous ship in Britain.
I was surprised to hear that she is still part of the Royal Navy's fleet, having never been officially decommissioned.
HMS Victory has been in dry dock for 100 years, but she is the flagship of the First Sea Lord, the military head of the Royal Navy.
Over 200 years ago, HMS Victory was the flagship of Vice Admiral Horatio Nelson, helping the British see off the might of the larger combined fleet of the French and Spanish during the Battle of Trafalgar.
Five-coin set honours HMS Victory for the first time ever
Now, this famous naval vessel is appearing on Silver 50p coins alongside Lord Nelson himself for the very first time as part of a very limited five-coin set.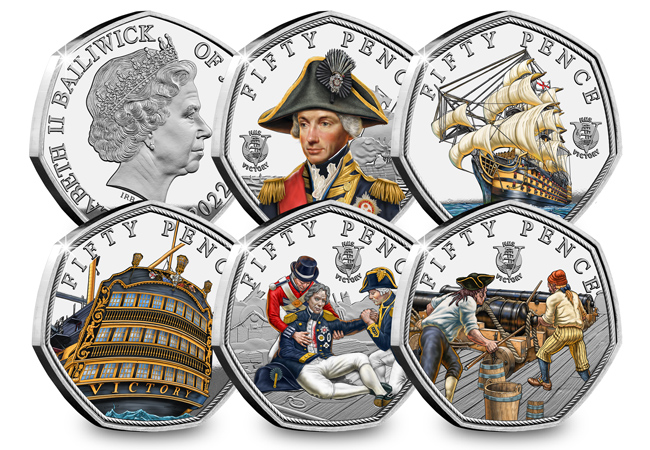 And our entire edition limit of Silver 50p sets was taken aboard HMS Victory last month and placed in Nelson's day cabin to soak up centuries of incredible history.
The five 50p designs feature the following:
HMS Victory at full sail
The ship's stern
Canons at fire
A portrait of Vice Admiral Horatio Nelson
Nelson's final moments
Each coin is struck from .925 Sterling Silver to a Proof finish and features its design in full colour!
And the complete set includes the first Lord Nelson 50p coin!
Tiny edition limit: Just 400 sets available
Just 400 sets are available; a tiny edition limit. For some perspective, when The Royal Mint released a Silver Proof £5 celebrating Admiral Nelson they sold out of an edition limit of 30,000.
How long can 400 sets possibly last? Especially knowing that they have been aboard Victory…
Please don't delay here or you will miss out.
Click here to secure your Silver 50p Set that has been aboard HMS Victory now >>>
By purchasing one of the HMS Victory Silver 50p Sets you will be helping to maintain this important piece of British naval history. £17.45 will be donated to the National Museum of the Royal Navy for each set sold.
Watch our video below where we explore HMS Victory and discuss this exciting new coin set!
---
You may also be interested in our blog on the HMS Victory Masterpiece Silver 5oz 50p — in a presentation alongside real wood from HMS Victory's restoration.