ONLY 50 collectors can own a genuine piece of HMS Victory…
A few years back, one of my contacts at HMS Victory presented me with a very special opportunity. It was the chance to secure genuine wood from HMS Victory, removed during restoration.
What an incredible opportunity to own such a fascinating piece of history.
This was real wood from the most famous ship from possibly the most important naval victory in British history.
Of course, I had to say yes!
Since then I've wanted to create a really special collector item with this piece of history. But I've never found a coin issue I considered worthy of including such a treasured artefact.
Until now.
Introducing the Masterpiece Silver 5oz 50p Coin
This limited edition Silver Antique Finish 5oz 50p coin celebrates the history of HMS Victory and Admiral Nelson.
And 50 of these brand-new coins include an actual piece of wood from HMS Victory.
This British Isles 50p has been struck from five ounces of .999 Pure Silver to an Antique finish and features a glorious depiction of HMS Victory with selective gold plating.
Also, it spans a huge diameter of 54.60mm and weighs a hefty 5oz. That's twice the size of a standard 50p and more than 17 times heavier.
Collecting opportunity – strictly limited to only 50 pieces
What's more, alongside this Silver Antique Finish 5oz 50p is a genuine piece of wood from HMS Victory — sealed in a tamper-proof capsule to preserve it forever.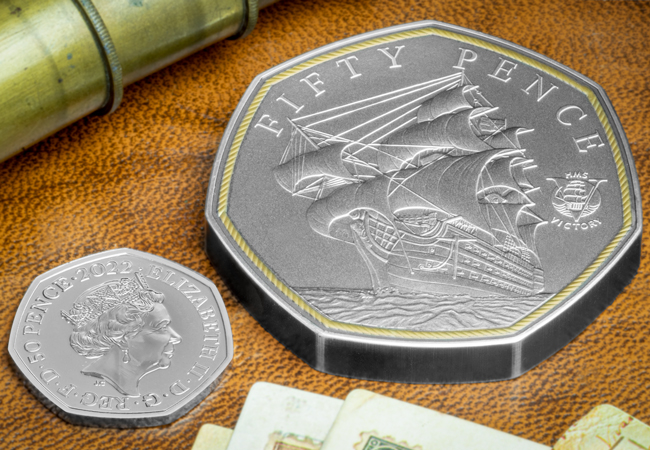 This is an incredible opportunity, but you'll need to act now as 95% of these limited edition pieces have already sold.
You can secure yours today with an initial payment of just £69.50 followed by 9 interest-free instalments of £69.50.
Click here to own the HMS Victory Silver Antique Finish 5oz 50p Coin alongside wood from HMS Victory.
---
PS. By owning one of only 50 of these unique presentations you will be helping to maintain HMS Victory. £41.66 from each coin sold will be donated to the National Museum of the Royal Navy.
You can watch our unveiling of the HMS Victory Masterpiece Silver 5oz 50p coin in our video below.
---
You may also be interested in our blog on the HMS Victory Silver Proof 50ps, taken on board HMS Victory as we explore the famous ship.