Posts Tagged 'brand new uk coins'
*** The UK's FIRST Dinosaur 50p coins are on sale now. Click here to order yours >> ***
When I was growing up I was fascinated by dinosaurs. In fact, I still am. And I expect you'd be hard pressed to find someone who wasn't even just a little bit curious about the giant reptiles who walked the earth nearly 250 million years ago.
So, I'm sure you can understand my near-childlike excitement when the Royal Proclamation issued on 8th November 2019 confirmed that a brand new series of dinosaur-themed 50p coins will be released this year!
Read on to find out these rorarsome new releases and how you can become one of the first collectors to own one…
Three themed dinosaur 50ps released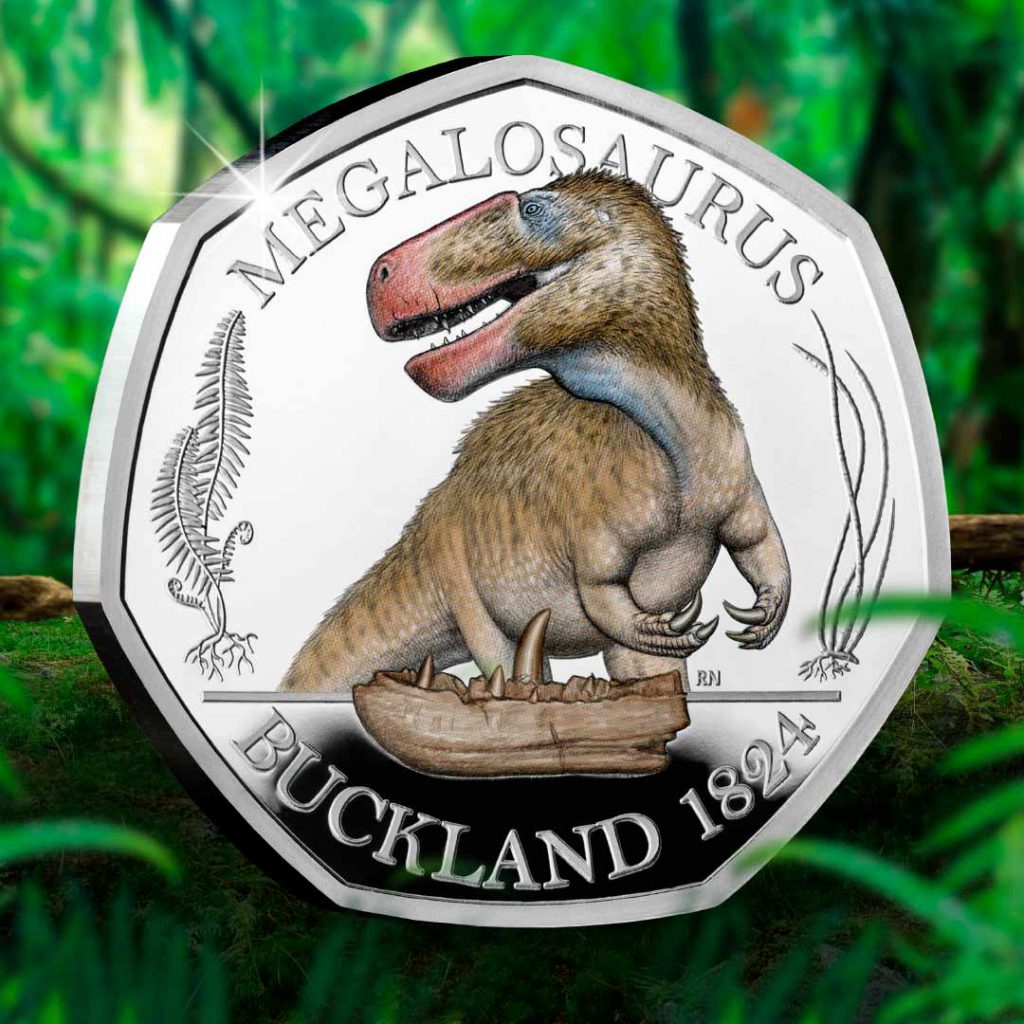 Three designs have been confirmed for release in 2020 – we don't know if there will be more, but at the moment it's looking like a 3-coin series. The dinosaurs featured include:
Megalosaurus – Greek for 'great lizard' and at seven to eight metres long it certainly lives up to its name! In 1676 the first Megalosurus bone was discovered in Oxfordshire and publication of the find is thought to make this dinosaur the very first to be described in scientific literature.
Iguanodon – large herbivores with distinctive spike-like thumbs. After Megalosaurus, these were the second type of dinosaur to be formally recognised. Their name comes from its teeth which are similar to modern iguanas, and gave palaeontologists the first clue that dinosaurs had been reptiles.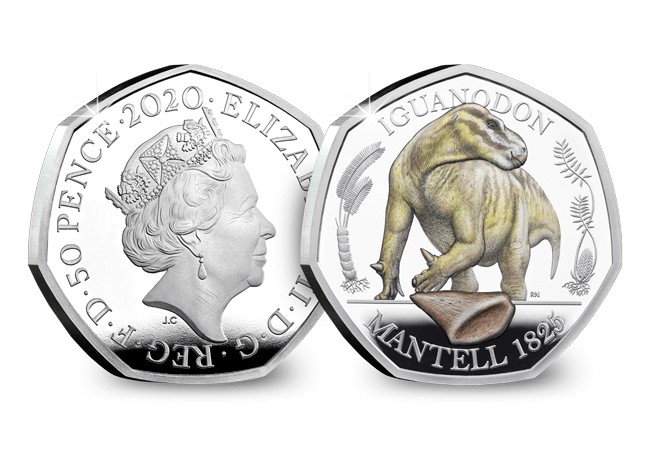 Hylaeosaurus – an armoured dinosaur with at least three long spines along its shoulders. However, much of the anatomy of this dinosaur is still unknown due to the fact that very limited remains have been found.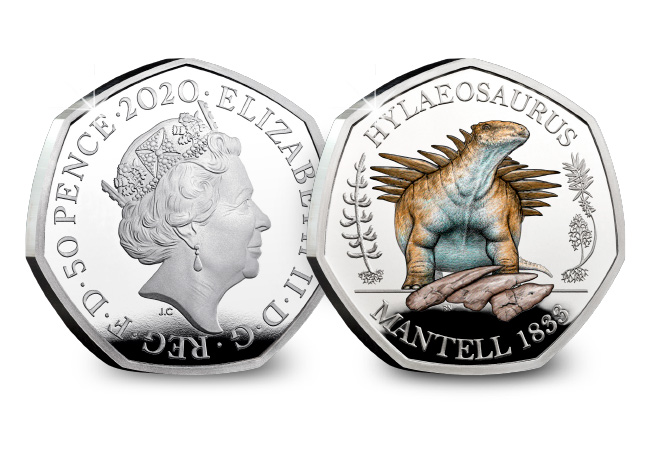 The UK's first ever dinosaur coins
Significantly this is the first time dinosaurs will have ever featured on a UK coin! This fact alone will make them highly collectable and I'm sure dinosaur fans young and old will be eager to get their hands on one. I for one can't wait for these roarsome coins to be let loose!
---
Stay up to date with all the latest 2020 Dinosaur 50p news…
Simply fill in your details below to be kept up to date with all the latest news about the 2020 Dinosaur coins. We'll be in touch as soon as we know any more!
It's a coin story the UK, if not the world, has been watching now for several years. And finally we have reached its conclusion, as today the UK withdraws from the European Union. To mark the occasion a brand new official UK 50p has been released.
Plans to release special Brexit coins were first announced by former chancellor Philip Hammond in 2018. Years in the making, I suspect this will be one of the most eagerly anticipated issues we've ever seen – it's surely the coin of the decade!
Regardless of how you voted back in the historic referendum in 2016, it goes without saying that the 31st January 2020 will go down as one of the most significant dates in the UK's history. This new coin is both marking this important moment in time and acts as a symbol of the UK's future.
The new 50p coin has been struck to a variety of specifications. Each one features the inscription "Peace, prosperity and friendship with all nations", as well as the withdrawal date.
A 50p coin was struck when the UK joined the European Economic Community in 1973 and when the UK held the presidency of the EU in 1998. So it only seems fitting one is released to mark the UK's departure from the EU. And by marking such a pivotal event in our history, this coin is certain to be sought-after by collectors in years to come.
Simply read on to discover how you can be one of the first UK collectors to add this brand new UK 50p to your collection…
---
The Official UK Brexit 50p BU Pack
To give as many collectors as possible the chance to own this highly sought-after coin, The Royal Mint has issued it in Brilliant Uncirculated quality. This finish is coveted by collectors as it means each coin is free from any marks you would find on circulated coins.
Each coin is protectively encapsulated in its attractive original Royal Mint packaging to preserve its quality for generations to come. What's more, you can secure this BU Pack at the Royal Mint issue price of just £10 (+p&p).
Click here to find out more >>
---
Limited Edition Silver Proof Brexit 50p
Whilst thousands, if not millions of these new coins will be struck, you can choose to own the official Withdrawal from the EU 50p coin in a far more limited way.
Just 47,000 coins have been issued worldwide in a superior specification, struck from .925 Sterling Silver to a Proof finish. Given how popular commemorative 50ps are, this exclusive precious metal version is sure to be an even bigger hit.
What's more, there will surely not be enough coins to satisfy demand – especially if you consider that over 17 million people voted to leave the EU in the historic 2016 referendum . That's 307 voters for every new coin issued!
You can secure one for your collection today for just £60 (+p&p) – that's the Royal Mint issue price.
Click here to find out more >>
---
Extremely Rare Gold Proof Brexit 50p
Finally, the rarest version of all. Just 1,500 collectors worldwide will be able to own the Withdrawal from the EU 50p impeccably struck to the most superior specification of all, from 22 Carat Red Gold to a proof finish.
Gold Proof 50ps have some of the fastest sell-out rates around – previous issues, including the Snowman and the Gruffalo, have sold out within 24 hours of release. So this history-making issue is not expected to be available for long. You can reserve yours today with a deposit of just £99.50 (+p&p) followed by nine further interest-free instalments – clearly the most affordable way to own this superior issue.
Click here to find out more >>
---
Please note, collector demand is expected to be extremely high so it is advised that you act quickly to avoid disappointment.
You can view the full UK Brexit 50p range by clicking here >>
***UPDATE***
Following the Royal Proclamations on the 8th November 2019, The Royal Mint have now confirmed there will be a Music Legends coin series!
This is exciting news for music fans and collectors alike. It's safe to assume stage legends Queen will be part of this series, but who else would you like to see on a Music Legends coin?
Let us know in the comments below and sign up for updates at the bottom of the blog!
By signing up we'll make sure you're the first know any updates about these new coins, including when they're being launched. So what are you waiting for?
---
Royal Proclamations issued on 8th November 2019 confirm that two icons of British culture will be honoured next year on UK coins – rock legends of the stage, Queen, and spy of the silver screen, James Bond.
It is unknown yet exactly when we will be able to snap up these new issues, but we do know the coins will be 2020 dated so we will be on the lookout from the New Year…
"I won't be a rock star. I will be a legend" – Freddie Mercury
And legends they did become. It's safe to say renowned rock band Queen have been inspiring millions across the globe since they exploded on to the British music scene in 1970 – you'd be hard-pressed to find someone who doesn't recognise the opening rift of Another One Bites the Dust.
Known for hits such as We Will Rock You, Bohemian Rhapsody and Don't Stop Me Now, Queen's pioneering, creative and alternative approaches to music making proved to the world that music has no bounds.
Their status as icons in the British music industry was sealed in 1990 when they received the Brit Award for Outstanding Contribution to British Music. Following this they were then inducted into the Rock and Roll Hall of Fame in 2001 and in 2018 were presented with the Grammy Lifetime Achievement Award.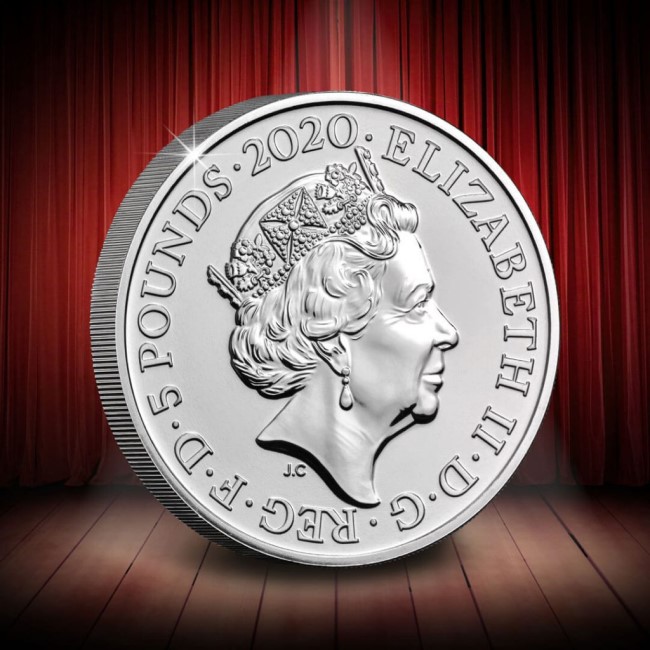 And now, their lasting legacy is going to be captured on a commemorative UK coin – the first band to ever feature on a UK coin!
The Royal Proclamation confirms there will be various specifications available, including a £5 base metal coin and a variety of precious metal versions. All coins will bear a design depicting a keyboard, drum, bass and electric guitar accompanied by a microphone and the inscription "QUEEN". What's more, a special two pound denomination silver coin will feature the edge inscription "MERCURY · MAY · TAYLOR · DEACON ·"
Bond, James Bond
Created by Ian Fleming in 1953, James Bond – or better known by his MI6 codename 007 – will be returning in the hotly-anticipated 25th Bond film that was revealed recently to be called No Time To Die.
The Bond franchise is the longest running film series of all time, grossing nearly $7 billion to date for its production company, Eon. Overall it has grown to become the fourth-highest-grossing film series ever, and has amassed five Academy Awards along the way too.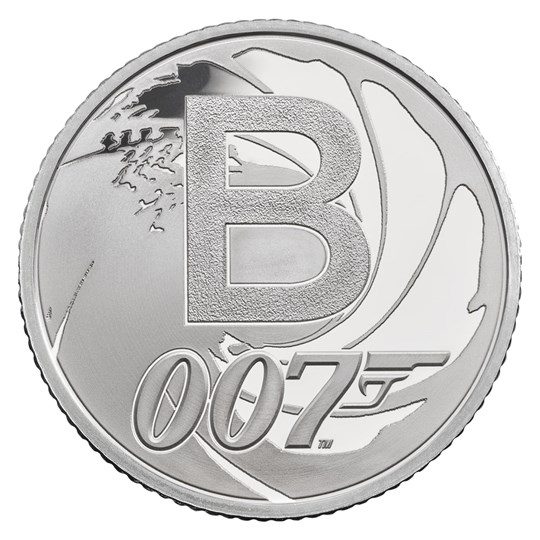 The secret agent has been portrayed by seven actors, and is perhaps best known for his suave manner, his penchant for martinis (shaken, not stirred) and the gadgets and cars supplied by Q branch.
Speaking of cars, the Royal Proclamation confirms the design of the Bond coin will feature the 007 logo and a depiction of his car – fingers crossed for a classic Aston Martin!
It also looks like this commemorative Bond coin will be issued in a variety of precious metal specifications. The smallest denomination will be a ten pound silver coin, with an impressive diameter of 65mm to truly appreciate what is sure to be a spectacular design.
---
Register your interest
Both Queen and Bond have an unrivalled cult following with leagues of fans worldwide. So, I expect these new commemorative issues to be amongst the most anticipated new issues in 2020, and as such will be in high demand!
If you want to be kept up to date and be the first to know when these coins are available then simply register your interest below and we'll email you as soon as we have more information.