Posts Tagged 'brilliant uncirculated'
Did you know that on the jagged coast of the UK and the Channel Islands there are an estimated 251 Lighthouses? Each tower and the people who have lived and worked in them over the centuries have kept an untold number of ships and sailors safe.
This year marks the 250th anniversary of the birth of Robert Stevenson — the man who constructed some of the most important and iconic lighthouses in the British Isles.
Not only did he build lighthouses, but he also improved upon their design by inventing intermittent and flashing warning lights, undoubtedly saving the lives of many as the lights helped warn sailors of dangerous areas and guided them to safety.
To celebrate the amazing work of Robert Stevenson, a brand-new collection of Jersey £2 coins have been issued. These £2 coins have been beautifully designed by artist Tabitha Mary, and each features the image of an iconic lighthouse from around the UK and the British Isles.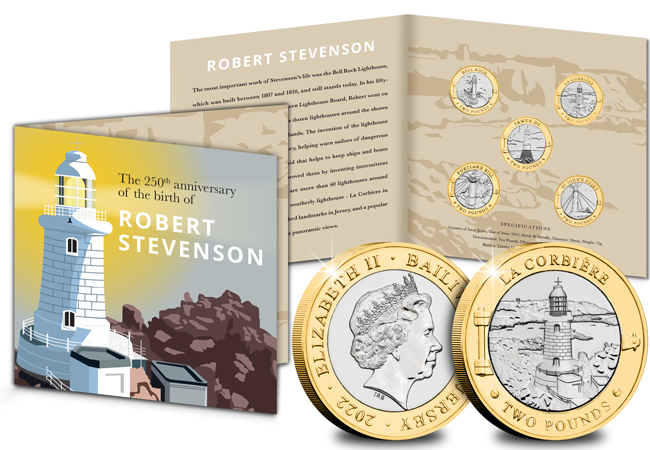 Continue reading to find out more about each of the iconic UK and British Isles lighthouses featured on this BRAND NEW set of coins…
Take a closer look at our set of Lighthouse £2 Coins below!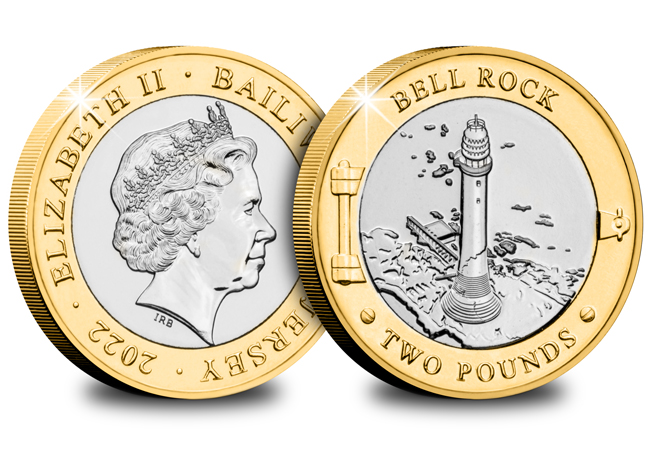 Bell Rock Lighthouse
The Bell Rock Lighthouse is situated off the Angus Coast in Scotland.
Designed by Robert Stevenson, it's the world's oldest working sea-washed lighthouse, established in 1811.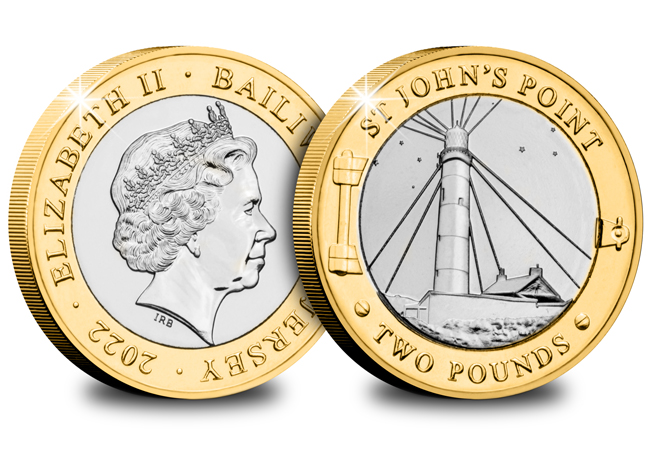 St. John's Point Lighthouse
St. John's Point is one of 65 active lighthouses on the Irish Coast and is a well-known beacon in the northeastern Irish Sea.
Built in 1844, it's the tallest lighthouse in Ireland, standing over 40 meters tall.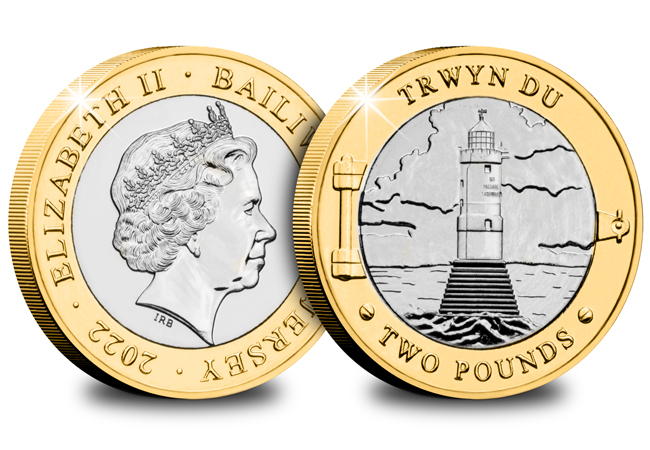 Trwyn Du Lighthouse
Situated in Wales, Trywn Du is also known as Penmon Lighthouse and marks the channel between Puffin Island and Penmon Point.
In 1996 the lighthouse was converted to run on solar power.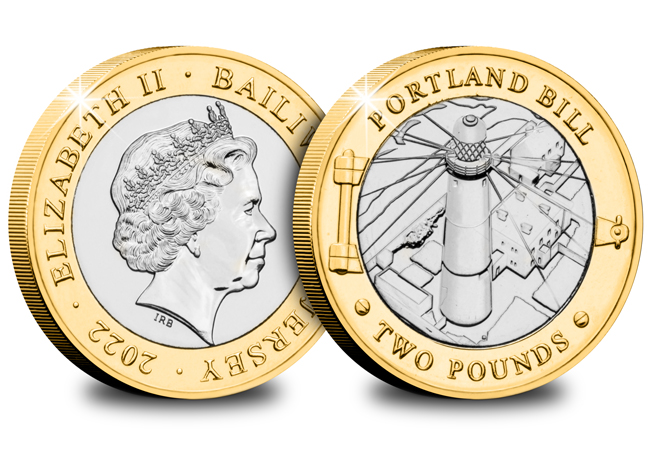 Portland Bill Lighthouse
Portland Bill is a functioning lighthouse on the Isle of Portland in Dorset.
Its distinctive red and white tower first shone its famous four flashes of light every twenty seconds on 11th January 1906 and has a range of 25 nautical miles.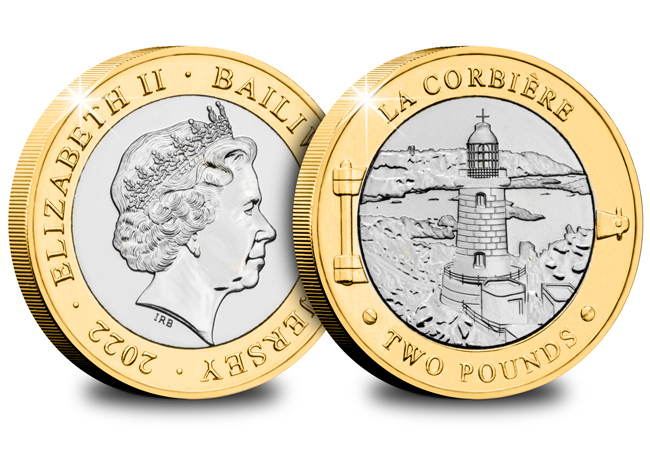 La Corbière Lighthouse
La Corbière lighthouse is a historic structure which was first lit in 1874.
It's one of the most significant monuments in Jersey and is located at the extreme southwestern point of the Bailiwick of Jersey. It is flanked by rocks and can be reached by a causeway.
This set has some rare collectable features you won't want to miss out on! Not only does each coin feature a never-before-seen porthole design around each lighthouse, but it also has an edition limit of only 2,022. This is extremely unusual for a BU £2 set, as usually there is no edition limit, making this collection one of the most limited £2 sets ever!
These stunning coins come in a presentation pack featuring artwork by the designer, making this a valuable piece to hand down to feature generations. I'm sure you'll agree that these are unlikely to be around for long.
Click here to secure your British Isles Lighthouse BU £2 collection today >>>
Recently, we announced an exciting brand new collection of 50p coins celebrating Alice's Adventures in Wonderland. Unsurprisingly, since their release, the coins have seen unprecedented demand as collectors and beloved fans alike race to get theirs.
The coins were released to celebrate over 150 years since author, Lewis Carroll first narrated his nonsense fairytale about a girl called Alice. Since then, the story has been adapted in many forms, from book to theatre to ballet and even a blockbuster Disney film. The story is undeniably one of the best-known and most popular works of English-language fiction. A first edition of the book once sold at auction for over $2 million, confirming Alice commemoratives would be highly sought-after.
The 50p has firmly established itself as the collector's favourite coin, so it was only right the beloved characters from the fairytale feature on them. Authorised for release by Isle of Man Treasury and fully approved by Her Majesty the Queen, these coins could undoubtedly become one of the most popular numismatic releases of 2021!
Find out more about these new coins and how to order them below…
The COMPLETE Brilliant Uncirculated 50p Set
This stunning collection features all five new 50p coins, each struck to a Brilliant Uncirculated quality and featuring carefully curated designs by renowned illustrator Stephen Lee. These include:
Alice "What a curious feeling! said Alice"
Cheshire Cat "We're all mad here".
Queen of Hearts "That's enough! Off with their heads!".
The Mad Hatter "I am under no obligation to make sense to you."
The White Rabbit "The hurrier I go, the behinder I get".
What's more, the coins will come protectively housed in bespoke presentation pack that has also been designed by the coin designer. This set is one of the only ways you can own all FIVE coins and demand has already been extremely high.
If you'd like to secure one for your collection for JUST £31.25 (+p&p) then click here >>
The STRICTLY LIMITED Silver Proof 50p
The Silver Proof version of the stunning Alice 50p coin features a specially commissioned illustration of Alice, drinking the shrinking potion that allows her through the door to the Queens castle. 'What a curious feeling' said Alice…
The coin has been struck to a flawless Proof finish from .925 Sterling Silver with selective vivid colour printing to bring the design and Alice to life!
The Silver Proof editions are without a doubt the collector's favourite and almost always acquire fast sell-outs. With an edition limit of JUST 4,995 coins time is short to secure one for your collection…
Click here to guarantee yours >>
The ULTIMATE Silver Proof 50p Collection
The Silver Proof set is by far one of the most limited and exclusive ways you can own all five new 50ps. With only 1,995 available to collectors worldwide, it is almost certain that they won't be around for long.
Each coin is struck from .925 Silver, to a Proof finish, with the addition of colour and comes ready to present in case with numbered Certificate of Authenticity.
Don't miss out on yours… Click here >>
The SCARCE Gold Proof 50p – the most prestigious and limited coin within the range
The crème de la crème of the range you could say. If you're looking for the most premium and limited way to own one of these brand new Alice's Adventures in Wonderland 50p coins, then this is it.
Struck in .916 Gold to a flawless proof finish, this coin is guaranteed to popular with serious collectors. Though especially as this official new release has been given a strict edition limit of JUST 500 worldwide.
This is MUCH LOWER than other recent Gold Proof 50p releases that have completely sold out, so only a handful of lucky collectors will have the chance to own this prestigious coin.
If you'd like to find out more about this incredible new coin and how you can secure one for your collection, click here >>
The LIMITED EDITION Signed Print
This unique, celebratory print is 1 of JUST 495 limited-edition authentic prints to be signed and hand-numbered by renowned illustrator Stephen Lee.
This authentic print offers a closer look at the designs of the new 2021 Alice's Adventures in Wonderland 50p coins and is exclusively available from The Westminster Collection.
With such a small number available it is advised that you reserve your Alice's Adventures in Wonderland Framed Print today or you may miss out altogether. Click here >>
---
View the complete range of Alice's Adventures in Wonderland 50p coins here >>
From Tiny Dancer, to Rocket Man, there's no denying that Elton John has produced some of the most recognisable and popular hits the world has ever seen. His impressive resumé includes over 4,000 performances in over 80 countries, and in excess of 300 million record sales worldwide.
Now there's a new addition to his CV: first ever appearance on a UK coin. This makes him the second British act to feature in The Royal Mint's Music Legends series.
We're delighted to provide you with all the details you need to know about this latest edition to the Music Legends family…
Design fit for a British icon
Importantly, this is the very first time that Elton John has featured on a UK coin. What's more, the design has been approved by Elton John himself.
The design, by Bradley Morgan Johnson, features imagery that is synonymous with the star of the coin – Elton's boater hat, bow tie and glasses. The design exudes a sense of fun and is an authentic tribute to the singer and his incredible career.
BU Pack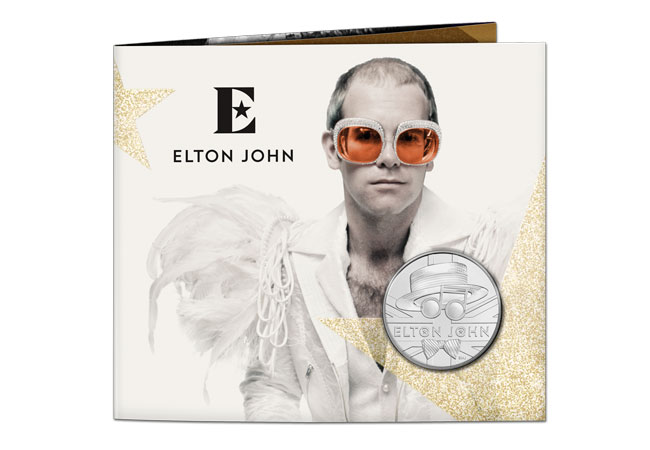 To give as many collectors as possible the chance to own the first ever UK coin to feature Elton John, The Royal Mint has issued it in Brilliant Uncirculated quality, which is coveted by collectors as it means each coin is free from any marks you would find on circulated coins.
Each one is protectively encapsulated in its attractive original Royal Mint packaging to preserve its quality for generations to come. What's more, you can secure this BU Pack at The Royal Mint issue price of just £13 (+p&p). Click here to find out more >>
---
Half Ounce Silver Proof £1 Coin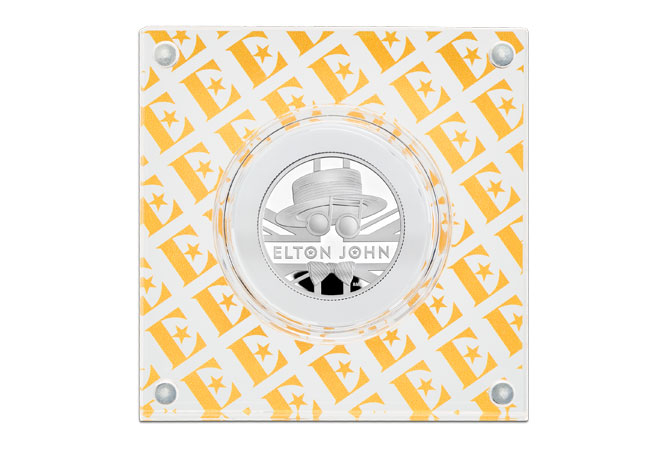 The design has been issued expertly struck from half an ounce of .999 pure silver to a pristine proof finish. What's most significant about this coin though, is its specification. That's because the Half Ounce Silver Proof specification is very rare and tends to be reserved only for flagship Britannia issues. And even then, it is often reserved as part of a fractional set, not available as a single issue.
JUST 14,000 Half Ounce Silver Proof Coins have been released worldwide – certainly not enough for British collectors, let alone the worldwide interest guaranteed for this issue. It comes ready to display in an eye-catching bespoke Perspex presentation box and is available for The Royal Mint issue price of £60. Click here to find out more >>
---
1oz Silver Proof £2 Coin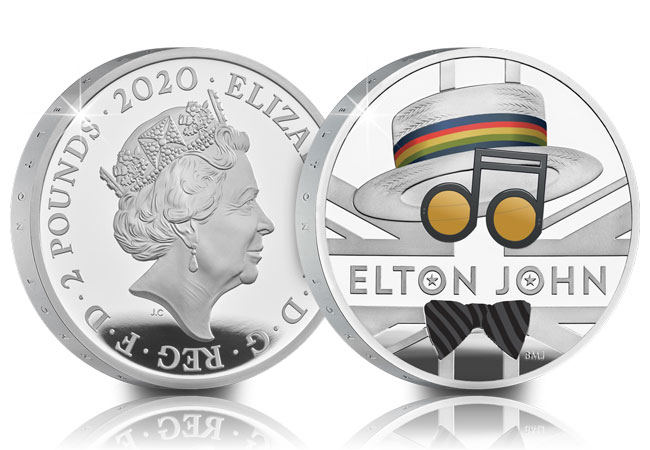 There is one coin in the range that stands out above all others – it's the 1oz Silver Proof £2 Coin. It is the ONLY coin in the range to have two special features:
Colour printing – colour printing technology accents details within the design to make it stand out.
Special edge inscription – a decorative star pattern and in incuse letters the inscription "ELTON JOHN".
These two features make this coin unique, and easily makes it the most desirable coin in the range. It will be sought-after by knowledgeable collectors in years to come.
JUST 7,500 coins have been impeccably struck from one full ounce of .999 pure silver to a proof finish and issued worldwide. This is the same number as the Queen 1oz Silver coin that completely sold out earlier this year, so high demand and another sell-out is expected. It's available today for £125. Click here to find out more >>