New 50ps mark the centenary of the opening of Tutankhamun's tomb – PLUS, the FIRST coins to feature the new official British Isles Portrait of King Charles III.
November 4th 1922, in Thebes, Egypt, English archaeologist Howard Carter discovered the greatest treasure in Egyptology. The tomb of ancient Egyptian King Tutankhamun.
The excavation was slow and cautious. It wasn't until 16th February 1923 that the third doorway was opened, revealing the Burial Chamber.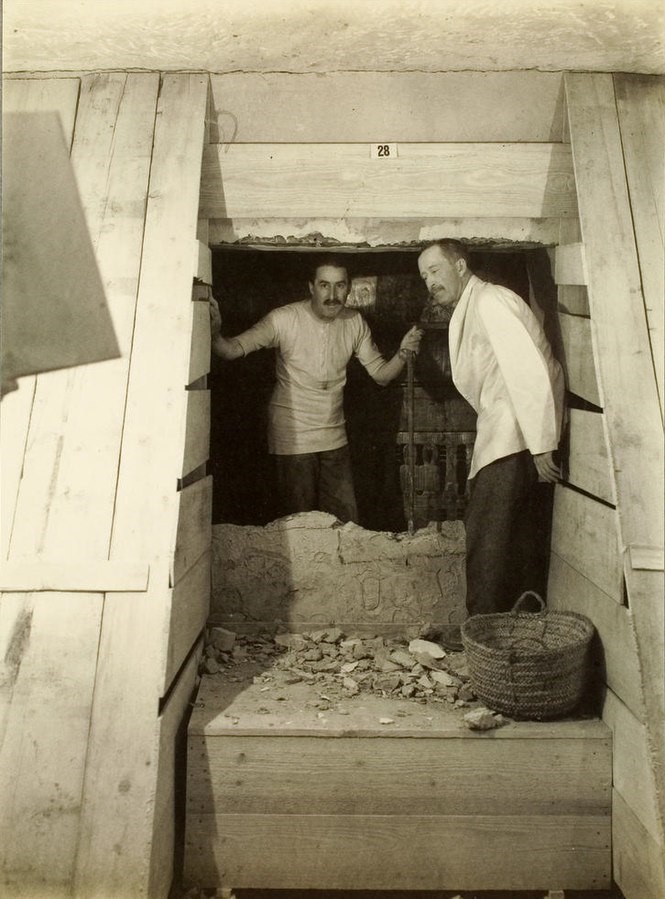 The chamber not only contained the perfectly preserved sarcophagus of Tutankhamun, but also remarkable treasures untouched for more than 3,000 years.
And now, to mark the centenary of this incredible discovery, a collection of new 50ps has been authorised by the Isle of Man Treasury.
But most importantly, these are the FIRST coins to feature the new official British Isles portrait of King Charles III.
Five Tutankhamun 50ps authorised by the Isle of Man Treasury
To celebrate the extraordinary treasures found within King Tutankhamun's Tomb, you can now secure these FIVE new Brilliant Uncirculated 50ps.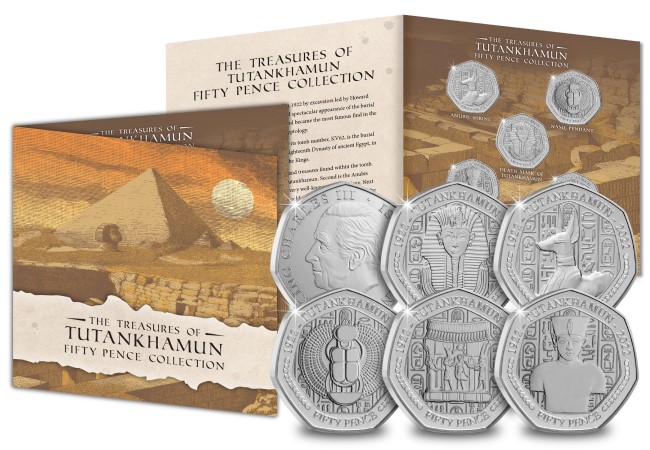 Featuring five iconic designs carefully curated by Joe Cummings that represent artefacts and treasures found within King Tutankhamun's tomb. These include; the famous death mask of Tutankhamun, Anubis Shrine, the Name Pendant, a corselet, and a model of the torso of Tutankhamun.
Your coins will arrive in a detailed presentation pack to keep your coins safe for years to come.
Don't miss out, sure ALL FIVE for just £34.95 (+p&p) >>>
Limited Edition Silver Proof 50p set restricted to JUST 795 Collectors WORLDWIDE
JUST 795 Silver Proof Sets are available worldwide. Considering The Royal Mint's Silver Proof Tutankhamun £5 has an edition limit of 1922, how long can 795 sets possibly last?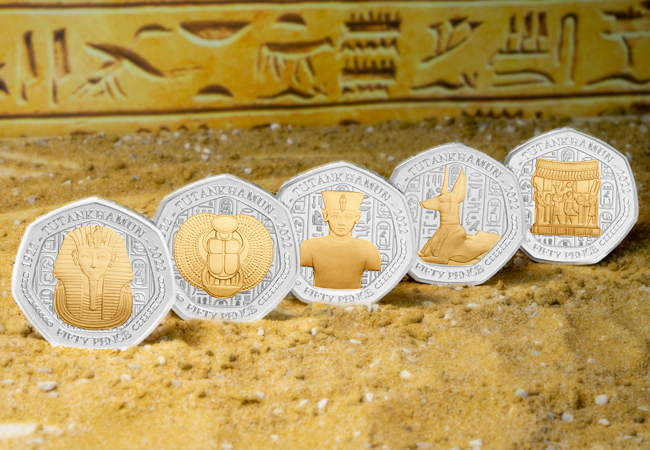 Each 50p in this FIVE-coin set has been struck from 925/1000 Silver to a pristine Proof finish. What's more, with the addition of 24ct Gold-plating, it comes protectively housed in a deluxe presentation box.
The ULTIMATE Presentation of Stamps and Coins – with the addition of vivid colour print!
Just 495 Brilliant Uncirculated 50ps feature a colour finish for use within this Ultimate Stamp and Coin Cover.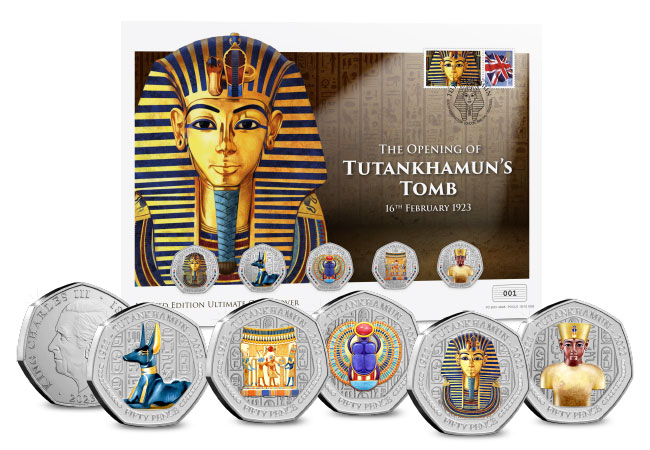 These covers will be officially postmarked by the Royal Mail on the 16th February 2023 – the 100th anniversary of the Opening of the Tomb.
And with ONLY 495 of these covers available worldwide, many collectors are sure to miss out.
This is the smallest edition presentation you'll find – from a collector's point of view, the decision is obvious. You can only secure the NEW 50ps with colour and Official Royal Mail Philatelic label in a set like this, and we guarantee you won't find a smaller edition anywhere else.
Click here to secure the ULTIMATE Presentation for just £70 (+p&p) >>>
JUST 195 Available Worldwide – The DOUBLE DIAMETER Tutankhamun 50p struck from One Ounce of Pure Silver
Perhaps the most recognisable treasure discovered within Tutankhamun's tomb was his iconic Death Mask. This mask's incredible detail features on this BRAND NEW 50p with the brand new portrait of the King.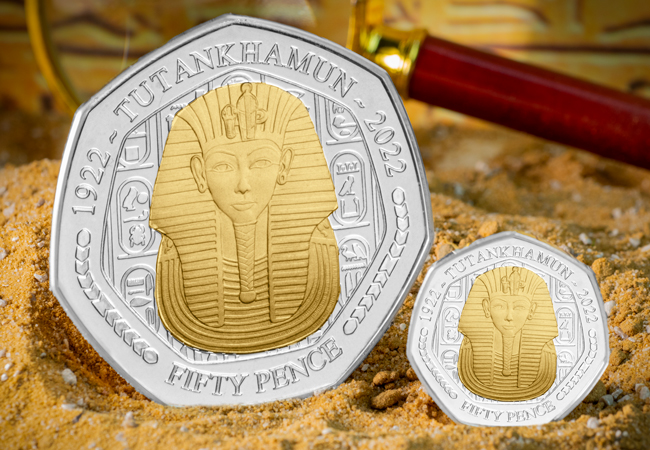 This impressive 50p has been struck to a DOUBLE DIAMETER size from 1oz of Pure Silver. That's twice the size of a standard 50p and almost four times heavier!
Due to this rare and complicated striking technique, these remarkable coins take a little longer to produce than the rest of the collection.
This coin is available to pre-order now.
Click here NOW to pre-order one of JUST 195 Available WORLDWIDE with a deposit of just £19.50 >>>
As the FIRST coins to feature the new British Isles King Charles III portrait designed by renowned coin designer, Glyn Davies, these are expected to be extremely popular with knowledgeable collectors.
And with such low edition limits, I would suggest acting quickly to secure yours before stock runs out.
If you want something extra special, there are also gold specifications available within the collection.
Click here to browse the full range of 'The Discovery of Tutankhamun's Tomb' 50p releases starting from JUST £6.99 >>