From Tiny Dancer, to Rocket Man, there's no denying Sir Elton John has produced some of the most recognisable and popular hits the world has ever seen. His music catapulted him to global stardom in the 60s and 70s, and he is now one of the world's best-selling artists of all time.
And now, the Royal Proclamation issued on the 14th of February 2020 confirms that a range of Elton John coins will be released this year. I can't think of a better way to celebrate his legacy and contribution to British music than with a UK coin!
Not many details have been released yet by The Royal Mint, but if you want to be the first to know when they're released simply register your interest below.
In the meantime, let's take a closer look at the Royal Proclamation to see what's in store for this exciting new coin range…
Next Music Legend?
This news comes following the exciting release of the first coin in The Royal Mint's Music Legends coin series – the Queen £5 – earlier this year.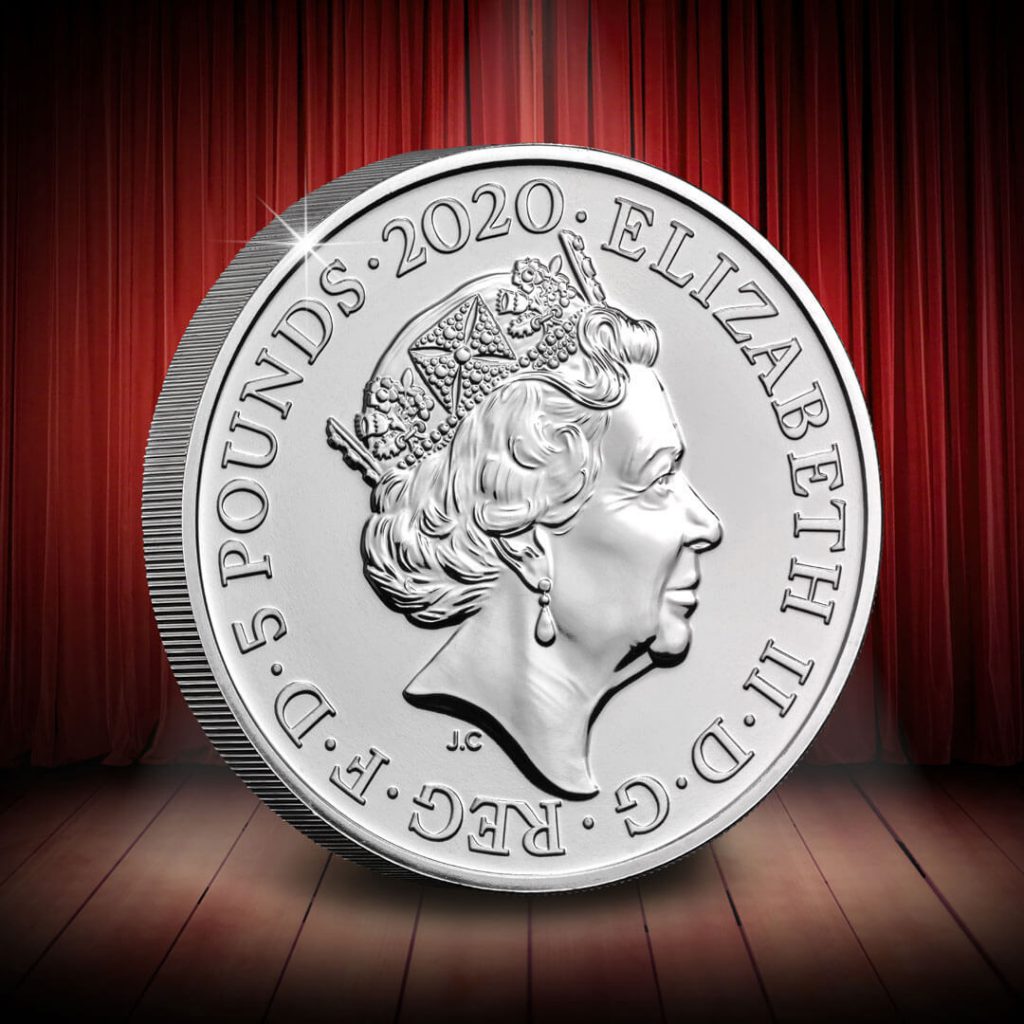 I think we can safely assume that Elton John will be part of this series and we're sure that collectors and Elton fans alike will be feeling the love for this new coin.
At the moment, the designs are still top secret but the reverse is said to feature Elton John's boater hat, glasses and bow tie set against a union flag and the inscription "ELTON JOHN".
It also looks like this commemorative Elton John coin will be issued in a variety of base and limited edition precious metal specifications and denominations. This includes a Brilliant Uncirculated £5 coin and a 1oz Silver £2 coin that will be the only coin in the range to feature a special edge inscription – "a decorative star pattern and in incuse letters the inscription "ELTON JOHN"."
Register your interest
It goes without saying that Elton John has leagues of fans worldwide, so I expect these new commemorative issues to be amongst the most anticipated new issues in 2020, and as such will be in high demand. That means when the coins are released you'll have to act quickly to secure yours!
If you want to be kept up to date and be the first to know when these coins are available then simply register your interest below and we'll email you as soon as we have more information.
It's a coin story the UK, if not the world, has been watching now for several years. And finally we have reached its conclusion, as today the UK withdraws from the European Union. To mark the occasion a brand new official UK 50p has been released.
Plans to release special Brexit coins were first announced by former chancellor Philip Hammond in 2018. Years in the making, I suspect this will be one of the most eagerly anticipated issues we've ever seen – it's surely the coin of the decade!
Regardless of how you voted back in the historic referendum in 2016, it goes without saying that the 31st January 2020 will go down as one of the most significant dates in the UK's history. This new coin is both marking this important moment in time and acts as a symbol of the UK's future.
The new 50p coin has been struck to a variety of specifications. Each one features the inscription "Peace, prosperity and friendship with all nations", as well as the withdrawal date.
A 50p coin was struck when the UK joined the European Economic Community in 1973 and when the UK held the presidency of the EU in 1998. So it only seems fitting one is released to mark the UK's departure from the EU. And by marking such a pivotal event in our history, this coin is certain to be sought-after by collectors in years to come.
Simply read on to discover how you can be one of the first UK collectors to add this brand new UK 50p to your collection…
---
The Official UK Brexit 50p BU Pack
To give as many collectors as possible the chance to own this highly sought-after coin, The Royal Mint has issued it in Brilliant Uncirculated quality. This finish is coveted by collectors as it means each coin is free from any marks you would find on circulated coins.
Each coin is protectively encapsulated in its attractive original Royal Mint packaging to preserve its quality for generations to come. What's more, you can secure this BU Pack at the Royal Mint issue price of just £10 (+p&p).
Click here to find out more >>
---
Limited Edition Silver Proof Brexit 50p
Whilst thousands, if not millions of these new coins will be struck, you can choose to own the official Withdrawal from the EU 50p coin in a far more limited way.
Just 47,000 coins have been issued worldwide in a superior specification, struck from .925 Sterling Silver to a Proof finish. Given how popular commemorative 50ps are, this exclusive precious metal version is sure to be an even bigger hit.
What's more, there will surely not be enough coins to satisfy demand – especially if you consider that over 17 million people voted to leave the EU in the historic 2016 referendum . That's 307 voters for every new coin issued!
You can secure one for your collection today for just £60 (+p&p) – that's the Royal Mint issue price.
Click here to find out more >>
---
Extremely Rare Gold Proof Brexit 50p
Finally, the rarest version of all. Just 1,500 collectors worldwide will be able to own the Withdrawal from the EU 50p impeccably struck to the most superior specification of all, from 22 Carat Red Gold to a proof finish.
Gold Proof 50ps have some of the fastest sell-out rates around – previous issues, including the Snowman and the Gruffalo, have sold out within 24 hours of release. So this history-making issue is not expected to be available for long. You can reserve yours today with a deposit of just £99.50 (+p&p) followed by nine further interest-free instalments – clearly the most affordable way to own this superior issue.
Click here to find out more >>
---
Please note, collector demand is expected to be extremely high so it is advised that you act quickly to avoid disappointment.
You can view the full UK Brexit 50p range by clicking here >>
This year marks the 90th anniversary since Peter Pan author, JM Barrie, gifted his rights in Peter Pan to Great Ormond Street Hospital.
To commemorate this generous gift, earlier this year we launched a range of Peter Pan 50p coins in partnership with Great Ormond Street Hospital Charity, the Isle of Man Treasury and Tower Mint.
These magical 50p's really captured the imagination of collectors and the demand experienced since their release has been unprecedented.
Incredibly this has meant in just a matter of months, through the sales of these Peter Pan 50p coins, that collectors have helped raise over £250,000 for Great Ormond Street Hospital Children's Charity!
This is an achievement that everyone is immensely proud of, and we are hugely thankful to collectors for helping raise such an amazing amount to support Great Ormond Street Hospital Charity and the seriously ill children from across the UK who are cared for there.
To celebrate this important occasion, Managing Director, Ian Glen, and Karen Brooks, Head of Product Development, went along to Great Ormond Street Hospital to present them with the £250,000 cheque!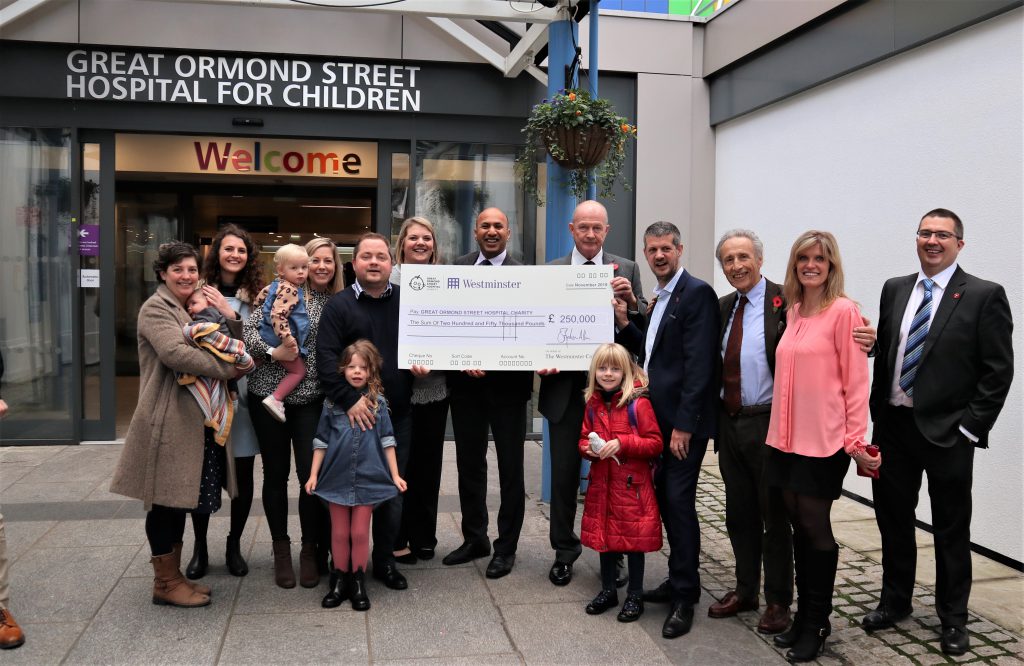 "We would like to thank all of the collectors who have raised such a considerable amount of money for Great Ormond Street Hospital. It has been a real privilege to work alongside the Great Ormond Street Hospital Charity, the Isle of Man Treasury and Tower Mint in such a worthwhile coin issue."

Ian Glen – Managing Director, The Westminster Collection
"Everyone at Great Ormond Street Hospital Children's Charity is thrilled and incredibly grateful that The Westminster Collection, The Tower Mint and the Isle of Man Government chose to celebrate the 90th anniversary of JM Barrie's gift of the rights of Peter Pan to Great Ormond Street Hospital by issuing a special Peter Pan collection. It's wonderful to see how much the general public and avid collectors have come together in support of this special collection. The funds raised will have a huge impact on the lives of seriously ill children from across the United Kingdom."

Amit Aggarwal – Director, Great Ormond Street Hospital Charity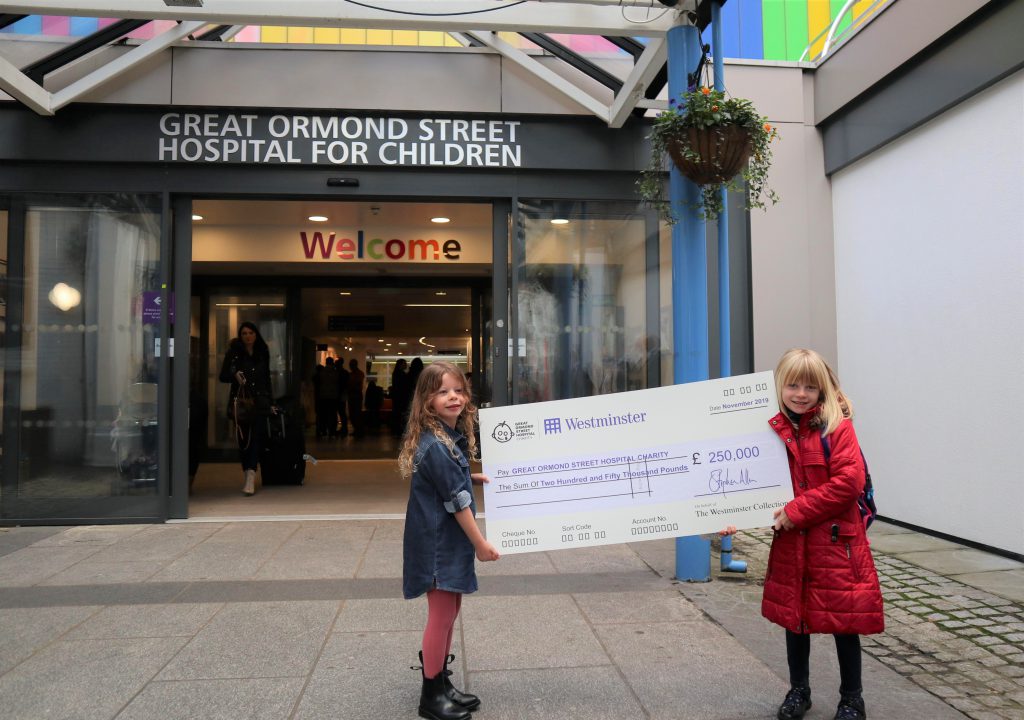 "I work in such a special industry, and I get see so much and meet so many people, but I never thought I would be able to connect my daughters syndrome to such a great cause, as well as contribute such an amazing amount to Great Ormond Street Hospital which will support all of the incredible work they do. The Westminster Collection and the Isle of Man have achieved so much for all involved, and I am a very proud dad!"

Elliot Dawson – Director at Tower Mint & Dad of Olivia Dawson (pictured above)
---
We are delighted to see our range of Peter Pan commemoratives grow in recent months and expand the opportunities for collectors to support Great Ormond Street Hospital Children's Charity. If you'd like to take a look at the full range, you can do so by clicking here.
To find out more about Great Ormond Street Hospital and the fantastic work they do, click here.