Posts Tagged 'Proof Coin'
Let me introduce you to a coin that speaks volumes…
Meticulously crafted from Pure Silver, the impressive King's Speech 5oz 100mm Coin has been issued to honour King Charles III's defining moment as Monarch.
Every word of the emotional and historic address he gave to the nation following the passing of Queen Elizabeth II feature on this coin – that's 977 words in total!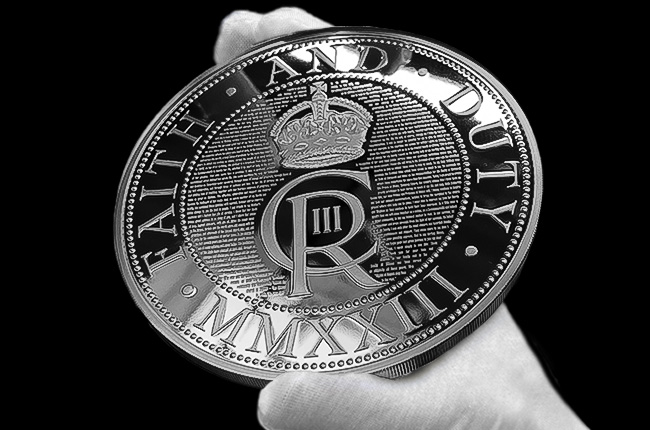 A Monarch's Defining Moment
On the 9th September 2022, just one day removed from Her Late Majesty's passing, King Charles III made the poignant speech. In the address he paid tribute to his mother and pledged to show the same unwavering commitment to duty.
And so, this coin not only commemorates King Charles III's first ever speech as Monarch but it also honours the incredible reign of Queen Elizabeth II.
Relive the King's Speech…
The King's Speech Pure Silver 5oz Coin is a true numismatic masterpiece, one that has seen incredible demand from collectors worldwide.
In fact its Pure Gold Counterpart, priced at a staggering £59,995, had an edition limit of JUST 5.
Making a Masterpiece
The King's Speech Silver 5oz is an impressive combination of artistic expression and technical prowess.
The delicate process of striking 977 words onto a coin has been achieved using the process of micro-engraving. Every single word has been meticulously engraved onto the die, a painstaking process that requires remarkable precision and expertise. Skilled artisans devoted countless hours to ensuring that each letter has been flawlessly etched.
Once the micro-engraving is complete, the die is ready to undergo the next step in the coin production process. With force and finesse, it is expertly struck multiple times, employing immense pressure to achieve the pristine Proof finish which brings the micro-engraved words to life.
Of course, fitting a 9 minute speech onto a coin presented a major challenge. That's why each coin has been struck from FIVE OUNCES of Pure Silver and measure at an incredible 100mm.
With its minted design, lustrous silver content and the sheer significance of the occasion it commemorates, this coin is an absolute must-have for collectors worldwide.
If you're interested…
A strict edition limit of 750 has been set. For one of the most remarkable coins we've ever seen, that simply will not be enough…

Can you believe that this year marks the 50th anniversary since the very FIRST Moon Landing?
50 years since Neil Armstrong took the first ever steps on the Moon's surface and spoke those famous words: "That's one small step for a man, one giant leap for mankind"
To this day, it is not only considered as one of mankind's greatest ever achievements but also one of the most important moments in history.
There have been a number of incredible coins released across the world to celebrate this 50th anniversary and unsurprisingly collector demand has been extremely high.
If you're yet to secure the perfect piece to commemorate the occasion then I have some good news! As I've spent some time looking through the new releases and have handpicked my top 5 Moon Landing 50th Anniversary coins. Read on to find out why each of them would make a great addition to any collection…
The FIRST EVER British Isles Black Proof £5 Coin
Now what makes this coin particularly special, is the fact that it is the FIRST EVER Black Proof British Isles coin to be issued. This is an extremely rare finish to feature on any coins and it has as such proven a hit with collectors.
Adding to this is the selective colouring that has been used to highlight the design which contrasts magnificently against the black proof finish. Images really don't do it justice! Only 995 coins have been issued worldwide, a significantly low amount given the occasion. Order yours today to avoid missing out >>
The Silver Proof £5 Coin with one of the most striking designs ever seen…
This new Isle of Man Silver Proof £5 Coin has just been authorised for release by the Palace and features one of the most striking designs I've ever seen.
Struck to the official UK £5 Silver specification, the reverse features an Astronaut with a reflection of planet Earth in the visor which is brought to life in full colour detail. It is coin craftsmanship at its very best. Find out more about this official release here >>
Introducing the FIRST EVER Plateau Minted Coin
This is an opportunity to own a collecting first – the Moon Landing 50th Anniversary Plateau Minting Coin. If you're wondering what plateau minting is, let me explain. Domed coins have been around for some time now, but never before has a Mint succeeded in successfully striking a plateau area on the peak of the dome. That is until now!
But that's not all. As the coin has been struck with a variation of sophisticated techniques and finishes, in particular the skilful alignment of both Proof and Matt finishes. You really have to see this coin to fully appreciate it. Take a more detailed look by clicking here >>
The ULTIMATE Space Collection – featuring EIGHT Moon Landing coins!
If one single coin is not enough, then I have the perfect solution for you. This is perhaps the ULTIMATE Space collection, featuring eight commemorative coins that have been issued from across the world.
It's difficult to not be instantly impressed when you open the deluxe wooden presentation case. As you'll find a mix of modern coins with special minting techniques, historic coins and even some intriguing designs like you've never seen before. This is certainly one not to miss, especially as it comes complete with an Apollo 11 commemorative plaque! Click here to find out more about this incredible collection >>
Chance to own the WORLD'S FIRST domed coin presented in a Silver Bar
Much like Apollo 11, this new commemorative is a WORLD FIRST. As this is the first time a domed coin has been set into a solid 2oz Silver Bar – the combination of different minting techniques on display is out of this world.
Not only that, but the US Silver Proof Moon Landing Dollar featured in the Silver Bar is the second ever in the Mint's history to be curved – one side is domed, the other concave. The first commemorative curved coins to be minted by the US completely sold out in less than two weeks – and all signs suggest this will prove just as popular.
There's so much more to tell about this incredible piece so click here to find out all about it. But please note, we have just 50 available exclusively for our UK collectors so you'll need to be quick if you'd like to secure one for your collection.
---
But that is by no means all. We have a whole range of incredible coins and commemoratives that have been issued to celebrate this important 50th anniversary. You can take a sneak peek at some of the pieces below or check out the full range by clicking here >>
This year marks the centenary of the Royal Air Force, arguably the most important military anniversary to be celebrated in British history. In fact, there are numerous official events and ceremonies planned up and down the country to mark the occasion – including a service at Westminster Abbey with an RAF parade and flypast!
It has been a glorious 100 years, full of extreme courage, bravery and self-sacrifice by the men and women who served and continue to serve.
And, to mark this historic occasion, a brand new Official RAF Centenary Five Pound Proof Coin has just been issued on behalf of the Bailiwick of Jersey. In my opinion, it is one of the most striking military coins ever issued and is the perfect tribute to ensure the remarkable feats of technology and courage of our RAF are never forgotten.
So what's the story behind the design?
For such an important anniversary, we knew the design had to be particularly special and we felt there was no better person for the job than ex-Royal Mint designer, Mike Guilfoyle.
Mike has 30 years of experience designing coins that have circulated around the world and has produced some of the most stunning British Isles coins ever minted. We were lucky enough to see the design process through with him.
From the start it was clear we wanted to include the most renowned planes from the RAF's history and Mike came up with multiple options for us.
However, it was the idea to show the incredible changes in technology over the last 100 years that really captured our imagination. The coin features three of the most important aircraft from the last century; the Sopwith Camel, the Supermarine Spitfire and the Lockheed Lightning II which brings us right up to the present day and looks towards the future of our RAF.

Highly detailed design – intricate striking
Through careful research and communicating closely with the MOD, Mike has been able to render each plane in exquisite detail.
But this high level of detail and care didn't just stop at design level. You can clearly see it's been replicated right through to the striking of Mike's design on the coins – what really took me aback is that none of the detail has been lost – that's because the use of Modern Minting techniques used to produce the coins has resulted in one of the most intricately struck coins I've ever seen.
What makes it even better is that each plane has been enhanced with 24-Carat Gold Ink to really show off the detail and make it stand out against the Proof background.
The most iconic aircraft of the RAF
Here's a bit more about why these three special planes have been chosen to feature on the coin:
The Sopwith Camel
The Sopwith Camel has become one of the most iconic fighter aircraft of the First World War.
In fact, J. M. Bruce tells us that "The total number of enemy aircraft shot down by Camels was 1,294, a greater number than were defeated by any other single type of aeroplane of the 1914-18 war"[1]
With that astonishing achievement this aircraft continued to serve until 1923 – an incredible lifespan for a plane in this era. [2]
Considering that the Sopwith Camel was serving from the very beginning of the RAF's official formation and it was such an important part of the First World War, its place in RAF history is well-secured and was a clear choice to be featured on this stunning coin.
The Supermarine Spitfire
The Spitfire has to be one of the most famous British fighter aircraft in history and it has become the most iconic aircraft of the Second World War.
In fact, this aircraft has become synonymous with one battle in particular; the Battle of Britain. Alongside the Hawker Hurricane, this aircraft helped to defeat the German air attacks during the Battle of Britain and was seen as such a superior aircraft for it's time that The RAF Museum states "at the height of the Battle of Britain…a German ace…in a moment of anger and frustration, turned to his Commander in Chief and demanded a squadron of Spitfires!" [3]
With that in mind, and considering the Spitfire still astonishes the crowds at air shows today, featuring this plane was another unanimous decision.
The Lockheed Lightning II
Now, this multi-role supersonic stealth aircraft is an incredible example of just how far technology has come and is definitely a plane which will play a key part in the RAF's future.
In fact, 2018 sees the 617Squadron, becoming the first RAF Squadron equipped with the Lightning II aircraft, of which the UK has so far taken delivery of 9. [4]
To me, these three incredible aircraft represent an ever-evolving RAF that is consistently at the forefront of technology, making this coin a fitting tribute to the courageous work of the RAF, the men and women who have served over the last 100 years and those who will continue to serve in the future.
---
If you are interested…
You can be one of a limited number of collectors to own the Official RAF Centenary Five Pound Proof Coin.
The three iconic aircraft have been highlighted in 24-carat gold ink and this stunning coin has been struck to the highest Proof standard you can find on a collectable coin.
Click here for more details now >>