Posts Tagged 'micro engraving'
Let me introduce you to a coin that speaks volumes…
Meticulously crafted from Pure Silver, the impressive King's Speech 5oz 100mm Coin has been issued to honour King Charles III's defining moment as Monarch.
Every word of the emotional and historic address he gave to the nation following the passing of Queen Elizabeth II feature on this coin – that's 977 words in total!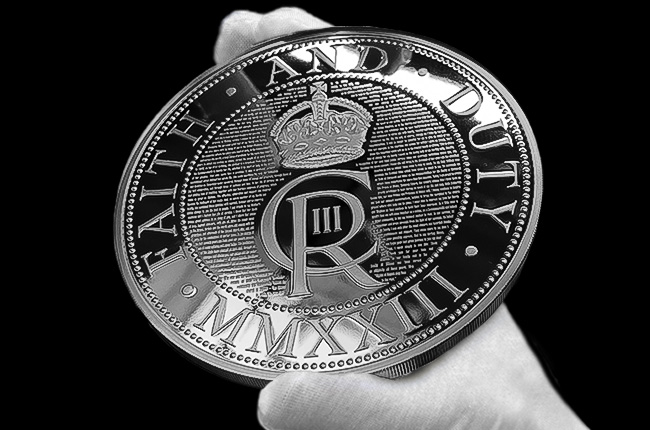 A Monarch's Defining Moment
On the 9th September 2022, just one day removed from Her Late Majesty's passing, King Charles III made the poignant speech. In the address he paid tribute to his mother and pledged to show the same unwavering commitment to duty.
And so, this coin not only commemorates King Charles III's first ever speech as Monarch but it also honours the incredible reign of Queen Elizabeth II.
Relive the King's Speech…
The King's Speech Pure Silver 5oz Coin is a true numismatic masterpiece, one that has seen incredible demand from collectors worldwide.
In fact its Pure Gold Counterpart, priced at a staggering £59,995, had an edition limit of JUST 5.
Making a Masterpiece
The King's Speech Silver 5oz is an impressive combination of artistic expression and technical prowess.
The delicate process of striking 977 words onto a coin has been achieved using the process of micro-engraving. Every single word has been meticulously engraved onto the die, a painstaking process that requires remarkable precision and expertise. Skilled artisans devoted countless hours to ensuring that each letter has been flawlessly etched.
Once the micro-engraving is complete, the die is ready to undergo the next step in the coin production process. With force and finesse, it is expertly struck multiple times, employing immense pressure to achieve the pristine Proof finish which brings the micro-engraved words to life.
Of course, fitting a 9 minute speech onto a coin presented a major challenge. That's why each coin has been struck from FIVE OUNCES of Pure Silver and measure at an incredible 100mm.
With its minted design, lustrous silver content and the sheer significance of the occasion it commemorates, this coin is an absolute must-have for collectors worldwide.
If you're interested…
A strict edition limit of 750 has been set. For one of the most remarkable coins we've ever seen, that simply will not be enough…