Posts Tagged 'minting technology'

Back in January, I attended the largest coin show in the world – the World Money Fair. Thousands of collectors and hundreds of dealers and Mints from all over the world attend the annual fair to showcase their new releases and the very latest in minting technology.
I'm always looking for new and unusual coins to offer collectors, whether that be a shape, size or technologically advanced coins that push the limits on what can be achieved in the minting world.
So, ever since I arrived back in the UK, there's been some incredibly exciting coin news I've been wanting to share with you.
But before you read anything else, you need to know that the majority of the range completely SOLD OUT before going on general release so you get the enormity of how big a deal this is!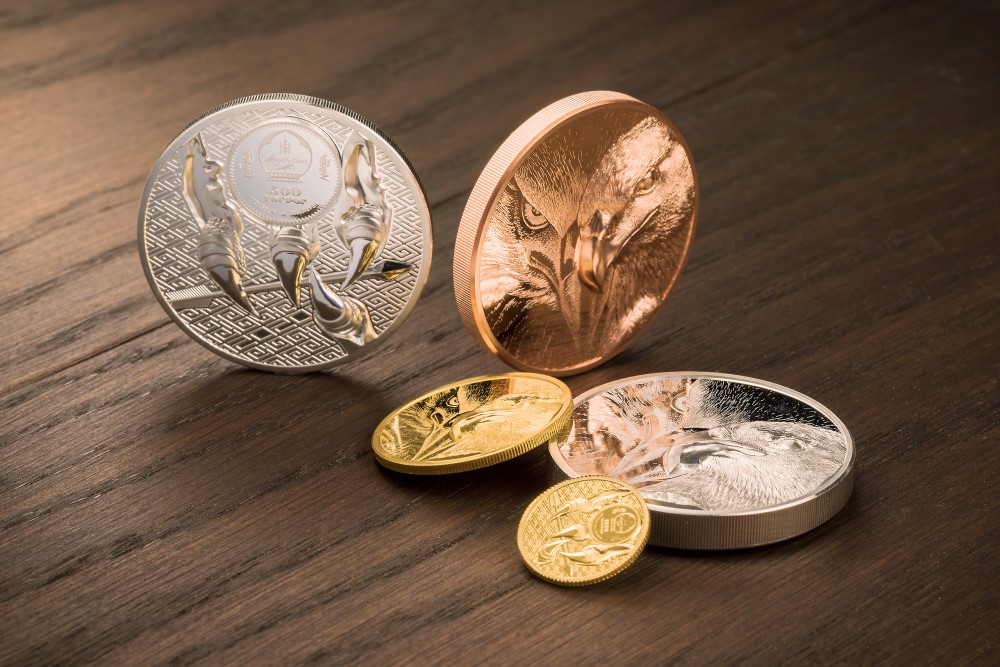 Introducing Smartminting 2.0
Most collectors are already familiar with Smartminting technology. Only achieved by a small number of mints across the world, the exact techniques used in Smartminting are a fiercely guarded secret, but essentially the state of the art technology allows unprecedented levels of intricate detail and extraordinary high relief while only very slightly increasing the weight.
So what more could Smartminting 2.0 possibly offer I hear you ask?
This new technology (or 'Smartminting Reloaded' as it's been coined in the collecting world) breaks many barriers that were previously considered impossible… Until now.
Take a look at the images I've included below, and you'll see BOTH sides of the coin can now be struck to an incredible high relief proof finish. But that's not all, the relief levels are 100% higher than what was previously possible!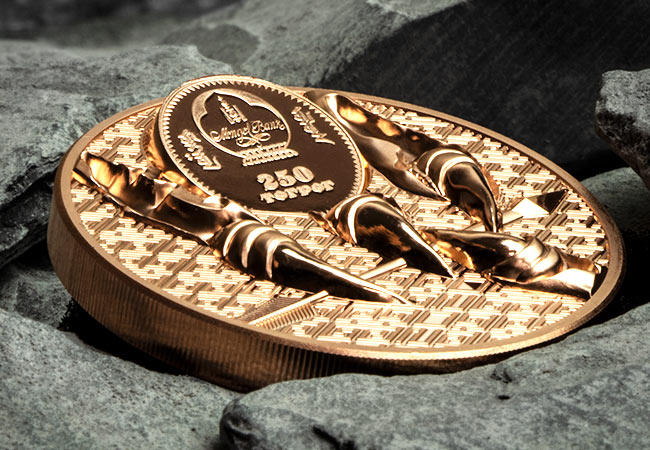 And if that's not enough, for the FIRST TIME EVER, Smartminting technology has been applied to a coin made from copper.
You'll notice the incredible relief of the Eagle's claws which make it look like they're literally ripping through the metal and right through the other side of the coin!
Featuring 'Incuse' Striking
It also features 'incuse' striking. An incuse strike is a relatively new minting process that allows a design to be struck into a coin creating a 'sunken' design, as opposed to the standard raised relief. Few mints in the world have attempted Incuse striking as the unique and unusual format makes them more challenging to strike and, therefore highly unusual to come by.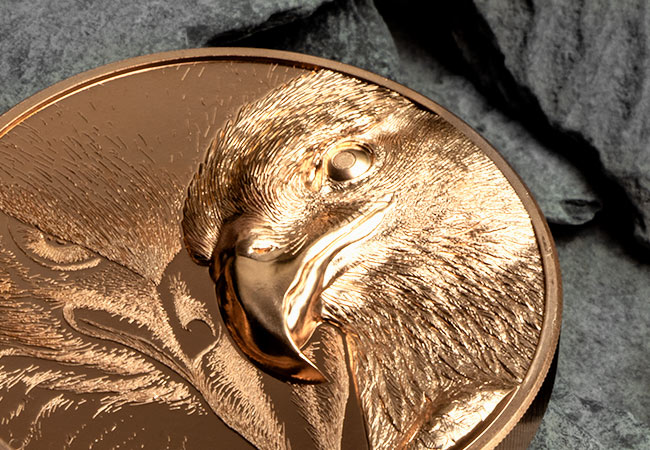 The 'Incuse' strike is visible where the depth of the claw marks are left in the surface of the coin.
Also notice how the high relief of the Eagle's head extends to the edges of the coin instead of just the centre, leveraging the whole surface area of the coin.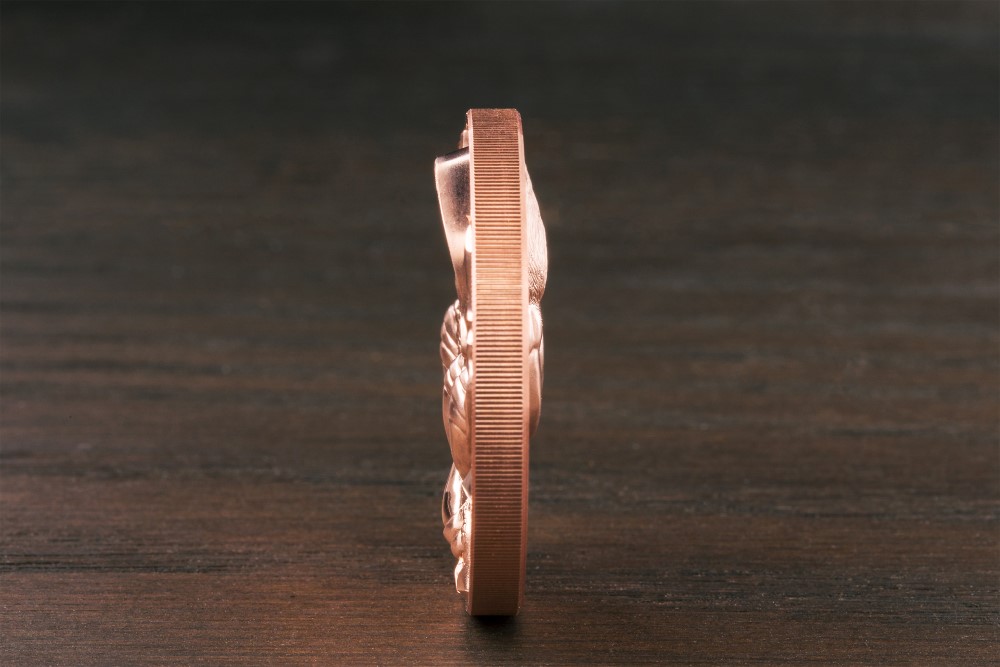 This ground-breaking technology has been deployed on a range of Majestic Eagle coins. The design featured was chosen to symbolise strength, leadership and vision and I'm sure you'll agree it beautifully showcases just what the new Smartminting enhancements are.
However, to fully appreciate this coin, I ask, that you to watch this video. This coin really is an outstanding work of art and this video is the only way to fully appreciate this coin without physically holding it.
---
If you're interested…
The Majestic Copper Eagle is strictly limited to JUST 5,000 collectors worldwide and I am delighted to have been able to get hold of an allocation to offer collectors. But they've been selling extremely quickly, so you'll need to pre-order one now to ensure you can add one to your collection. Priced at JUST £55 (+p&p), click here to secure the Majestic Copper Eagle for your collection NOW >>
As you may know, this year we're celebrating a numismatic milestone: the 50th anniversary of the 50p!
And as the collector's favourite 7-sided coin turns 50 years old we've seen many commemoratives marking the occasion, which have proved immensely popular with collectors.
And a brand new UK 50p has been released today by The Royal Mint to mark the actual anniversary of the 50p – 14th October 2019.
This new coin is sure to see an overwhelming response from collectors. That's because the new coin has THREE unique features that alone make this commemorative this year's must have 50p release…
TWO special privy marks and a minting first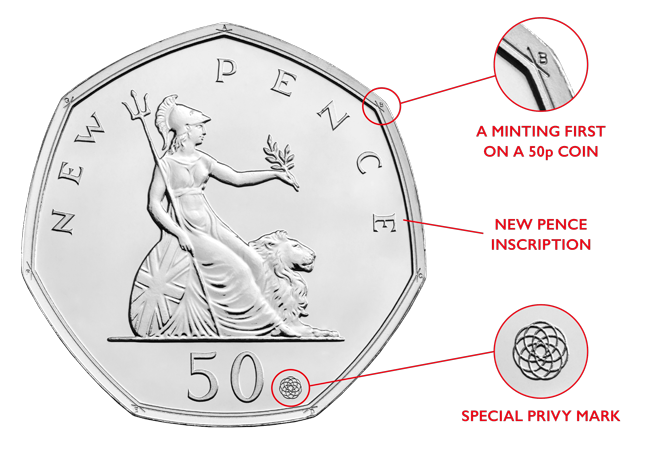 The reverse features Christopher Ironside's iconic Britannia design, inscribed with 'New Pence'. This was the first design to ever feature on the 7-sided 50p, released in 1969.
But what truly sets this issue apart from all other 50years of the 50p commemoratives is the inclusion of THREE special hidden features:
Exclusive never-before-seen privy mark, designed especially for the occasion. A Spirograph-type design drawn from an extension of lines forming the 50p shape creates this unique mark. If you look in the centre you'll see the 7-sided 50p shape we're used to today.
Innovative privy mark around the reverse rim of the coin. The letters A to G are inscribed on each point and are joined by arced crossing lines. It shows the science behind how the iconic 50p shape was created. Importantly, this is a minting first on a 50p coin.
The denomination in 'NEW PENCE' – not seen since 1981.
These three features make this issue highly collectable and will surely be sought-after by collectors in years to come.
50th Anniversary of the 50p Commemorative 50p BU Pack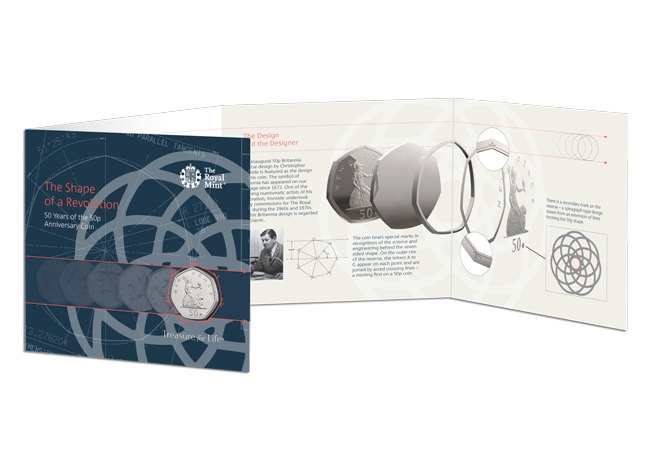 To give as many collectors as possible the chance to own this coin, The Royal Mint has issued it in Brilliant Uncirculated quality, which is coveted by collectors as it means each coin is free from any marks you would find on circulated coins.
Each one is protectively encapsulated in its attractive original Royal Mint packaging to preserve its quality for generations to come. What's more, you can secure this BU Pack at the Royal Mint issue price of just £10 (+p&p). Click here to find out more >>>
50th Anniversary of the 50p Commemorative 50p Silver Proof Coin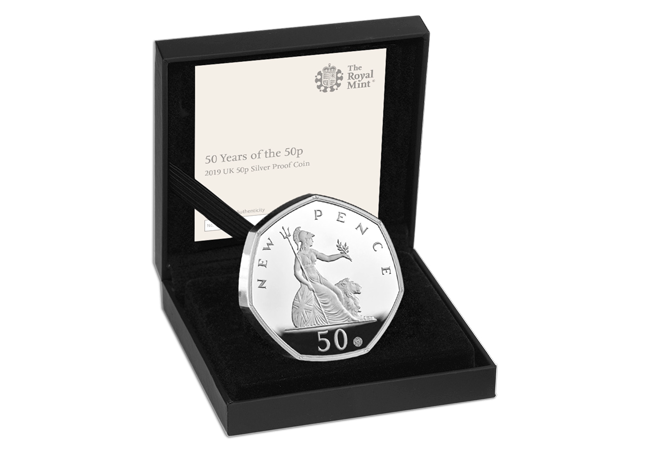 However, you can own the special commemorative 50p in an even more exclusive way – so exclusive just 3,500 collectors worldwide can own it.
This version is sure to sell incredibly quickly. Remember when The Royal Mint re-issued for 2019 some of the most iconic 50ps, to celebrate the anniversary, in Silver Proof quality the popularity was unprecedented. In fact the full allocation of 3,500 COMPLETELY SOLD OUT within two hours.
That's the same edition limit as this single coin.
The coin has the same design, but comes presented in a bespoke Royal Mint presentation box and is struck in superior .925 Sterling Silver to a perfect proof finish. Given how popular commemorative 50ps are, this exclusive precious metal version is sure to be an even bigger hit.
You can secure this limited edition coin for your collection now for just £55 (+p&p) – that's the Royal Mint issue price. Click here to find out more >>>
50th Anniversary of the 50p Commemorative 50p Silver Piedfort Coin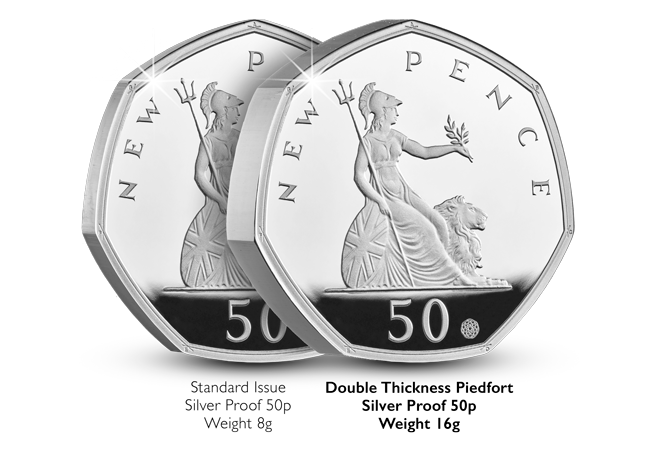 But, there is an even more limited way to own this coin – as a Silver Proof Piedfort. Limited to just 1,969 collectors across the globe, this coin is nearly twice as rare as the regular Silver Proof version.
Piedforts are the pinnacle of Royal Mint craftsmanship. They are highly-sought after amongst collectors and stand out for many reasons:
Twice the weight and thickness of a regular Silver Proof coin
Double the amount of Silver
Low edition limits
Fast sell-out rates
What's more, 50p Piedforts are extremely rare. To my knowledge only about 20 or so have ever been minted and as such are always highly sought-after.
In fact, they are so in demand that the 2019 UK Stephen Hawking 50p Silver Proof Piedfort, with a higher edition limit of 2,500, COMPLETELY SOLD OUT at The Royal Mint within two hours.
You can secure this limited edition coin for your collection now for just £19 (+p&p), followed by 4 further equal interest-free instalments. Click here to find out more >>>
It is always exciting to see new, innovative products coming out of the numismatic industry, and there is nothing quite like the test token set issued by the Royal Canadian Mint's Research and Development lab. When you see this set it's no surprise that the Royal Canadian Mint is a market leader in security. Looking to be at the forefront of new minting technologies this latest collection showcases some never before seen minting techniques which are guaranteed to impress both seasoned and budding collectors alike.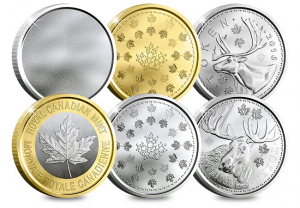 So what exactly is a 'test token' I hear you ask? A test token is a prototype of next generation currency, and is created purely to test new technologies and minting techniques before giving the green light to produce future coins with the technology. Since the tokens are test pieces their designs and technologies will not necessarily be replicated in future currency, perhaps only some of the techniques or designs will be taken forward,so the test pieces are one of a kind.
Chief Technology Officer at the Royal Canadian Mint, Dr Xianyao Li, says "the products in our R&D Lab Collection are tried,tested and true examples of forward-thinking technology that could re-define the future of domestic and foreign coins."
Now we're suitably intrigued about the new technologies featured in the set, let's take a closer look at the tokens…


Pie-Chart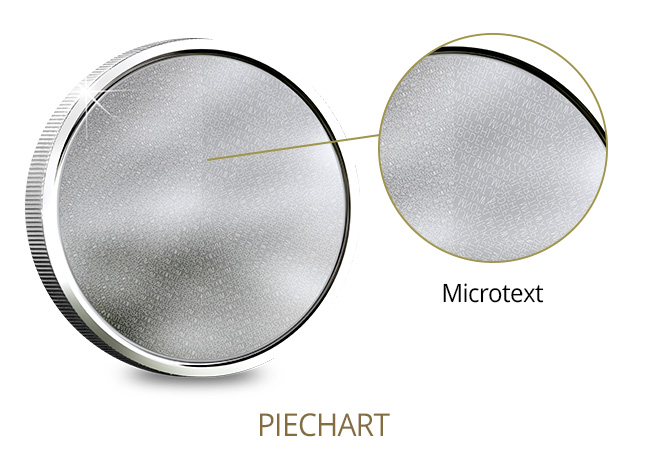 At first glance this perhaps looks to be the most unassuming token of the set, but looks can be deceiving as this token is an example of the advances currently being made in coin production to prevent counterfeiting. If you inspect the surface of the coin closely you will notice it resembles a pie-chart, with the surface subtly split up in to segments which are only just distinguishable. The slices are differentiated by the orientation and size of micro text which varies between segments. Micro text is one of the advancements in minting technology which has emerged in the last few years with the aim of preventing counterfeit coins, as the tiny text is difficult to replicate. Not only is the text extremely difficult to reproduce, it is also virtually indiscernible to the naked eye!


Caribou and Moose
The Caribou and the Moose instantly spring to mind when contemplating iconic Canadian imagery, so it would seem only natural they make an appearance in this set. Each token is crafted from multi-ply plated steel and includes both raised and incused maple leaf designs, instantly creating a noticeably three-dimensional textured surface. The depictions of the creatures on each coin have micro text hidden in their fur as an added security feature, and the maple leaf above the shoulder of each creature is also composed of micro text.


Leaf
The maple leaf is synonymous with Canada and is instantly recognisable as one of its national symbols dating back to the 18th century. Considering this it is unsurprising then that The Royal Canadian Mint also uses this iconic leaf as its logo, creating a strong identity link between country and coinage. Two pieces in the set celebrate the maple leaf with both sides of the tokens featuring raised and incused leaves in a circular pattern with the Royal Canadian Mint's logo at the centre. The combination of raised and stamped elements create a unique texture on the token which adds an extra layer of security because forgers will struggle to perfectly mimic it in counterfeits.


Tri-metal
The clue is in the title with this one, as it has been produced from a Canadian patented tri-metal compound, consisting of a carefully balanced combination of multi-ply plated steel, brass plated steel, nickel plated steel and copper plated steel. Complex multi-metal compound technology is a security feature to prevent counterfeiting as the exact compound composition is patented and unknown so cannot be easily recreated in a replica.


Own a piece of history in the making
What makes this test token set truly remarkable is the fact that pieces included in the set are the real trial pieces which have been used in calibration and laboratory testing, so each one has been tried and tested making the collection truly unique – no two will be the same!
---
If you're interested…
You can now own a piece of numismatic history in the making as we have secured 149 of these unique sets from the Royal Canadian Mint. Be ahead of the curve and add this sneak peek at the next generation of coinage to your collection today!
Click here to order this fantastic set >>>