This year marks 40 years since the founding of the Douglas Bader Foundation. To celebrate the occasion a range of NEW commemoratives have been issued in partnership with the charity. But, before I go into any details about these new issues, I want to tell you about the fascinating life of the foundation's namesake – Group Captain Sir Douglas Bader.
Sir Douglas Bader
Douglas Bader was born in London in 1910 and was commissioned into the Royal Air Force in 1930. Tragically, 18 months later he was in a plane crash in which he lost both legs.
Due to this accident, he was discharged from the RAF and was forced to find work elsewhere.
However, after the outbreak of the Second World War, Bader was able to rejoin the air force. He became a leading airman during WW2, flying Spitfires and Hurricanes at Dunkirk and the Battle of Britain. In 1941, he was shot down and held as a prisoner of war.
During his descent, Bader lost his right artificial limb. He persuaded his German captors to radio England to ask them to send over a replacement leg. On the night of 19 August 1941, during a normal bombing raid, his new leg was dropped from a Blenheim, along with some stump socks, tobacco, and chocolate.
Despite his disability, he made several escape attempts. Bader was eventually placed in Colditz until its liberation in 1945.
Douglas Bader was a charismatic and controversial character. After the war, he campaigned tirelessly on behalf of amputees and people with disabilities. He inspired millions with his example and was honoured with a knighthood in 1976. He is considered a national hero for both his war efforts and his work with the disabled which he was involved in up until he died in 1982.
The Douglas Bader Foundation
The Douglas Bader Foundation was established immediately following his death in 1982 by his friends and family, many of whom had flown by his side during the war.
For 40 years, the Douglas Bader Foundation has worked to help people with disabilities, supplying prosthetics, grants, and support to many people.
To support this fantastic charity, a donation from the sale of each of the brand-new commemoratives will go directly to the Douglas Bader Foundation.
So, let's take a closer look at the new range ….
The Silver Spitfire Commemoratives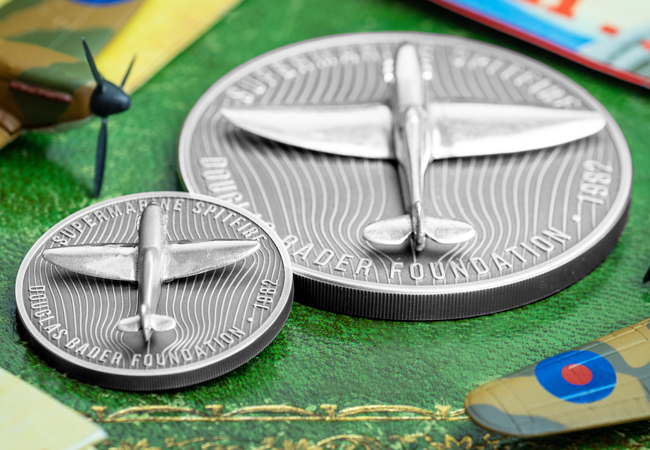 These incredible Silver Spitfire commemoratives feature a 3D Spitfire model crafted from a genuine piece of aluminium from a Spitfire AB910.
AB910 flew in The Dieppe Raid – one of the most significant air battles in history and flew cover patrols over Normandy beachheads on D-Day.
I can't think of a more fitting tribute to Douglas Bader and the Douglas Bader Foundation. The daring airman flew Spitfires over Dunkirk and during the Battle of Britain.
These are available in both 1oz and 5oz silver specifications. With a small amount of this historic metal available, just a limited number of these commemoratives can be made.
Click here for more details and to secure your 1oz today >>
Click here for more details and to secure your 5oz today >>
Douglas Bader Medal Box Set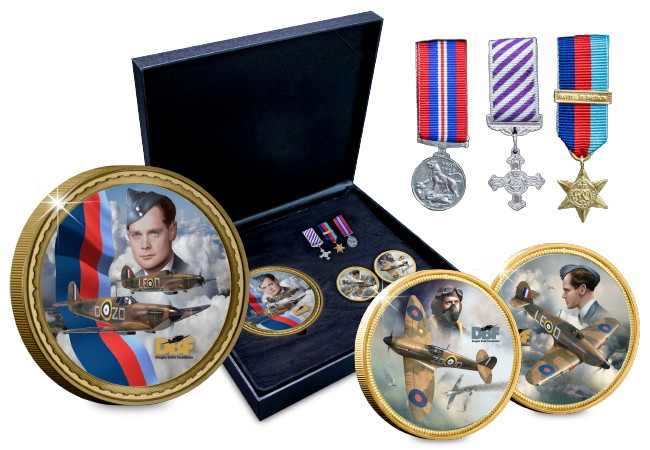 Strictly limited to JUST 250 worldwide, a spectacular box set has been released to honour the extraordinary life of Douglas Bader. This set brings together not one, but three full-coloured commemoratives designed by artist Adam Tooby.
Alongside these commemoratives also sits replicas of three of the many medals that Bader received during his astonishing military career.
As this set comes beautifully displayed in a presentation box with a numbered certificate of authenticity, it is the perfect collector's piece.
The birth of the Royal Air Force (RAF) in 1918 was the first time there had been a separate and independent air force established in any country.
It soon became among the most dominant air forces globally.
The 1930's saw public interest in aircraft increase dramatically and following World War Two (WWII), the demand for the number of aircraft to be built grew quickly in a very short space of time.
Throughout its life, the RAF has monitored the advances in aircraft for military use, and today displays some of the greatest developments in aircraft technology.
For nearly a decade we've worked in partnership with the RAF. In that time, we've preserved and celebrated over 100 years of history on official commemorative releases.
Let me tell you about 4 aircraft monumental during their existence.
The Sopwith F1 Camel
This Biplane fighter had only one seat and was given the nickname Camel after one squadron commented on its hump like appearance. A comment that would influence its official name.
Carelessness would get you killed in this aircraft.
Pilots had to be skilled to fly it, attentive and observant.
The Camel thrived in daylight but also succeeded at night.
The aircrafts actual nickname?
The King of the Air Fighters.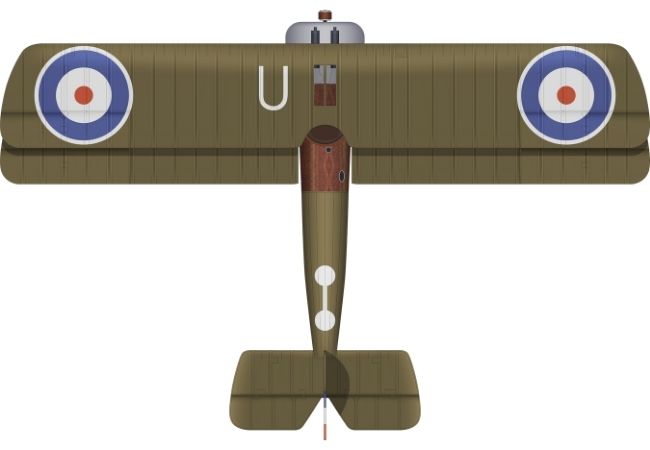 The Avro Lancaster
The Lancaster proved vital towards the end of WWII for Bomber Command. The aircraft helped Britain successfully undermine Nazi Germany from the air.
Lancaster crews risked their lives every time they took to the air in these bombers.
They showed tremendous bravery.
On average they carried out 21 missions before they were lost.
The Eurofighter Typhoon
A vision of the future.
This is how the RAF describe this 21st century Eurofighter Typhoon.
Did you know this aircraft can travel two times faster than the speed of sound? It uses cutting edge technology and has many advanced features.
The UK, Germany, and Italy all worked collaboratively on this aircraft, as they have done also with the tornado project for over several decades.

The Spitfire
The Spitfire is by far the most famous British fighter aircraft in history. It was designed by Reginald J Mitchell for the Second World War and there are many reasons why pilots fell in love with it.
It was a symbol of freedom.
The early Mark II could reach speeds of up to 360 mph.
The Spitfires sleek lines and elliptical shaped wings make it perhaps the most graceful fighter ever created.
Did you know that Mitchell's first attempt to answer the British Air Ministry's call for an all-metal land-based fighter aircraft was rejected?
It had a cooling system issue.
So, his team tried again.
And boy, did they triumph.
The new design had retractable landing gear, an enclosed cockpit and of course, the thin wing shape.

After the first flight of the prototype in 1936 only a few changes were made and by early June, the Air Ministry had ordered 310 Spitfires. By the outbreak of the Second World War, 306 Spitfires were in service with the RAF, along with 71 waiting and 2,000 in the pipeline.
---
If you're interested…
The aircraft I have spoken about are intricately illustrated on our collection of commemoratives celebrating the History of the RAF.
The first one in the collection I hear you ask.
Well of course it must be the Spitfire.
Bill Dady, the renowned aviation artist, has designed this one.
Click here to start the History of the RAF Collection by securing your Spitfire Commemorative
for FREE >>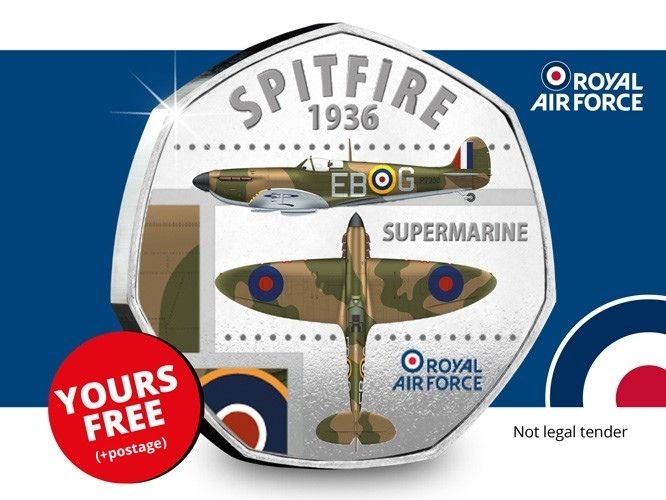 On 15th September 1940 (later known as Battle of Britain Day), the Luftwaffe launched its largest and most concentrated attack against London in the hope of drawing the RAF to annihilation.
One German Dornier lagged behind and then started heading straight for Buckingham Palace. Sergeant Pilot Ray Holmes attempted to shoot it down before running out of ammunition. Without hesitation, he knew what he had to do; he had to hit it. At speeds in excess of 400mph, they collided.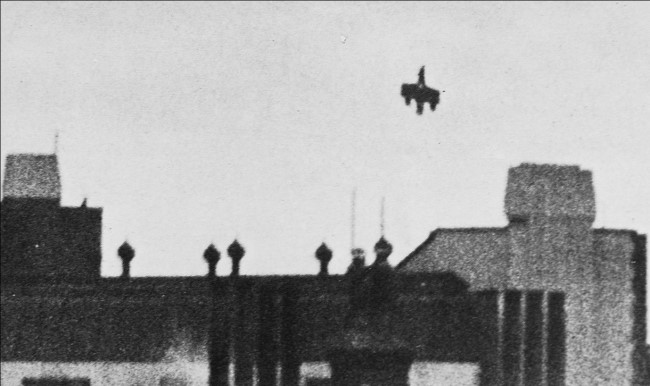 The Dornier crashed to earth, prevented from destroying the Palace. The Hurricane TM-B was also critically damaged and entered a vertical dive. Seeing there was no way to save the aircraft, an injured Holmes ejected to safety while the Hurricane plummeted to the ground, crashing where Buckingham Palace Road meets Pimlico Road and Ebury Bridge. Amazingly, these were the only two aircraft to crash on the City of London throughout the entire war.
The recovery of the remains…
Chris Bennett, a veteran of several aircraft excavations, decided to take on the project of excavating this famous aircraft; which was no easy task considering the Hurricane was buried underneath one of London's busiest roads. After 13 years of planning and setbacks, he finally got the go-ahead to begin excavation, as well as TV production company Mentorn securing a spot on Channel 5 for a live broadcast!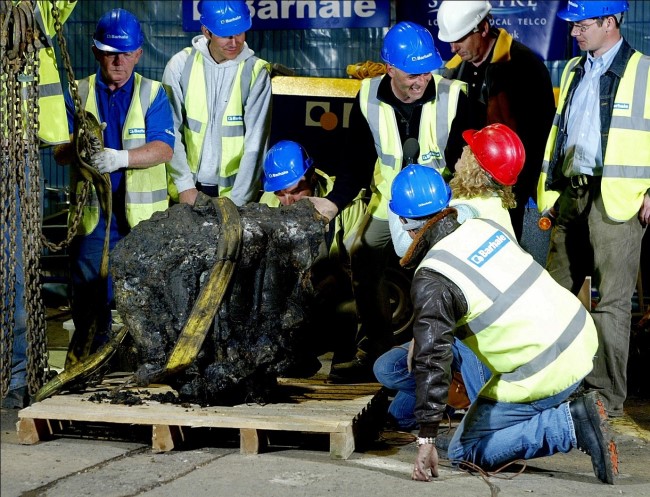 The recovered Merlin engine, along with other parts, were exhibited at the 'Westminster at War' exhibition in Leicester Square and then at the Imperial War Museum. The aluminium engine casing however, was melted down and cast into sculptures, the first two of which were presented to Ray Holme's family and Her Majesty the Queen.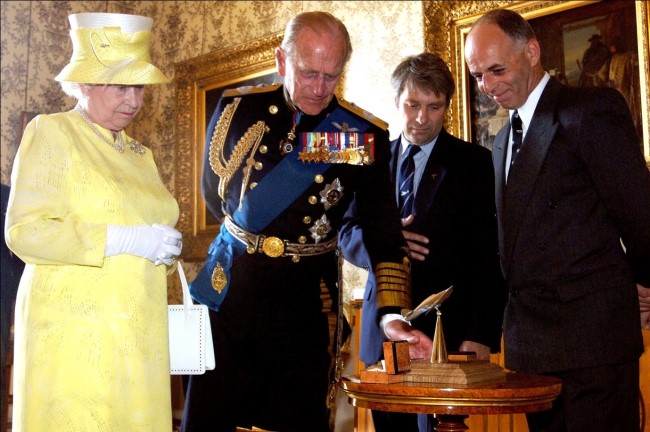 The BRAND NEW Hawker Hurricane Provenance Medal
And now, a small number of collectors have the chance to own a BRAND NEW Commemorative featuring an ACTUAL piece of the plane that Ray Holmes was flying on the 15th September 1940 when he saved Buckingham Palace!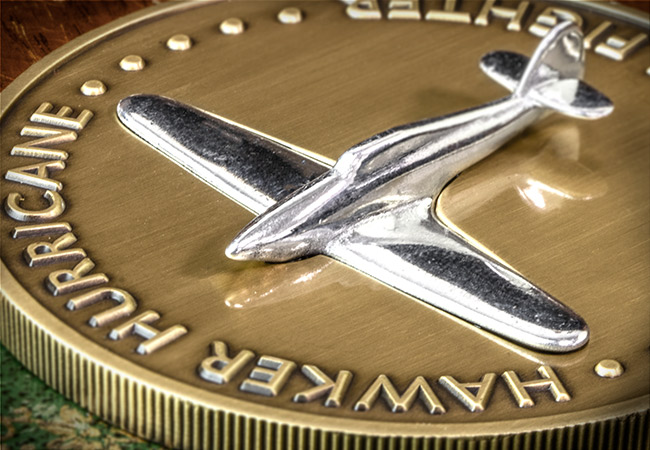 This incredible commemorative features an original piece of Hawker Hurricane, meticulously hand-sculpted into the shape of the iconic plane and precision set into the deluxe SUPERSIZE 70mm Medal.
Even without the genuine piece of Hawker Hurricane, this medal is a work of engineering art in its own right. Combined with the original piece of the Hawker Hurricane, you'd have to look for many years to find something better.
Just 250 lucky collectors have the chance to own this special new commemorative. Last year's Provenance medal featuring a piece of Spitfire SOLD OUT in a matter of days. Click here to secure your Hurricane Commemorative while you still can!