Posts Tagged 'In Memoriam'
Let me introduce you to one of the most expensive coins I've ever seen…
Just 5 of these Half Kilo Gold coins have been commissioned to celebrate the Coronation of King Charles III on 6 May 2023 and they are priced at a staggering £59,995!
It's also one of the largest Gold coins I've ever seen, measuring an immense 100mm in diameter.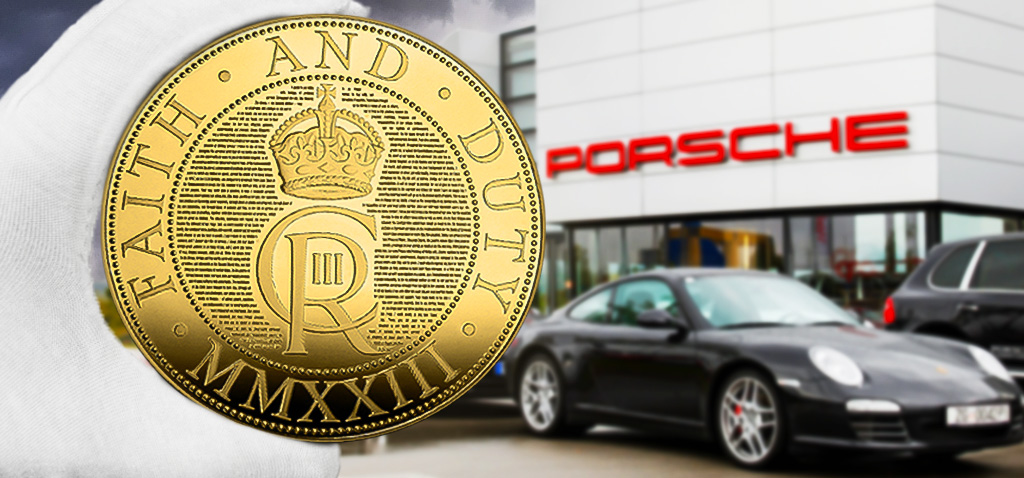 And it needs to be because the coin contains the entirety of King Charles III's first-ever speech as monarch.
On screens across the world, His Majesty paid tribute to his mother and revealed his vision and desires for this forthcoming reign.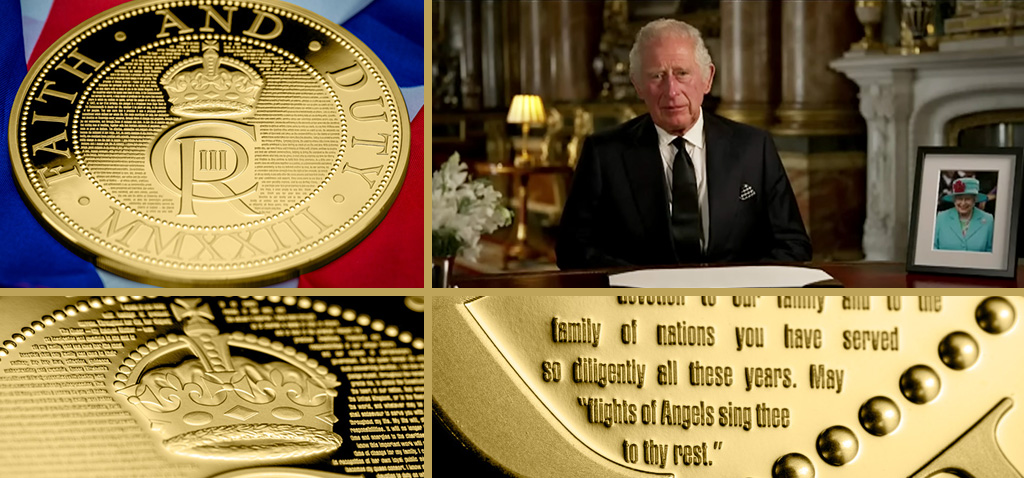 All 977 words he spoke to the nation following the death of his mother. It started:
I speak to you today with feelings of profound sorrow. Throughout her life, Her Majesty The Queen – my beloved Mother – was an inspiration and example to me and to all my family, and we owe her the most heartfelt debt any family can owe to their mother; for her love, affection, guidance, understanding and example. Queen Elizabeth's was a life well lived; a promise with destiny kept and she is mourned most deeply in her passing. That promise of lifelong service I renew to you all today…

King Charles III's First Speech. 9th September 2022.
But that's not even a tenth of it.
So even with the large 100mm canvas, it still took something special to fit 977 words onto the coin.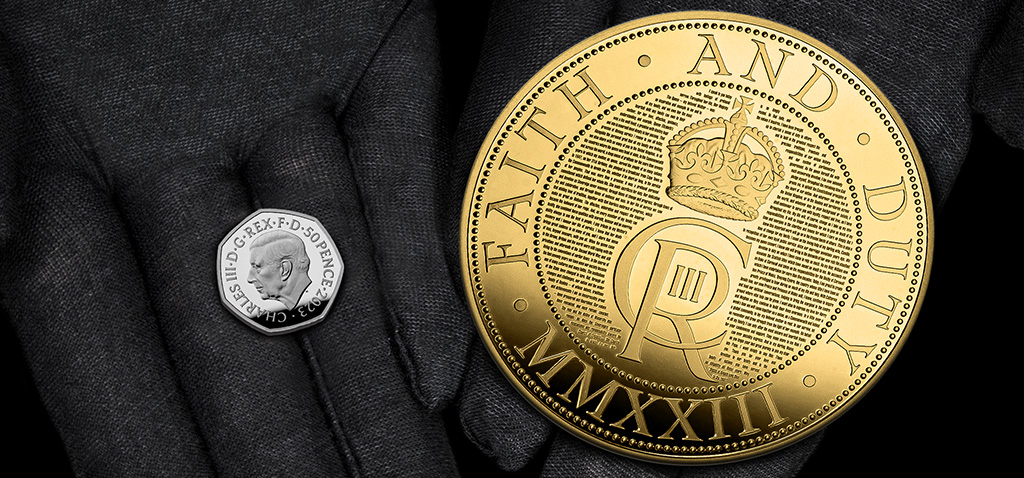 Crafted to the highest standard, the coin features Charles III's cypher under a crown and the words "FAITH AND DUTY", but it's the other 977 words that capture the attention.
His Majesty's speech has been reproduced using incredible micro-engraving.
How do you fit 977 words on a coin?
It's a painstakingly precise process, but one that results in one of the most impressive coins issued for the Coronation.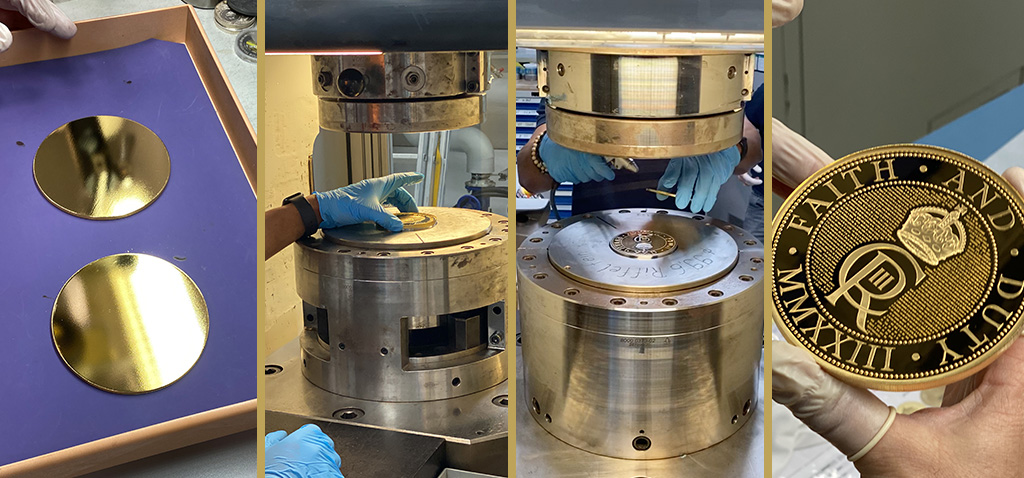 And with just 5 ever to be produced, it's as close to a piece of art as you're going to find for a Coronation coin.
The exclusivity, the size, the gold content and the complexity of the minting give the coin a price-tag that you'd expect to see on a brand new Porsche…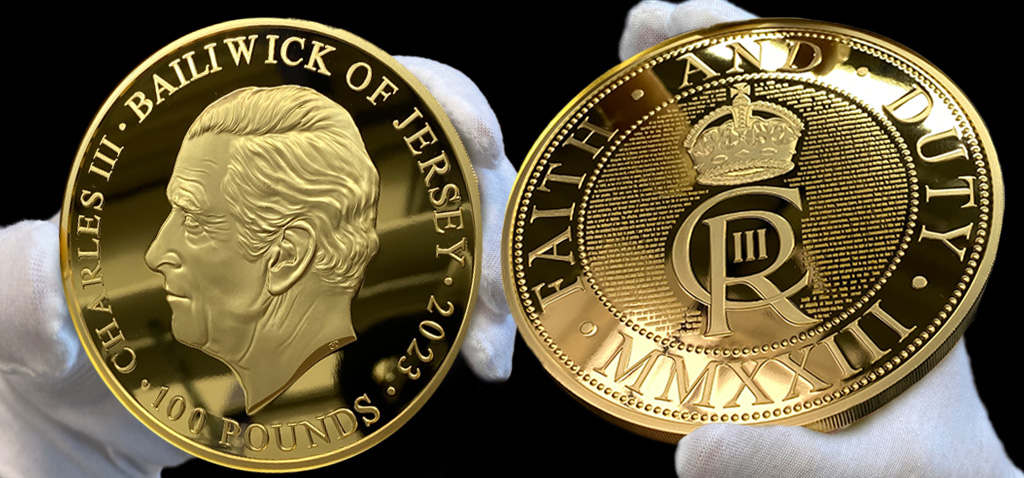 £59,995 to be one of just 5 collectors in the world to own this remarkable coin.
Own the same coin, but for a hundreth of the price…
You have the opportunity to secure this extraordinary coin at just one-hundredth of the price…
Introducing the King's Speech 100mm Silver 5oz Coin…
This spectacular coins embody the same level of intricacy and artistry as their Gold counterparts, showcasing every minute detail with flawless precision.
And they're incredibly limited, with an edition limit of just 750.
Watch the video below and see for yourself the impeccable craftsmanship of this regal masterpiece.
Click here to make one yours before it's too late with an initial payment of just £69.50 (+p&p) >>