A brand new £2 coin has been released to honour the incredible achievements of scientist, inventor, and engineer Alexander Graham Bell.
Famed for his revolutionary work in the world of communications, Alexander Graham Bell achieved the world's first successful telephone transmission on 10th March 1876. It's arguably one of the most important breakthroughs of modern-day history as it changed how we communicate forever.
First appearing in this year's annual coin set, the cleverly designed £2 depicts the dial of a push-button phone. And if you look closely, you can spot a hidden message across the buttons, with the letter spelling out 'PIONEER OF THE TELEPHONE'! The design also features the years of Bell's birth and death to mark 100 years since his passing.
The 2022 UK Alexander Graham Bell £2 coin is available in a number of different coin specifications. Let's take a closer look below at the different ways you can add this coin design to your collection.
The Alexander Graham Bell £2 BU Pack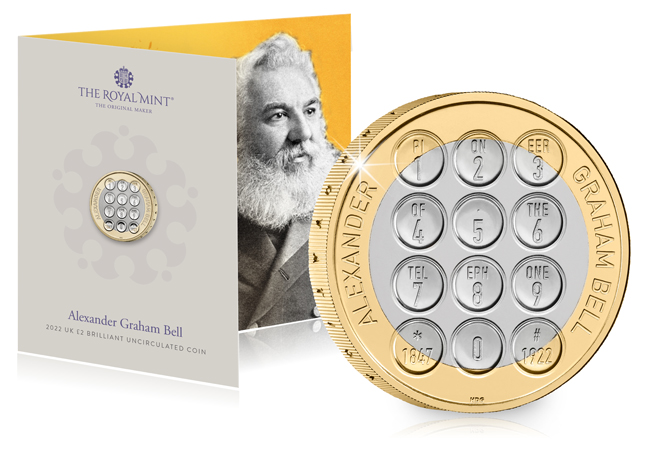 Own the Alexander Graham Bell £2 in the official Royal Mint presentation pack, featuring vibrant artwork of Bell himself! This bespoke packaging will keep your coin in pristine condition. And, as your coin has been struck to a Brilliant Uncirculated quality, it's free from the marks and scratches found on regular circulating coins.
Secure yours for the official Royal Mint price of JUST £10.99 >>
Own in Silver Proof Quality: Limited to just 2,500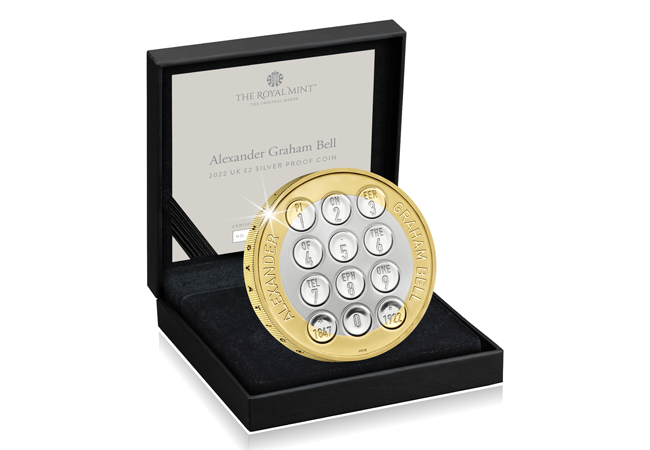 The Silver Proof version of the Alexander Graham Bell £2 coin has been struck from .925 Silver to a stunning proof finish, the highest striking standard available. Your coin comes beautifully presented in the official presentation box ready to display with pride. But, with such a low edition limit of just 2,500, you'll need to act quickly to secure yours. This year's FA Cup £2 with a much higher edition limit of 3,750 SOLD OUT in less than 24 hours.
Secure your Alexander Graham Bell Silver £2 for the official Royal Mint price of £72.50 >>
Only 1,000 Silver Piedfort £2 Coins Available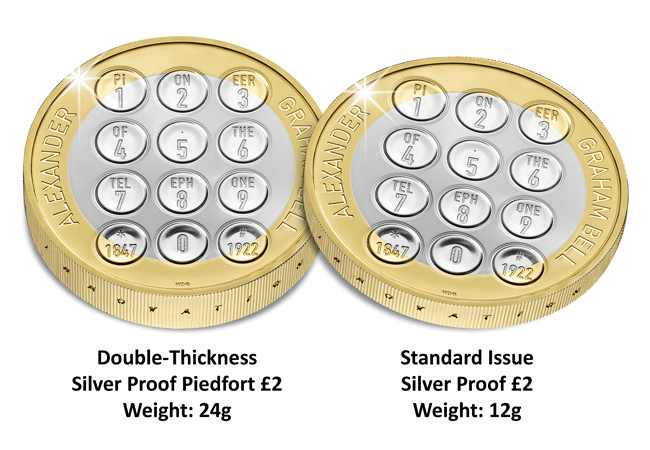 You can also own the extremely limited edition Alexander Graham Bell Silver Proof Piedfort £2. Considered the height of Royal Mint craftsmanship, this piedfort promises double the weight of a standard £2 coin. Piedfort coins regularly sell out, and with this being the first UK piedfort coin to commemorate the life and legacy of Alexander Graham Bell, demand is expected to outdo supply.
Pay as little as a £25 deposit to secure yours today >>
The Gold Proof £2: Extremely Limited Allocation Available
If you want to own the Alexander Graham Bell £2 coin in the most limited way possible, you'll want to secure one of JUST 125 Gold Proof £2 coins available worldwide. Struck from 22ct Gold to an impressive proof finish, your Gold Proof £2 is housed in a wooden presentation box ready to take centre stage in your collection. We only have a very limited number of Alexander Graham Bell Gold Proof £2 coins allocated to us, so high demand and disappointment are inevitable.
Contact us today to enquire and secure yours >>
Only 495 BU £2 Coin Covers Available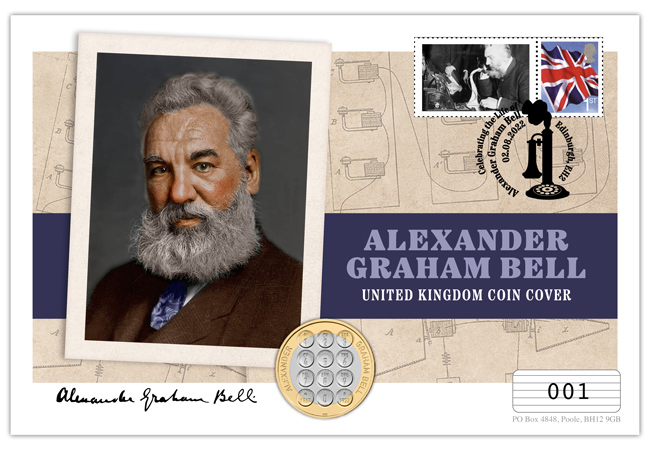 For a more limited way to own the Alexander Graham Bell Brilliant Uncirculated £2 coin, you can own the limited edition BU £2 Coin Cover. Limited to just 495 covers, your £2 coin has been paired with a Royal Mail 1st class stamp and an Alexander Graham Bell commemorative label. It's also been specially postmarked by Royal Mail on the 100th anniversary of Bell's passing — 2nd August 2022.
Be one of only 495 collectors to own this limited edition cover >>
The BU £2: Also Available in a limited edition DateStamp™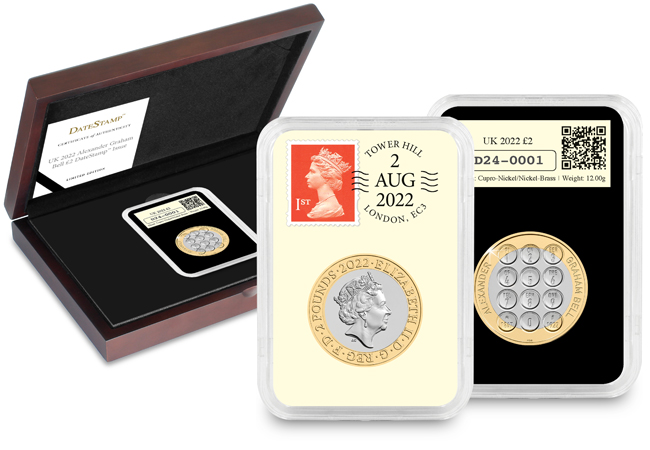 DateStamp™ collectors will be pleased to know that the Alexander Graham Bell BU £2 coin is also available as a DateStamp™ issue! DateStamp™ products have been protectively sealed in tamper-proof capsules with their own unique serial numbers. And your DateStamp™ has a special one-day-only postmark, meaning only 500 can ever be produced.
Secure yours from the strict 500 DateStamp™ limit >>
---
Interested in finding out more? Shop the full Alexander Graham Bell £2 coin range here >>
The new 2021 Gold Proof Sovereign has been released today, and it's sure to be the Sovereign release of the decade. But you may only have days to own one. Let me tell you why…
We're in the golden age of the Proof Sovereign. As you may know, the Proof Sovereign has become the UK's flagship annual release that's highly sought-after worldwide.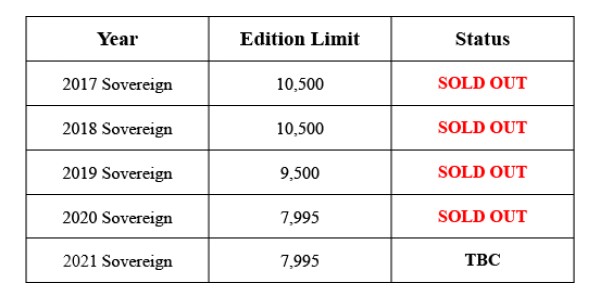 As you can see, recent UK Gold Proof Sovereigns have an undisputed track record of completely selling out. Many with a matter of weeks.
TWO special features to mark Her Majesty's incredible reign
In 2021 we will mark the Her Majesty the Queen's milestone 95th birthday.
To celebrate this, the Proof Sovereign features a special one-year-only unique '95' privy mint mark. Sovereigns featuring privy marks are some of the most collectable Sovereigns around, so demand WILL be high.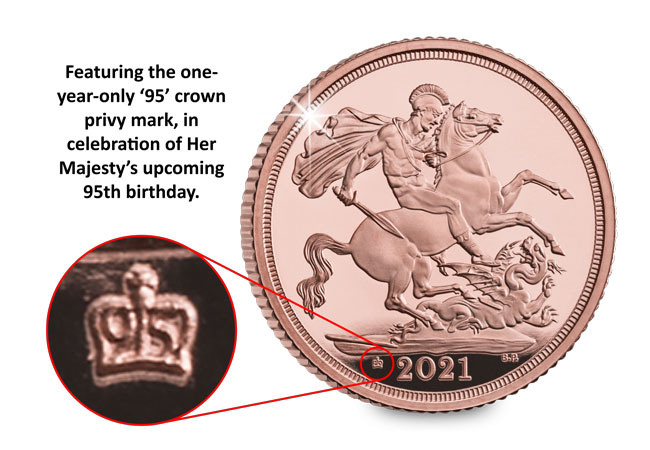 One-year-only privy marks are only applied to coins for the most significant events and anniversaries and this is certainly an important one.
But that's not all!
Most significantly, for the first time since the Proof Sovereign was first issued as a collector's piece in 1979, the specification has been altered and just 95 mill marks have been precisely engraved on the edge of the coin. A Sovereign would usually have 108 mills. Each one of the 95 mill marks on this coin represents a year of Her Majesty's life, and is an exceptional tribute to her incredible life and reign.
These TWO special features mean that this Sovereign will be a collecting priority and is sure to be the most sought-after yet.
The most significant Sovereign of this decade
Queen Elizabeth IIs' reign is arguably one of the most important and impressive in Britain's history.
That's because she is longest reigning head of state the UK, and in fact the world, has ever seen. 81% of the British population have been born following her coronation, so she is the only monarch that the majority of us have ever known.
Not only that, only a mere 0.9% of British people are over the age of 90 – so our Queen is part of a very elite club! This could very well be the most significant Sovereign we see this decade – it's forever a symbol of the Queen's longevity.
22 Carat Gold Pedigree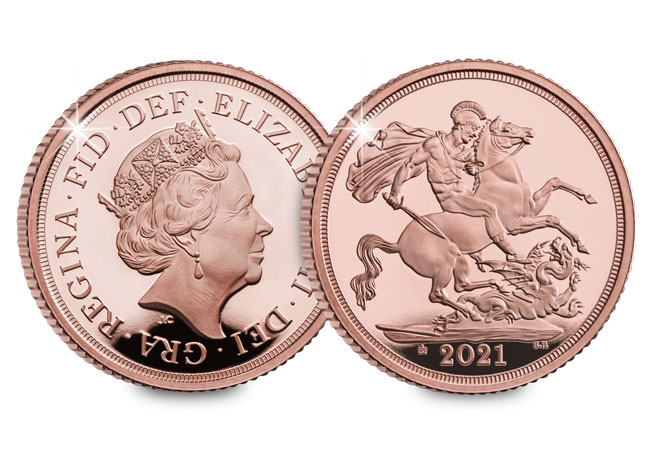 The 2021 Sovereign is minted from 22 Carat Gold and it is this historical pedigree that makes the coin so admired and sought-after around the world.
It is also one of the finest examples of British craftsmanship. The exceptional 'proof' finish is the result of the coin being struck up to 4 times using specially polished dies.
The time and effort required to produce the frosted relief and mirrored background of the coin is why a proof finish is considered the pinnacle of the mint-masters art – and the most sought-after by collectors.
And with an edition limit of JUST 7,995 worldwide – the SAME edition limit as last year's Sovereign that COMPLETELY SOLD OUT in a matter of weeks – this year's Proof Sovereign has all the elements to be the most collectable gold coin of the year, if not decade.
---
If you're interested…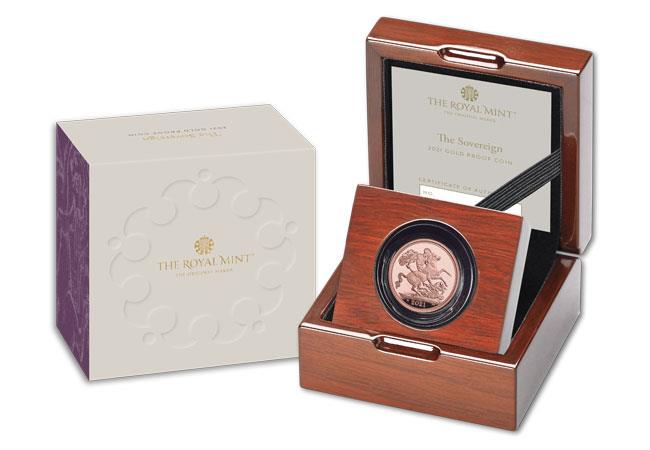 You can secure the 2021 Gold Proof Sovereign now, but you'll have to act quickly. You can secure yours today for a down payment of JUST £62.50 followed by nine further interest-free instalments – the most affordable way to own the new coin.
Introducing the brand new British Isles Gold Proof Sovereign released to commemorate the 75th Anniversary of VE Day!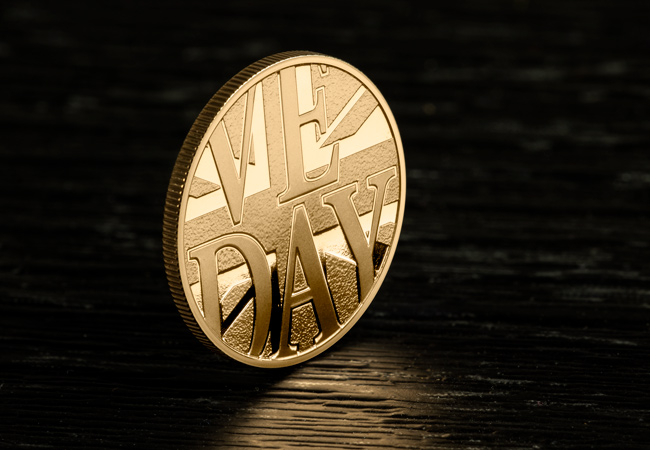 Over the years, the popularity of various coins have come and gone. But none have stayed as unrivalled as the Gold Sovereign.
Quite simply, the Sovereign is without a doubt the world's premier Gold Coin. Struck from 22 Carat Gold to the exact same specification since 1817, it epitomises all that is British.
Traded across the world during the 19th Century and early 20th Century, it became known as "The Chief Coin of the World", whilst today's modern Proof Sovereigns show consistent collector interest and regular sell-outs.
Most importantly for the thousands of Sovereign collectors around the world, it's a coin that demands attention and the intricate detail and sell-out status remains unrivalled.
FIFTEEN TIMES more limited than the UK's most recent Proof Sovereign
Serious collectors tend to look at three key things when choosing a coin to add to their collection.
When all three elements are right, you can't go wrong. And that's definitely the case with the BRAND NEW British Isles Gold Proof Sovereign that has just been issued by the Isle of Man for 2020.
1. The edition limit
2. The country of issue
3. The subject and design
Let's take each of the three key elements in turn…
1. The edition limit
This is simple. The coin is limited to just 495 pieces. This is more than 15 times RARER than the UK's recent Gold Proof Sovereign.
Let me give you a few comparisons of recently issued Sovereigns:

495 coins is a tiny edition limit for a gold Sovereign-specification coin such as this.
2. The country of issue
Importantly this is a British Isles issue, authorised by the Government of Isle of Man. That means that it benefits from a sterling denomination, as well as the associated interest for British Isles coins within the UK.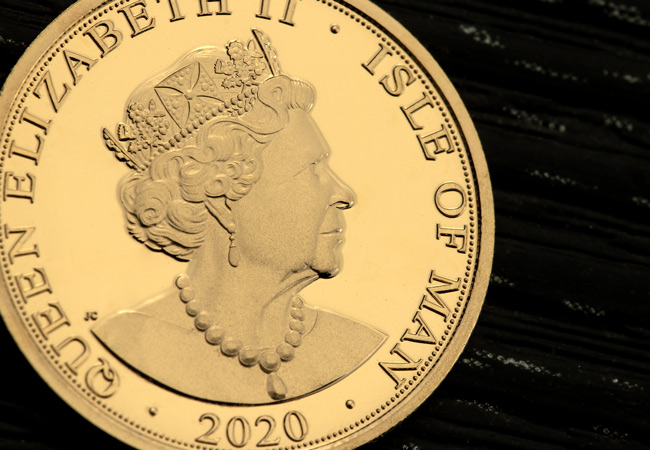 3. The subject and design
This is the BIGGEST of all the ticks, especially when combined with the edition limit.
This year we mark the 75th Anniversary of VE Day. The day which signalled the end of World War II in Europe and brought long-awaited peace to our nation.
Here are just some of the national plans to celebrate:
The May Bank Holiday has changed from Monday to Friday for the VE Day anniversary.
Bells in churches and cathedrals across the country will take part in a Ringing out for Peace celebration.
Street parties and celebrations at pubs, clubs, hotels, village greens and halls have been planned up and down the country.
A national service of commemoration and celebration.
As I mentioned previously, when all three elements of a coin are right, you just can't go wrong. And I am certain that demand will exceed availability. Especially when a strike of just 495 coins have been authorised for release.
And that's before you consider the design…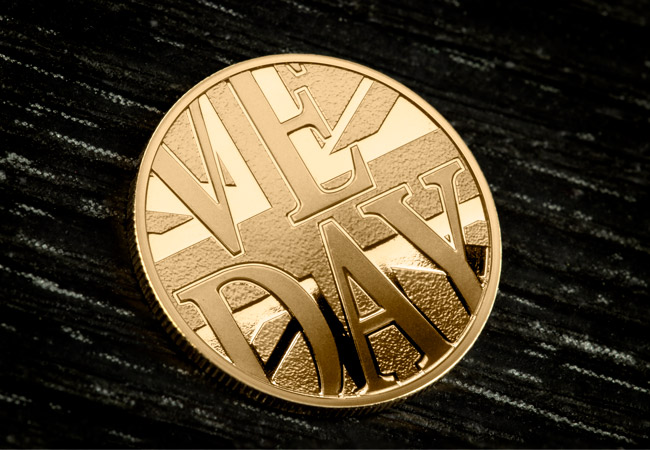 The reverse is very fitting. The Union Flag fills up the complete surface of the coin while the text 'VE DAY' is displayed up large at the centre.
So I am sure you can now understand why serious collectors will want to own the remarkable new VE Day 75th Anniversary Gold Proof Sovereign. It's the perfect coin to mark 75 years since our country rejoiced as Allied victory swept across Europe and our nation's soldiers, sailors and airmen began their journey home.
I know it's easy to sing the praises of every new coin. But, this one REALLY DOES tick all three key collecting boxes. All of the elements of this latest Gold Sovereign lend themselves to a complete sell-out.
Given the symbolic anniversary, the fact it carries a sterling denomination, and a strike of just 495 coins have been authorised, I am certain that demand will exceed availability.
Click here to be one of just 495 collectors worldwide to secure this Sovereign for your collection today >>