Posts Tagged 'commemoratives'
When it comes to pushing the boundaries of engineering and speed, one name stands out above the rest in the annals of railway history – the Mallard.
This iconic steam locomotive holds a special place in the hearts of enthusiasts and historians alike. Join us as we delve into the story of the Mallard and uncover five fascinating facts about this legendary machine.
The Record Breaker
The year was 1938, and the quest for speed was on.
The Mallard took centre stage when on July 3rd of that year, it embarked on a mission to break the world speed record for steam locomotives.
Rocketing along the East Coast Main Line, near Grantham, the Mallard reached an incredible speed of 126mph, breaking the record previously held by Germany's DRG's Class 5 Locomotive that had reached 124.5mph in 1936.
And the Mallard's world record still stands to this day.
A plaque has been mounted on its side to commemorate its historic achievement, proudly displaying its maximum speed of 126mph.
Designed for Speed
The brainchild of Sir Nigel Gresley, the renowned chief mechanical engineer of the London and North Eastern Railway (LNER), the Mallard was built at the Doncaster Works.
Gresley incorporated several features to maximize speed, including a streamlined body and a three-cylinder design for greater power and efficiency.
A Train of Firsts
The Mallard was not only a speed demon but also a pioneer of innovative technologies.
It was the first locomotive to be fitted with a Kylchap double blastpipe and chimney, which significantly improved steam flow and enhanced performance.
Additionally, it was one of the first locomotives to be painted in the iconic LNER garter blue livery, making it instantly recognizable.
A Legacy Preserved
Today, the Mallard is part of the National Collection, residing in the National Railway Museum in York. Following a restoration project which brought the Mallard back to its former glory, the magnificent locomotive is a star attraction.
Links to Ornithology
Gresley had a keen interest in birds and birdwatching and as such many of the locomotives in the A4 class were named after birds.
Including the Mallard, Falcon, Golden Eagle, Sparrow Hawk, Kingfisher, Wild Swan and Guillemot to name a few…
---
Yours FREE: The Mallard Commemorative
Today you can own the first issue in the British Railway Heritage Collection – The Mallard Commemorative – for FREE. You'll only pay postage.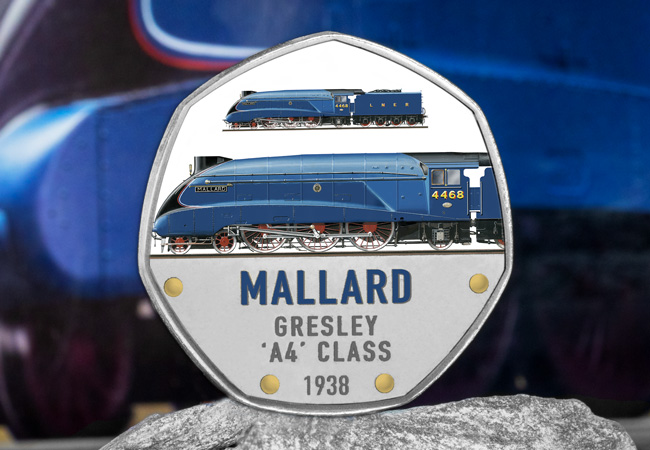 The Mallard Commemorative is the first in a collection celebrating Britain's Railway Heritage – with each issue featuring an intricately illustrated locomotive from the annals of railway history.
By ordering your commemorative today, you have the chance to trial the British Railway Collection for FREE (+postage) with absolutely no obligation to continue collecting if you don't want to.
Introductory Offer
The Mallard Commemorative is an Introductory Offer for the British Railway Heritage Collection. Each month, you'll receive four commemoratives for £25.00 (+p&p). You'll also receive your FREE Presentation Album to house your collection. You can cancel your subscription at anytime.
Click here to purchase the Mallard Commemorative with no subscription for the full price of £6.99 (+p&p) >>
This April, we celebrated Crufts, alongside the 150th Anniversary of The Kennel Club. An organisation dedicated to protecting dog breed standards, helping to keep our nation of pups fit and healthy, as well contributing to all dogs finding a loving home.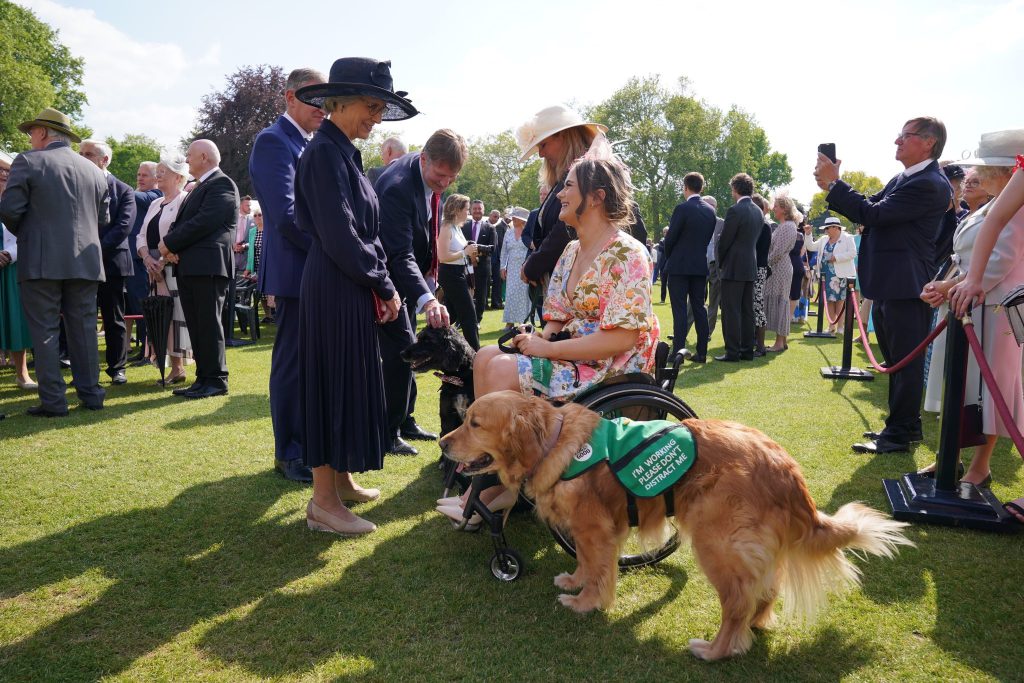 The Kennel Club: Making a Paws-itive Difference
Since being founded in 1873, The Kennel Club have devoted themselves to 'making a positive difference for dogs and their owners'.
They have been working hard to ensure all dog breeds are cherished and well looked after. By promoting the responsible ownership and breeding of all pups, founding The Kennel Club Charitable Trust, running the Good Citizen Dog Training scheme, as well as committing themselves to educating first-time owners and bringing doggy-welfare to schools, through The Kennel Club Educational Trust.
A Paw-some Anniversary Party at Buckingham Palace
To mark their 150th anniversary, The Kennel Club has been given a Royal Prefix – making it, The Royal Kennel Club. And what better way to celebrate the granting of a Royal Prefix than our furry friends visiting Buckingham Palace?
Hosted by The Duke and Duchess of Gloucester (pictured above). The event took place on May 24th following the Club's 150th anniversary. The event celebrated the evolution of the club. From the beginning in which the club brought order to dog shows, to today, where the club strives to promote canine welfare.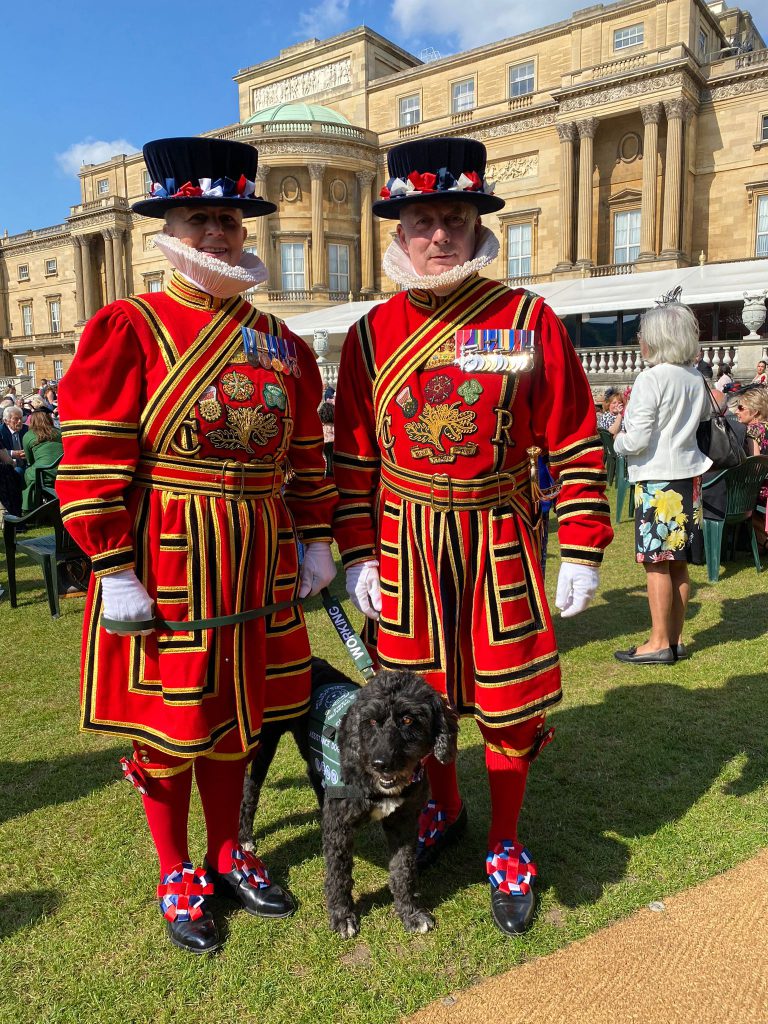 Crufts: Celebrating Man's Best Friend
Following their establishment in 1873, the first The Kennel Club show was held under their own name, with an entry of 975 dogs. The Kennel Club held its first ever Crufts show in 1948. Since, we have seen the show grow into the much-loved event. One which has allowed a nation of canine companions to come together to inspire and celebrate their furry friends. Today we see over 24,000 four-legged friends at Crufts, over 3000 of which travel from overseas!
The Official Crufts Commemorative: Celebrate the 150th Anniversary for FREE (+p&p):
To celebrate the 150th anniversary of The Royal Kennel Club, we are thrilled to offer you a piece of history. We have worked closely with The Royal Kennel Club to create this one-of-a-kind commemorative for you!
What's more, you can secure yours for FREE when you trial the Official Crufts Commemorative Collection – just pay the £1.99 postage to claim your introductory offer. Click here to find out how you get can get your commemorative (and more) for FREE!

On Saturday, we spent the day with the crowds at the Mall seeing the Royal Family on the balcony and waving our Union Jacks alongside thousands of others!
Even in the rain, the atmosphere was amazing. Union Jacks everywhere, cheering crowds, and more bunting than we've ever seen in our lives. It was truly British Royal pageantry at its splendid best.
What an event it was – the first King our great country has crowned for 86 years.
We hope you enjoyed the Coronation, wherever you were watching and whatever you were doing.
But whilst we were enjoying the festivities, a small group of people were hard at work striking an exclusive set of Coronation Silver Proof Commemoratives.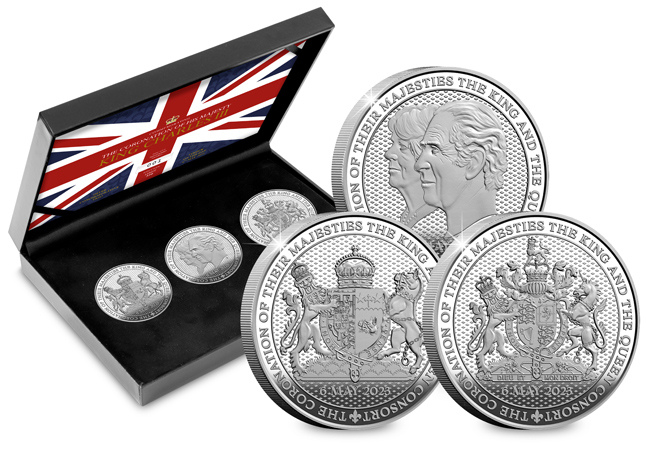 In fact, this was happening just a stone's throw from Westminster Abbey where the King was being crowned.
And this prestigious set is really remarkable.
Considering most of the country shut down to celebrate, it's a unique piece of memorabilia which in turn is strictly limited and ever so collectable.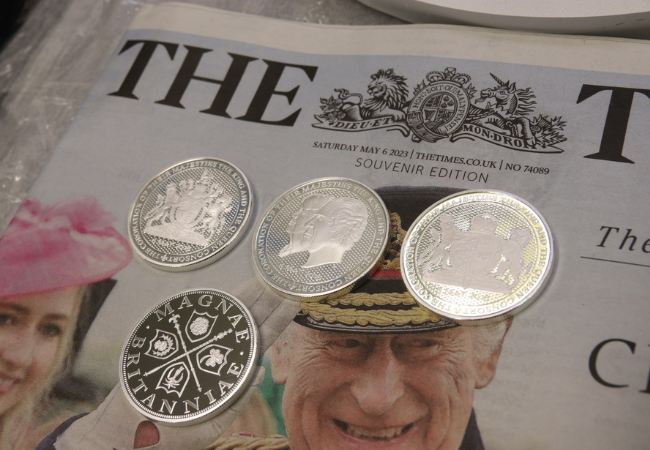 We've already seen multiple sell outs across the Coronation range, but you may still have an opportunity to add this set to your collection if you act now!
Here are the three key points that make this set so special:
1: It's a set of three 1oz Silver Proof Commemoratives that feature the Official Royal Coat of Arms of His Majesty King Charles III and Her Majesty Queen Camilla, alongside a stunning dual portrait of the new monarchs.
2: Each medal was struck on the Official Coronation date – 6th May 2023 – meaning that the set will forever be linked to this important moment in history.
And most importantly…
3: Only 350 sets are available. 350 simply won't be enough! Since the Coronation date was announced, demand for commemoratives has been sky-high and it shows no sign of slowing down.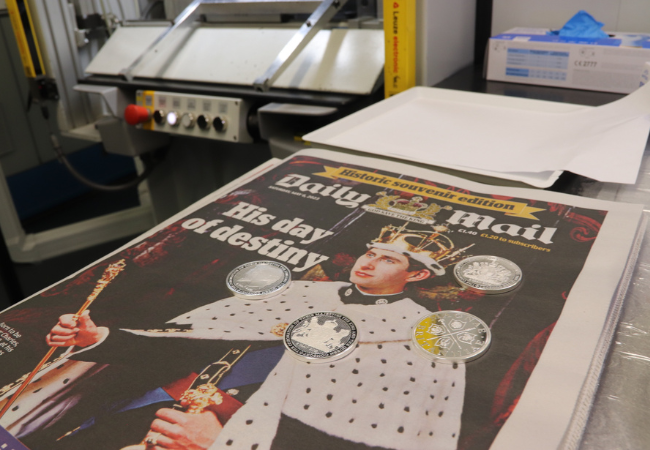 You can secure your Coronation Silver Proof Commemoratives set completely risk free for just £32.50 here. And importantly, you won't pay a thing until your set has been despatched to you. But if you don't act now, we wouldn't be surprised if they're all completely allocated before the general release!