Posts Tagged 'anniversary'
This April, we celebrated Crufts, alongside the 150th Anniversary of The Kennel Club. An organisation dedicated to protecting dog breed standards, helping to keep our nation of pups fit and healthy, as well contributing to all dogs finding a loving home.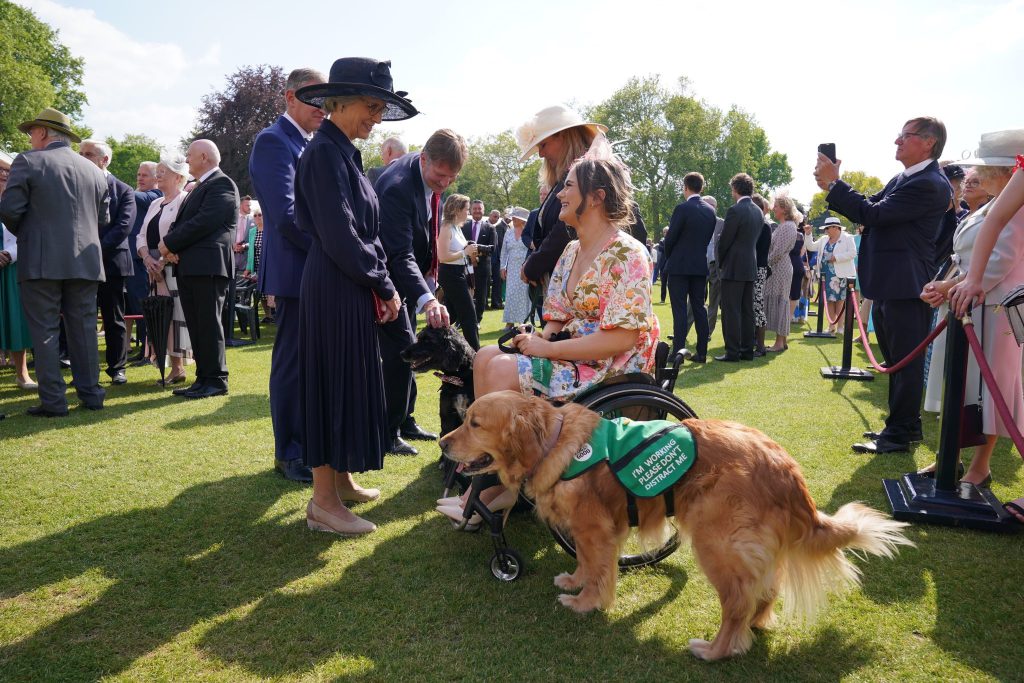 The Kennel Club: Making a Paws-itive Difference
Since being founded in 1873, The Kennel Club have devoted themselves to 'making a positive difference for dogs and their owners'.
They have been working hard to ensure all dog breeds are cherished and well looked after. By promoting the responsible ownership and breeding of all pups, founding The Kennel Club Charitable Trust, running the Good Citizen Dog Training scheme, as well as committing themselves to educating first-time owners and bringing doggy-welfare to schools, through The Kennel Club Educational Trust.
A Paw-some Anniversary Party at Buckingham Palace
To mark their 150th anniversary, The Kennel Club has been given a Royal Prefix – making it, The Royal Kennel Club. And what better way to celebrate the granting of a Royal Prefix than our furry friends visiting Buckingham Palace?
Hosted by The Duke and Duchess of Gloucester (pictured above). The event took place on May 24th following the Club's 150th anniversary. The event celebrated the evolution of the club. From the beginning in which the club brought order to dog shows, to today, where the club strives to promote canine welfare.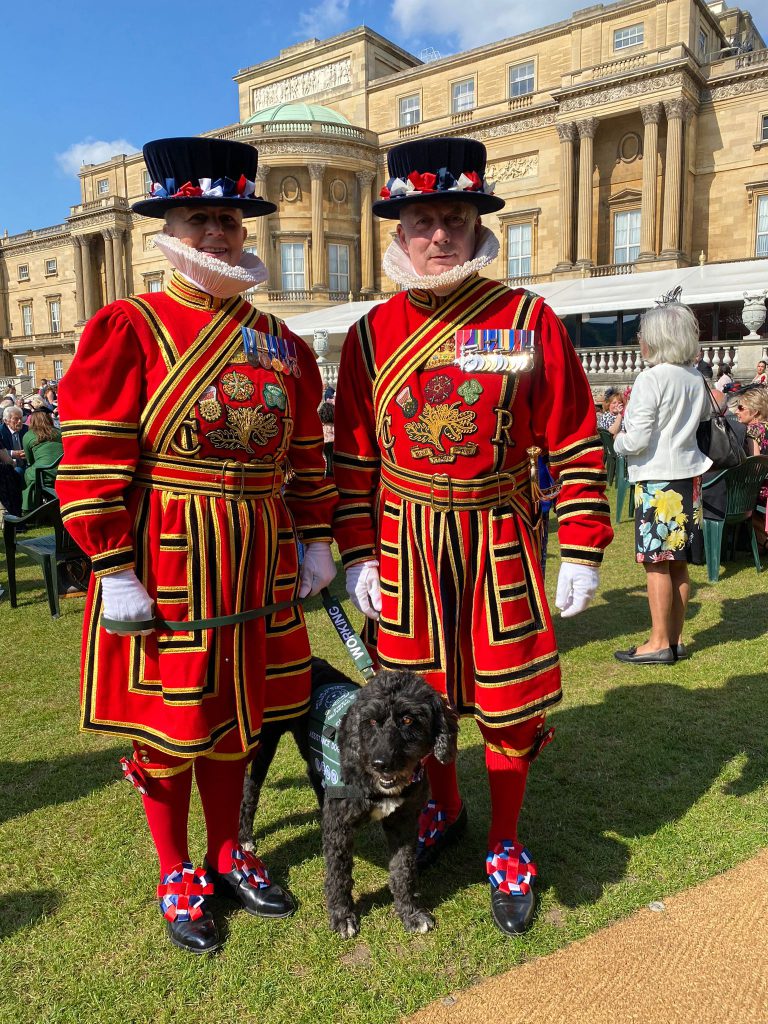 Crufts: Celebrating Man's Best Friend
Following their establishment in 1873, the first The Kennel Club show was held under their own name, with an entry of 975 dogs. The Kennel Club held its first ever Crufts show in 1948. Since, we have seen the show grow into the much-loved event. One which has allowed a nation of canine companions to come together to inspire and celebrate their furry friends. Today we see over 24,000 four-legged friends at Crufts, over 3000 of which travel from overseas!
The Official Crufts Commemorative: Celebrate the 150th Anniversary for FREE (+p&p):
To celebrate the 150th anniversary of The Royal Kennel Club, we are thrilled to offer you a piece of history. We have worked closely with The Royal Kennel Club to create this one-of-a-kind commemorative for you!
What's more, you can secure yours for FREE when you trial the Official Crufts Commemorative Collection – just pay the £1.99 postage to claim your introductory offer. Click here to find out how you get can get your commemorative (and more) for FREE!


Get yours today –

personally signed by Private Pike actor, Ian Lavender.
Royal Mail has just revealed a new set of special stamps, which will feature beloved characters from classic British sitcom, Dad's Army.
Scheduled for release on 26 June 2018, the new stamps will feature eight best loved characters – the seven original members of the Walmington-on-Sea Home Guard, Captain Mainwaring, Sergeant Wilson, Lance Corporal Jones, Private Walker, Private Fraser, Private Godfrey and Private Pike, as well as lovable antagonist Chief Warden Hodges.
The stamps are Royal Mail's first ever dedicated British sitcom stamp issue – and on the 50th anniversary of the airing of the first episode, they couldn't have picked a more deserving programme.
Dad's Army is one of select group of shows that fully deserves its classic status. The comedy focused on a Home Guard platoon commanded by pompous bank manager Captain Mainwaring and his mild-mannered chief clerk, Sergeant Wilson, as they provide Walmington-on-Sea's last line of defence against the imminent Nazi invasion.
Drawn from their own wartime memories, writers Jimmy Perry and David Croft based the series partly on Perry's experiences in the Local Defence Volunteers at the age of 17 during the Second World War. His mother objected to him being out at night, which inspired the character of Pike.
And so when the actor who played Private Pike, Ian Lavender, agreed to sign 500 framed Dad's Army stamps, we were absolutely delighted.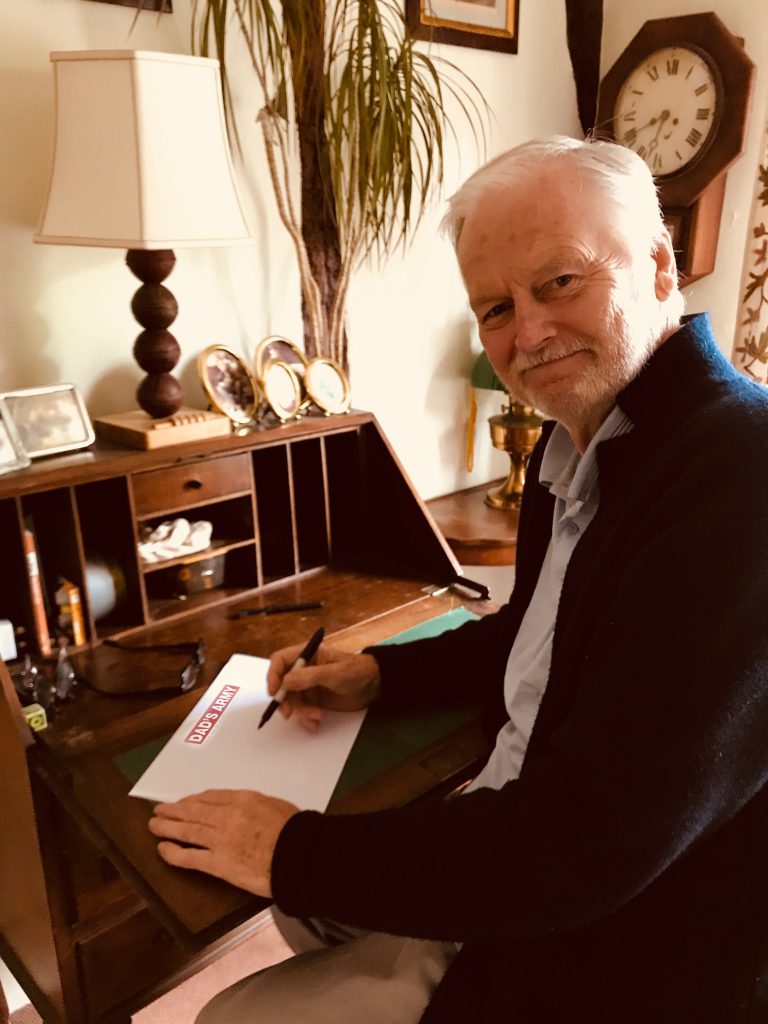 In 1968, aged just 22, Ian was cast as Private Frank Pike, the youngest member of the platoon. He appeared in the entire run of the series, and in the spinoff film released in 1971.
He revived the role of Private Pike in the 1983 BBC Radio sitcom It Sticks Out Half a Mile. The show was a radio sequel to Dad's Army, running for just one series. Ian has continued to be associated with Dad's Army, and even made a cameo appearance as Brigadier Pritchard in the 2016 Dad's Army film.
Here's your first look at the new stamps alongside some details about each one…
CAPTAIN MAINWARING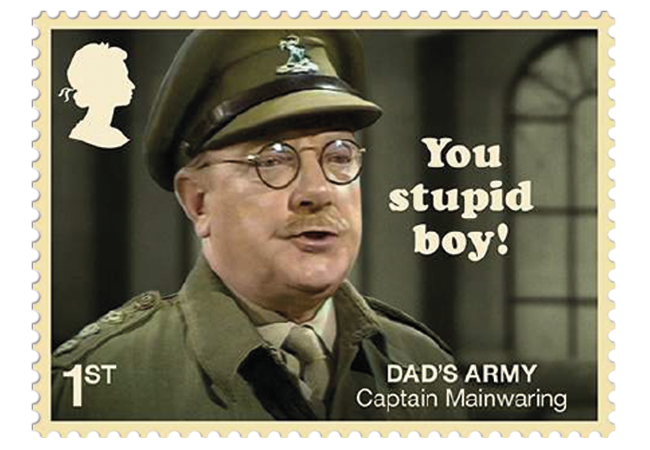 Played by Arthur Lowe. The pompous, if essentially brave and unerringly patriotic local bank manager, Mainwaring appointed himself leader of his town's contingent of Local Defence Volunteers. He had been a lieutenant in the First World War, but is embarrassed by the fact that he never saw combat, being sent to France only in 1919 after the Armistice and then part of the Army of Occupation in Germany.
SERGEANT WILSON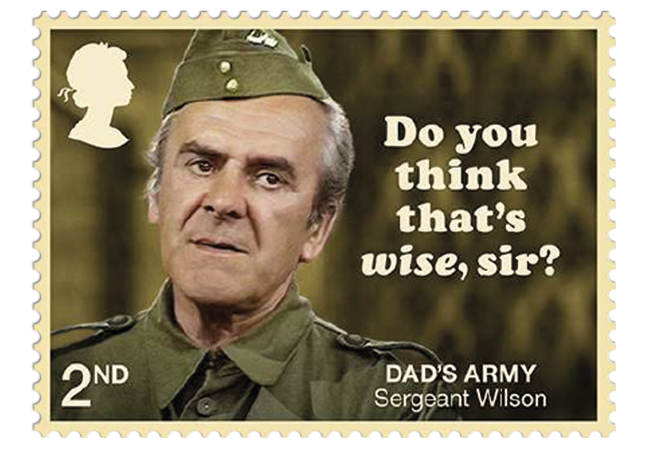 Played by John Le Mesurier, a diffident, upper-class chief bank clerk who would quietly question Mainwaring's judgement ("Do you think that's wise, Sir?"). Wilson actually had served as a Captain during the First World War, but he only reveals this in the final episode. He does not live with the Pike family but is implied to be in a relationship with the widowed Mrs Pike (and sometimes hinted to be Private Pike's father) although this is never explicitly stated.
LANCE CORPORAL JONES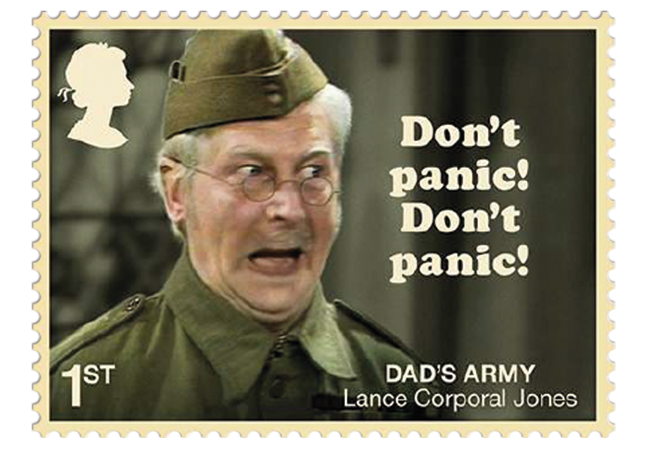 Played by Clive Dunn. The local butcher, born in 1870. Jones was an old campaigner who enlisted as a drummer boy at age 14 and participated, as a boy soldier, in the Gordon Relief Expedition of 1884–85 and, as a man soldier, in Kitchener's campaign in the Sudan in 1896–98. Jones also served during the Boer War and the Great War. He often suffers from the effects of malaria caught during one of his campaigns, and has to be calmed during his 'shudders'. Often seen as fastidious and old, he is the world's worst worrier and has a catch phrase of 'They don't like it up 'em!' when referencing any potential Nazi attack. Dunn was considerably younger than his character, being only 48 at the start of filming. This allowed him to take part in some of the more physical comedy of the show.
PRIVATE FRASER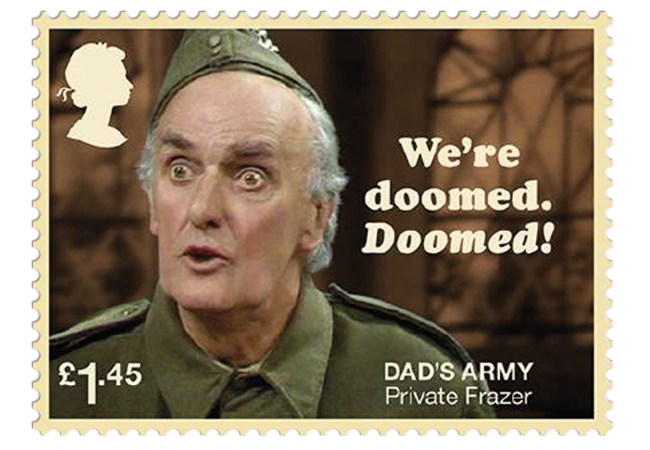 Played by John Laurie. A dour Scottish undertaker and a former Chief Petty Officer on HMS Defiant in the Royal Navy. He served at the Battle of Jutland as a ship's cook and also has a medal for having served on Shackleton's Antarctic expedition. Fraser Lived on the Isle of Mingulay. His catchphrase was "We're doomed. Doomed!"
PRIVATE WALKER
Played by James Beck. A black market spiv, Walker was one of only two able-bodied men of military age in Walmington-on-Sea's Home Guard (the other was Private Pike). Walker was not called up to the regular army because of an allergy to corned beef. Following Beck's death in 1973 Walker was cut out of the series.
PRIVATE GODFREY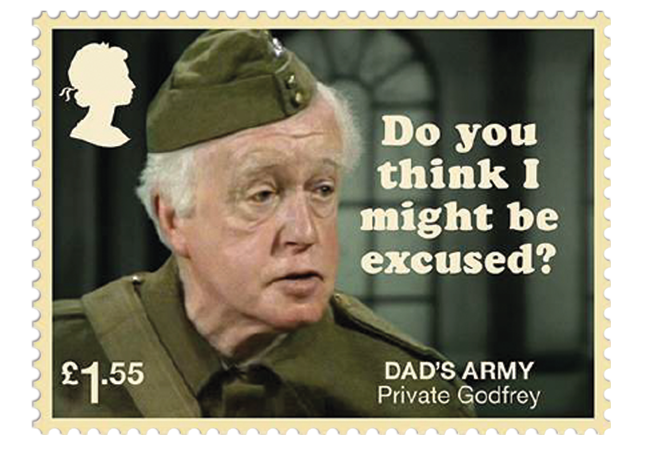 Played by Arnold Ridley. A retired shop assistant, Godfrey had worked at the Army & Navy Store in London. He lives in Walmington with his elderly sisters and serves as the platoon's medical orderly. He often gets "caught short" and needs to "be excused". A conscientious objector during the First World War, he was nevertheless awarded the Military Medal for heroic actions as a combat medic during the Battle of the Somme.
PRIVATE PIKE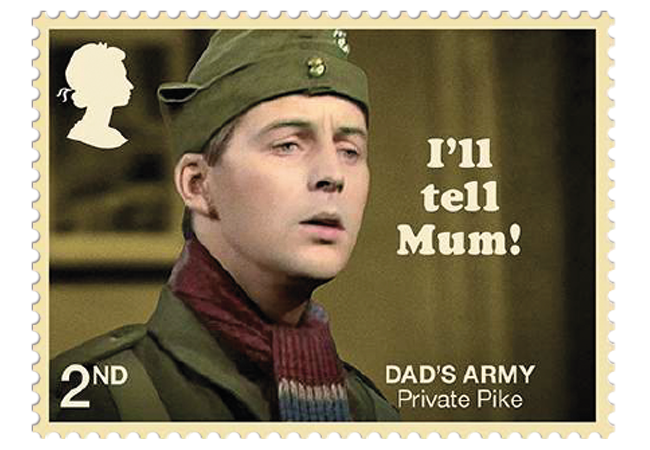 Played by Ian Lavender. The youngest of the platoon, a cosseted mother's boy, often wearing a thick scarf over his uniform to prevent illness and a frequent target for Mainwaring's derision ("You stupid boy!"). Pike is not called up to the regular army due to his rare blood group. He works for Mainwaring in his day job as an assistant bank clerk. He frequently addresses Sgt. Wilson as "Uncle Arthur".
CHIEF WARDEN HODGES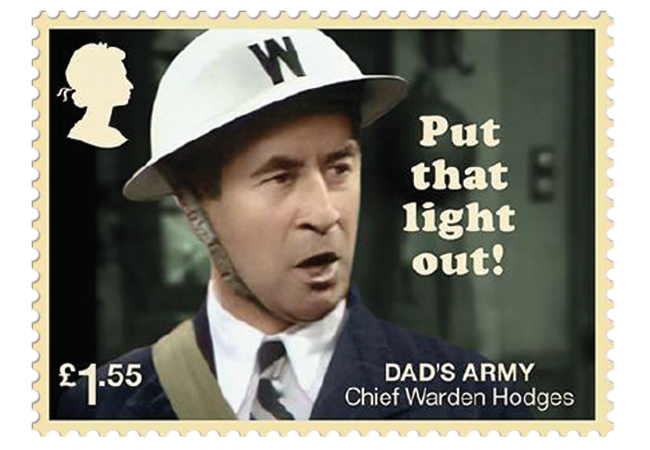 Played by Bill Pertwee. The platoon's major rival and nemesis, Mainwaring looks down on him as the local greengrocer and dislikes that Hodges saw active service in the Great War. As an Air Raid Precautions (ARP) Warden, he is always demanding that people "put that light out".
---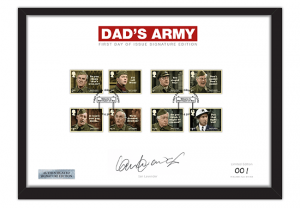 If you're interested…
You can reserve all of the new Dad's Army stamps now on a limited edition Framed Collector Card – hand-signed by actor Ian Lavender – Private Frank Pike himself!
Google has the answer to everything. Well actually not quite everything, it seems…
That's because when I sat down to write this blog about the Queen and Prince Philip's Platinum Wedding Anniversary in November this year, I thought it would be interesting to see how many couples actually celebrate 70 years of marriage.
The answer is Google doesn't know.
And the more I dug around, the more I realised the reason why. It's incredibly rare.
So if Google can't tell us, let's see if we can come up with an answer.
Fundamental to the problem is that there is simply no central record of how long marriages last until one of the couple passes away. But perhaps we can make some assumptions based on some of the statistics that the Office for National Statistics (ONS) do publish.
How likely are two people to both make it past their 90th Birthday?
In 1947 the median age for marriage was 23.7 for men and 20.5 for women[i], making Princess Elizabeth and Lieutenant Philip Mountbatten pretty typical of their generation, marrying aged 21 and 26. It also means it's fair to work on the basis that for nearly any couple celebrating their Platinum Wedding Anniversary, they are both going to be in their nineties.
So the chances for making it past the age of 90 in England and Wales is 0.8%[ii]. That means that the chances of two people BOTH making it is:
0.008 x 0.008 = 0.000064
0.0064% chance of two people both making it past their 90th birthday.
How many people were married in 1947?
Fortunately, it is much easier to uncover how many people married in 1947. In fact 1947 is the very first year that the ONS not only holds data for the total number of marriages in England and Wales but also in which month they took place.[iii]
Certainly by choosing November, they were not following the trend. In fact with fewer than 30,000 marriages that month, it was the third least popular month for weddings that year.
Overall, the young princess and her naval officer beau were one of 401,210 couples to tie the knot that year. Statistics for Scotland and Northern Ireland appear more difficult to track down but it would be reasonable to extrapolate the numbers based on the overall UK population split, which suggests a figure for the whole of the UK.
466,000 UK marriages in 1947.
But what about divorces?
Data is not easily available for 1947 but it can be found for English and Welsh marriages in 1950[iv]. According to the ONS, 8.6% of marriages at that time ended in divorce, so we should discount them out from our 466,000 UK marriages.
466,000 x 91.4% = 426,000 non-divorce marriages in 1947.
How many Platinum Wedding Anniversaries might we expect this year?
So we have now have two critical pieces of data. The chances of two people making it past the age of 90 – the realistic milestone age to celebrate a Platinum Wedding Anniversary – and the number of marriages in 1947 that did not end in divorce.
Based on that we can multiply the two numbers together to give us a pretty reasonable estimate of the number of couples who will celebrate 70 years of marriage this year.
426,000 x 0.0064% = 27 Platinum Wedding Anniversaries
So, although there are no official statistics to back it up, it seems likely that only around 30 couples will join the Queen and Prince Philip in celebrating their Platinum Wedding Anniversary this year. Or to put it another way – just 60 people in the UK will mark 70 years of marriage in 2017 – that's 1 in a million.
That's why for me, forget the Jubilees; forget the birthdays. For the Queen and Prince Philip their Platinum Wedding Anniversary is the pinnacle of their long list of incredible milestones. And we, the British people, must join them in marking this historic moment.
---
[i] www.census.gov
[ii] www.theguardian.com
[iii] www.ons.gov.uk
[iv] www.ons.gov.uk
---