Get yours today –

personally signed by Private Pike actor, Ian Lavender.
Royal Mail has just revealed a new set of special stamps, which will feature beloved characters from classic British sitcom, Dad's Army.
Scheduled for release on 26 June 2018, the new stamps will feature eight best loved characters – the seven original members of the Walmington-on-Sea Home Guard, Captain Mainwaring, Sergeant Wilson, Lance Corporal Jones, Private Walker, Private Fraser, Private Godfrey and Private Pike, as well as lovable antagonist Chief Warden Hodges.
The stamps are Royal Mail's first ever dedicated British sitcom stamp issue – and on the 50th anniversary of the airing of the first episode, they couldn't have picked a more deserving programme.
Dad's Army is one of select group of shows that fully deserves its classic status. The comedy focused on a Home Guard platoon commanded by pompous bank manager Captain Mainwaring and his mild-mannered chief clerk, Sergeant Wilson, as they provide Walmington-on-Sea's last line of defence against the imminent Nazi invasion.
Drawn from their own wartime memories, writers Jimmy Perry and David Croft based the series partly on Perry's experiences in the Local Defence Volunteers at the age of 17 during the Second World War. His mother objected to him being out at night, which inspired the character of Pike.
And so when the actor who played Private Pike, Ian Lavender, agreed to sign 500 framed Dad's Army stamps, we were absolutely delighted.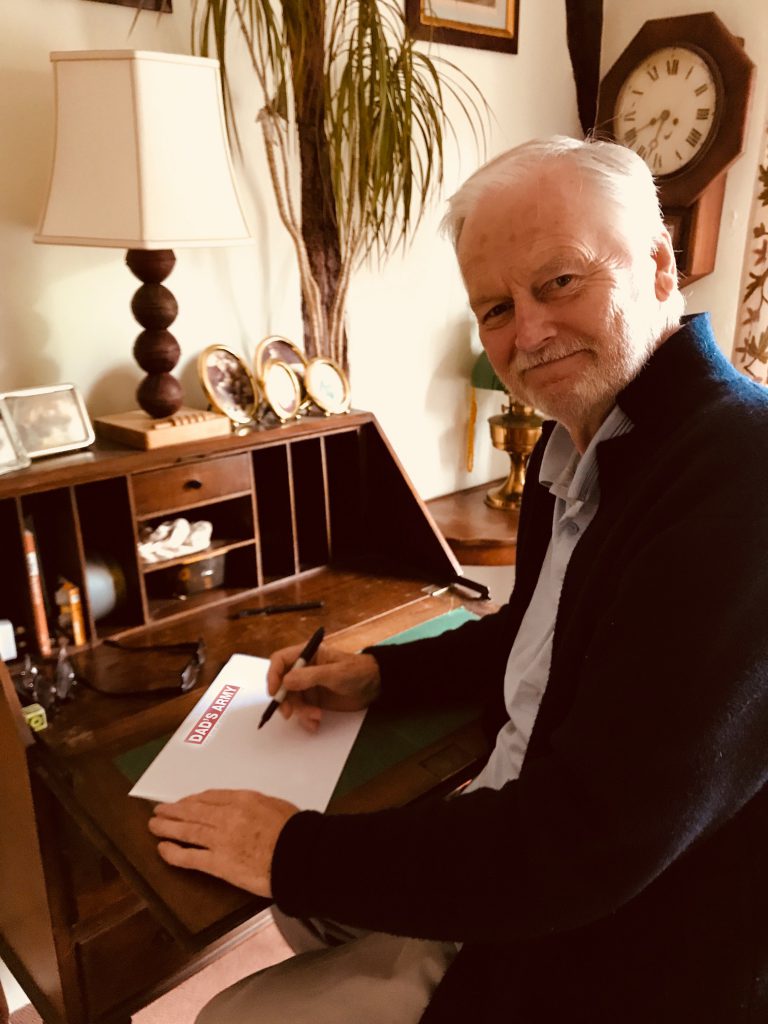 In 1968, aged just 22, Ian was cast as Private Frank Pike, the youngest member of the platoon. He appeared in the entire run of the series, and in the spinoff film released in 1971.
He revived the role of Private Pike in the 1983 BBC Radio sitcom It Sticks Out Half a Mile. The show was a radio sequel to Dad's Army, running for just one series. Ian has continued to be associated with Dad's Army, and even made a cameo appearance as Brigadier Pritchard in the 2016 Dad's Army film.
Here's your first look at the new stamps alongside some details about each one…
CAPTAIN MAINWARING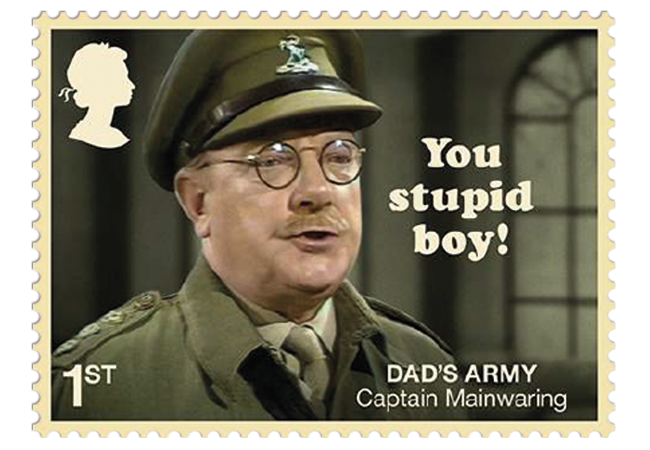 Played by Arthur Lowe. The pompous, if essentially brave and unerringly patriotic local bank manager, Mainwaring appointed himself leader of his town's contingent of Local Defence Volunteers. He had been a lieutenant in the First World War, but is embarrassed by the fact that he never saw combat, being sent to France only in 1919 after the Armistice and then part of the Army of Occupation in Germany.
SERGEANT WILSON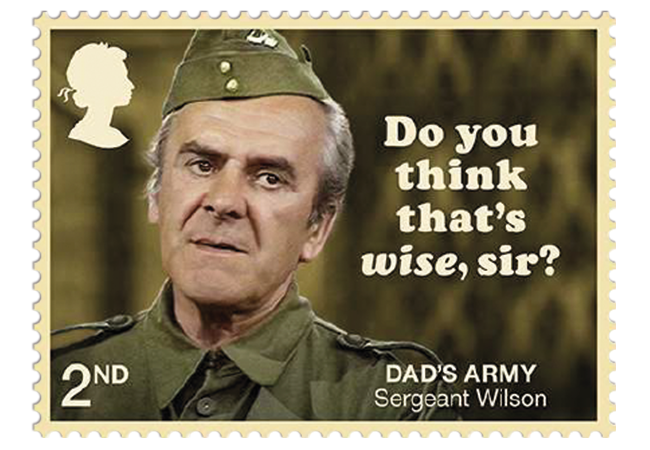 Played by John Le Mesurier, a diffident, upper-class chief bank clerk who would quietly question Mainwaring's judgement ("Do you think that's wise, Sir?"). Wilson actually had served as a Captain during the First World War, but he only reveals this in the final episode. He does not live with the Pike family but is implied to be in a relationship with the widowed Mrs Pike (and sometimes hinted to be Private Pike's father) although this is never explicitly stated.
LANCE CORPORAL JONES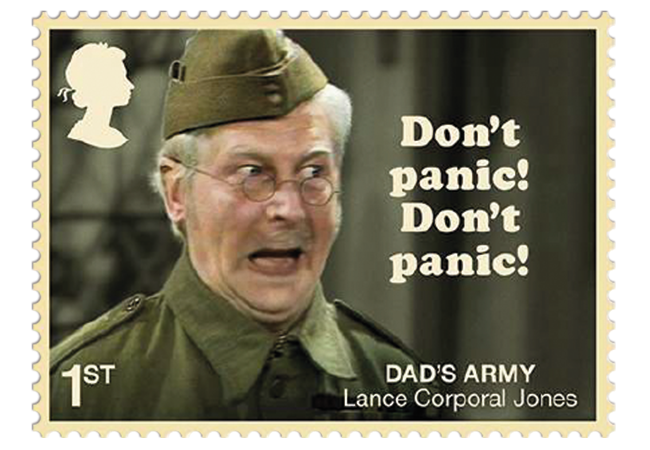 Played by Clive Dunn. The local butcher, born in 1870. Jones was an old campaigner who enlisted as a drummer boy at age 14 and participated, as a boy soldier, in the Gordon Relief Expedition of 1884–85 and, as a man soldier, in Kitchener's campaign in the Sudan in 1896–98. Jones also served during the Boer War and the Great War. He often suffers from the effects of malaria caught during one of his campaigns, and has to be calmed during his 'shudders'. Often seen as fastidious and old, he is the world's worst worrier and has a catch phrase of 'They don't like it up 'em!' when referencing any potential Nazi attack. Dunn was considerably younger than his character, being only 48 at the start of filming. This allowed him to take part in some of the more physical comedy of the show.
PRIVATE FRASER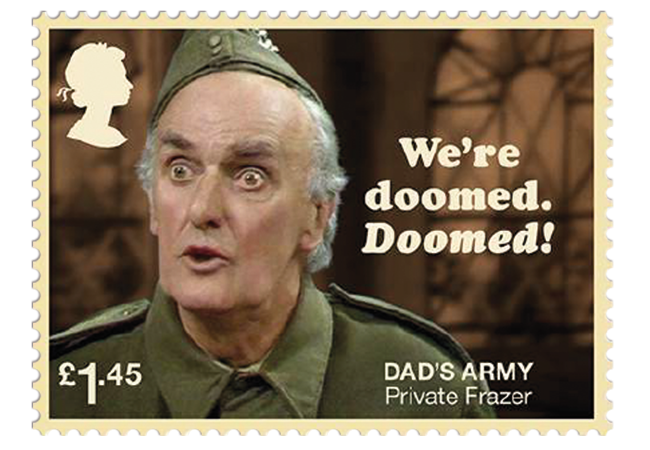 Played by John Laurie. A dour Scottish undertaker and a former Chief Petty Officer on HMS Defiant in the Royal Navy. He served at the Battle of Jutland as a ship's cook and also has a medal for having served on Shackleton's Antarctic expedition. Fraser Lived on the Isle of Mingulay. His catchphrase was "We're doomed. Doomed!"
PRIVATE WALKER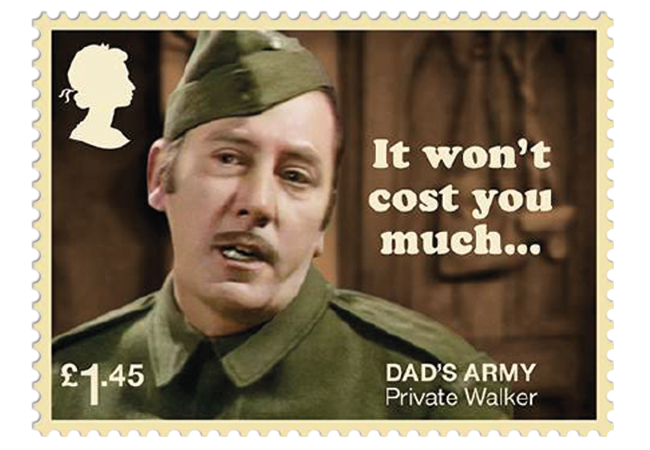 Played by James Beck. A black market spiv, Walker was one of only two able-bodied men of military age in Walmington-on-Sea's Home Guard (the other was Private Pike). Walker was not called up to the regular army because of an allergy to corned beef. Following Beck's death in 1973 Walker was cut out of the series.
PRIVATE GODFREY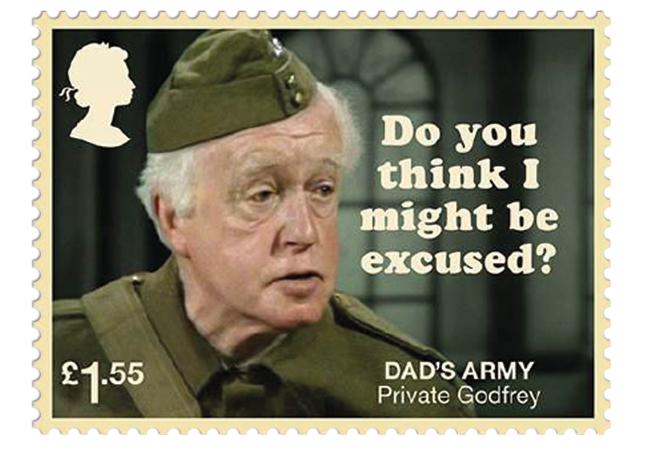 Played by Arnold Ridley. A retired shop assistant, Godfrey had worked at the Army & Navy Store in London. He lives in Walmington with his elderly sisters and serves as the platoon's medical orderly. He often gets "caught short" and needs to "be excused". A conscientious objector during the First World War, he was nevertheless awarded the Military Medal for heroic actions as a combat medic during the Battle of the Somme.
PRIVATE PIKE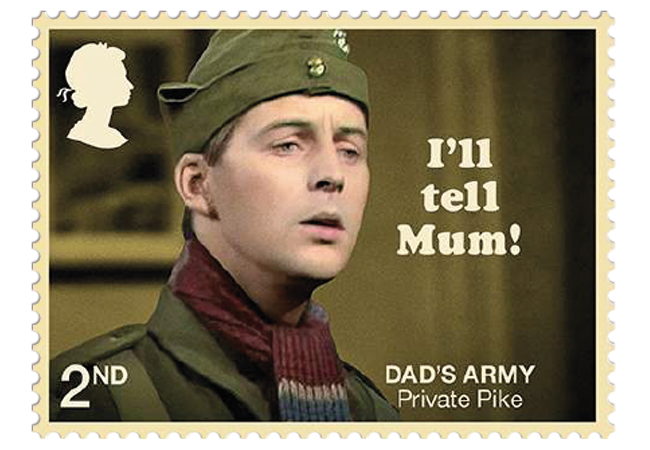 Played by Ian Lavender. The youngest of the platoon, a cosseted mother's boy, often wearing a thick scarf over his uniform to prevent illness and a frequent target for Mainwaring's derision ("You stupid boy!"). Pike is not called up to the regular army due to his rare blood group. He works for Mainwaring in his day job as an assistant bank clerk. He frequently addresses Sgt. Wilson as "Uncle Arthur".
CHIEF WARDEN HODGES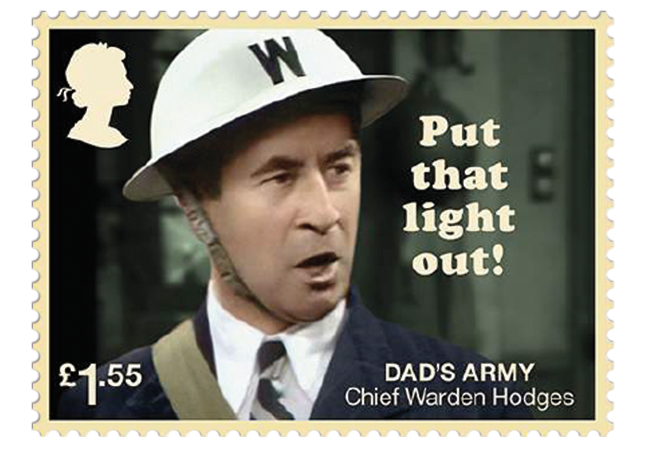 Played by Bill Pertwee. The platoon's major rival and nemesis, Mainwaring looks down on him as the local greengrocer and dislikes that Hodges saw active service in the Great War. As an Air Raid Precautions (ARP) Warden, he is always demanding that people "put that light out".
---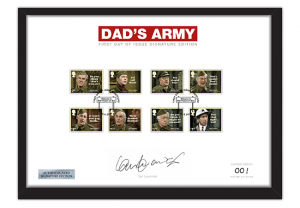 If you're interested…
You can reserve all of the new Dad's Army stamps now on a limited edition Framed Collector Card – hand-signed by actor Ian Lavender – Private Frank Pike himself!

---
On June 24th 1947 nine unusual high speed objects were spotted flying over the city of Roswell. The military announced they'd found a flying saucer, then retracted this, instead insisting it was a US Air Force air balloon. This caused conspiracy theories to develop and grow… what exactly was it that crash landed that day?
To commemorate 70 years since the event that shook the city of Roswell, Niue have issued a coin that is as mysterious as the event itself and it is proving to be just as popular with collectors as the Roswell event is with conspiracy theorists. In fact, with only 700 ever issued, this coin is already sold out at the Mint and it is very clear why…
The coin is 3D 'dome' shaped, replicating the iconic UFO shape that you would have grown up seeing. Domed coins like this are highly unusual and collectors are always quick to add them to their collections. The coin is a stunning design, struck in sterling silver to a proof finish. It is a remarkable feat and uses the latest technology in modern minting to achieve this incredible high-relief finish.
The photo-luminescent detail adds to the collectability of the coin. If you hold the coin in the light for 30-60 seconds, turn off the light and watch the magic happen –the coin actually glows in the dark.
The amount of glow in the dark coins are very few and far between, so it's no wonder that collectors have been rushing to secure their own silver UFO coin.
This scarce coin not only comes in its own unique presentation case to help keep the mystery under wraps, it is also complemented by a custom made 'Top Secret' collectors crate, which hints at the Roswell conspiracy theories that there was a major military cover-up.
The Roswell incident is known as one of the most famous and mystifying UFO incidents in history, and now this coin is already becoming one of the most sought-after and collectable coins!
_______________________________________________________________________________________
This item is now fully allocated. Click here to view other items from our collectors gallery >>
When it comes to identifying the very finest quality silver coins, few, if any, can match an Australian 'Kangaroo'. Precision made, eye-catching and struck from 999/1000 Pure Silver, they're usually snapped up on sight. And now three of the most exciting new issues have been brought together in an exclusive limited edition set…
Why has the Kangaroo become such an important design?
When the famous marsupial is engraved onto an Australian legal tender coin it becomes a hallmark of quality. Rather like the British Sovereign is a benchmark for gold coins, the Kangaroo signifies that your coin is from a trusted source and has been produced to an exceptional standard.
Because of this, the 'Kangaroo' has such an international following, and has become one of the most prominent and internationally respected names on the market. Collectors worldwide buy these Australian coins for their quality, design and craftsmanship.
Three unique finishes brought together in one exclusive limited edition set
Now, three of the most exciting examples of the 'Kangaroo' you can buy have been brought together in one limited edition set.
The 2017 Australian Kangaroo Numismatic Set brings together the traditional bullion silver coin with the extremely sought-after high relief proof issue and the unusual gilded proof edition. Each coin boasts a full ounce of fine silver and demonstrate some of the finest minting techniques in the market.
Here's a bit more about what makes each coin in the set so special:
The first coin in the set is the traditional bullion coin, struck by The Perth Mint to a frosted finish, it contrasts superbly with the reflective and raised parts of the design, giving an unusual three tone relief.
Then second coin is The Perth Mint's high-relief proof finish $1 coin. This remarkable technique strikes the design onto a concave blank, allowing for the engraving to stand tall – more like a sculpture than a coin.
The final coin is the stunning gilded silver proof coin that features the Australian kangaroo carefully picked out in brilliant 24 carat gold.
All three coins share a similar heritage, but demonstrate distinctive approaches to coin design.
---
If you're interested…
You can be one of just 250 collectors to own The Australian Kangaroo Set.
The coins will come complete in a Deluxe Wooden Presentation Case, ready to display, with a Certificate of Authenticity, attesting to its precious metal content and edition limit.
Each is individually encapsulated, perfect to keep them in pristine condition for your future generations to enjoy and appreciate. These coins are extremely popular, and with an edition limit of just 250, stock won't last for long.