Posts Tagged 'meteorite coin'

---
30 years ago today the Earth was NEARLY hit by an asteroid.
The asteroid named (4581 Asclepius) spanned an incredible 300 meters in width and came within a mere 500,000 miles of colliding with Earth! Unbeknownst to many at the time, a collision with a meteor this size would have caused cataclysmic destruction, with a 5 to 10 mile crater being formed if it had hit land and devastating tidal waves had it hit sea.
Now 30 years on from that all to close 'near miss' day, we take a look at some unique coins that feature genuine pieces of meteorite. They've fascinated both us and collectors so much, that it comes as no surprise that coins below have completely SOLD OUT.
Take a look here…
---
A near miss 30 years ago, a direct hit with collectors now…
Following successive sell-outs, a new coin has been issued. The Erfoud Meteorite Strike Silver Coin is now available and already popular amongst collectors.
With a remarkable design of a meteorite puncturing the face of the coin, giving some perspective to the near miss 30 years ago, this truly unique coin features a genuine fragment of a Moroccan meteorite within the crater of the coin.
A simply stunning coin, the Erfoud Meteorite Silver Strike is without doubt, one of the finest examples of Smartminting technology with unprecedented levels of intricate detail and an extraordinary high relief.
However a very small number of only 2,500 have been issued worldwide which most certainly won't satisfy demand. To compare, the Mars Meteorite Coin had a worldwide edition limit of just 5,000 which quickly sold out. Given this extraordinary issue's edition limit is half, it is clear the Erfoud Meteorite Strike Silver Coin won't be available for long.
What's more, we have JUST 75 of these hugely sought-after Erfoud Meteorite Strike Silver coins available for collectors. Given the previous sell-outs of meteorite coins like this, you will have to move fast to secure one for collection. Don't make this another near miss.
---
If you're interested…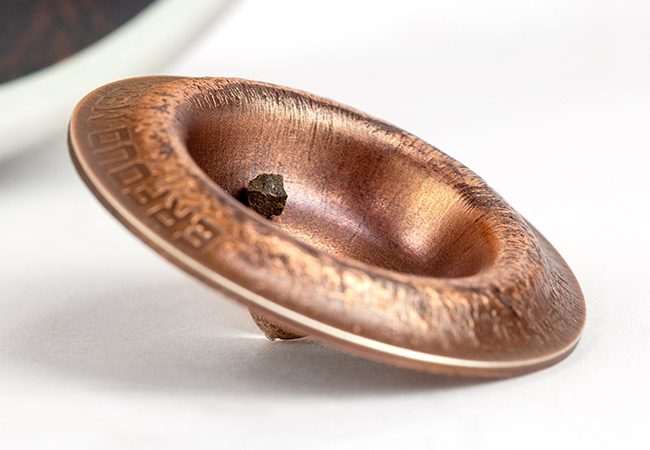 Click here to find out more about The Erfoud Meteorite Strike Silver Coin now >>
One of the most fascinating things about coin collecting is of course the design on the coin – but what about the shape of the coin itself? As minting technology continues to advance, coins are being struck in all kinds of exciting and innovative shapes.
I've compiled a selection of coins which I consider to be 10 of the most collectable unusually shaped coins around…
1. The FIRST rugby coin of its kind…
To mark the Rugby World Cup last year, France issued the first ever coin shaped like a rugby ball.
The concave coins proved to be extremely popular with collectors worldwide, with many keen to add a coin with such a unique pedigree to their collections.
2. A coin shaped like a country…
The Perth Mint regularly issue map-shaped coins, taking advantage of their country's unique and recognisable outline.
This series makes use of purpose-built tooling and die design to give the coin its distinctive shape.
The first coin in the series featured the Kookaburra, issued in 2012, since then there have been a variety of different animals to feature on the coin, with the most recent being the Redback Spider.
3. The 'Imperial Egg'…


This impressive looking coin boasts beautiful enamelled colour and a shimmering gemstone inlay.
The 'Imperial Egg' Coin is based on the work of Fabergé and proved to be very popular with collectors last year, especially during the Easter period.
4. You'll be lucky to find one of these…
You certainly won't find this Four-Leaf Clover Coin in a field, no matter how hard you look! Legend has it that Eve took a four-leaf-clover from paradise as a memento for the wonderful time she had spent there – they've been considered lucky ever since.
Struck in gold to a proof finish, this cleverly produced coin could certainly be regarded as lucky by collectors who have one in their collection – as it is now highly sought-after.
5. The Earth-shattering coin…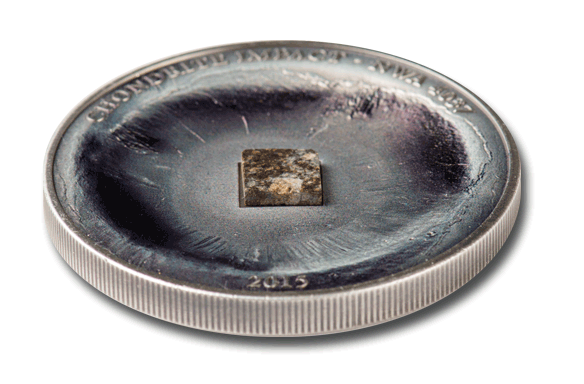 The extra-terrestrial chondrite that has been set into the centre of this coin was sourced from a meteorite that crash-landed in Morocco in 2005. The space rock shattered into several pieces when it entered the Earth's atmosphere.
The coin itself has been struck in a concave shape to represent the crater in which the piece of meteorite landed.
6. Is it a coin or is it a bar? It's both…
This rectangular silver coin-bar features one of the world's most iconic landmarks – London's Tower Bridge.
It's not often that you see coins minted in this shape – the 'bar' format is usually reserved for bullion.
This stunning coin boasts intricately detailed engraving and tiny detail can be seen on the Tower Bridge to create windows, clock and brickwork.
7. The poppy-shaped remembrance coin…
This coin's unique shape and rich red printing on the reverse takes inspiration from the poppy, which has become synonymous throughout the world as a symbol of remembrance and the charitable work of The Royal British Legion.
Issued to commemorate the end of the First World War and to Remember the Fallen, the Poppy Coin is a significant issue that is poignant to many.
8. The coin that sold out in two days…
This remarkable coin is shaped like the iconic Canadian maple leaf, and proved so popular that it sold out at the Royal Canadian Mint in just 2 days.
Canadian Maple Leaf coins are some of the world's most recognised Silver coins. This issue takes the design to a whole new level, complete with a special wooden display case. A stunning display that would certainly stand out on any mantlepiece!
9. The coin that combines heaven and earth…
Issued in China since 221 BCE, the Chinese Lucky Cash Coin features a square hole at its centre to represent Earth, while the circle symbolises heaven. This combination of heaven and earth make the coin a symbol of harmony and prosperity.
Chinese fortune-tellers would use cash coins, a tortoise shell, and their skill at numerology to tell the future. Because of their association with mystical prediction, these coins from China are thought to bring good luck.
10. And last but not least…

The playful Russian 'Matryoshka Dolls' first appeared in the late 19th century, now they've been immortalised on a silver coin.
This oval issue is displayed within special bespoke packaging which consists of two traditional wooden nesting dolls placed one inside the other – the coin and packaging are both something that I've never come across before!
Are you lucky enough to have any in your collection or have you perhaps seen any that you think should be on the list? Let me know in the comments below.
---
We still have a small allocation remaining of The Lucky Four Leaf Clover Gold Coin.