Posts Tagged 'commemoratives'
*** EXCLUSIVE TROTTERS INDEPENDENT TRADING CO. SPECIAL ***
Released today, say 'au revoir' to the NEW Only Fools and Horses Commemorative Medal – shaped into the intricate design of Britain's most beloved three-wheeled car, the Reliant Regal.
'Triffic' TROTTERS INDEPENDENT TRADING CO. SPECIAL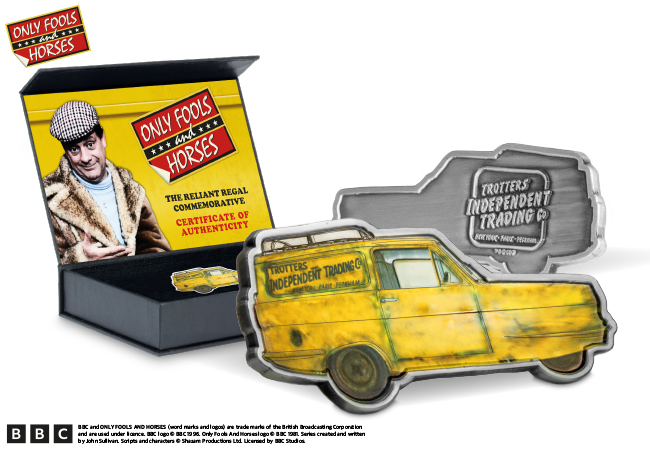 Celebrating the 40th Anniversary of the 'Trotters', and the birth of one of Britain's favourite comedies, this Only Fools and Horses commemorative medal is certain to be a HIT much like the program itself!
Officially Licensed by BBC Studios
This NEW Only Fools and Horses Commemorative has been shaped into the intricate design of Britain's most beloved three-wheeled car – the Reliant Regal!
It has then been carefully finished with the addition of vivid colour – to really bring the 'Trotters Independent Trading Co.' car to life!
Don't miss out. As Del Boy would say, 'He who dares, wins, he who hesitates…don't!'
'Bonjour.'
And you can secure your very own TROTTERS INDEPENDENT TRADING CO. SPECIAL for JUST £39.99. What are you waiting for? 'You know it makes sense!'
Read on as we take a closer look at the latest images from NASA's James Webb Space Telescope, and our stunning collection of commemoratives celebrating the Wonders of the Universe.
Our universe is a place of beauty, awe, and unknowns; an expanse full of intrigue that has drawn our gaze for centuries. From prehistoric cave paintings of the night sky to the stellar images sent back from NASA's Hubble Telescope, we continue to fuel our fascination with what lies beyond what the eye can see…
In recent weeks, NASA's James Webb Space Telescope – a new telescope kitted out with the latest technology – has captured some genuinely breath-taking images of our universe, captivating audiences and making global headlines.
The Webb Telescope provides us with insights into the "deepest" reaches of the known universe, offering up some of the most detailed images of the cosmos ever seen.
Take a look below at some of the outstanding images from Webb's observations of our universe…
Carina Nebula – also known as the Cosmic Cliffs, this is the edge of a nearby, young, star-forming region called NGC 3324. Its "peaks" are about 7 light-years high.

The Cartwheel Galaxy and companion galaxies – formed as the result of a high-speed collision that occurred about 400 million years ago, and is composed of two colourful rings.

Southern Ring Nebula – a planetary nebula approximately 2,500 light-years away.

Stephan's Quintet – a visual grouping of five galaxies depicting how galaxies interact with one another.

Webb's First Deep Field image of galaxy cluster SMACS 0723. This is the "deepest" image of space we've seen to date, with thousands of galaxies coming into view.
Experts estimate that the universe stretches out infinitely – and with all that space to fill the scale of the planets, stars, and nebulas within it is tough to comprehend…
But today, you can take a tiny part of our universe home with our Wonders of the Universe Commemorative Set – and each commemorative is small enough to fit in your pocket!
The Wonders of the Universe Commemorative Set celebrates eight of the most magnificent and marvellous entities within our universe including The Milky Way – home to our Solar System, black holes, and supernovas!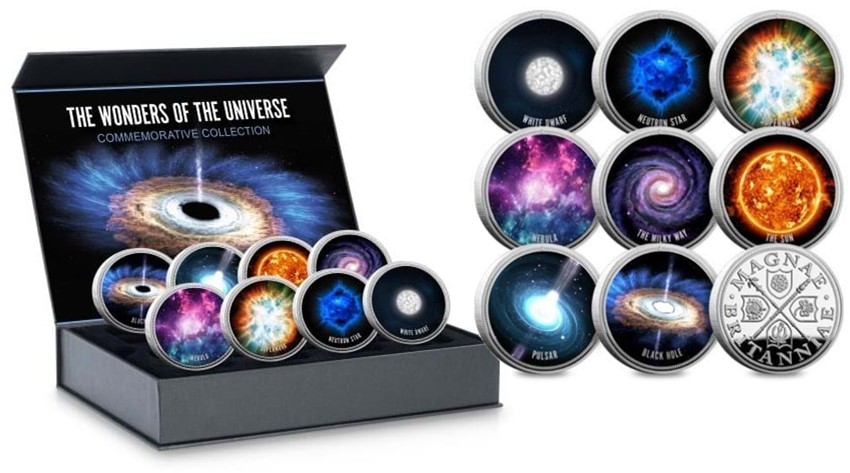 Each commemorative is struck to a superior proof-like finish, with full-colour images individually applied. Your commemorative set comes with a FREE presentation case (worth £9.95), alongside information on each 'wonder' within the collection. And you can even pay for your set in instalments of as little as £15.
Just 995 sets were ever produced, so you won't want to delay if you'd like to secure one of our remaining commemorative sets. Only a limited number remain available. I'd hate for you to miss out on a collectable item that's truly out of this world.
Click here to be one of only 995 in the universe to own the Wonders of the Universe Commemorative Set >>
---
Watch our video to find out more about the Wonders of the Universe Set!
For many it's hard to believe that it's been 40 years since the Falklands conflict took place.
It's a conflict our nation remembers only too well. It was one of the first military endeavours that had been televised, with daily reports being broadcast to our screens, reports of heroic fighting and of course, sadly, casualties.
Indeed, it's to all those that served our country in the Falklands that we're proud to dedicate a superb set of new commemoratives – issued for the 40th anniversary.
I'd like to talk you through each of the designs, and in doing so tell the story of the Falklands conflict…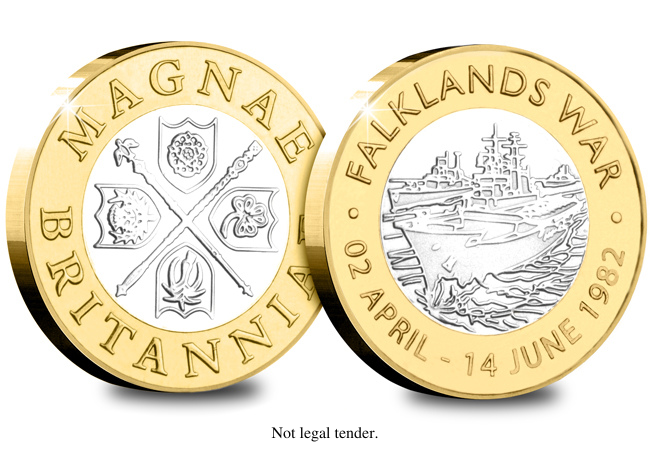 Our battleships crossing the Atlantic
In a move condemned by the United Nations, in 1976 Argentinian forces occupied the Falkland Islands and South Georgia. In the weeks that followed, islanders were forcibly deported.
In response, for the first time since the Second World War, all branches of the British armed forces were deployed and within days a British task force set sail across the Atlantic.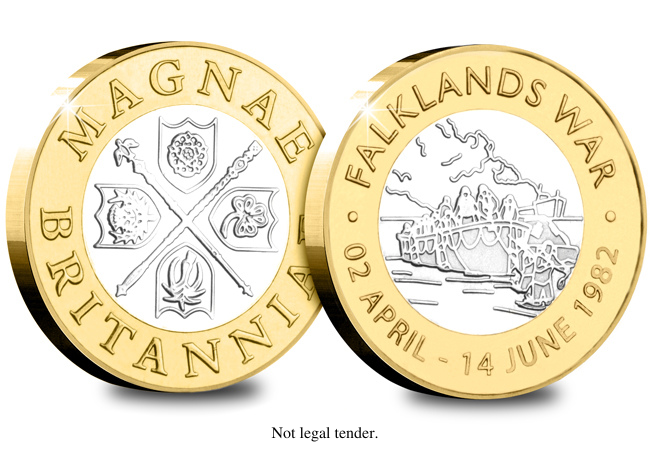 Troops landing on the Falkland Islands
The Task Force landed 4,000 troops in the East Falklands. Goose Green was the first settlement to be taken by British forces. British troops then face a difficult journey through tough terrain, enemy minefields, and hostile weather conditions.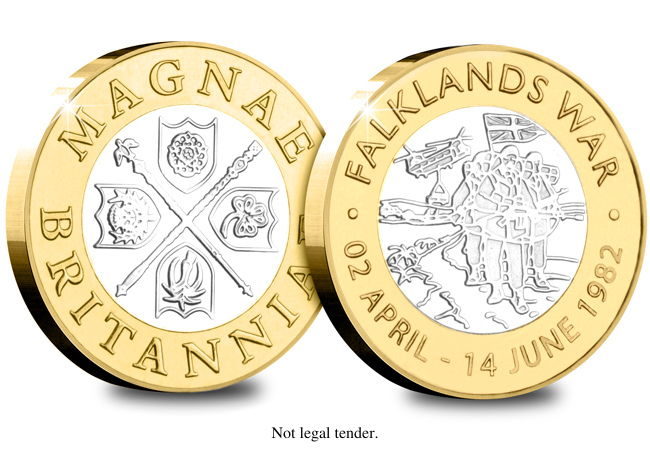 British troops 'yomping' across difficult terrain on the Islands
The design of this commemorative pays homage to one of the most famous images from the conflict, taken by Royal Marines photographer Peter Holdgate, showing a Corporal with a Union flag fixed to his pack.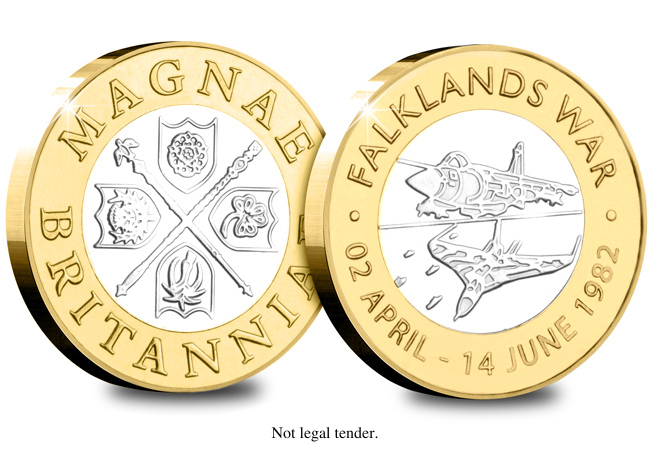 British aircraft patrolling the skies
British aircraft played a key role in the conflict, most famously with the Harrier jets and the Vulcan bomber – two planes that are still strong in British consciousness because of their important role in defending the Falklands.
Although at the start of the conflict Argentina seemed to have an advantage in the air with over 100 aircraft of varying types, it was the strategy of the British Air Force that meant the British pilots were able to beat the odds and take control of the skies.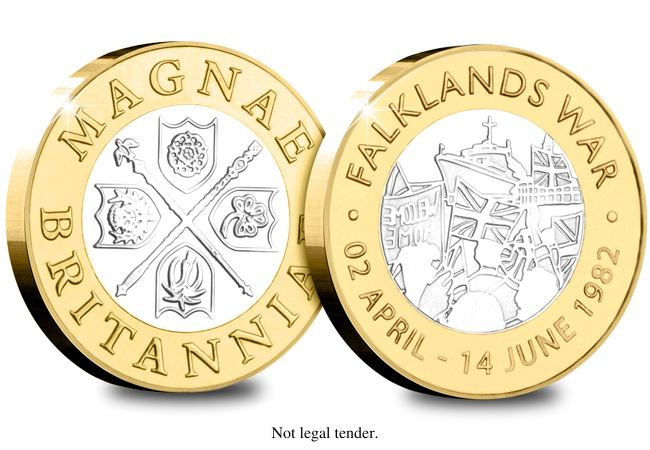 Returning to a Hero's welcome
British troops were eventually able to make their way home, with huge crowds gathering in Portsmouth and Southampton to welcome them back – a well deserved hero's welcome on their return.
This BRAND NEW set of commemoratives tells the story of the conflict and comes complete in a presentation pack to display and store them for years to come. I hope that you agree that it's a perfect tribute to this important moment in British military history.
Did you serve in the Falklands or have memories of family or friends that were involved? As part of our remembering of the conflict 40 years since the invasion, we'd love to hear your stories in the comments below.
---
If you're interested…

Click here to view the full range of Falklands War Commemoratives >>