Read on as we take a closer look at the latest images from NASA's James Webb Space Telescope, and our stunning collection of commemoratives celebrating the Wonders of the Universe.
Our universe is a place of beauty, awe, and unknowns; an expanse full of intrigue that has drawn our gaze for centuries. From prehistoric cave paintings of the night sky to the stellar images sent back from NASA's Hubble Telescope, we continue to fuel our fascination with what lies beyond what the eye can see…
In recent weeks, NASA's James Webb Space Telescope – a new telescope kitted out with the latest technology – has captured some genuinely breath-taking images of our universe, captivating audiences and making global headlines.
The Webb Telescope provides us with insights into the "deepest" reaches of the known universe, offering up some of the most detailed images of the cosmos ever seen.
Take a look below at some of the outstanding images from Webb's observations of our universe…
Carina Nebula – also known as the Cosmic Cliffs, this is the edge of a nearby, young, star-forming region called NGC 3324. Its "peaks" are about 7 light-years high.

The Cartwheel Galaxy and companion galaxies – formed as the result of a high-speed collision that occurred about 400 million years ago, and is composed of two colourful rings.

Southern Ring Nebula – a planetary nebula approximately 2,500 light-years away.

Stephan's Quintet – a visual grouping of five galaxies depicting how galaxies interact with one another.

Webb's First Deep Field image of galaxy cluster SMACS 0723. This is the "deepest" image of space we've seen to date, with thousands of galaxies coming into view.
Experts estimate that the universe stretches out infinitely – and with all that space to fill the scale of the planets, stars, and nebulas within it is tough to comprehend…
But today, you can take a tiny part of our universe home with our Wonders of the Universe Commemorative Set – and each commemorative is small enough to fit in your pocket!
The Wonders of the Universe Commemorative Set celebrates eight of the most magnificent and marvellous entities within our universe including The Milky Way – home to our Solar System, black holes, and supernovas!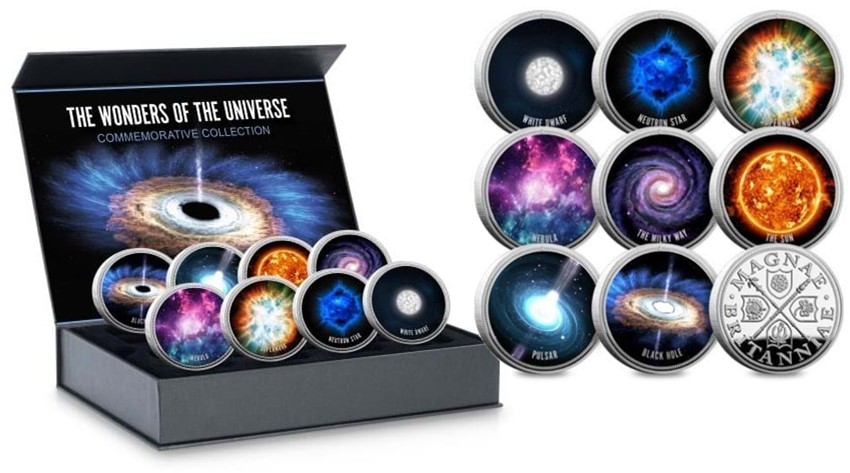 Each commemorative is struck to a superior proof-like finish, with full-colour images individually applied. Your commemorative set comes with a FREE presentation case (worth £9.95), alongside information on each 'wonder' within the collection. And you can even pay for your set in instalments of as little as £15.
Just 995 sets were ever produced, so you won't want to delay if you'd like to secure one of our remaining commemorative sets. Only a limited number remain available. I'd hate for you to miss out on a collectable item that's truly out of this world.
Click here to be one of only 995 in the universe to own the Wonders of the Universe Commemorative Set >>
---
Watch our video to find out more about the Wonders of the Universe Set!
13.7 billion years ago our Universe was born!
It expanded into hundreds of billions of galaxies and stars, and ever since we have endeavoured to discover whatever we can about the mysterious Universe that we live in.
And today, you can honour some of those discoveries and be one of JUST 995 collectors worldwide to own The Wonders of the Universe Commemorative Set.
Your set comprises EIGHT commemoratives, each struck to a Proof-like finish and featuring a stunning full colour image of one of the Universes Wonders – from Black Holes to Nebulas, this set really is 'out of this world'…
Watch my latest video to find out everything you need to know…
---
If you're interested…

It was with great sadness that the world heard that one of its heroes had passed away on 25th August.
Of course, we all know the story of how Neil Armstrong landed on the moon but so many of us know about how he sent the first ever "moon letter" and started a new collecting craze in the USA.
Shrouded in Secrecy
Under great secrecy in case the mission went wrong, the US Postal Service prepared a 10 cent Stamp to celebrate the United States winning the race to the moon.
However, what made this stamp unique was the fact that Armstrong and his co-astronaut "Buzz" Aldrin took with them on their historic journey not just the die that would make the stamp's printing plates but also a special 'Moon letter' bearing a die proof of the stamp itself. The plan was that the letter would be personally postmarked by Armstrong and Aldrin while they were on the Moon.
The stamp itself had been designed by Paul Calle, a well-known and respected designer from Connecticut. "It quickly became obvious that the first step on the Moon was the most dramatic moment and with that final sketch we knew we had our design!"
Calle's main problem however, was envisaging what the moon would actually look like. The artist took a chance and showed the module's tripod foot making a very faint imprint. Fortunately, that turned out to be exactly right.
In Violation of Federal Law
Although some collectors questioned whether the stamp violated federal law by using a living person's picture, it was argued that though his features were completely hidden by a space suit, it could have been none other than Neil Armstrong.
On 20th July, the lunar module Eagle landed on the Moon. As the world watched on, Commander Armstrong sent the good news from 235,000 miles away: "Houston, Tranquility Base here. The Eagle has landed."
Back home in Connecticut, Paul Calle recalls how he "sat glued to the television set." "Fortunately, when Armstrong took that first step, it was perfect," he said. "Just as I envisioned on the stamp."
The First Ever "Moon Letter"
Aldrin later joined Armstrong on the Moon's surface. As it turned out, the two astronauts didn't have time to postmark the "Moon letter." So the envelope and its die proof actually were given the "MOON LANDING/USA/JUL/20/1969" hand stamp during the return journey.
Nevertheless, the Moon letter had travelled more than a half-million miles, a lot lot further than any other piece of post had ever travelled. On their return home, the letter underwent a decontamination period at Houston, along with the astronauts themselves. All were quarantined for 18 days.
Decontaminated before production
The die was also processed for decontamination before it was sent to the Bureau of Engraving and Printing, where the process of preparing the plates for stamp production began promptly.
Because of its larger size – it was 50 percent larger than conventional U.S. commemoratives – the stamp was produced in sheets of 128 rather than 200 subjects. A total of 152,364,800 stamps were printed and distributed.
The stamp inspired great interest among first day cover collectors. Within three weeks after the 9th July initial announcement, there had been 500,000 requests for First Day Covers, which would bear not only the 9th September Washington, D.C., date stamp but also a replica of the July 20 "MOON LANDING USA" date stamp that the astronauts applied to their very own Moon letter.
Nearly 9 million First Day Covers
The final tally of first day covers was a phenomenal 8,743,070, a figure that nearly trebled the previous high of three million. In comparison, even the Elvis Presley commemorative stamp of 8th January 1993, one of the most popular stamps in history, received only 4,451,718 official Memphis, Tennessee, first day of issue postmarks.
Given the historical significance of this story, it is fitting that stamps and coins will be among the key tributes issued to commemorate the greatest of American Heroes.