Since its release in January, the Platinum Jubilee 50p has taken the coin collecting world by storm. But why?
Firstly, The Royal Mint released TWO versions of this special 50p: one with the Jody Clark obverse, and the other with a special commemorative obverse which sees the Queen on horseback – reminiscent of the 1953 Coronation Crown!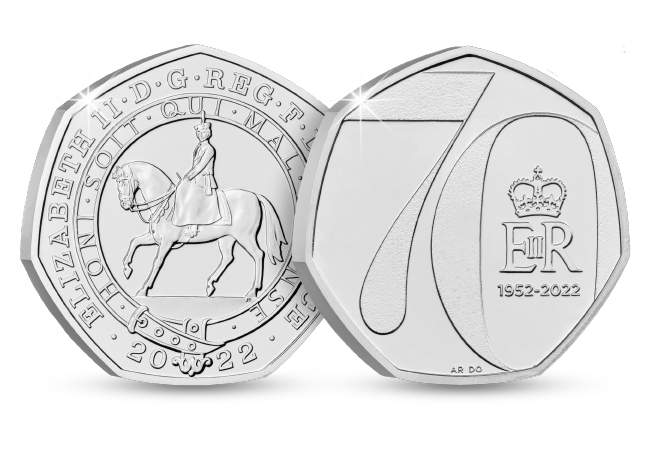 Plus, Queen Elizabeth II is the first British monarch to have reached a Platinum Jubilee – an incredible milestone that this generation of collectors will never see again!
And, not to mention, the version of the Platinum Jubilee 50p with Jody Clark's portrait, even went into circulation.
These exciting factors all led to a Royal Mint sell-out of ALL key specifications of the Platinum Jubilee 50p – within JUST 24 hours!
But, one of the quickest sell-outs was the Platinum Jubilee 50p Pair, which includes both versions of the Platinum Jubilee 50p together in a Brilliant Uncirculated Pack.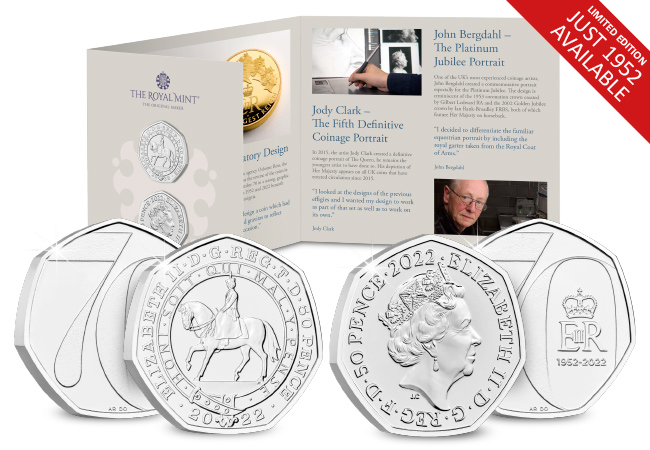 Just 1,952 of these special pairs were issued by The Royal Mint, with a limited number reserved for Westminster Collection customers. But, The Royal Mint sold through theirs within just a few hours of issue!
Excitingly, this means that we have a remaining 973 Platinum Jubilee 50p Pair BU Packs available exclusively for collectors.
BUT, based on how quickly these sold at The Royal Mint, we're expecting demand to completely outstrip our supply.
Enter our ballot for free here >>
Which means, we're opening up our UK National Coin Ballot! To keep things fair, everyone that enters, will be given the chance of becoming one of just 973 collectors to secure this limited edition pairing from us. Plus, entry is free!
So, don't miss your chance; enter our ballot for free here >>
The ballot closes on the 5th of May and, if you're one of the lucky 973 winning collectors, you'll receive an email on the 9th May 2022 stating that this product is available to purchase.
Good luck!
Many look back fondly at 1966, when Bobby Moore's team beat West Germany 4-2 in the Football World Cup final, securing the coveted trophy.
In 2003, rugby fans cheered as England defeated Australia in the nail-biting Rugby World Cup final.
And, the 2019 ICC Cricket World Cup saw the England team claim victory over rivals New Zealand.
All 3 sporting events have been forever engraved into England's history books, and they are revisited by fans each time the World Cup tournaments come back around.
Celebrating the legacy of our sporting achievements, the Sovereign World Cup Winners Collection brings together 3 historic Sovereigns.
Each represents the 3 years that England's sporting teams were victorious in a World Cup competition have been hand selected to form this magnificent collection.
These have been incredibly difficult to source – particularly the 1966 Sovereign, owing to the fact it is over 50 years old.
Because of this scarcity, only 25 collections are available. And, when you consider their precious metal content and the great significance of these years, they surely won't be available for long.
If you become one of just 25 collectors to own this sporting Sovereign trio, you'll be able to stylishly present them in a luxurious wooden display case for all to see.
To find out more about this incredible collection, click here >>
120 years ago, a book about a mischievous rabbit named Peter was first officially published by Frederick Warne & Co. This book would go on to be much-loved by children (and adults) all over the world…
Have you already guessed it's title? It's The Tale of Peter Rabbit, of course – Beatrix Potter's delightful creation.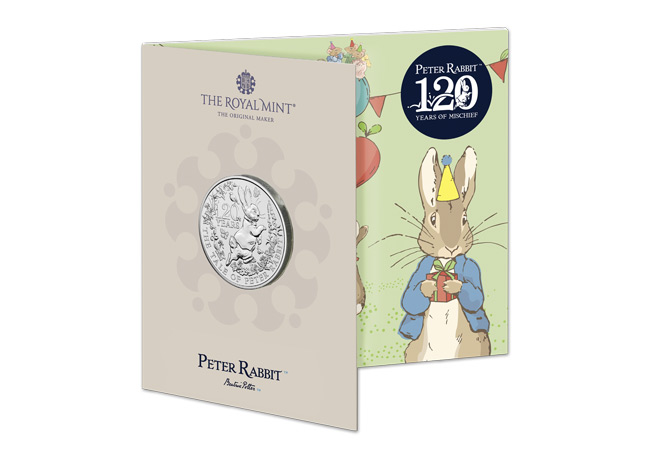 In 2016, the first Beatrix Potter™ coin was released, celebrating 150 years since her birth. It even featured Peter Rabbit™ mid-stroll on the reverse design.
This coin kickstarted a series of coin issues honouring Potter's beloved work, including designs of characters such as: Jemima Puddle-Duck, Mrs. Tiggy-Winkle, Squirrel Nutkin, Tom Kitten, Jeremy Fisher, Benjamin Bunny and, of course, Peter Rabbit™!
In fact, there were a total of five 50ps dedicated to Peter, illustrating how truly adored he is to this day!
Brand new The Tale of Peter Rabbit™ Coin
The Royal Mint have JUST released a brand-new commemorative coin that celebrates the first official publication of The Tale of Peter Rabbit™ in 1922.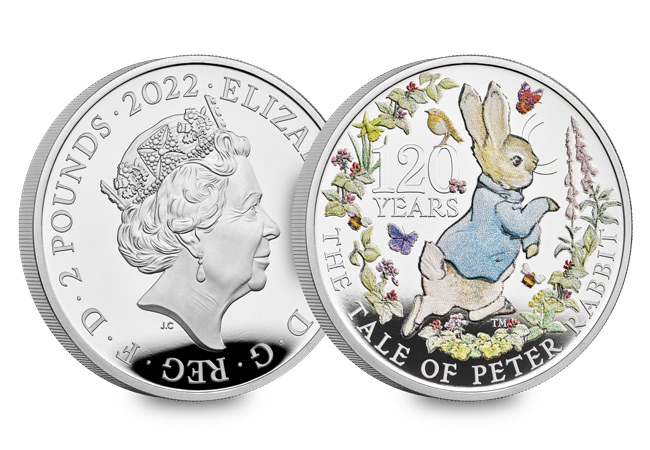 View The Tale of Peter Rabbit™ in Silver Proof here >>
The Silver Colour Proof 1oz The Tale of Peter Rabbit™ coin shows Peter in his blue jacket, walking through an array of flowers and wildlife. This delightful design includes the words '120 years' – the perfect tribute to the official publication date.
Strictly limited
Usually only reserved for coins of a particular theme, we've seen strong sell outs in the past of the 1oz Silver Colour Proof. In fact, 2021's Alice Through the Looking Glass 1oz Silver Colour Proof sold out completely – and that had the exact same edition limit as this new Peter Rabbit™ coin of 3,500.
Plus, Peter Rabbit™ is incredibly popular as a theme; every previously issued Peter Rabbit™ 50p coin has sold out, and many of them had edition limits as high as 35,000!
A sell-out is on the cards
In comparison, 3,500 is just a tiny number, and not going to be anywhere near enough for Peter Rabbit™ fans and collectors alike.
If you'd like to secure 2022 UK The Tale of Peter Rabbit™ coin for your collection before it's too late, order yours now by clicking here >>