The Silver coin collection honouring the most iconic Jubilees of Queen Elizabeth II
Queen Elizabeth II acceded to the throne on 6th February 1952 and celebrated her Coronation on 2nd June 1953 at Westminster Abbey.
During her remarkable 70-year reign, Queen Elizabeth II enjoyed seven jubilees and was the first British monarch to receive a Platinum Jubilee.
And as we approach one year since her sad passing, just a handful of collectors will be able to preserve these remarkable milestones with four Silver coins…
Housed in one complete collection, you can secure the sought-after Silver Proof £5 coins issued by The Royal Mint to celebrate Elizabeth II's Silver, Golden, Diamond, and Platinum Jubilees.
And considering how sought-after her commemoratives have become, here's why you don't want to miss out…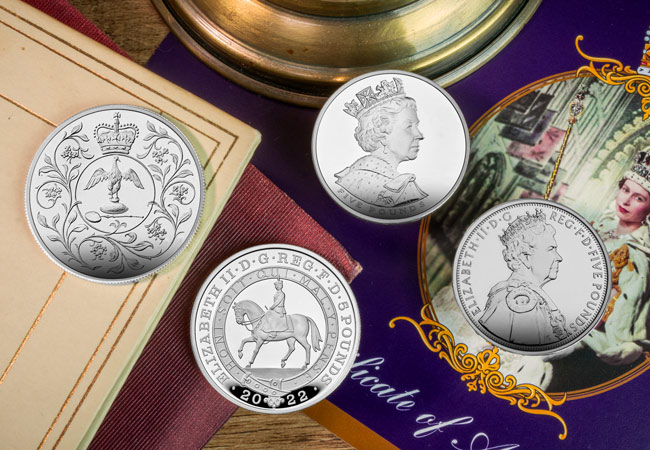 NO LONGER AVAILABLE AT THE MINT
Queen Elizabeth II's influence on the collecting world has been immeasurable. And nearly a year after her sad passing, we are still witnessing excessive demand for commemoratives from her reign.
So today you can get ahead of the crowd and take a shortcut to securing four Silver Proof coins from her most significant Jubilees.
The release of Silver Crowns is renowned as the traditional way to celebrate historic royal occasions, and each one features a unique commemorative portrait of Elizabeth II either on horseback or a classic depiction of the young monarch.
But, 3/4 of these coins are no longer available to buy from The Mint, so this could be your last chance…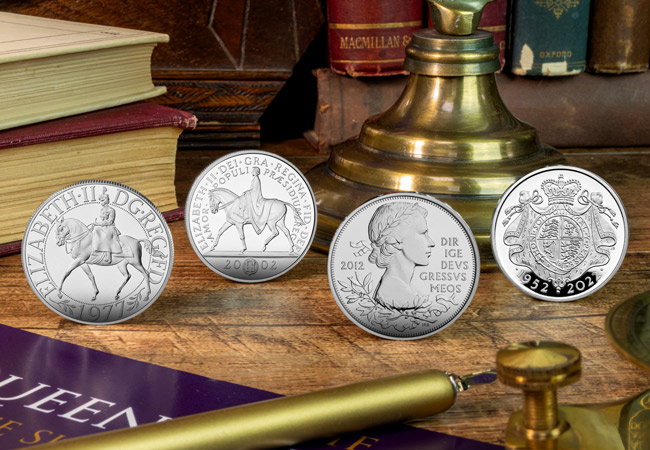 The UK Queen Elizabeth II Jubilee Silver Crown Collection
This exceptional set is essential for any collection. At a time more poignant than ever to collect Her Majesty's commemoratives, this is the perfect way to preserve her extraordinary legacy…
Comprised of the UK Silver Proof £5 coins issued in celebration of her Silver, Golden, Diamond and Platinum Jubilee from 1977, 2002, 2012 and 2022, this complete collection takes you on a journey through the most remarkable milestones of our longest reigning monarch.
Housed in a luxury presentation box with a certificate of authenticity, this could be your last chance to secure these Silver coins as three of them are off-sale from The Mint…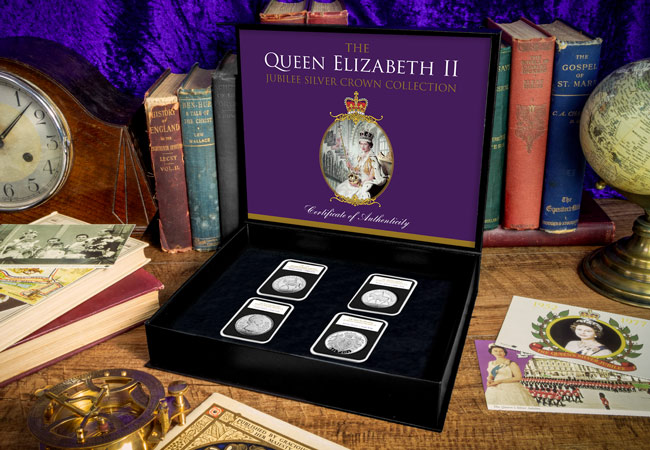 Your Last Chance?
Considering there is only one coin still available to buy from The Royal Mint, this could be your last chance to secure all of them in one complete pristine collection.
But considering Queen Elizabeth II collectables are scarcer than ever, this is the easiest way to secure the most sought-after Jubilee coins in with just a few clicks of a button!
However, only a tiny number of collections are available, so make sure you don't miss out on securing such a rare set…
Click here to own your Queen Elizabeth II Jubilee Silver Proof £5 coin collection now >>