Posts Tagged 'british isles 50p'
Thank you for helping raise £1.25m for the Royal British Legion.
For nearly 20 years, we've had the privilege of working in partnership with the Royal British Legion.
Each year we've created Remembrance and Poppy-themed coins and commemoratives to raise funds and awareness for the charity.
The 2022 RBL Poppy Masterpiece Coin

The RBL Centenary Silver 50p Set

The RBL Poppy Shaped Commemorative

The RBL Centenary Gold £5 Coin

The 2021 RBL Poppy Masterpiece

The 2019 Gold Proof Poppy Coin

The 2019 RBL Poppy Masterpiece

The High Relief Poppy Silver Coin

The 2018 RBL Poppy Masterpiece

The 2017 RBL Poppy Masterpiece Coin
Through the sales of these coins and commemoratives, collectors have helped raise a remarkable £1.25 MILLION for the Royal British Legion!
We are extremely proud of this achievement, and hugely thankful to our collectors raised such an incredible amount.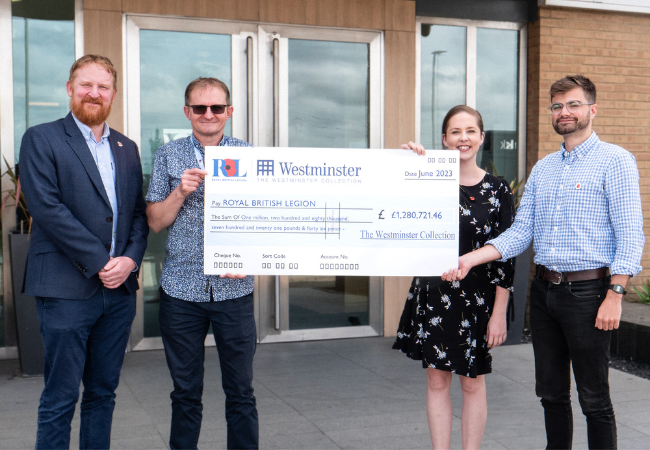 In addition to raising funds for RBL over the years, we've also had the opportunity to find out more about their incredible work for the Armed Forces Community.
And earlier this month, when we presented RBL with a cheque for £1.25 million, we had the pleasure of meeting Robert Benham, Regional Lead – Admiral Nursing – Hampshire.
Delivered in partnership with Dementia UK, Admiral Nurses give one-to-one support and expert advice for people living with a diagnosis of dementia, their families and their carers. The effects of dementia can be devastating for the whole family, but Admiral Nurses help to ease the burden and reassure families that they are not alone.
---
Where do your donations go?
£1.25 million raised by The Westminster Collection for the Royal British Legion could enable it's dedicated frontline advisors to help over 7,590 people in the Armed Forces community and their families get access to the help that they need.
Every day, RBL Case Officers provide practical and emotional one-to-one support, helping Serving and ex-Serving personnel, and their families, to get the help they deserve. The needs of the Armed Forces community are becoming more complex and can include a wide range of issues such as employment, finances, or housing; RBL Case Officers are ready to help and advise whatever the issue.
The funds raised by The Westminster Collection can help people like Lawrence.
Following seven years in the Army, Lawrence was medically discharged after injuring his spine whilst weightlifting.
After an exemplary military career Lawrence found himself struggling to adapt to civilian life.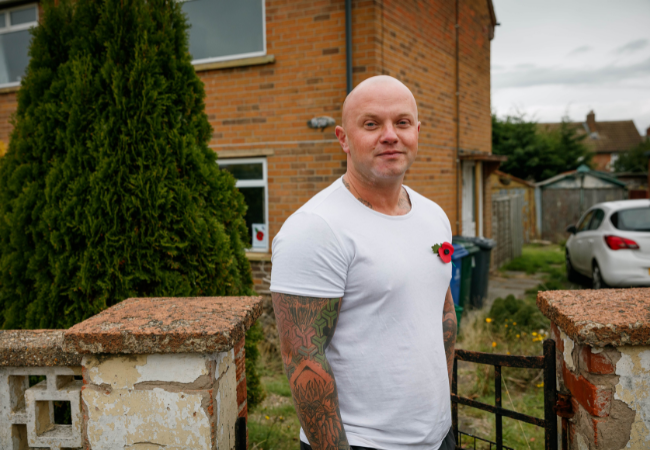 To help Lawrence get the support he needed his fiancée Danielle advised him to get in touch with the Royal British Legion.
He was contacted by one of the RBL's local Case Officers, Paul James, who was able to get Lawrence the mental health support he needed.
In December 2020, when Lawrence was unable to work due to Covid-19, his debt suddenly spiralled by almost 400%. But the RBL's Benefits, Debt and Money Advice team (BDMA) were able to help.
Lawrence said: "They [the RBL] have helped me sort out both my mental health and my financial health. I'm debt-free and looking forward to starting a new career, I cannot thank them enough."
To find out more about the Royal British Legion, click here.
---
What's next for our partnership?
We're excited to see our longstanding partnership with the Royal British Legion continue later this year when we'll be launching the latest additions to our Official RBL Poppy coins and commemoratives range.
Enter your details below to sign up for the latest updates…

As 2022 draws to a close, it's the perfect opportunity to look back at some of the most popular UK and British Isles coins from the past 12 months.
But, I need YOUR HELP deciding which coin will be crowned the 2022 Coin of the Year.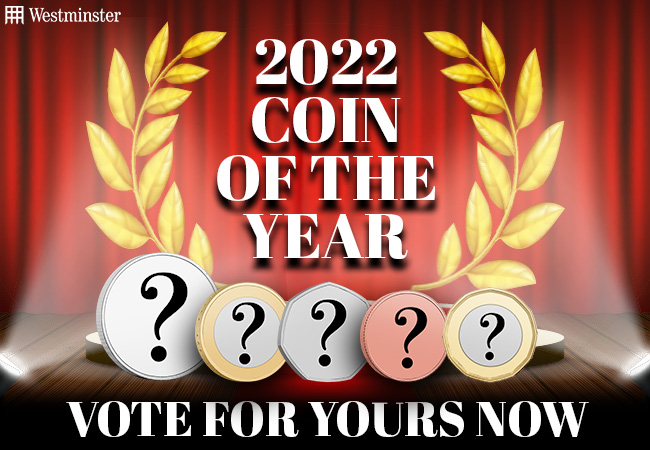 The results are in…
Watch our video to find out which coins made it into the top 5 >>
Missing any of these from your collection?
If you're missing any of the top 5 coins from your collection, you can still secure them here.
In a London based Reform Club, Phileas Fogg, was to place the biggest bet of his life.​​
Risking £20,000, Fogg and his recently hired valet, Jean Passepartout wagered they could travel the world in 80 days, with thanks to the new railroad in India.​​
Passing through exotic lands and dangerous locations, they seize whatever transportation is available, whilst racing against the clock.​​
In 2022, to celebrate the 150th anniversary of the first publication of Around the World in 80 Days, a brand-new collection of British Isles 50p coins has been issued.​
Authorised for release by Guernsey Treasury and fully approved by Her Majesty the Queen, this brand new issue is available in a range of specifications, the race is on to secure these coins for your collection… Click here to secure yours!
​Continue reading as we take you on a spectacular visual journey to five exotic destinations that Phileas Fogg travels to in the story, with the help of these brand new 50ps…​
The Around the World in 80 Days Coins​
London
Allahabad
Singapore​
Yokohama
San Francisco​
---
Have you read Jules Verne's famous tale of adventure, misfortune, and unexpected turns? Let us know in the comments below!​​
With the worldwide popularity of Around the World in 80 Days, spanning across generations, demand for these brand new 50p coins is sure to be high. Click here to view the entire range.​
---
​