Posts Tagged 'limited edition'
Charles Dickens is widely regarded as the greatest novelist and social critic of the Victorian era. He created some of today's best-known 'classic' characters including Oliver Twist, Ebenezer Scrooge and Nicholas Nickleby, to name just a few.
And now, to mark 150 years since his passing, a brand new set of £2 coins has been issued for release by Jersey Treasury and fully authorised by Her Majesty the Queen.
The FIVE new British Isles coins, celebrate some of Dickens most famous works, of which a vast majority were based on events from his life. For example, after working in a blacking factory, both 'David Copperfield' and 'Great Expectations' were fictionalised.
Throughout his life, Dickens was a vocal critic against poverty and the Victorian social hierarchy. His novels gained unprecedented popularity during his lifetime, and by the 20th century, critics and scholars had recognised him as a literary genius.
Find out more about these BRAND NEW £2 coins below…
The COMPLETE Charles Dickens BU £2 Coin Collection
This remarkable collection features FIVE £2 coins, each struck to a Brilliant Uncirculated quality and depicting some of Dickens' most famous works, along with iconic lines from each book. The set includes:
Great Expectations "Ask no questions, and you'll be told no less".
Oliver Twist "Please Sir, I want some more".
David Copperfield "Never do to-morrow what you can do today".
A Christmas Carol "God Bless Us, Every one!"
Charles Dickens himself "1812 Charles Dickens 1870".
What's more, the coins will come protectively housed in bespoke Charles Dickens packaging. This set is one of the only ways you can own all FIVE coins and demand is expected to be high. If you'd like to secure one for your collection for JUST £49.95 (+p&p) then click here >>>
The STRICTLY LIMITED Charles Dickens Silver Proof £2
The Silver Proof version of this stunning £2 coin features a specially commission illustration of literary legend himself, Charles Dickens, adorning the reverse. The coin has been struck to a flawless Proof finish out of .925 Sterling Silver with selective 24ct Gold-plating.
The Silver Proof editions are without a doubt the collector's favourite and almost always acquire fast sell-outs. With an edition limit of JUST 2,020 coins, time is short to secure one for your collection… Click here to guarantee yours >>>
The ULTIMATE Charles Dickens Silver Proof £2 Collection
This Silver proof set is by far the most limited way to own these coins. Not only are they strictly limited to JUST 995, but four of the coin designs, by illustrator Andy Walker, also feature full colour. This truly is the ultimate Charles Dickens £2 Coin Collection.
Sterling Silver, 24ct Gold-plating, full colour illustrations and only 995 available worldwide – Don't miss out on yours… Click here >>>
The Charles Dickens Stamp & Coin Set
If you're looking for something special, this Coin and Stamp Presentation is for you. This set features the Charles Dickens Brilliant Uncirculated £2 alongside the new 'Oliver Twist' stamp issued by Jersey.
Beautifully presented in a box, and carefully encased in protectively sealed numismatic capsules, only 500 collectors will be able to secure one… Click here to secure yours today >>>
---
If you're interested…
Charles Dickens remains not only one of the greatest novelists of the Victorian Era, but in the whole of British history, and these coins are already proving phenomenally popular.
To view the full range of coins and secure yours, please click here >>
Each year Remembrance Sunday provides an opportunity for the nation to reflect on those brave men and women who gave their lives fighting for our freedom. But this year will be especially poignant. As we also commemorate the 80th Anniversary of one of the truly remarkable chapters in our nation's history – the Battle of Britain.
Introducing the official 2020 Remembrance Masterpiece Silver 5oz Poppy Coin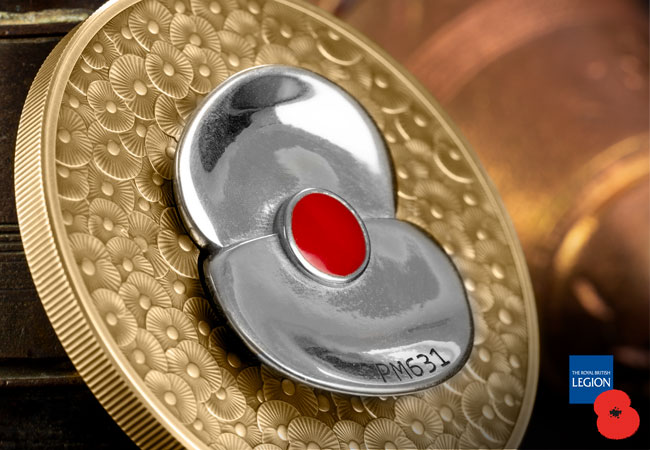 There is one coin that avid collectors await the release of – the "Masterpiece Poppy Coin". The name says it all. Cutting edge minting techniques and materials, representing the pinnacle of craftsmanship. But let me explain what makes this year's Masterpiece Poppy so special…
This year marks the 80th anniversary of the Battle of Britain. Take a look at the images and you'll see that a single stylised Royal British Legion poppy, proudly sits on top of this coin. Multiple poppies have then been engraved into the surface of the coin, resulting in an exceptional 3 dimensional effect.
But the incredibly rare facet of this year's poppy coin is that it's been crafted from a genuine piece of Spitfire.
Expertly crafted from a Spitfire with a remarkable story to tell
Incredibly, this year, the silver poppy that adorns the reverse of each of these coins has been made from a piece of Spitfire PM631 – ensuring each coin is uniquely different and features a piece of tangible aerial history.
Originally built in late 1945, the Spitfire PM631 saw service with the Battle of Britain memorial flight for nearly FIFTY years between 1957 and 2006. You may also remember that it had a starring role in a famous WWII Movie – Battle of Britain, made in 1969.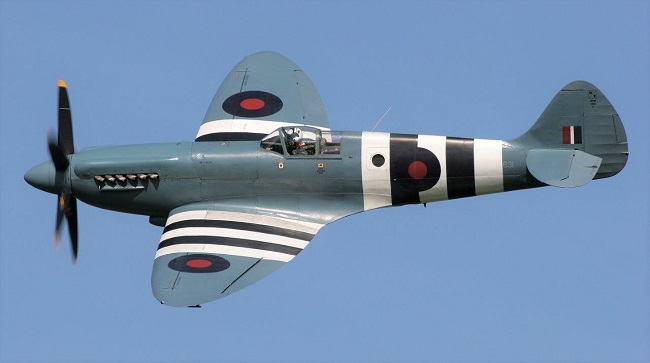 Once the Spitfire piece has been melted down and poured into a shaped mould, it is cooled and cleaned to create the high-relief poppy. After this, it is laser engraved with the official Spitfire plane from which the metal was taken – PM631. Check out the images below to see the process the Spitfire metal goes through to come a Masterpiece poppy…
But even then, it is important to remember, this is NOT a cast piece. The surface of the coin has actually been struck in sterling silver and has then expertly plated in 24ct gold. The finish is a stunning matte appearance achieved using a technique called 'Sandblasting'. This means it has all of the detail that you expect from a commemorative coin but allows you to touch the coin and hold a genuine, iconic piece of history in the palm of your hand.
As I am sure you can appreciate, given all of the individual elements that have to be carefully curated for each individual coin, the edition limit as a consequence is incredibly low. In fact, only 300 of these coins have been produced, with number one fittingly being donated to The Royal British Legion themselves. Which means only 299 coins remain for collectors.
We do not expect these coins to be around for long. And remember, for each coin sold a donation will go straight to The Royal British Legion in support of all their work.
Available now – with a donation to The Royal British Legion
The 2020 Masterpiece 5oz Silver Proof Poppy Coin is available to own right now from The Westminster Collection, although they are expected to sell out quickly.
To further support the work of The Royal British Legion, a donation of £59.50 from the sale of each coin will go directly to the charity, helping them to continue to provide financial, social and life-long support to the Armed Forces community.
£1,100,000 Milestone
What's more, since our partnership began and through the sales of commemorative Remembrance and Poppy-themed coins, collectors have helped raise an incredible £1.1 Million for The Royal British Legion!
This is an achievement that everyone is immensely proud of, and we are hugely thankful to collectors for helping raise such an amazing amount.
If you'd like to find out more about the fantastic work that The Royal British Legion do and why we are so proud of this milestone £1.1 Million that has been raised for the charity, then click here to read more…
Click here to view the complete range of 2020 Remembrance Poppy coins issued in support of the Royal British Legion >>

The Beano turns 80 this year. I'll just let that sink in.
I still remember running down to my old corner shop every Wednesday after school to pick up the brand new Beano comic for 2p (the mind boggles!), then running home to try and get a read of the first few pages before mum cleared the table for dinner.
Of all the Beano characters, there was one character I looked forward to reading about more than any other – my favourite mischief maker – Dennis the Menace.
And that's why I have been so excited over the last few months to be able to work personally on an exclusive and highly collectable Beano Commemorative – especially as this year the comic turns 80.
Brand new never before seen Dennis illustration
As a special privilege for their 80th birthday, Beano have given us unparalleled permission to create some brand new Beano artwork.
That's because, for the very first time, Dennis the Menace has been brought to life on a brand new and exclusive Silver-Plated Commemorative by actual Beano artist – Wayne Thompson.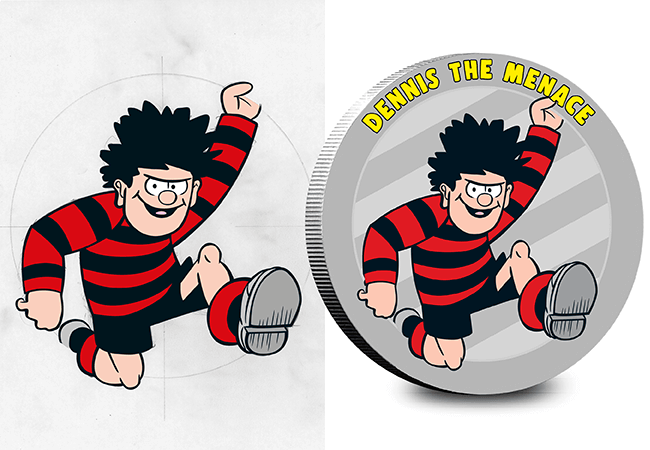 As you can see, the medal is a perfect limited edition tribute to Dennis in his classic red and black sweater that you, I, and many generations of children have grown up to love.
And as I mentioned, the Dennis the Menace illustration has been specially commissioned exclusively for Mint Editions. No one has ever seen it before and it has come straight from The Beano studios, direct to us from their artist – Wayne Thompson.
A whole collection of beloved Beano favourites
Just as in the comics, Dennis is never far from his trusted companion Gnasher, who is also part of the collection of new medals featuring beloved Beano favourites.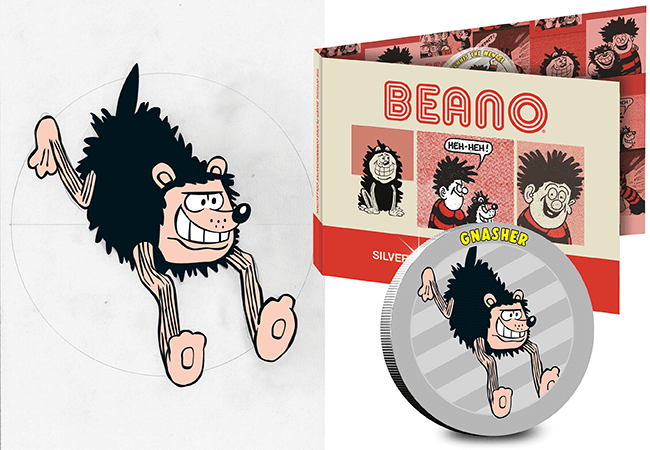 The complete collection of eight medals also includes Bananaman, Plug, Minnie the Minx, Roger the Dodger, Danny and Pieface – and each Silver-Plated Medals all feature brand new never-before-seen illustrations from Wayne.
---
Your invitation to SAVE £10.00 when you order today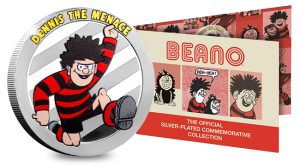 Today, I would like to personally invite you to start your collection with the Dennis the Menace Silver-Plated Medal – for JUST £14.99… that's an exclusive £10.00 SAVING. What's more, alongside your second delivery you'll also receive a free collecting pack to house and protect each Silver-Plated Medal.